The first time I visited Joshua Tree National Park, I really wasn't expecting much.
I honestly didn't think the California desert could be that impressive, because it's mostly made up of dust and tumbleweeds, right?
But as soon as I started driving through Joshua Tree and saw the alien-like landscape outside my window, I realized just how wrong my initial assumptions were. And now Joshua Tree ranks among my favorite national parks in the world.
We spent three days exploring the desert, tackling sweaty Joshua Tree Park hikes, driving to scenic viewpoints, and watching rock climbers hang from staggering cliffs at seemingly impossible angles.
At the end of our visit, it was surprisingly difficult to leave the quiet solitude of the desert behind and head back to the hustle and bustle of civilization.
In this detailed visitor's guide, we'll walk you through some of the best Joshua Tree hiking trails, as well as the best places in the park for camping under bright constellations.
READ MORE: List of National Parks by State (An Epic Guide)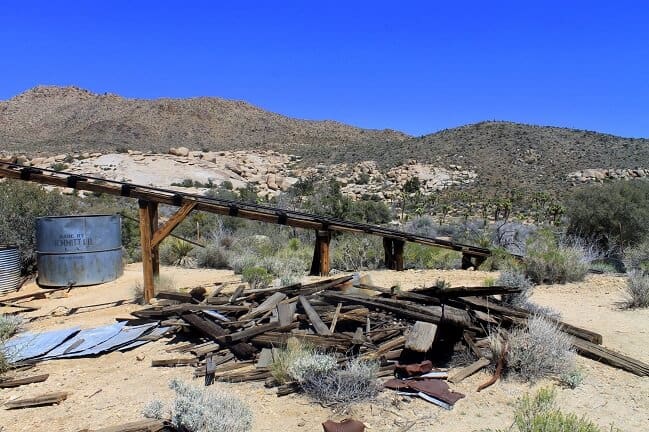 History of Joshua Tree National Park
Joshua Tree was designated as a national monument in 1936 by President Roosevelt, and made into a national park in 1994. But this area has a rich history that goes back 5,000+ years.
The first indigenous people to inhabit the Southern California desert were from the Pinto Culture, followed by the Serrano, Chemehuevi, and Cahuilla Native American tribes.
In the 1800s, the Joshua Tree area became a popular place for cattle ranchers and mining for gold and silver (even before the major 1849 California Gold Rush).
The 825,000 acres of what is now Joshua Tree National Park originally garnered government protection in large part due to Minerva Hoyt. Hoyt was a nearby Pasadena resident who had a deep love for desert plants and fought to conserve the area's native flora and fauna for years.
Thanks to her efforts, Joshua Tree wildlife today includes over 800 plant species, 46 reptile species, 57 mammal species, and more than 250 different types of birds.
READ MORE: DIY Mesa Verde Tours: Exploring the National Park on Your Own
Hiking in Joshua Tree National Park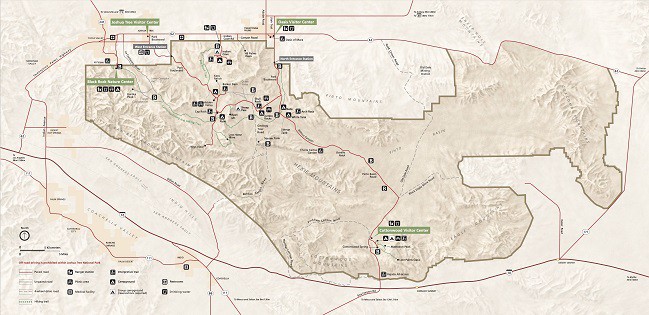 The Best Hikes in Joshua Tree National Park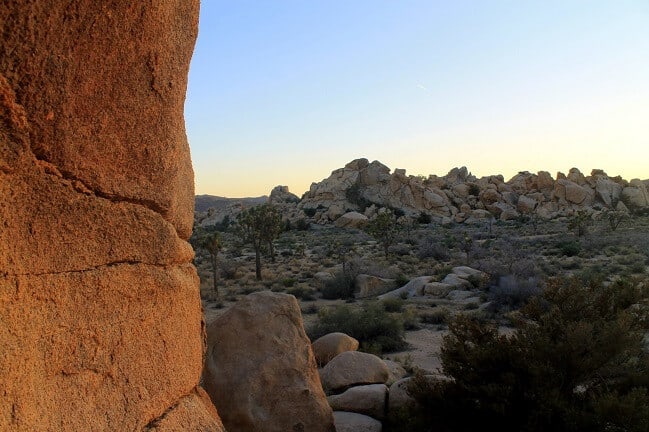 Hidden Valley Nature Trail (1 mile- Easy)
Hidden Valley is one of the shorter hikes in Joshua Tree Park. But it provides a good introduction to the natural beauty of the area.
The entire trail takes around 30 minutes. Along the way, you'll come across large boulders, rocky landscapes, and rock faces that are ideal for climbing.
READ MORE: 10 Best US National Parks (For Your World Travel Bucket List)
Barker Dam Trail (1.1 miles – Easy)
If you're looking for a quick 30-minute walk in the desert, the Barker Dam Trail is another easy nature loop that's also one of the best hikes to spot wildlife in Joshua Tree.
Don't be surprised if you come across Bighorn Sheep, Jackrabbits, Kangaroo Rats, and a few different bird species along the trail.
Similar to Hidden Valley, this is an educational trail, with plenty of signs along the way to tell you more about the local environment and its inhabitants.
It offers a great basic introduction to the flora and fauna that you might come across during your time in Joshua Tree National Park.
READ MORE: 10 Best National Parks in USA for Wildlife Watching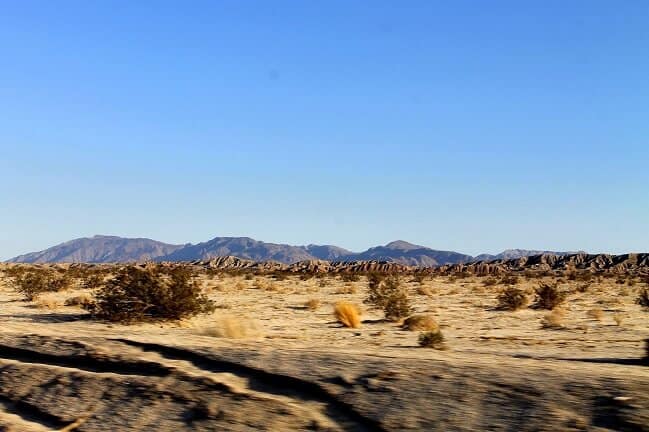 Fortynine Palms Oasis (3 miles – Easy/Moderate)
If you're looking for a slightly more challenging hike, the Fortynine Palms Oasis trail is a good one to start with.
This hike will take you further into the Joshua Tree landscape, ending at a fan palm oasis.
As the hike progresses, you'll come across barrel cacti, rocky canyons, large boulders, and of course pools of refreshing water at the oasis.
The hike climbs a total of 300 feet in elevation, and takes around two hours to complete.
READ MORE: Avenue of the Giants (Scenic Drive Through California Redwoods)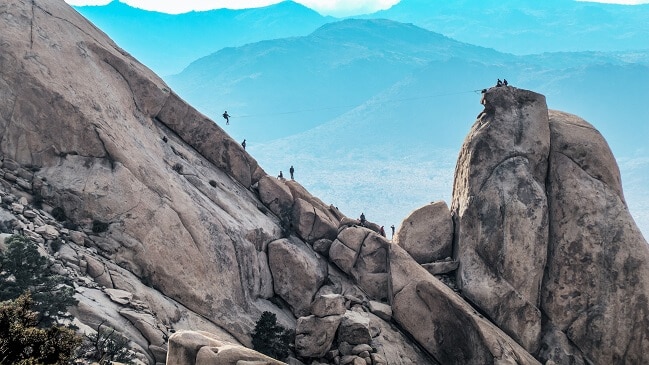 Ryan Mountain Hike (3 miles – Moderate)
For those who don't mind a 1,050-foot ascent, Ryan Mountain is a popular hike that takes you to the second highest point in the park, at 5,457 feet.
This is an ideal place for Joshua Tree National Park hiking if you're looking for panoramic views and the burn of a really good workout.
From the top of Ryan Mountain, you'll be able to see miles of rock formations, Joshua Trees, and one of the best overviews of the national park.
The summit is also one of the best places to watch the sunset in Joshua Tree. Just make sure to bring a headlamp with you to illuminate the path on the way down.
READ MORE: 25 Most Comfortable Walking Shoes & Hiking Shoes for Women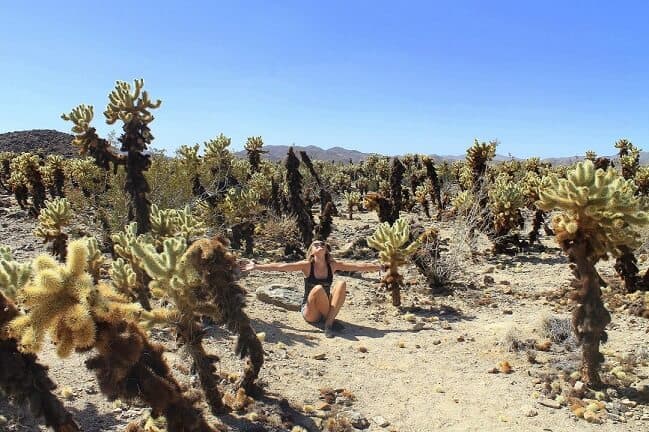 Lost Horse Mine Trail (4 miles – Moderate)
The Lost Horse Mine Trail is one of the best moderate Joshua Tree National Park hikes for those who want to learn more about the area's pioneer history.
This area was a popular place for gold mining before, during, and after the 1849 California Gold Rush. At one point, there were around 300 different mines in what is now the national park!
Lost Horse Mine, which can be found at the end of this hike, is one of the best-preserved mines in the park. Throughout its operation, the mine produced more than 10,000 ounces of gold and 16,000 ounces of silver, which is the equivalent of about $5 million today.
The trail itself is the path miners used to transport ore and supplies to the mine. Hiking it allows you to step back in time and walk in the footsteps of California's Gold Rush pioneers.
READ MORE: The 35 Best Daypacks for Travel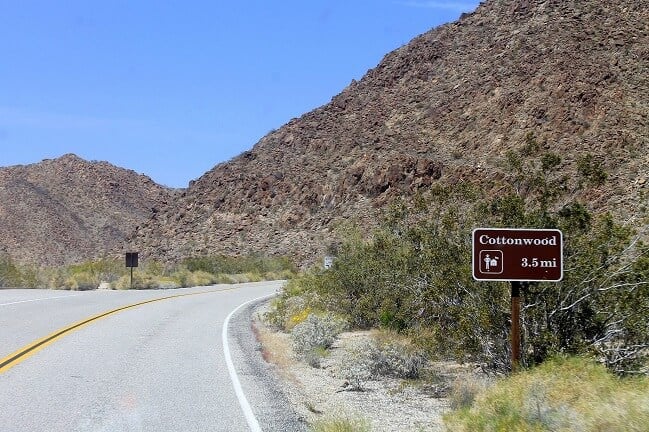 Los Palms Oasis Trail (7 miles – Moderate)
Widely considered one of the best hiking trails in Joshua Tree National Park, Los Palms Oasis takes you to the park's largest grove of fan palm trees.
Because of its location in the park's southern section, you won't see any Joshua Trees on the trail. But you will witness a very different type of desert landscape than on trails to the north.
Although the trek is lengthy at seven miles, there aren't any big hills here. So it's a relatively easy hike through the desert.
If you can get up early enough, one of the best times to hike to Los Palms Oasis is at sunrise, when the trail is fairly empty of Joshua Tree hikers and the desert light is at its most beautiful.
READ MORE: 40 Best Backpacks for Travelers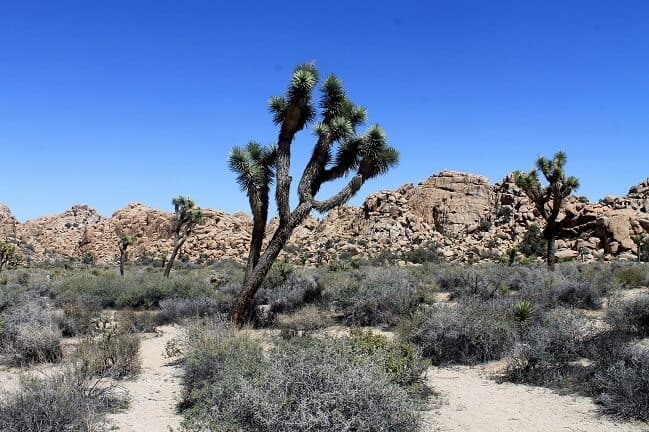 Boy Scout Trail (16 miles – Difficult)
If you're looking for a real challenge and have the stamina to hike for 16 miles in the desert, the Boy Scout Trail is one of the best hikes in Joshua Tree for an all-day adventure.
Along the trail, you'll walk through quintessential Joshua Tree forests, piles of boulders, cholla cacti, and numerous stunning scenic viewpoints.
The Boy Scout Trail takes around six to eight hours to complete, taking you from the upper Mojave Desert to the Lower Mojave Desert and back.
If you're wanting to fully immerse yourself in classic Joshua Tree landscapes, this truly is one of the park's best hiking trails.
Just note that this trail is EXTREMELY exposed, with little to no shade along the way. So wear long, breathable clothing, and make sure to bring sunscreen and a lot of water.
READ MORE: The 25 Most Comfortable Walking Shoes & Hiking Shoes for Men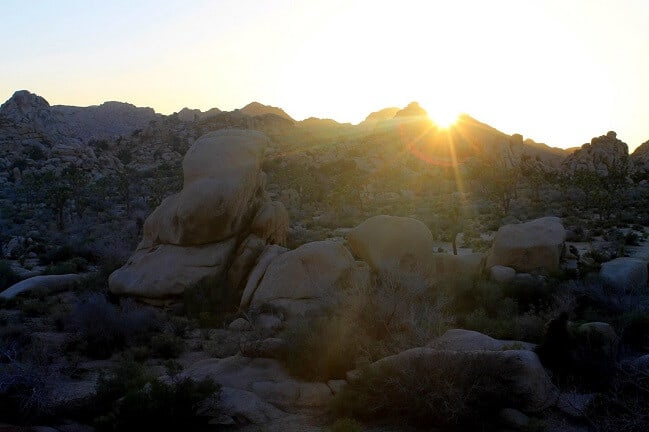 What to Pack for Your Joshua Tree Hike
The majority of these Joshua Tree hikes don't have any shade, and the desert can go from scorching hot to freezing over the course of a few hours.
If you're going to be hiking, bring extra water, a hat, and sunscreen, and do your best to avoid the hottest parts of the day.
If you're camping in Joshua Tree overnight, make sure to bring warm layers of travel clothing, as the desert can get down to freezing after the sun goes down.
This is the full checklist of what I'd recommend packing for camping and hiking in Joshua Tree National Park:
Sun hat

Sunscreen (and aloe vera in case you get sunburned)

Sunglasses

Extra water

Hiking shoes or comfortable walking shoes

First aid kit

Warm layers for nightime

Breathable clothes for hiking Joshua Tree during the day

Camp food and snacks for the trail

Headlamp

Daypack

Hand sanitizer and mask to protect against COVID-19

Camera

Ice and ice chest

Camping gear – tent, sleeping bag, sleep pad, pillow, camping stove, camping chairs, etc

A

Joshua Tree trail map

from the

Joshua Tree National Park Visitor Center
READ MORE: Hiking the John Muir Trail in California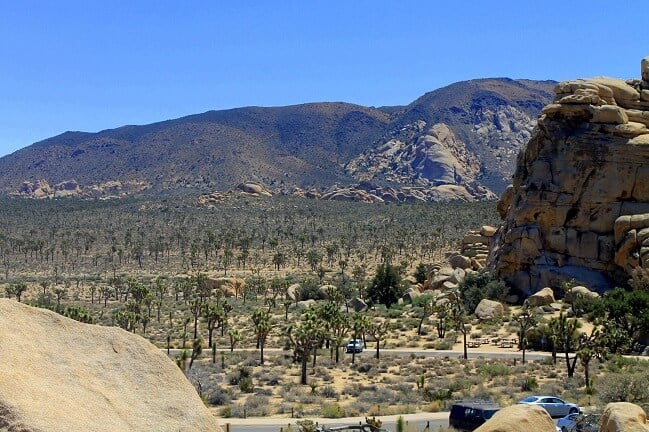 Camping in Joshua Tree National Park
Although there are plenty of great places to stay near Joshua Tree, camping at the park is something every visitor should experience at least once.
There's no other feeling quite like camping in the desert, under an endless sky of bright stars. And I'd argue that Joshua Tree is one of the best places to do that in the state of California.
These are my picks for the best campsites in Joshua Tree National Park. Just make sure to book well in advance, because they tend to fill up quickly!
COVID-19 Update (as of 7/29/2020): Joshua Tree National Park is currently open and all campgrounds are now open in the park. All campgrounds are first come, first served until September 4th, 2020.
READ MORE: The Best Backcountry Camping Gear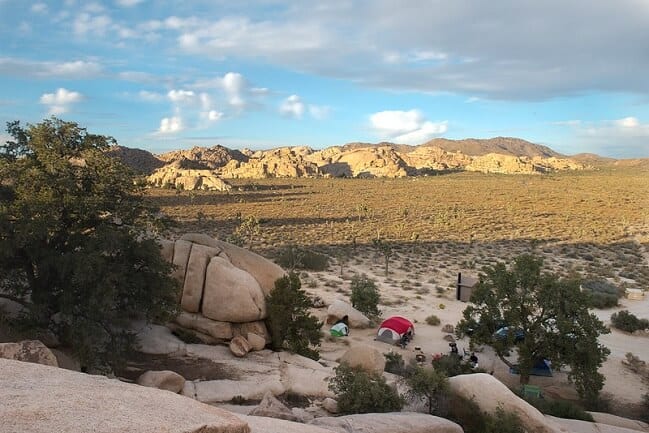 Hidden Valley Campground
Hidden Valley is one of the park's most scenic and central areas, so it makes sense that it's one of the best places to camp in Joshua Tree.
This campground is one of the more medium-sized camping areas, with 44 sites and a few pit toilets, but no water.
The camp is surrounded by large boulders and Joshua Trees, and it's near quite a few great hiking trails, including the Hidden Valley Nature Trail.
All camping spots at Hidden Valley Campground are first come, first served. RVs and trailers are allowed here as well.
READ MORE: The Best Backyard Camping Gear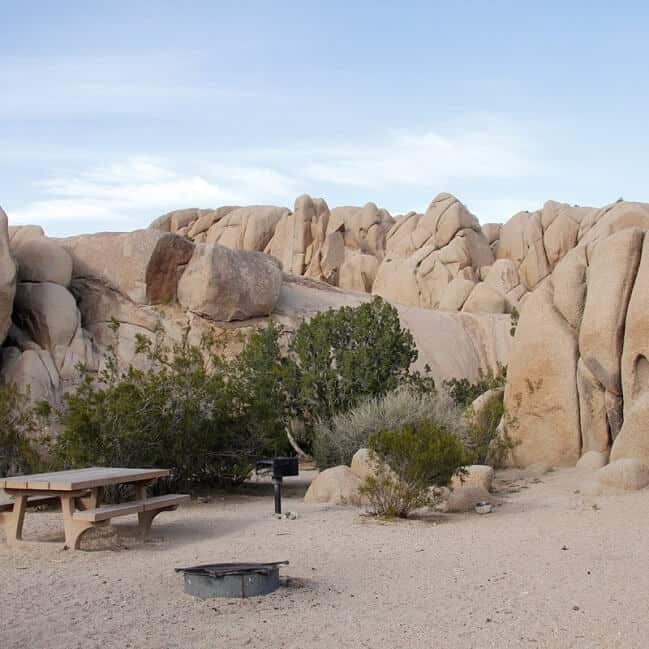 Jumbo Rocks Campground
Probably the most popular spot for Joshua Tree National Park camping, Jumbo Rocks is also one of the largest campgrounds there, with 124 individual and family sites.
As the name suggests, the campground is surrounded by large rock formations. It's one of the best Joshua Tree campgrounds for those traveling with a large group, or who prefer a central location.
If you're traveling in an RV, this is also the best spot for Joshua Tree National Park RV camping. There's lots of space for RVs and trailers, but note that there's no water and no hookups.
Reservations at Jumbo Rocks Campground are required during the high season, which goes from from September to May. You can book online on the Recreation.gov website.
READ MORE: 15 Best Camping Tents for Families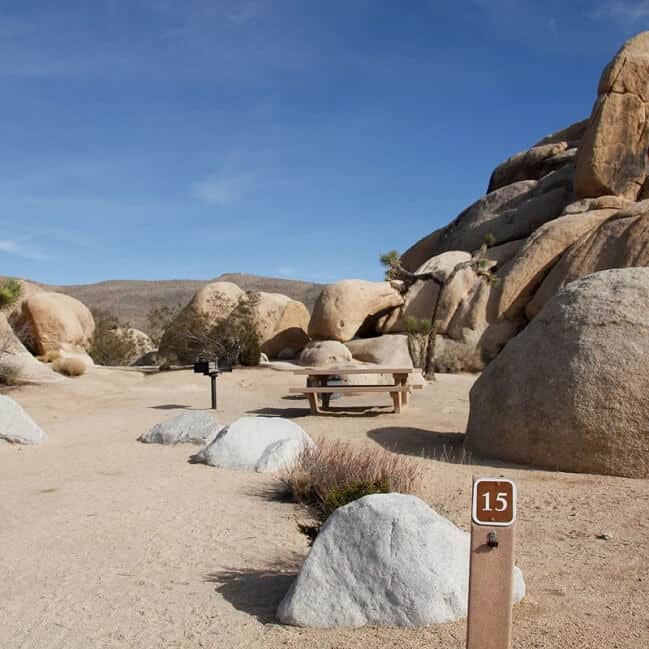 Belle Campground
If you're looking for a more secluded camping experience, Belle Campground is a smaller camping area in a less frequented part of Joshua Tree Park.
The campground only has 18 sites, and it's first come, first served. So get there as early as possible if you want to snag a spot.
With its more out-of-the-way location, this is one of the best places to camp in Joshua Tree for stargazing.
Belle Campground has no water, so make sure to bring plenty of your own. There are a few sites that can accommodate RVs here, but these tend to go really quickly. –by Mimi McFadden
READ MORE: 20+ Camping Tips & Tricks for Responsible Travelers
BIO: Mimi McFadden is a travel blogger, avid yogi, and paneer enthusiast. Originally from California, she has been slow traveling the world since 2013. After living abroad for five years, she has finally found a home in San Francisco. You can follow her on Instagram, Facebook, and her blog, The Atlas Heart.