UNESCO World Heritage Sites offer visitors insight into places of natural or cultural importance that hold "outstanding universal value," as stated in the UNESCO World Heritage Convention.
Out of 1121 total sites in the world, there are 24 UNESCO sites in the USA. So even if you can't travel to the ancient ruins of Greece's Acropolis of Athens or explore the expansive Amazon River, you can see some of the world's most remarkable sites right here at home!
But UNESCO (the United Nations Educational, Scientific & Cultural Organization) does not simply make a list of the world's important or beautiful places. Rather, the organization chooses sites to preserve for their scientific, cultural, natural, or historical value.
As a result, UNESCO requires each site's controlling institutions to adopt UNESCO's World Heritage Convention, which was created in December 1945 and has since been ratified by 193 countries.
Sites are categorized as either natural world heritage sites or cultural world heritage sites. A lot of the U.S. UNESCO sites are natural sites, and have been protected by the National Park Service for decades.
However, there are also many cultural UNESCO sites in America that focus on important groups of people, or historic events.
So whether you're a history buff, nature lover, or simply a fan of geology, the best UNESCO sites in the U.S. offer something for almost everyone. Read on to see our picks for 15 of the must-see World Heritage Sites in the USA!
READ MORE: 12 Odd Intangible Culture Heritage Practices UNESCO Protects
UNESCO World Heritage Sites in the USA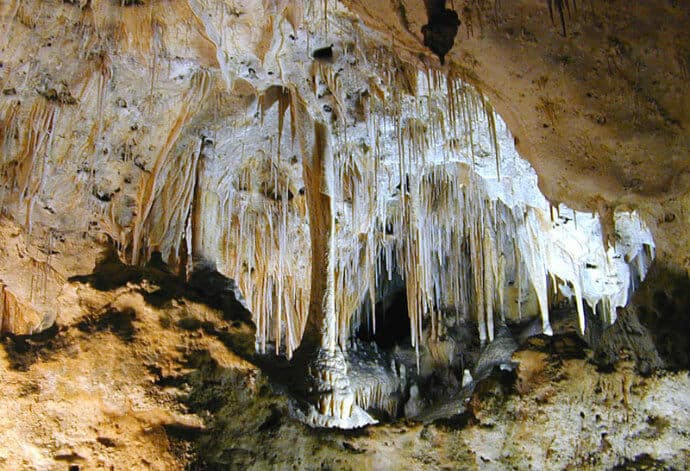 1. Carlsbad Caverns National Park (New Mexico)
Carlsbad Caverns National Park is renowned for its diverse and beautiful mineral formations, which can be found in over 80 different caves.
The area was protected as a U.S. National Park in 1930, but did not become a UNESCO Site until 1995.
While UNESCO recognizes the caverns for their unique universal value, the National Park Service values what is above ground as well as below.
Above the caverns is the Chihuahuan Desert, which offers stunning vistas of ancient sea ledges, deep canyons, as well as unique desert flora and fauna.
There is a visitor center with natural history exhibits on the park. Here you can find information on self-guided and ranger-led tours, surface hiking trails, astrology programs, and bat observation programs.
READ MORE: 10 Famous Underground Caves to Explore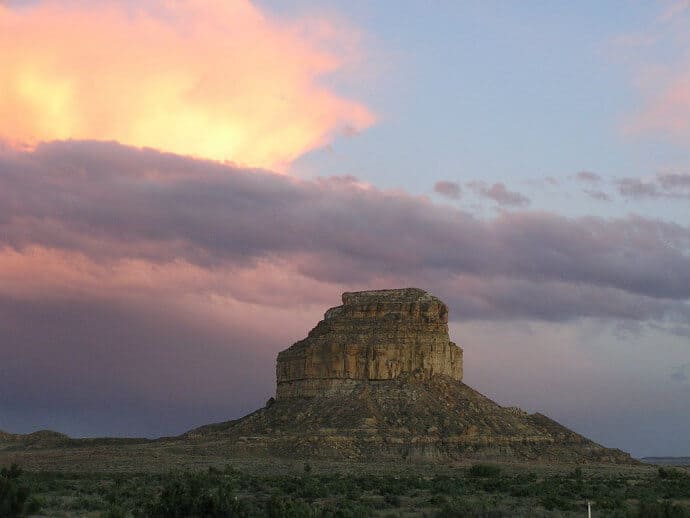 2. Chaco Culture National Historical Park (New Mexico)
First listed as a UNESCO World Heritage site in 1987, this Cultural World Heritage Site offers a look into the indigenous Pueblo culture.
Its ancient network of archeological sites preserves the architecture and culture of the Puebloans (a.k.a. Pueblo peoples), who lived here between 850 and 1250 CE.
Within the Chaco Culture park, there are self-guided tours, ranger led walks, and backcountry trails to explore the six main sites.
At the visitor's center, one can view 900-year old artifacts, then explore the ruins of an ancestral Pueblo Great House.
The park has also offered astronomy programming since 1991. In 2013, it was designated as an International Dark Sky Park, offering magnificent views of the galaxy unencumbered by city lights.
READ MORE: 10 Best National Parks for Your World Travel Bucket List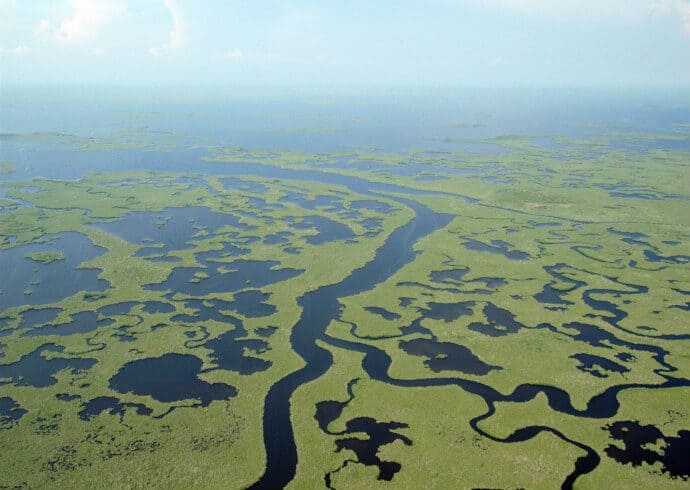 3. Everglades National Park (Florida)
Everglades National Park is not only a must see for its diverse ecosystem and stunning views, but also because it's the only UNESCO site in the U.S. listed as being in danger of ecosystem collapse.
The Everglades are important due to its biodiversity, making it a great place for nature and animal lovers. It is the largest designated sub-tropical wilderness reserve in North America.
It also provides sanctuary for threatened species of wildlife, such as the Manatee, American Crocodile, and the Florida Panther.
Early American settlers and developers viewed this area as a worthless swamp, which led to the first drainage projects in the 1800s. But by the early 20th century, conservation efforts had begun. As a result, the Everglades became a national park in 1947, then a UNESCO Site in 1979.
There are four different visitor centers and a multitude of outdoor activities in this diverse ecosystem. These include bicycling, birdwatching, kayak and canoe trips, camping, fishing, hiking, ranger-led programs, tours, and wildlife viewing.
READ MORE: List of National Parks by State (Epic Guide w/ Insider Tips)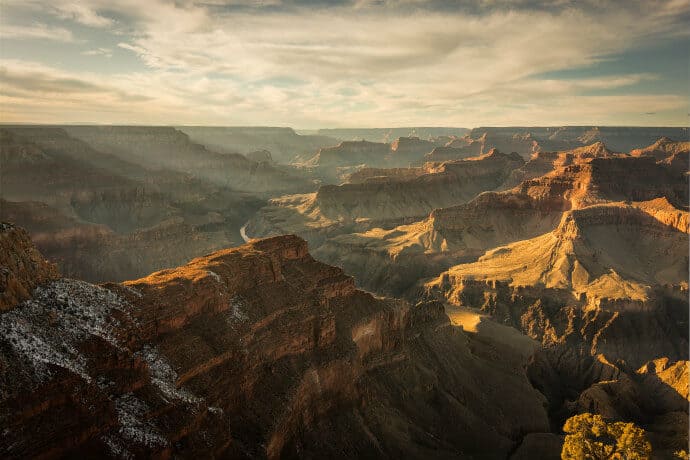 4. Grand Canyon National Park (Arizona)
Grand Canyon National Park is perhaps the most famous national park in the U.S. due to its breathtaking views and expansive canyons. I've had the chance to visit this UNESCO Site myself, and it is truly a remarkable sight to see!
After hundreds of years of native settlements, exploration, mining, and conservation efforts, the Grand Canyon became a national park in 1919.
UNESCO recognizes the Grand Canyon not only for its stunning vistas, but also for its scientific importance in understanding geology. Another reason is ecological diversity, not to mention its cultural importance in Native American history for the past 10,000 years.
The national park ranges over nearly 300 miles, with three visitor centers. Two of the visitor centers display exhibits of local geological and cultural artifacts.
Guided and non-guided hiking tours and other recreational activities are available in the 3 main areas of the park– the South Rim, Desert View, and East Rim.
READ MORE: The Most Comfortable Walking & Hiking Shoes for Men & Women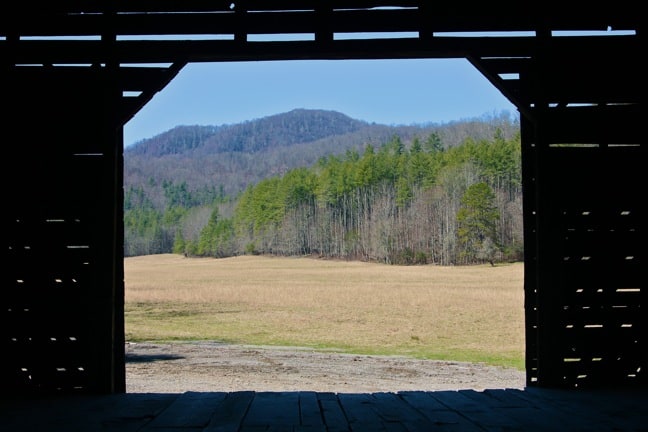 5. Great Smoky Mountains National Park (Tennessee and North Carolina)
Located near the southern end of the Blue Ridge Mountains range, Great Smoky Mountains National Park boasts over 500,000 acres of diverse and pristine flora and fauna, making it an important natural UNESCO World Heritage Site.
Due to the park's relatively untouched ecosystem, visitors can witness what the earth looked like thousands of years ago.
The park is home to the world's greatest diversity of Salamander species, as well as other wildlife such as Black Bears, Elk, multiple "Species of Concern" birds, and 50 native fish species.
For these reasons, the NPS and UNESCO have protected the park's flora and fauna since 1934 and 1983, respectively.
Within this area of natural beauty, visitors can find stunning waterfall hiking trails, historic buildings and cemeteries, and other recreational activities.
There are four visitor's centers within the park's boundaries, as well as popular sites such as Newfound Gap, Roaring Fork, and the Cataloochee Valley.
READ MORE: Cataloochee Valley Elk in Great Smoky Mountains National Park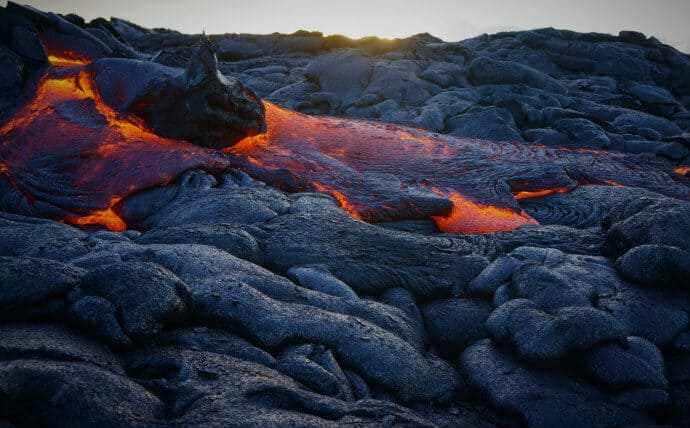 6. Hawaii Volcanoes National Park (Hawaii)
Hawaii Volcanoes National Park highlights the geological processes which originally created the Hawaiian Islands.
It's home to two of the world's most active volcanoes, Mauna Loa and Kilauea on Hawaii's Big Island, offering an up-close glimpse into how these Polynesian islands were born.
UNESCO also recognizes the unique flora and fauna offered here, 90% of which can only be found on the islands. There are many protections in place to preserve the biological, cultural, and geological importance of the park.
However, things like invasive species, pollution, and development threaten the park and its native animals, including the Hawaiian Nene Goose.
The Kilauea Visitor Center provides information on the park's hiking and driving trails, ranger-led programs, and flora and fauna.
Whether you're drawn by the thrill of powerful geologic processes, vibrant cultural traditions, or unique plants and cool animals, Hawaii Volcanoes National Park offers visitors insight into some of the most rare and beautiful natural and man-made phenomena.
READ MORE: Hawaiian Mythology (Intro to Hawaiian Gods, Goddesses & Legends)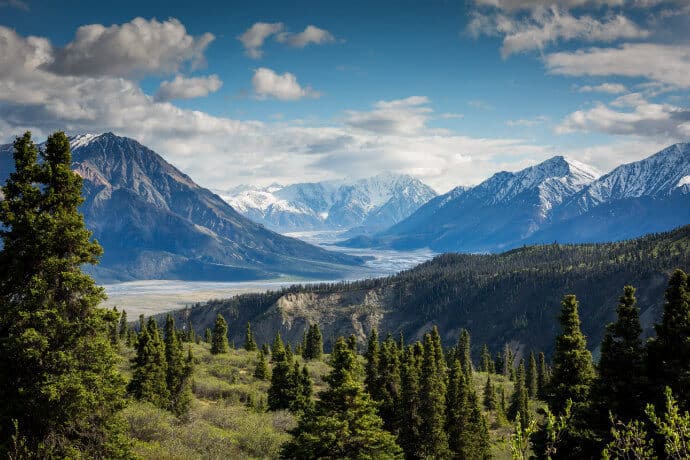 7. Kluane/Wrangell-St. Elias/Glacier Bay/Tatshenshini-Alsek (Alaska)
UNESCO has grouped these US and Canadian national parks and protected areas together because of the significance of their natural processes.
They collectively contain the largest non-polar icefield in the world, and are home to Alaskan animals such as Grizzly Bears, Caribou, Moose, and Dall's Sheep. These areas are also significant because of their active tectonic and volcanic natural processes.
UNESCO started by protecting Wrangell- St. Elias and Kluane in 1979, with Glacier Bay added in 1992 and Tatshenshini-Alsek added in 1994. All four of these parks offer visitor centers and similar recreational activities, including hiking, rafting, climbing, camping, and guided tours.
Kluane National Park and Reserve and Tatshenshini-Alsek Provincial Park are both Canadian parks. Kluane is home to 17 of 20 of Canada's tallest mountain peaks. Tatshenshini-Alsek is best known for the two rivers for which it was named, and the gap they carved through the mountains.
Wrangell-St. Elias is America's largest National Park at 13.2 million acres. From volcanoes and glaciers to rainforest and tundra, there are loads of diverse sights and Alaska wildlife.
Glacier Bay National Park is another of America's greatest national parks, with a range of scenery from glaciers and rainforests to dynamic coastline cliffs.
READ MORE: The Ultimate Alaska Inside Passage Cruise Guide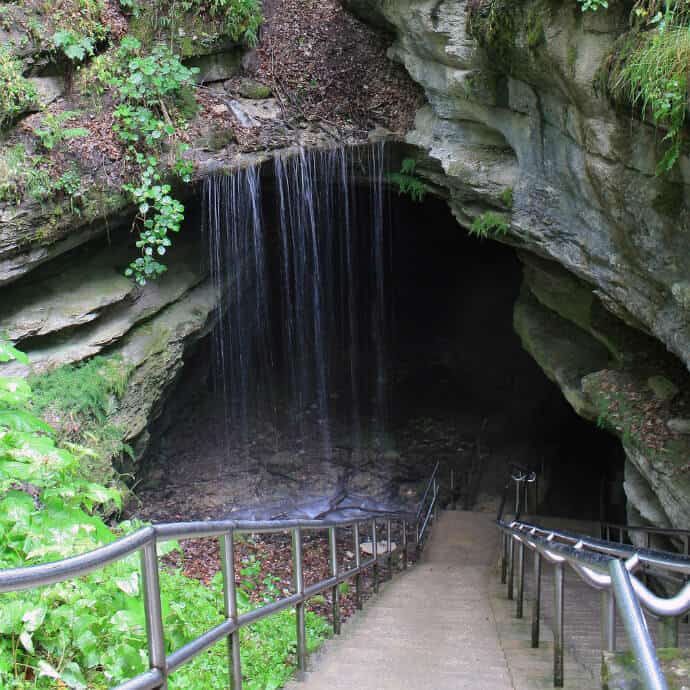 8. Mammoth Cave National Park (Kentucky)
Fall in Kentucky is gorgeous, not to mention a great time to visit this National Park and UNESCO World Heritage Site, which has the world's largest network of natural caves and underground passageways.
The park serves as an ecosystem for varied flora and fauna, both above and below ground. The cave system exhibits every possible type of cave formation, and possesses the world's richest known array of cave-dwelling wildlife.
After a history of exploration dating back 4,000 years, the area became a national park in 1941 and a UNESCO World Heritage Site in 1961.
Above ground, one can explore the area's historic churches and cemeteries, or travel back in time with a ride on the Mammoth Cave Railroad. Guests can also enjoy recreational activities such as hiking and kayaking, and they can learn from exhibits and rangers in the park's visitor center.
Below ground, guided cave tours educate guests on the geological stories told by the mineral deposits and cavern formations there.
Witness bubbling springs leading into underground rivers that are home to rare cavernous lifeforms and other geological wonders!
READ MORE: Rio Secreto, the Riviera Maya's Amazing Underground River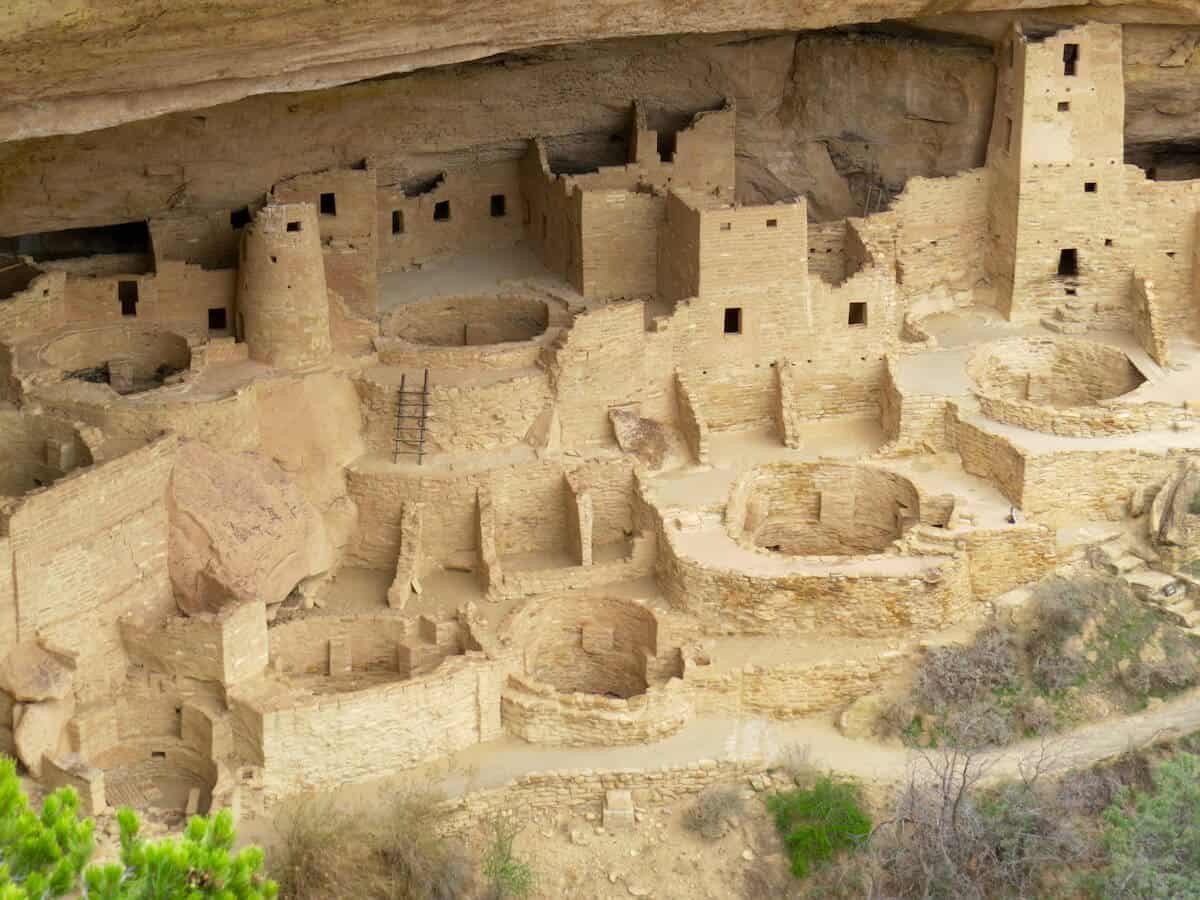 9. Mesa Verde National Park (Colorado)
Similar to Chaco Culture, Mesa Verde National Park is a UNESCO World Heritage Site centered around Pueblo Indian culture.
Mesa Verde National Park was established in 1907 to protect and interpret the archeological heritage of Pueblo culture, while UNESCO added their stamp of approval to the site in 1978.
Archeologists have recorded over 4,000 unique sites here, including 600 cliff dwellings (many of which you can visit). The NPS offers a visitor and research center, where one can find information on hiking and other recreational activities in the park.
The park also offers birdwatching, cross country skiing, and opportunities for observing wildlife such as the Mule Deer, Wild Turkey, and the Young Great Horned Owl.
Within the park, you'll also find the Chapin Mesa Archeological Museum. The building was built from traditional Pueblo materials, and holds unique ancient artifacts found in the park.
READ MORE: DIY Mesa Verde Tours: How to Explore the National Park on Your Own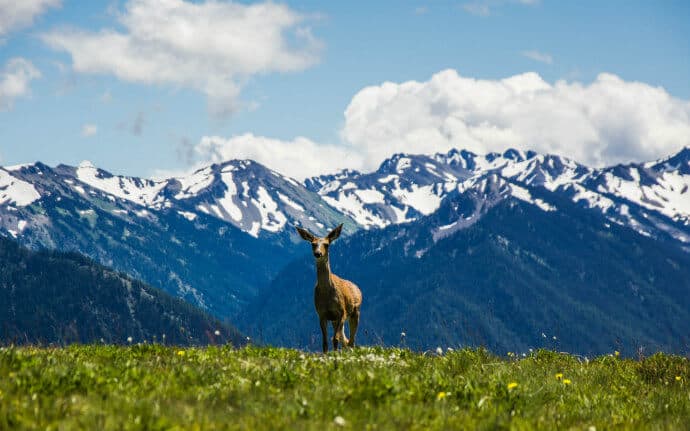 10. Olympic National Park (Washington)
Another natural UNESCO World Heritage Site, Olympic National Park is revered for its diverse ecosystems, which range from snow-clad summits to wild coastline.
The park contains a uniquely intact temperate rainforest, as well as the longest undeveloped coast in the continental U.S. These habitats are home to rare endemic species and endangered species such as the Northern Spotted Owl, Marbled Murrelet, and Bull Trout.
The area became a national park in 1938, after a long history of Native American habitation. Exploration by US settlers started in the 1800s, with conservationists such as John Muir immediately suggesting its beauty should be conserved a national park.
The area received its first designation in 1897 as Olympic Forest Reserve, and eventually became a UNESCO World Heritage Site in 1981.
There are five visitor centers, two of which are open all year-round– the Olympic National Park Visitor Center and Wilderness Information Center.
Here, you can find information on audio tours, ranger-led programs, and recreational activities such as hiking trails, climbing, boating, fishing, and various winter activities.
READ MORE: The 20 Biggest Forests in the World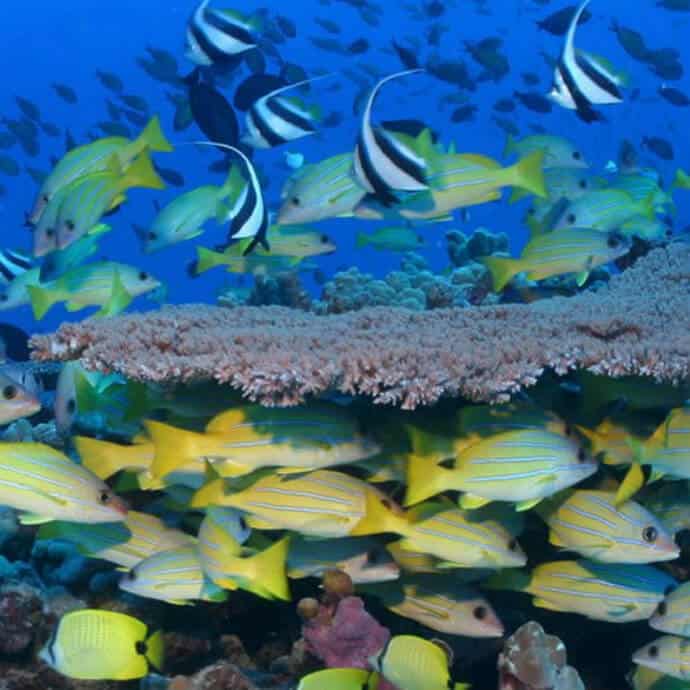 11. Papahānaumokuākea (Hawaii)
Papahānaumokuākea, the only mixed natural and cultural UNESCO site in the United States, is a collection of low-lying islands, atolls, and surrounding ocean northwest of the Hawaiian Islands.
It encompasses nearly 600,000 square miles, which makes it one of the largest protected marine conservation areas in the world!
After more than 100 years of conservation efforts, Papahānaumokuākea was finally named a US National Monument in 2006. In 2010, the area also became a protected UNESCO site.
The marine habitats of Papahānaumokuākea host rare and endangered species such as the Green Sea Turtle, Hawaiian Monk Seal, and Laysan Duck.
Culturally speaking, the area has the highest density of sacred sites for native Hawaiians, and is extremely important in Hawaiian cosmology. It also holds significance in American history, both for the WWII Battle of Midway and the commercial whaling era.
The area is mostly used for scientific and cultural research, but does offer public visits as well. There is a visitor center that provides information on recreational activities such as snorkeling, swimming, SCUBA diving, and interpretative programs.
READ MORE: The 20 Best Things to Do in Kauai, Hawaii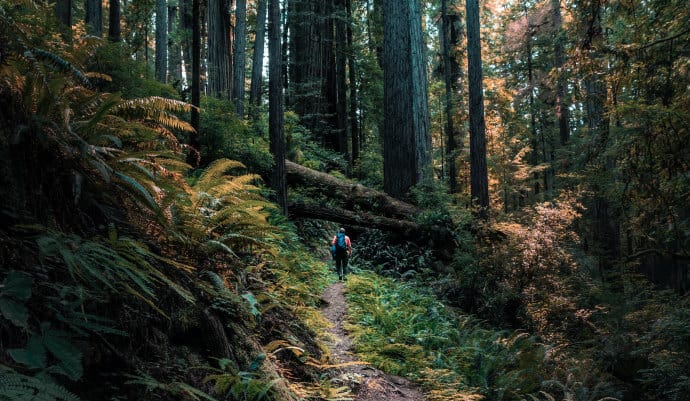 12. Redwood National and State Parks (California)
The Redwood Forest in Northern California is home to some of the tallest and oldest trees in the world (including some over 2,500 years old).
The park is home to important flora and fauna from the mixture of intertidal, marine, and freshwater streams. These two elements combined make this national park an important natural UNESCO site.
The redwoods were first home to Native American tribes, who became experts on their unique ecosystem. Later, the arrival of European explorers made logging the redwood trees lucrative.
Conservation efforts began in the early 1900s by the Save the Redwoods League. Their efforts convinced the California government to conserve the coastal redwood forests.
The area became a national park in 1968, with expansions in the following decades. In 1980, it became a UNESCO World Heritage Site, ensuring greater efforts to protect this remnant of an ancient ecosystem.
Today there are five visitor centers where guests can learn about the many ways to explore the park, from driving and biking to hiking, as well as guided kayak tours.
Thanks to the range of ecosystems here, one can explore the rocky coastline, snow-capped mountains, or towering forests!
READ MORE: Avenue of the Giants: A Scenic Drive through California's Redwoods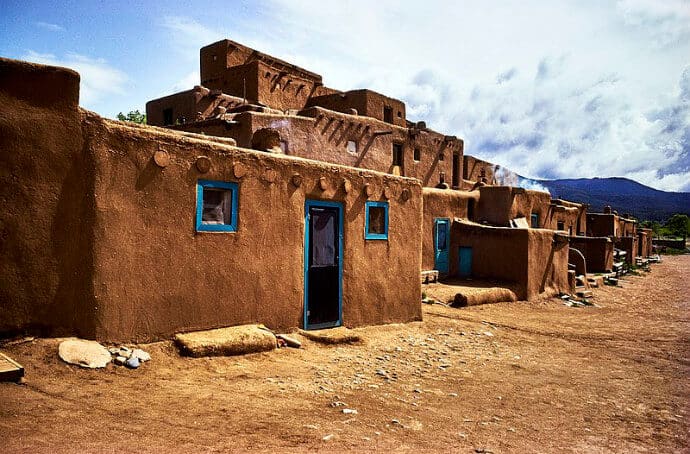 13. Taos Pueblo (New Mexico)
Approximately 200 miles east of Chaco Culture is yet another UNESCO site focused on Pueblo culture.
In 1970, the U.S. returned 50,000 acres of land to the Pueblo people. This became the Taos Pueblo Blue Lake Wilderness Area, including the Sacred Blue Lake.
Taos Pueblo is a settlement of ceremonial buildings and dwellings that shows the living culture of present-day Pueblo Indian people.
It is the only living Native American community that is currently designated as both a UNESCO Site and a U.S. National Historic Landmark.
Only members of Taos Pueblo are allowed into the wilderness area. But the community allows visitors into Taos Pueblo from 8 am to 4:30 pm daily.
Traditional Taos cultural wares can also be purchased directly from residents within the town.
READ MORE: Top 5 Eco-Friendly Tourist Attractions in New Mexico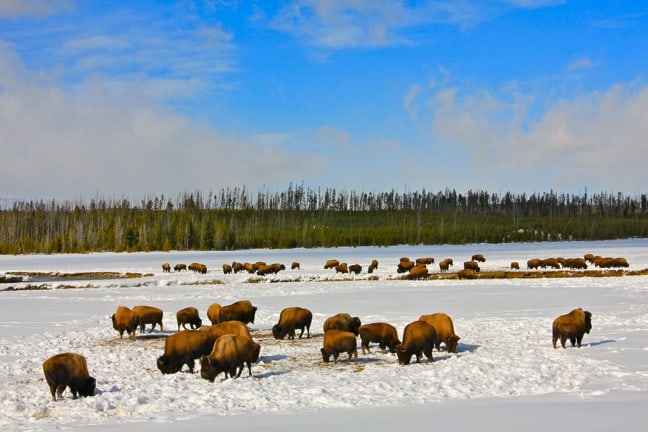 14. Yellowstone National Park (Wyoming, Montana, Idaho)
Yellowstone is home to vast forests, not to mention half of the world's geothermal processes (including the world's largest concentration of geysers). The area also provides a habitat for unique wildlife such as Grizzly Bears, Wolves, Elk, and Bison.
These features made Yellowstone National Park an ideal natural landmark, and it was introduced as a UNESCO World Heritage Site in 1978.
Historically, Yellowstone is incredibly important, becoming the first protected national park in the world in 1872. The area has been home to humankind for over 10,000 years, making it a vital place for both archeological and cultural research.
Today Yellowstone National Park offers guests 10 visitor's centers to choose from within its 2.2 million acres. These include two museums and a multitude of exhibits ranging from Native American history to geological findings.
The park offers guided tours in nearly every recreational activity, from hiking and backpacking to painting, snowmobiling, skiing and more!
There are many jaw-dropping sights to see within Yellowstone from the Grand Canyon of Yellowstone and Mammoth Hot Spring to the famous Old Faithful Geyser.
READ MORE: Yellowstone National Park: Lamar Valley Photo Gallery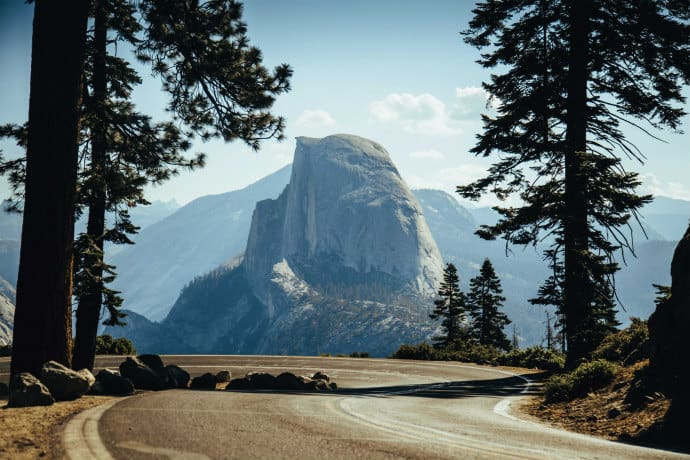 15. Yosemite National Park (California)
Yosemite National Park offers stunning views of waterfalls, valleys, meadows, glacier-carved cliffs, and ancient giant sequoias.
After the end of the last Ice Age, Native Americans travelled and settled in the area now known as Yosemite. Once European exploration began and gold was discovered in California, Yosemite became a place of conflict over land and vital resources.
It took the combined efforts of many conservationists to make the natural value of Yosemite recognizable to the government. In 1864, President Abraham Lincoln placed Yosemite under the protection of the California government.
As a result of further protective efforts, the area became a national park in 1890. After that, it was recognized as a place of natural universal value by UNESCO in 1984.
The park offers 5 visitor centers as well as museums and exhibits about the area's cultural history and geological discoveries.
There are a variety of ways to see the spectacular sights Yosemite National Park has to offer, including guided or unguided tours by car, hiking, biking, and horseback riding. –by Sonny Grace Bray, lead photo via Pixabay