mass tourism
over the past decade, summer travel to Europe has become increasingly problematic.
Record-breaking heat, record-breaking visitor numbers, and
horrific tourist behavior
are leading to many situations where locals simply wish travelers would stop visiting.
But Christmas in Europe is a different beast entirely. The cold weather of European cities in winter naturally limits the number of visitors.
The holiday season lends a fairytale glow to these ancient towns and historic buildings that feels positively magical.
The oldest European Christmas traditions– including Christmas markets, evergreen trees and wreaths, Yule logs, mulled wine (a.k.a.
Glühwein)
, and Nativity scenes– date back 500 years. And some go back even further, to the pagan era!
So here we've enlisted 30 of our travel blogging friends to write about their picks for the very best places to spend Christmas in Europe.
From the tropical Mediterranean warmth of Portugal and Spain to the frigid climates of Finland, Sweden, and Russia, we'll take a look at all of the best European Christmas destinations.
You may even discover some unexpected places where you can spend a white Christmas in Europe!
READ MORE: 80 Christmas Traditions Around the World
Best Places to Spend Christmas in Europe Guide
READ MORE: The 25 Best Places to Spend Christmas in the USA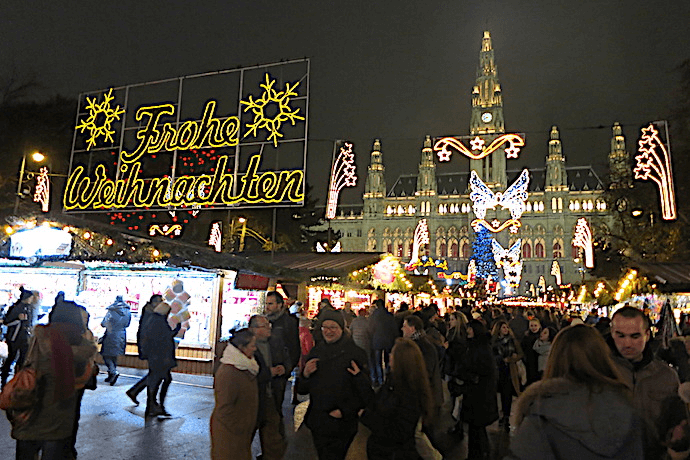 1. Christmas in Vienna, Austria
Although many major European cities have Christmas markets, in Vienna you can explore many different markets amidst some of the continent's finest architecture.
The Christmas markets at Schönbrunn Palace, on Stephansplatz, at the Opera House, and at Belvedere Palace are just a few that are worth exploring while spending your Christmas holidays in Europe.
Also, don't miss the Christmas Village on Maria-Theresien Platz, which is located between the Museum of Natural History and the Museum of Art. Here, at various Würstelstands, you will find one of our favorite Christmas market snacks.
Imagine a two-foot-long Vienna sausage wrapped in dough, baked, and then dipped in garlic butter. The memory always makes my mouth water!
Dress in layers, because the weather can get chilly. Hot mulled wine, cider, and hot chocolate are available at these markets, along with lots of other great food and treats.
The largest linzer cookie we've ever seen was at Christmas World on Rathausplatz. Also make sure to take time to explore the world-class museums found throughout Vienna.
And don't miss the pastries that have made Vienna famous, like the Sacher torte at the Sacher Hotel. Check out Get Your Guide for a great tour in Vienna. -Sue Reddel of Food Travelist
READ MORE: 25 Symbols of Christmas: The History & Meaning of Traditional Christmas Decorations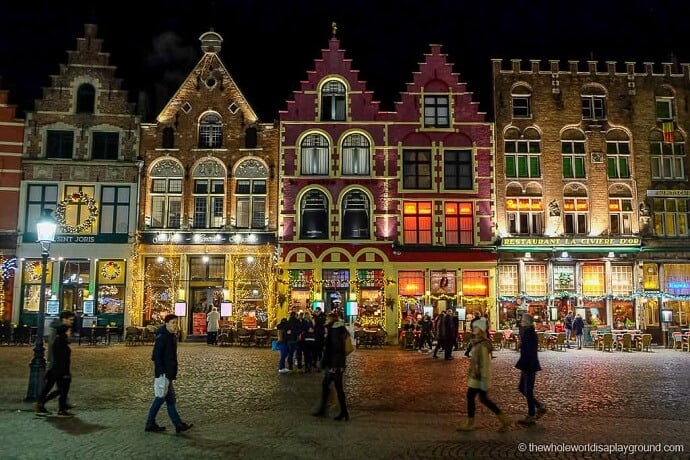 2. Christmas in Bruges, Belgium
The small and historic city of Bruges, Belgium is one of the best places to visit in Europe at Christmas time.
Though it's traditionally visited as a day trip by tourists in the summer months, it's also one of the best European cities in winter.
As Christmas approaches, Bruges is transformed into a festive winter wonderland. The biggest attraction is the Bruges Christmas Market, which is one of our favorite in Europe.
The market takes place in the charming Market Square, which is crammed with food, drink, and craft stalls as well as an ice rink at its center.
The excellent beer and delicious chocolate that Bruges is famous for year-round perfectly complements the festive specialties. As well as the market, there are dedicated Christmas stores in the surrounding streets.
Make sure to pack warm clothes for visiting Bruges at this time of year, as the city is usually very cold and snow is common during the winter months.
Aside from the Christmas fun, make sure to take some time to climb the Belfry of Bruges on Market Square. It offers the best overviews of the Old Town.
Also, don't miss the hot chocolate selection at the Le Comptoir de Mathilde store, which is located nearby. Check out Get Your Guide for a great tour in Bruges from Brussels. -Elaine & Dave of The Whole World is a Playground
READ MORE: 20 Fun Christmas Eve Traditions Around the World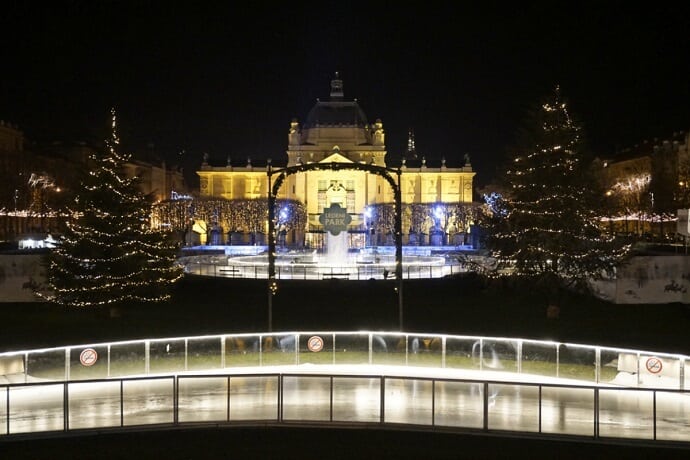 3. Christmas in Zagreb, Croatia
When you think of where to spend Christmas in Europe, Croatia is probably among the last destinations that come to mind. After all, this Balkan country is all about sun, famous lakes, and beaches, right? Well, as a matter of fact, no.
Advent u Zagrebu (advent in Zagreb) has been recognized as the best Christmas market in Europe for three years in a row now. So if you're planning winter holidays in Europe and you love Christmas, it really deserves to be on your bucket list.
The town feels like a chocolate-covered, magically decorated fairytale. If you can accept the fact that Santa will be speaking in a Slavic language, you're in for a treat.
The market takes over the city center, which means that wherever you go you'll be immersed in the holiday spirit.
There are stands offering a myriad of food delights and beverages for all tastes, from the local spirit, rakija, to classics such as mulled wine and coffee, to Grinch tea.
They're surrounded by stunning Zagreb landmark, like St. Mark's Church, Ban Jelačić Square, Zagreb Cathedral, and King Tomislav Square.
This winter wonderland also offers a beautiful ice skate rink, continuous concerts in the cutest of settings, stalls selling lovely handcrafted Christmas decorations and presents, and plenty of gorgeous selfie spots.
Prepare yourself for cold weather, but keep in mind that you'll have all sorts of delicious local sweets to keep you warm. Check out Get Your Guide for a great tour in Zagreb. -Coni of Experiencing the Globe
READ MORE: The History & Names for Santa Claus Around the World)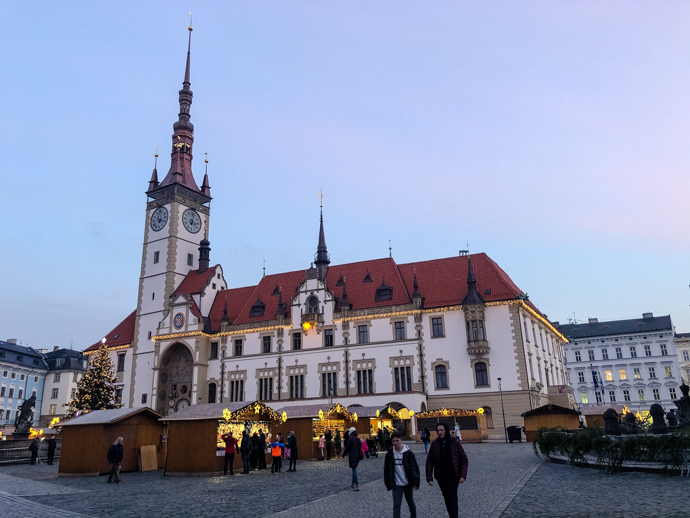 4. Christmas in Olomouc, Czech Republic
As amazing as Prague may be at Christmas, you can discover Old Town charm in a more authentic setting in Olomouc, the Czech Republic's 6th largest city, which is located in the Moravia region (about 2 hours away by train).
The compact historical center of Olomouc makes it an ideal setting for Christmas celebrations, as two connected squares turn festive with abundant Christmas markets.
Stuff your belly with traditional Czech delicacies such as potato pancakes, sausages, cheeses, and wash it down with mulled wine or hot mead.
Of course, local products such as honey from nearby mountains, handmade Christmas tree ornaments, and other decorations are available as well.
The Upper Square looks especially charming, with its recently reconstructed Old Town Hall and the UNESCO-listed Holy Trinity column. There's typically a stage set up here so you can listen to Christmas concerts during the holidays.
Other things to do in Olomouc include riding a guide-powered mulled wine bike (a nicer cousin to the infamous beer bikes), hopping on a Ferris wheel, enjoying a beer spa, and engaging in some fun snow activities in one of the many parks that circle the town center. –Veronika Primm of Travel Geeekery
READ MORE: Traditional Food Around the World: 30 Famous Dishes You Can Make At Home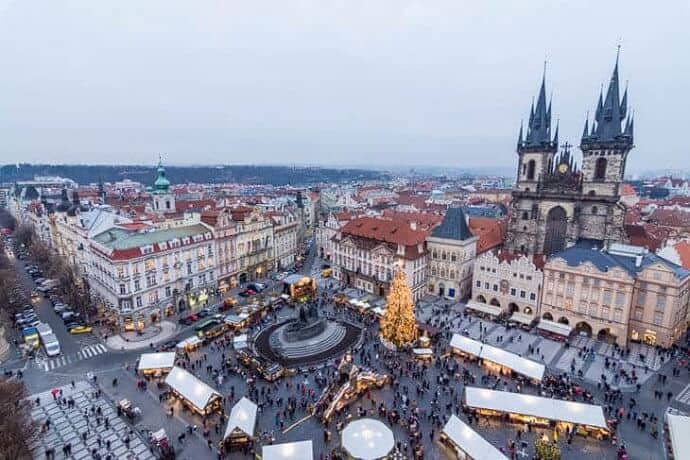 5. Christmas in Prague, Czech Republic
Our favorite among the best places to visit in Europe for Christmas, Prague boasts several Christmas markets open every day from the end of November to January 6th.
The big main market is held in the old town square, and there are smaller markets nearby as well.
The whole old town section has that special holiday spirit, with many stalls selling decorations, ornaments, and hand-made gifts.
Of course there are also many food stalls selling sausages and hot beverages, such as glühwein, cider, beer, and hot chocolate.
Prague is one of best destinations in Europe for Christmas, but do expect cold temperatures (around 0 degrees Celsius), and make sure to bring warm clothes because the air is quite chilly in December.
Some other Prague attractions that shouldn't be missed are the Prague Castle complex, Astronomical clock, the dancing house, St. Vitus Cathedral, and the famous Charles Bridge.
If you want to avoid the crowds at these iconic landmarks, make sure to visit the Christmas market in the old town at the beginning of December.
Also, don't forget to visit the smaller markets as well, as they tend to have a more local feeling to them.
Check out Get Your Guide for a great tour in Prague. –Christine Wedberg of Christine Abroad
READ MORE: Weekend in Prague: The Best Things To Do in Prague in 3 Days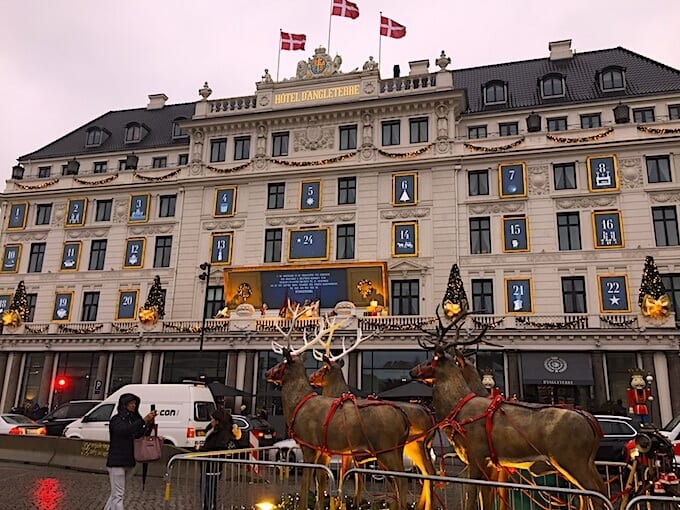 6. Christmas in Copenhagen, Denmark
If you want to experience the holidays in a festive, beautifully-decorated European capital, one of best destinations in Europe for Christmas is Copenhagen, Denmark.
The city positively glows, as every street is crisscrossed with evergreen boughs and bright lights. It's also a perfect place for seeing gorgeous early sunsets.
In my opinion, Copenhagen has the best Christmas markets in Scandinavia. The most expansive of them is located in Kongens Nytorv Square, along with some of the city's most iconic buildings.
In the square you'll find Hotel D'Angleterre, which transforms their entire facade into an enormous advent calendar using LCD screens.
Winter in Copenhagen is cold and wet (Danes call it gråvejr, or "gray weather"), but rarely below freezing, so don't expect snow.
One of the must-see Christmas attractions in Copenhagen is Tivoli Gardens. It's gorgeous year-round, but their holiday decorations are like something out of a classic Christmas film.
Go to Tivoli in the late afternoon so you can see the lights and gardens in daylight, twilight, and darkness. Then cap your evening off with a traditional Danish Christmas meal.
For a local recommendation, reserve a table at the historic Restaurant Puk. It's located just a short walk from Tivoli, and they offer a small and full-course version of the holiday meal. Check out Get Your Guide for a fun tour in Copenhagen. -Derek Hartman of Everything Copenhagen
READ MORE: Recycled Christmas Decorations & DIY Christmas Crafts to make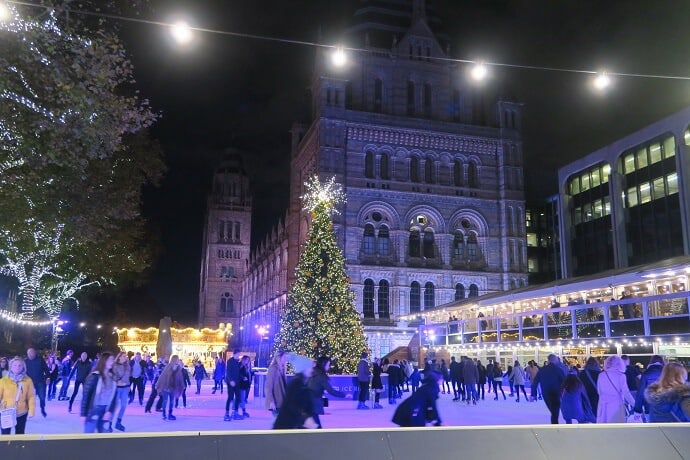 7. Christmas in London, England
Winter in London can be wet and cold, so some people might assume that Christmas in the city could be miserable in terms of weather. They couldn't be more wrong! In fact, London is one of the best European cities for Christmas.
The city really knows how to put people in the holiday spirits. From the middle of November, many shops start to decorate their windows, and some big streets start turning on their Christmas lights.
Oxford Street and Regents Street have more traditional lights, while Carnaby Street has something wacky every year that normally strikes up some controversy among the locals.
Backyard Cinema and Christmas at Kew are fun pop-up Christmas events that you can only experience during the holiday season.
An absolute must is visiting the ice rink in front of the Tower of London, and then warming up over a traditional Christmas-themed afternoon tea.
Winter Wonderland is also worth a visit. But be prepared to deal with big crowds, as it's the favorite place for London locals and tourists alike during Christmastime. Check out Get Your Guide for a fun tour in London. -Eniko of Travel Hacker Girl
READ MORE: NYC Christmas Window Displays Walking Tour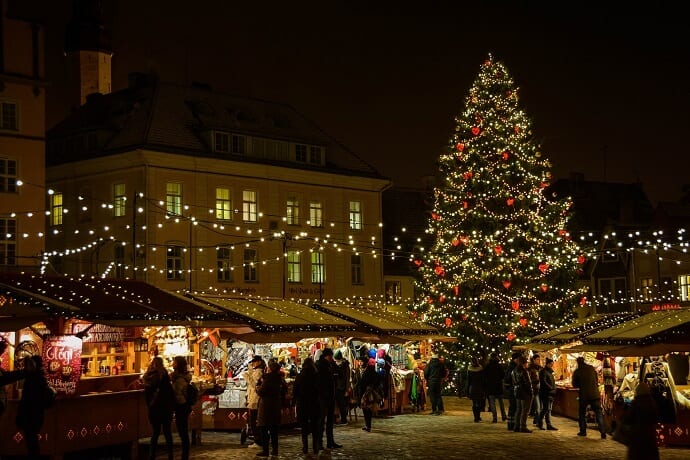 8. Christmas in Tallinn, Estonia
Our top pick for the best places to go in Europe for Christmas is less well known than many of the major cities.
But Tallinn epitomizes everything we love about historic Europe, without the masses of crowds that tend to appear around this time of the year.
The city boasts gorgeous historic architecture festooned with traditional Christmas décor and decadent local cuisine.
Of course, there's also the piece de resistance that you can find in most European cities– Christmas markets.
Take a stroll to the historic old town to experience the heartbeat of the city and enjoy the Christmas markets in Tallinn Town Hall Square.
Listen to traditional Christmas music while indulging in a glass (or two) of Estonian Glögg, or mulled wine with a little extra flavor.
A snowy winter wonderland will likely await your visit to Tallinn, but this just adds to the magic of the location. Just wrap up in layers to endure the chilly weather, and quickly warm yourself up by enjoying the entertainment on offer across the city.
Be sure to visit Toompea, an iconic hill that gives spectacular panoramic views of the city, along with the Alexander Nevsky Cathedral, St. Olaf's Church, and a number of museums that are worth visiting.
Check out Get Your Guide for a fun tour in Tallinn. –Chris & Heather Boothman, A Brit and A Southerner
READ MORE: Best Gifts for Travelers (125+ Travel Gift Ideas)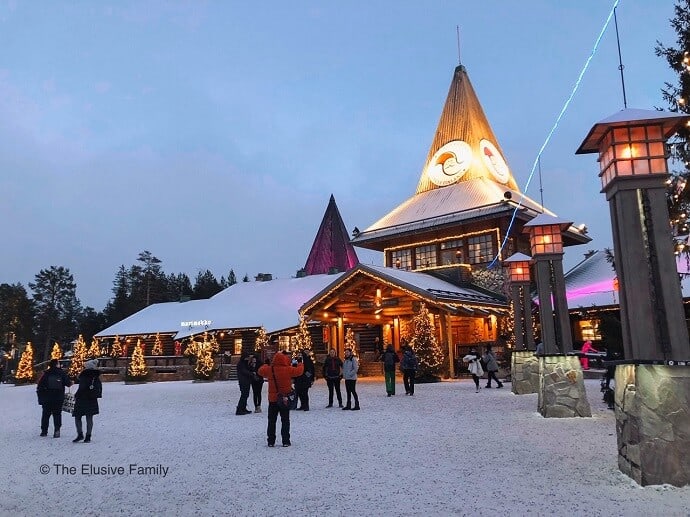 9. Christmas in Rovaniemi, Finland
If you asked me where to spend Christmas Day in Europe, I'd recommend Rovaniemi, which bills itself as "the Official Hometown of Santa Claus."
The city (which is the capital of Finnish Lapland) is reachable via a wonderful Santa Claus night train from Helsinki, or by plane.
The city's heart and spirit shine brightest during the holidays, when Santa Claus Village is among the most popular hotel choices for travelers.
There are also numerous other unique hotels, including igloos as an option for Rovaniemi accommodations.
Whether you're visiting Lapland with kids or on a European Christmas vacation with your significant other, this is a beautiful and magical place to visit during the holidays.
Santa Park is an underground theme park where elves wander around, Santa can be found at his little home, and a train takes kids on a ride. There are also numerous other activities there, such as dance shows, an ice bar, and Santa's mail room.
Other must-do Rovaniemi attractions include being pulled by Huskies through the forests, a Reindeer sleigh ride in the snow, ice fishing on frozen lakes, and chasing the Northern Lights.
Be sure to take part in the local tradition of going ice swimming in the cold!
Since Rovaniemi is located in the Arctic Circle, it's very important to come prepared with the proper cold weather gear. Multiple layers are essential here, and knowing how to dress properly for extremely cold temperatures is a must.
As long as you're prepared, the Christmas season in Rovaniemi, Finland is beyond magical . Check out Get Your Guide for a fun tour in Rovaniemi. -Diana of The Elusive Family
READ MORE: Winter Adventures in Finnish Lapland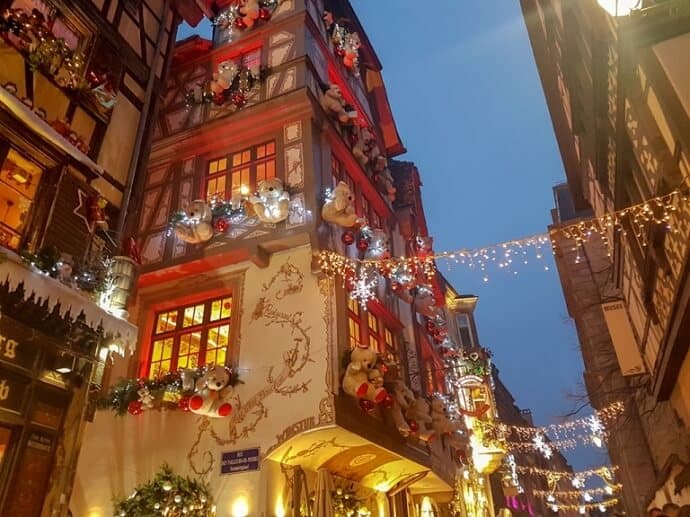 10. Christmas in Strasbourg, France
Strasbourg, France is home to one of the world's oldest Christmas markets. The annual attraction dates back to 1570, and is one of many reasons Strasbourg is considered one of the best European cities for Christmas.
Walking through this picturesque town, you'll be amazed by the glistening Christmas lights, extravagant decorations, and constant aroma of freshly baked goods that waft through the streets throughout the months of November and December.
While average temperatures are a chilly 5°C/41ºF in the daytime, the Christmas cheer (and a few mulled wines) will definitely help to warm you up!
The city boasts no less than 10 Christmas markets that sprawl their way through the streets, so you won't have to go far to find a Christmas gift or holiday-themed souvenir.
Aside from the Christmas markets, Strasbourg also features an epic Christmas tree decked out with 7 km/4.3 miles of lights!
There's also a stunning cathedral where you can admire a view of the town from above, and the beautiful timber-framed houses of Petite France.
Check out Get Your Guide for a fun tour in Strasbourg. -Chrisoula Manika of Travel Passionate
READ MORE: 5 Weird Foods the French Consider Delicacies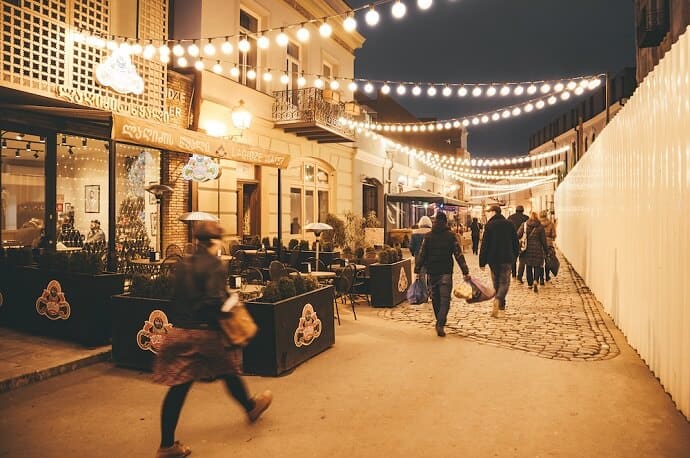 11. Christmas in Tbilisi, Georgia
Though geographically located in Asia, Georgia is a Council of Europe member and is trying to become an EU nation.
The country celebrates Orthodox Christmas on January 7th, so the festive celebrations in the capital, Tbilisi, start later than in most European cities. But they're no less flamboyant.
The Town Hall spares no expense in decorating Tbilisi for Christmas, with thousands of sparkling lights– everything from angels to giant baubles– over the hectic streets.
In the heart of town you'll find a giant tree and, at its base, a sprawling Christmas market with entertainment and tasty treats.
Visiting it is a fabulous way to get acquainted with Georgian Christmas traditions. But be warned, the locals aren't early birds, so the celebrations usually last well into the wee hours!
The weather in Tbilisi around Christmas is cold, but not freezing. If you're lucky, you might experience a light flutter of snow.
Wrap up in a warm winter coat and stroll the old town, taste some Georgian wines in a warm wine bar, and take a soak in the city's famed Sulphur baths.
Tbilisi is also an excellent destination for foodies, as the city's restaurants offer up a contemporary take on traditional cuisine.
If you're visiting other Europe destinations in December, extend your holiday celebrations by visiting Tbilisi at the end of your vacation. After the New Year you'll find festivities there in full swing, and on Orthodox Chrimas you can witness the Alilo procession in all its white-gowned splendour.
Check out Get Your Guide for a fun tour in Tbilisi. -Nadine Maffre of Le Long Weekend
READ MORE: 15 Recycled Christmas Cards Crafts for Kids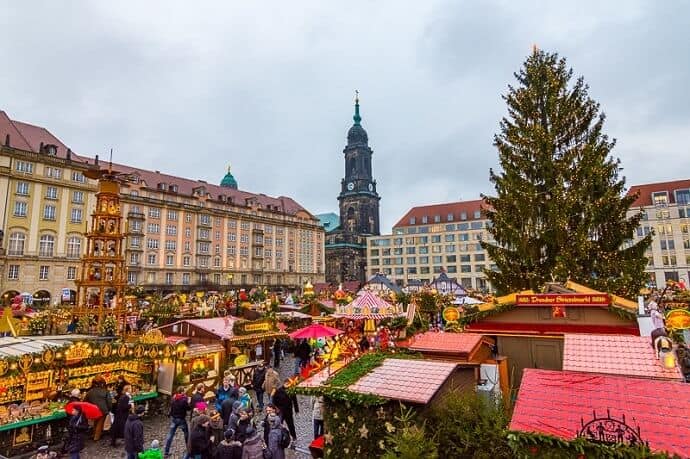 12. Christmas in Dresden, Germany
Dresden is home to the oldest Christmas market in Germany, the Striezelmarkt, which has been an annual Christmas traditional for around 585 years.
The whole city gets into the festive spirit, which is precisely what makes Dresden one of the best European christmas destinations.
In addition to the main Christmas market in the old town center, there are various other Christmas markets and seasonal decorations all over the city.
Strolling around the Striezelmarkt is definitely one of the best things to do in Dresden during this time of year. There are various stalls selling ornaments and handmade products as well as German food and traditional glühwein.
Visitors should expect temperatures around 0-5º Celsius/32-41º Fahrenheit, so it's advised to wear layers and a warm jacket. The warm glüwhein or hot chocolate will definitely help keep you warm.
In addition to Christmas markets and the general festive spirit, you shouldn't miss visiting Dresden attractions such as Zwinger, Frauenkirche, Semperoper, and the Dresden Castle.
Also, don't forget to get a Christmas mug from the Striezelmarkt when buying hot chocolate or glüwhein.
It's a popular collection item, and every year brings a different unique design. Check out Get Your Guide for a fun tour in Dresden. -Alexander Waltner of Destinavo
READ MORE: The 15 Best Things to Do in Helen GA (Georgia's Alpine Village)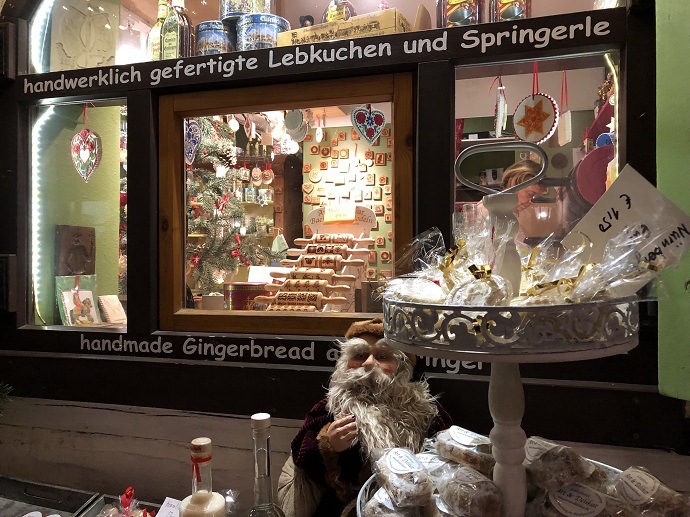 13. Christmas in Nuremberg, Germany
Located in the heart of Germany, Nuremberg is a great choice to if you're looking for an idyllic place to spend in Europe for Christmas.
The city itself is very picturesque. You'll find medieval half-timbered houses along its cobblestoned streets, plus a grand castle that overlooks the city.
Nuremberg is also home to the world-famous Nuremberg Christmas Market, which draws in 2 million visitors a year from all around the world. Because it is so popular, you should plan to visit during the week to avoid the biggest crowds.
While there, you simply must try the local specialties known as Drei im Weckla- 3 mini-Bratwurst in a crispy bun, which are usually served with mustard.
You'll also want to try Feuerzangenbowle, which is like Glühwein with a twist: A sugar cone is placed on top of your Glühwein, doused in rum, set on fire, and slowly drips down into your mulled wine.
Another popular favorite is Nürnberger Lebkuchen. The world-famous Elisenlebkuchen are often considered the "mother of all German gingerbread cookies."
Insider Tip: The Christmas Market at the Handwerkerhof, which is located along the city walls by the train station, is uch less crowded and a bit more "authentic." You'll find beautiful locally-made handicrafts there that make for beautiful souvenirs of your visit. -Maria Haase of Europe Up Close
READ MORE: German Christmas Cookies (Lebkuchen Recipe aka German Gingerbread)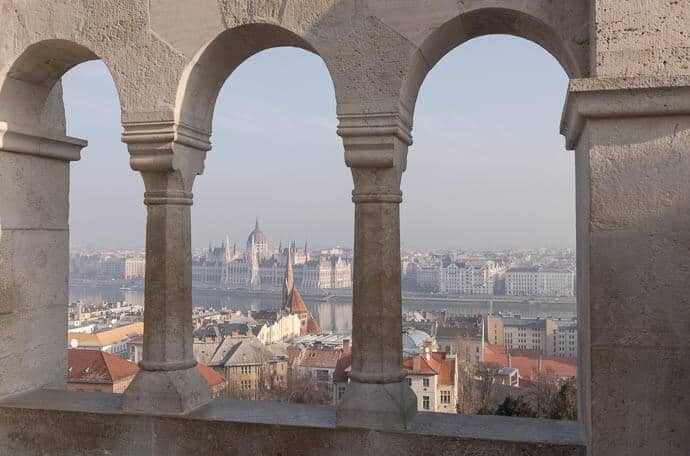 14. Christmas in Budapest, Hungary
With relatively mild winter temperatures and a lack of tourist crowds, Budapest is the perfect place to spend Christmas in Europe.
From skating on outdoor ice rinks to riding the festive trams, there are plenty of things to do in Budapest during the holidays.
Enjoy crisp winter walks to Fisherman's Bastion (on Buda Hill) or the Citadel (on Gellert Hill) to take in magnificent views of the city.
Ride the famous #2 tram, which is all bedazzled in Christmas lights, or enjoy a small ship cruise on the river Danube for alternative views of the city.
You can also ice skate in City Park, with the fairytale Vajdahunyad Castle as a magnificent backdrop, before luxuriating in the steamy waters of Budapest's famous Szechenyi thermal baths.
Get even more into the festive spirit by visiting Budapest's Advent Market at St Stephen's Basilica, or the foodie-friendly Vorosmarty Square Christmas Market.
You can also enjoy one of Budapest's famous concerts, or join the locals in purchasing some traditional szaloncukor Christmas candy.
Check out Get Your Guide for a fun tour in Budapest. –Marie Moncrieff of A Life Without Borders
READ MORE: The 20 Best Small Ship Cruises in the World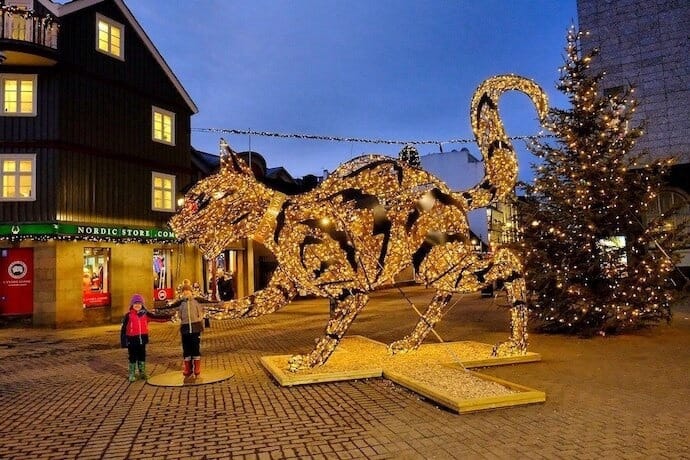 15. Christmas in Reykjavik, Iceland
Fancy getting more presents than ever for Christmas? Or even better, would you like to start receiving your presents a fortnight before the holiday?
If this sounds exciting to you, then you may find Reykjavik to be one of the best European cities for Christmas.
According to Icelandic tradition, Santa Claus doesn't bring children presents. This job belongs to 13 Yule Lads, who begin bringing gifts on the 12th of December.
It's customary to leave a little treat out every night for the Yule Lads, and in the morning you might find a present in your shoe.
If you haven't got any presents though, you must be careful, as a fearsome Yule Cat may eat you on Christmas day!
So how is the weather in Iceland in December? Everyone thinks that Iceland is a very cold country.
But thanks to the Gulf Stream, Iceland has similar temperatures at Christmas time as the rest of Europe, though probably much more windy. If you're lucky, it may even snow for Christmas Day.
In addition to the possibility of getting lots of presents, what makes Iceland one of the best places to visit in Europe in December is the Northern Lights.
In winter, when the nights are long and very dark, you'll have a much greater chance to see the Aurora Borealis. We saw them, along with Iceland's countless other beautiful natural attractions, and they alone are worth the trip to Reykjavik.
Check out Get Your Guide for a fun tour in Reykjavik. -Ania from The Travelling Twins
READ MORE: The 10 Best Iceland Waterfalls (Planning a Perfect Road Trip)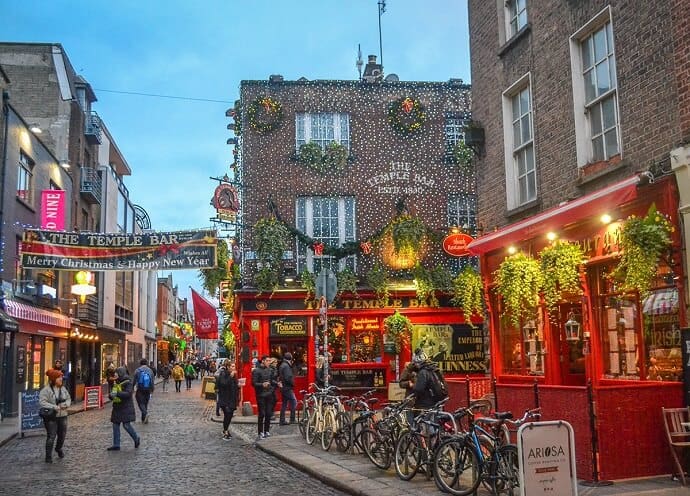 16. Christmas in Dublin, Ireland
Unlike most European cities, there are no real Christmas markets in Dublin. Instead, the continental-themed Christkindlmarkts are more localized and held outside of the city center.
But Dublin is still incredibly lively, with festive baubles and festive holiday cheer on both sides of the River Liffey and the Ha'penny Bridge.
The pedestrianized streets of Dublin One will be set up with Christmas stalls along Henry Street. Whereas Grafton Street is the main shopping street on the near side of the river, with more high-end decorations and high-end establishments.
Plan for unpredictable Irish weather in Dublin, meaning sun one minute and maybe snow the next, with lots of grey skies in between.
And that is why Christmas in Dublin is often best spent indoors, in traditional Irish pubs with Irish folk music Christmas sing-alongs and lots of seasonal cheer.
The Temple Bar, a notorious tourist area, is a perfect place to celebrate Christmas in Dublin. Or, for a quieter time, take a potter around nearby St. Stephen's Green. Check out Get Your Guide for a fun tour in Dublin. -Allan Wilson of It's Sometimes Sunny in Bangor
READ MORE: One Week in Ireland (The Perfect Ireland Road Trip Itinerary)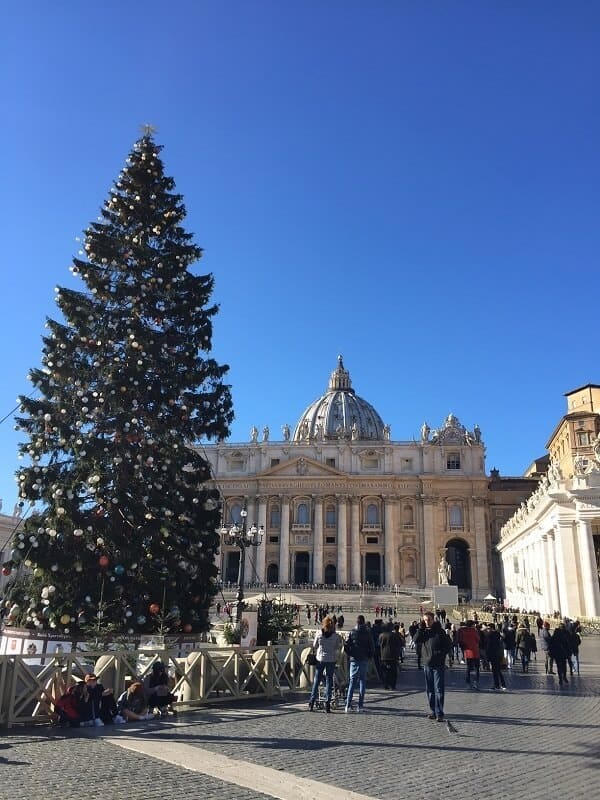 17. Christmas in Rome, Italy
Easily one of the best winter holiday destinations in Europe, Rome is wonderful all year round. But it is especially festive at Christmas.
Here, ancient Christian traditions mix with sightseeing and shopping opportunities, making this city an interesting destination for several types of travelers.
At this time of year the days are short and chilly, yet usually dry enough for pleasant visits to the major Rome attractions.
The Pantheon, the Colosseum, and the city's museums are all open at this time of the year (with the exception of Christmas Day).
And while it is too cold for al fresco dining, the city's many restaurants offer plenty of opportunities to warm up while enjoying the best that Rome's food traditions have to offer.
If you're wondering where to spend Christmas Day in Europe, look no further than Vatican City! For Christmas Day, St. Peter's Square is all dressed up with a tall tree and nativity scene.
Both look wonderful against the backdrop of the basilica, and are popular among visitors and locals alike.
Check out Get Your Guide for a fun tour in Rome. -Marta Correale of Mama Loves Rome
READ MORE: How I Fell in Love with Travel (& Got Blessed by the Pope)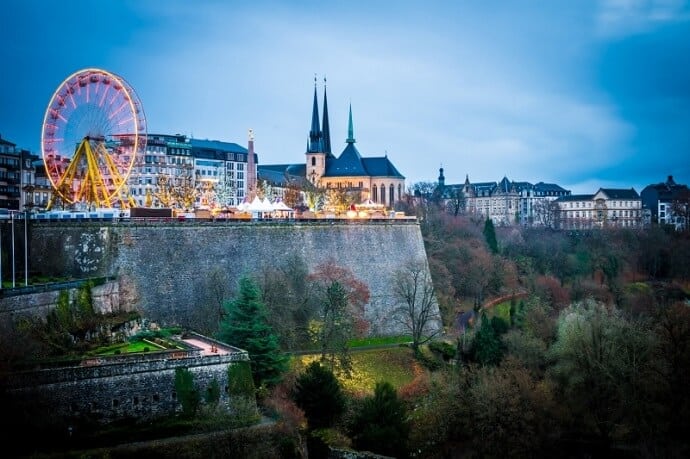 18. Christmas in Luxembourg
Most people wouldn't think of Luxembourg when it comes to spending the Christmas holidays in Europe. But if you want to get away from the crowds, it's a lovely place to celebrate the season.
Luxembourg is the only Grand-Duchy in the world, and one of the smallest countries in Europe (and the world, at just 998 square miles).
Although it's a great place to visit all year round, the capital city is particularly quaint during Christmas time.
The entire old town is illuminated, and you'll find a splendid Christmas Market on the walls of the old fortification.
Some of the most typical things to do during Christmas in Luxembourg include meeting up with friends and family for mulled wine, and attending the Winterlights Festival.
Of course the weather there can be really cold during this time of the year. Expect a maximum daily high of 5° C/41º F, and low temperatures that drop below 0° C/32º F.
When you visit Luxembourg, you can't miss the casemates, the Grand-Ducal Palace, and the modern art museum MUDAM.
I would highly recommend not to limit your visit to the capital city, as there are plenty of quaint towns and magical castles awaiting you throughout the country.
So it's very important to decide where to stay in Luxembourg in order to make the most of your time. Check out Get Your Guide for a fun tour in Luxembourg. –Paulina on the Road
READ MORE: Real Christmas Trees vs Fake Christmas Trees: Which is Better?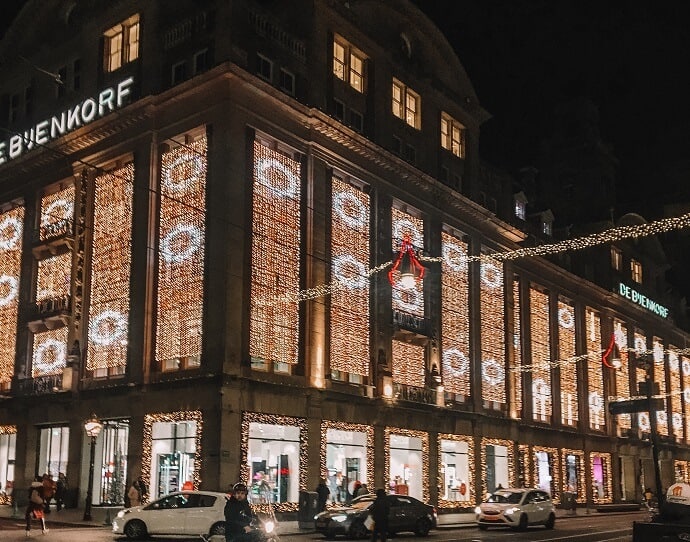 19. Christmas in Amsterdam, Netherlands
Christmas is arguably one of the most enchanting times of the year, and spending it in Amsterdam can make it even more magical. This is because Amsterdam is one of the few countries that celebrate Christmas twice.
The first, which is celebrated on December 5th, is called Sinterklaas, which is the main gift-giving holiday event in Amsterdam.
Sinterklaas is almost more revered than Christmas in Amsterdam, with parades and European Christmas traditions carried out for weeks before the actual celebration day.
However, Amsterdam also celebrates the traditional Christmas Day on December 25th.
Leading up to it, the whole city is lit up with hundreds of thousands of lights, from the Amsterdam Light Festival to the Bijenkorf and the canals. Plus, the Bijenkorf is fully decorated in festive Christmas displays!
The best part is that the weather in Amsterdam in winter is quite mild, with temperatures staying around 5ºC/41ºF.
This means you can enjoy everything the city has to offer without freezing! Check out Get Your Guide for a fun tour in Amsterdam. -Samantha Karen of Sam Sees World
READ MORE: The 20 Best Festivals in the World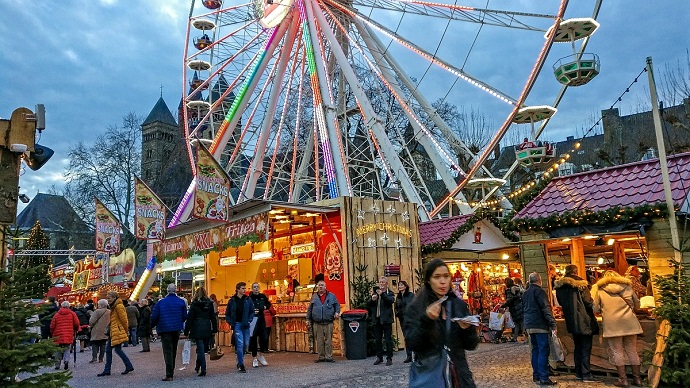 20. Christmas in Maastricht, Netherlands
The magical Maastricht Christmas Market is one of the loveliest places to spend Christmas in Europe for the holidays. The festivities start a month before Christmas, and end the day before New Year's Eve.
Each year, Vrijthof Square turns into a magical playground for young and old alike.
There's a Ferris wheel offering the most beautiful view of the city and its twinkling lights, a skating rink to practice your pirouettes, a gigantic slide for some fun, and a covered Christmas market to buy presents for your loved ones.
For those who love classical music, the world-famous Dutch violinist André Rieu usually gives a series of concerts during the week before Christmas.
If you want to visit some incredibly unique Christmas markets, head to Valkenburg, a lovely historical town just a 15-minute drive from Maastricht.
Valkenburg is best-known for its famous underground caves. In two of them, the Municipal Cave and the Velvet Cave, you'll find the cutest underground Christmas markets! –Daniela Koleva of Exploring the Netherlands
READ MORE: The 20 Best Cultural Festivals Around the World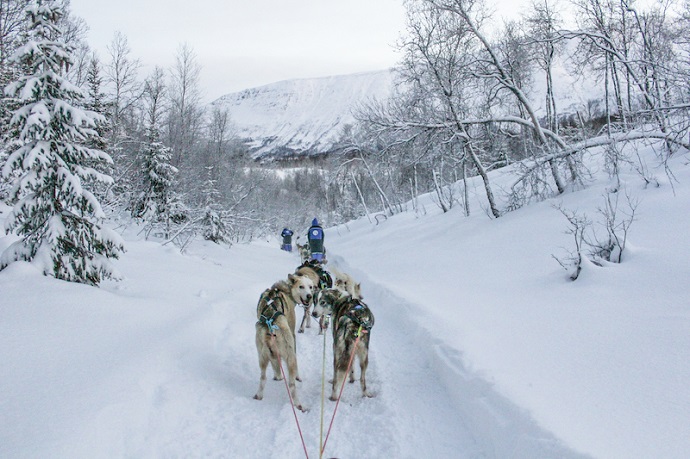 21. Christmas in Tromso, Norway
Tromso, Norway is one of the best destinations in Europe to spend Christmas for active travelers, or those looking to break away from tradition to indulge in activities and create new memories!
Norway celebrates Christmas like no other place! From Julebrus (Christmas soda) to Julebord (a Norwegian Christmas feast) to cozy cabins nestled in snowy valleys, Norway is the perfect place to spend Christmas in Europe.
Tromso, the gateway to Arctic Norway, is the best place to celebrate Christmas because you'll find a plethora of wintry activities. Note that many tours include cool animals, so finding ethical tours is an important task when planning your trip.
If you're keen to try dog sledding in Tromso, you'll find a few outfitters that take exceptional care of their dogs. You may also want to book a Northern Lights tour, snowmobile safari, a traditional Sami night, and a whale-watching tour on a silent catamaran.
If you're traveling with children, check out activities such as visiting the Tromso Ice Domes, the Arctic Cathedral, and the Polar Museum. You'll also find informative Sami exhibits and history detailed at the University of Tromso's Museum.
One insider tip for visiting Tromso at Christmastime is to go before or after the actual holiday if you want to save money and avoid the onslaught of tourists. Local restaurants offer Christmas dinners throughout December, and you will see snow regardless of when you go. But traveling before or after Christmas can offer a more intimate experience.
Note that Winter Solstice is a few days before Christmas, and this is the darkest time of the year in Norway. So there is no sunrise or sunset. But the skies will be among the most colorful you've ever seen, with vibrant hues of purple, red, and orange almost guaranteed. –Megan Starr of Megan & Aram
READ MORE: The Norse Gods: An Intro to Viking Mythology and Key Sites in Norway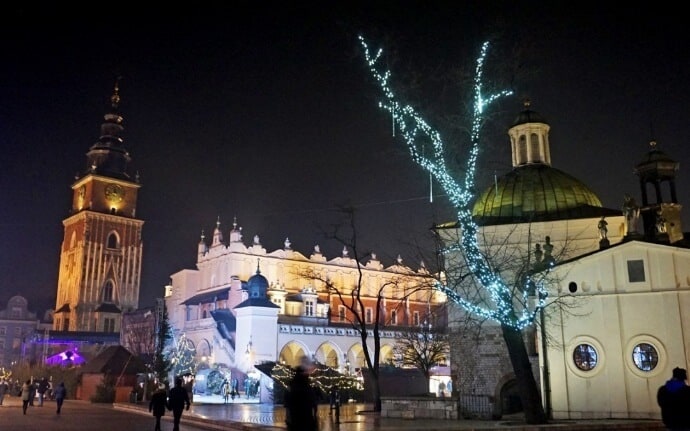 22. Christmas in Krakow, Poland
Krakow is a beautiful city that's still somewhat off the radar for many international travelers.
Its old town square has been the site of markets for centuries, and the modern-day Krakow Christmas Market held there definitely lives up to that legacy.
The historic buildings surrounding the Rynek Glowny (Main Square) provide the perfect backdrop for the twinkling lights, oversized Christmas tree, and rows of booths selling gifts, food, and hot drinks.
The market officially runs from late November until just after Christmas, but there will likely be vendors hanging around until the new year.
You may also get a chance to enjoy live entertainment, with choirs performing throughout the season.
And check out the Nativity competition, in which locals make elaborate Nativity cradles and replicas of landmarks around Krakow and present them during a procession.
Krakow's winter weather is cold, so you can expect the average high temperature to be just a few degrees above freezing.
If you want to experience a white Christmas in Europe, visit Krakow around the holidays. Just be sure to pack warm clothing, good boots, and adequate outer wear.
The Krakow Christmas market is located right in front of St. Mary's Basilica, within walking distance of top attractions like Wawel Castle and Schindler's Factory, so you can also do plenty of exploring in between shopping.
For a longer excursion, check out the Wieliczka salt mines just outside Krakow, or plan a full-day trip to tour Auschwitz. Check out Get Your Guide for tours in and from Krakow. -Kris of Nomad By Trade
READ MORE: Countries That Don't Celebrate Christmas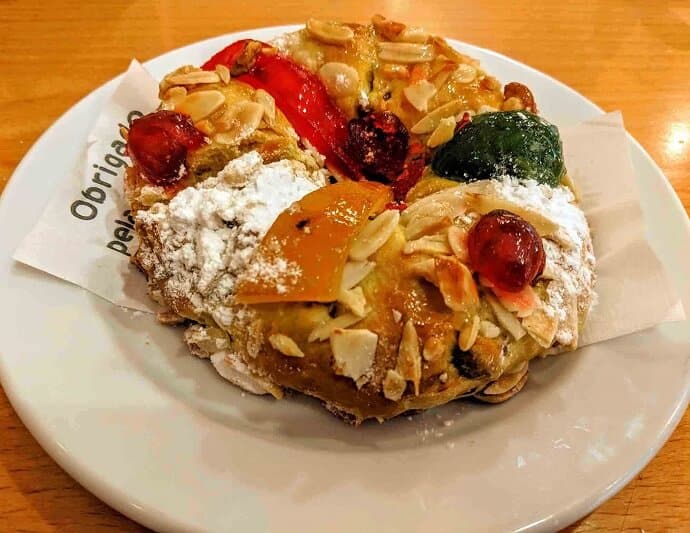 23. Christmas in Algarve, Portugal
The Algarve isn't the first place you think of when you imagine a European Christmas. But it's the contrast of Christmas traditions and warm sun that make it an interesting place to visit in December.
Like most other places, Christmas in Portugal revolves around food. In the weeks before the holiday, the markets are abuzz as people stock up for the consoada meal on December 24.
This usually means serving bacalhau (especially bacalhãu de consoada), but in the Algarve it's often octopus instead.
Then there are the sweets, like fatias douradas, azevias, and filhós, as well as desserts like arroz doce, flan, aletria, and, of course, a Bolo Rei or Rainha cake.
In Portugal, it's rarely a question of which sweets shall we have at Christmas: They're all getting eaten!
If you can, try to stay until the 5th of January to see the charolas (or choirs) sing janeiras. These are traditional songs that celebrate the birth of Jesus and the arrival of the three kings. I
t's a unique Christmas tradition that's celebrated across the Algarve, but especially in Silves. Check out Get Your Guide for a fun tour in Algarve. –James Cave of the Portugalist
READ MORE: 8 Things to Do in Portugal for Nature Lovers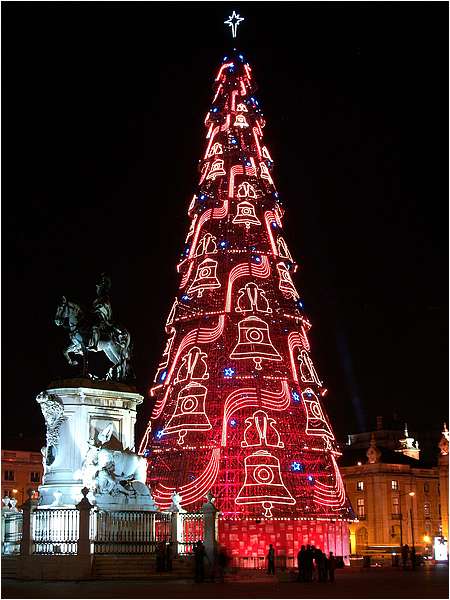 24. Christmas in Lisbon, Portugal
If you 're looking for one of the best warm places to spend Christmas in Europe, get yourself to Lisbon, Portugal. With just 2 days in Lisbon, you can enjoy the best city sights and see how this town goes all out in making the season festive.
Start with the city's biggest celebration, Wonderland Lisboa, in Eduardo VII Park. You can't miss the huge Ferris Wheel, ice skating rink, Santa's village, food stalls, and local arts and crafts.
Other great Christmas markets include Campo Pequeno, a shopping extravaganza that takes place on the first weekend in December, with 140 local artisans selling gifts produced in Portugal.
Foodies will love sipping on mulled wine as they indulge in yummy Portuguese treats like pasteis de nata at Rossio Square. Make sure to try Bolo Rei, a Portuguese king cake.
From Rossio Square, taking a 10-minute walk down the Rua Augusta will showcase stunning Christmas light displays on your way to Praça do Comércio.
This huge town square (and former royal residence) has the tallest Christmas tree in Europe,with the surrounding buildings completely lit up for the holidays. Christmas in Lisbon will surely exceed your expectations! –Jenifer of The Evolista
READ MORE: The Best Food Gifts From Around the World (The Ultimate Gourmet Guide)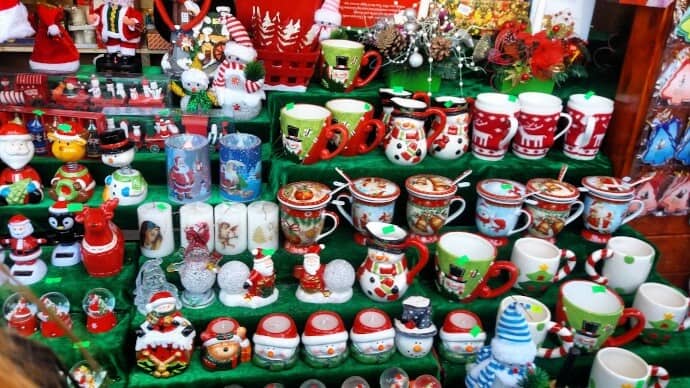 25. Christmas in Bucharest, Romania
One of the best places to spend Christmas in Europe is Bucharest, Romania. And I'm not just saying that because it's my hometown!
We have a big Bucharest Christmas Market organized in front of the Palace of Parliament, which is the biggest civilian building and the heaviest building in the world.
There are also numerous other Christmas fairs taking place in various city parks and malls.
If you want to make the most of Christmas in Bucharest, combine the fairs with sightseeing and visit also the Spring Palace (the official residence of the Ceausescu family) and the Village Museum.
And don't miss traditional foods such as sarmale (cabbage rolls with meat and rice) and cozonac (a sweet cake).
Insider tip: Take a tour of Bucharest at night to admire the splendid Christmas lights decorating the city, and you'll quickly understand why its nickname is "the Little Paris."
We usually have snow in December, so you're almost guaranteed a white Christmas in Bucharest. Check out Get Your Guide for a fun tour in Bucharest. –Lori Pascal of Travel Moments in Time
READ MORE: 40 Ways to Celebrate New Year Traditions Around the World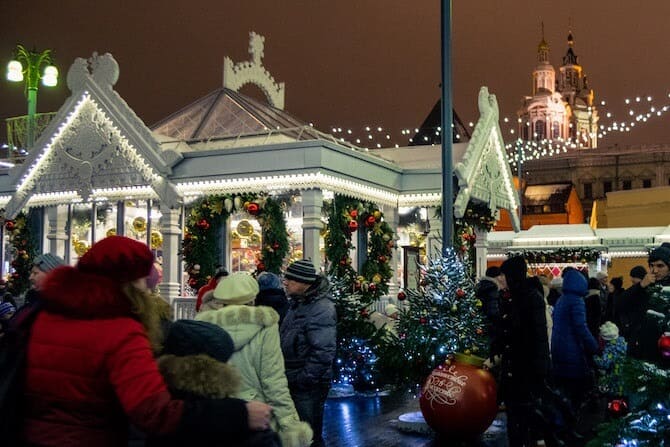 26. Christmas in Moscow, Russia
Moscow, Russia has to be one of my favorite Christmas destinations in Europe.
Although Russia celebrates Christmas on a different schedule than most of the world (because they use the Orthodox calendar), visiting Moscow for Christmas means that all the shops will be open as people prepare for New Year's Eve and Christmas.
Christmas was actually banned there in communist times, but today it's generally celebrated in January and is a major public holiday.
Most of the major Moscow attractions will be open during the holiday period, although they are quite likely to be crowded.
Moscow's city center is full of beautifully festive lights. In the various quarters, you'll find Christmas markets throughout the city set up by December.
Locals as well as tourists beginning their holiday vacation start to come out in full force.
If you're looking for a white Christmas in Europe, you'll most likely get one in Moscow. Although the cold can certainly scare some visitors off, the city's indoor attractions are generally well-heated and sidewalks are cleaned off for pedestrians.
My favorite attraction in Moscow had to be the Red Square Christmas market, which was beautifully decorated and the perfect place to pick up souvenirs or gifts.
As you browse the Christmas market, you'll want to pick up a cup of glintvein (mulled wine) to sip, or simply warm your hands.
A uniquely Russian Christmas tradition is getting your fortune read (if you dare!). Otherwise, find a good restaurant to eat richly until you can't take another bite. Check out Get Your Guide for a fun tour in Moscow. -Karen Turner of Wanderlustingk
READ MORE: 40 Fascinating Facts About the Amur Leopard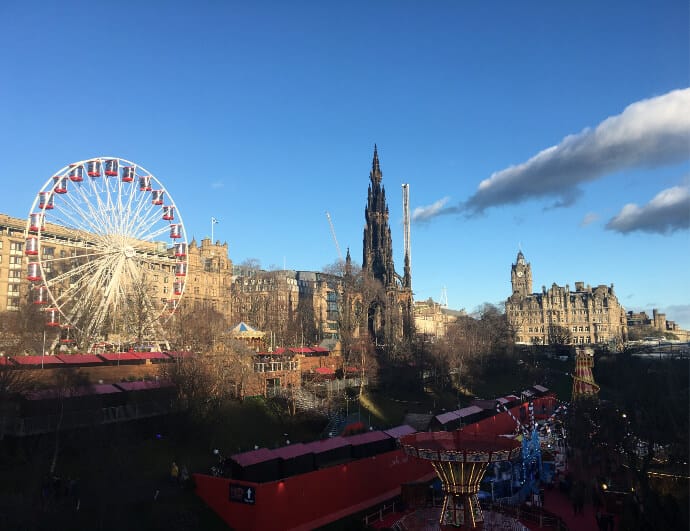 27. Christmas in Edinburgh, Scotland
If you're planning on traveling to Europe for Christmas, a visit to Edinburgh around the holidays is truly a must!
The Scottish capital transforms into a winter wonderland, with streets decked in lights and the Christmas market taking over Princes Street Gardens.
There's so much to do in the city at this time of year, it's not surprising that Edinburgh attracts close to 1 million visitors during the festive season!
We personally love the Christmas market experience– think gluhwein, crafts, unique gifts, and fresh Scottish produce.
Thrillseekers will also appreciate the fun fair rides, especially the Big Wheel and the 60 metre-high Star Flyer. Children will love Santa Land, Santa's grotto, the helter-skelter, and a trip to the pantomime.
For something unique, we recommend the magical Winter Light Trail at the Botanic Gardens and a glass of fizz at the Dome on George Street. This Edinburgh institution is renowned for its stunning Christmas lights and decorations.
In between sipping mulled wine and munching on bratwurst, make time to explore some of the city's highlights.
Must-visit sites include the iconic Edinburgh Castle, the Royal Mile, the Grassmarket, the Palace of Holyrood House, Arthur's Seat, Calton Hill and, of course, the Scotch Whisky Experience.
Just make sure you layer up and come prepared for rain, sleet, snow, wind and, hopefully, sunshine… this is Scotland, after all! Check out Get Your Guide for a fun tour in Edinburgh. –Gillian Denovan of Scotland Bucket List
READ MORE: Top 10 Things to Do on the Isle of Skye (& How to Avoid Crowds)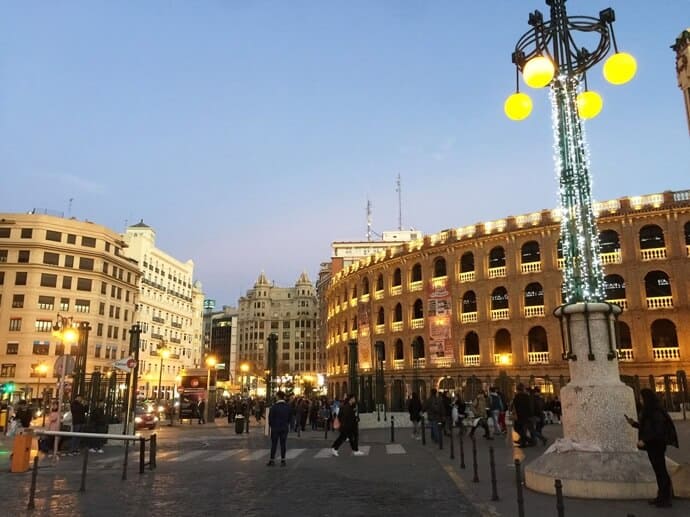 28. Christmas in Valencia, Spain
Valencia, Spain is a wonderful destination for spending Christmas in Europe. The weather (with temps in the low 40s) is cool and pleasant, and the smell of chestnuts roasting adds to the festive air.
The Ayutamiento Plaza is the place to be. The square is decorated with a massive Christmas tree that serves as a gathering place for all, since the Spanish don't decorate their homes for the holidays.
There's also an ice skating rink, a gigantic carousel, and even the occasional Christmas carolers.
Christmas markets pop up in several areas of the highly walkable city. There's one just across from the Estacion Nord (a must-see Cultural Heritage Interest Site), and another at the Art Nouveau Mercado Central, one of the largest indoor fresh food markets in Europe.
Insider tip: Join the locals at the Mercado Colon, where you can shop for unique, hand-crafted gifts.
Try the churro con chocolate and/or horchata at one of the indoor cafes. Check out Get Your Guide for a fun tour in Valencia. -K of Next Bite Of Life
READ MORE: 40 Fascinating Christmas Traditions in Mexico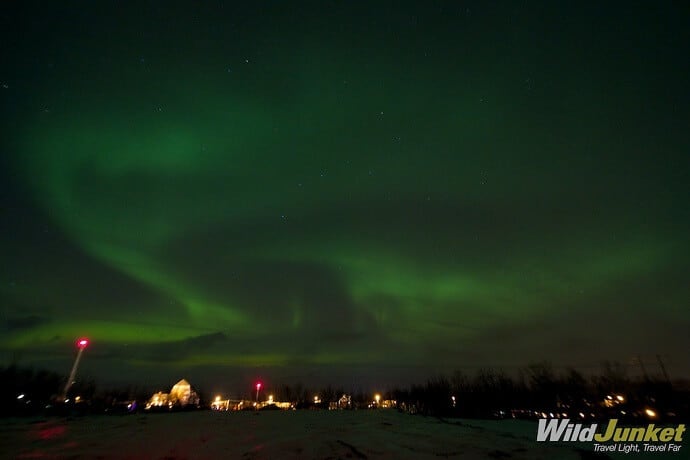 29. Christmas in Abisko, Sweden
Poised along Lake Torneträsk and entrenched within the U-shaped Lapporten Valley, Abisko is one of the best spots in the world to see the Aurora Borealis.
On our month-long trip around Lapland, we had our best encounter with the Northern Lights in Abisko.
We saw swathes of green lights dancing and shimmering across the sky, almost like electronic curtains flapping before us. It was the best Christmas we ever had, thanks to the magic of the Northern Lights.
At Christmastime, it can get extremely cold in Abisko, with temperatures dipping down to -20 degrees Fahrenheit at night. And remember that Abisko is a very small town, so don't expect big Christmas parades or parties there.
But if you're up for some adventurous Arctic traditions, there are loads of things to do, from dogsledding and snowshoeing to meeting Reindeer and snowmobiling. Check out Get Your Guide for a fun tour in Abisko. -Nellie Huang of Wild Junket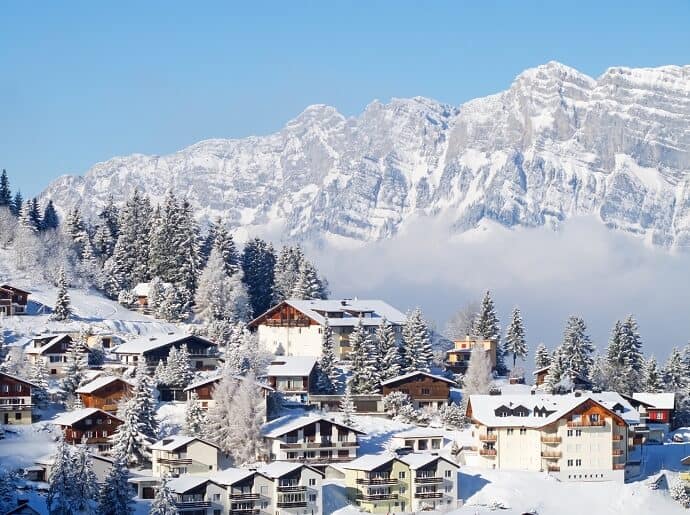 30. Christmas in the Swiss Alps, Switzerland
One of my all-time favorite Christmastime locations is the Swiss Alps. A few years ago my husband and I were invited to spend a couple of weeks at a friend's apartment in Salouf, a tiny mountain village in the German-speaking region of Switzerland.
Flurries began the day we arrived, but the sun soon came out (after dumping 2 feet of snow!) and we enjoyed "warm" winter temperatures for most of our time there.
We rented a car and were able to easily visit several of the area's charming villages and towns, including St. Moritz and Davos.
We also consumed lots of afternoon coffee and cake in cozy cafes, went on snowy hikes, rode a car train through a super long tunnel (that was a first for us!), and took a day trip to warmer Lugano in southern Switzerland.
If we'd brought better cold weather gear with us, we could have gone skiing, sledding, or snowshoeing (next time!).
Just before Christmas, we loaded up on traditional Swiss food at a grocery store in Chur, and ate cheese fondue on Christmas Eve (Raclette is another popular choice).
There's so much to do in beautiful alpine Switzerland during Christmas, and I highly recommend celebrating the holidays there at least oncein your life!
Check out Get Your Guide for a fun tour in the Swiss Alps. -Cate Brubaker of My Germany Vacation; featured image of the London Angel by Eniko of Travel Hacker Girl
Planning on Spending Christmas in Europe?
Check out the following travel services we use!
DollarFlightClub or Airfarewatchdog to find a cheap plane tickets.
Omio for affordable European Train Tickets.
Booking.com or Agoda to find a hotel deals.
Get Your Guide or Viator for a stellar day tour.
Lonely Planet for Travel Guides.
World Nomads for Travel Insurance.
AutoEurope for European Car Rentals
.

TrustedHousesitters we've found great pet sitters to watch our house and love on our two dogs!

Looking for essential Travel Gear? Check out these great options!

The Best Travel Clothes for Women & Men

The Best Backpacks for Travelers

The 20 Best Vegan Boots (For Women & Men)

The 15 Best Camping Tents for Families

The 125 Best Gifts For Travelers

[Updated 10/29/21] With the rapid rise of