[Updated 12/11/22] Although many of our blogging friends enjoy traveling to Christmas destinations around the world, we personally prefer to spend Christmas in the USA with our families.
We really get into the Christmas holidays in the USA, embracing American Christmas traditions ranging from decorating our house (both inside and outside) with lights, wreaths, and garland to making homemade Christmas gifts.
But now that my daughter is in college, we've begun to discuss other places to visit during Christmas (including seeing Mary's dad's family in New Jersey and Connecticut).
So this year we decided to chat with some of our blogging friends to get their opinions on the best places to spend Christmas in the USA.
They contributed tips on spending the holidays in big cities like Atlanta, NYC, and San Diego, and introduced us to tiny towns like Grapevine, TX and Leavenworth, WA.
We even learned where to go for a white Christmas in North Pole, Alaska and Stowe, Vermont.
So if you're planning to spend your Christmas in America this year and love to travel, we hope you'll enjoy these mini-guides on 30 best places to spend Christmas in the USA!
READ MORE: 25 Fun Christmas Eve Traditions Around the World
Best Places to Spend Christmas in the USA Guide
North Pole, Alaska
Phoenix, Arizona
Palm Springs, California
San Diego, California
San Francisco, California
Boulder, Colorado
Washington, DC
Key West, Florida
Orlando, Florida
Atlanta, Georgia
Dahlonega, Georgia
Helen, Georgia
Savannah, Georgia
Honolulu, Hawaii
Chicago, Illinois
Minneapolis/St.Paul, Minnesota
Bozeman, Montana
Lake Tahoe, Nevada
NYC, New York
Asheville, North Carolina
Charlotte, North Carolina
McAdenville, North Carolina
Philadelphia, Pennsylvania
Grapevine, Texas
Stowe, Vermont
Alexandria, Virginia
Richmond, Virginia
Williamsburg, Virgina
Leavenworth, Washington
Seattle, Washington
READ MORE: The 25 Best Places to Spend Christmas in Europe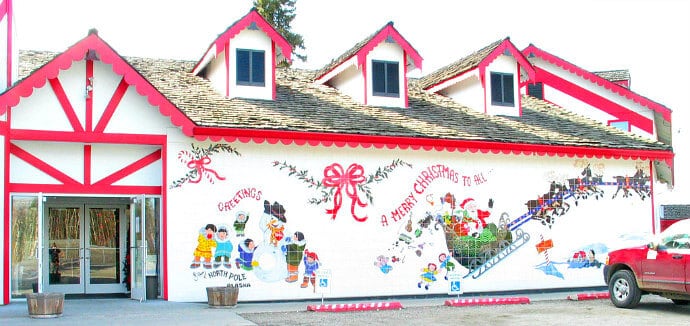 1. Christmas in North Pole, Alaska
If you're looking for the best places to visit for Christmas in the USA, not many can measure up to spending Christmas in North Pole, Alaska.
Located a 20-minute drive from Fairbanks International Airport, the beautiful town of North Pole is home to the permanent residence of Santa and Mrs. Claus, the Santa Claus House.
The building's candy cane-colored structure, combined with a ginormous statue of St. Nick (which was shipped in pieces and assembled on site), makes the Santa Claus House the focal point of the charming town. Even the roundabouts here mirror the candy cane theme.
The attraction is open 365 days a year, and you'll quickly forget what time of the year it is with just a few steps into Santa's abode. There's even a mini lounge/restaurant if you need a break to take it all in or grab a bite to ear while resting your legs.
You can grab a souvenir photo with Santa and Mrs. Claus, and buy a few Christmas decorations for your family and friends. Then make your way to the "Antler Academy" next door to see the live reindeer there.
If you're spending a few days in North Pole/Fairbanks (which is highly recommended), the Pioneer Park and Chena Hot Springs/Northern Lights tour are a must. Spending a few days in the area definitely increases your chances of seeing the magical Aurora Borealis.
The weather here in December is fairly tolerable, but be aware that weather in Alaska is always fairly cold. Make sure to layer your travel clothes and bring an insulated jacket to keep you warm. Winter boots are also a plus because of the snow we often receive.
If you can't stand the cold, a rental car with auto-start and insulated seats will be your best friend. For safety, we recommend getting an all-wheel-drive vehicle, or you can opt for a guided Fairbanks City tour from Get Your Guide. -Louisa Moje of La Passion Voutee
READ MORE: History & Other Names for Santa Claus Around the World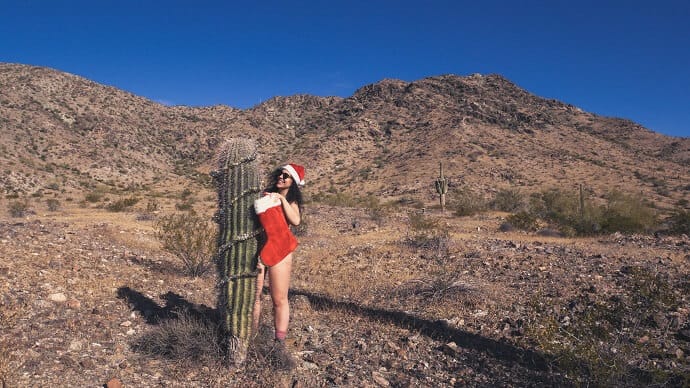 2. Christmas in Phoenix, Arizona
Spending the US Christmas holidays in Phoenix is one of the best places to spend Christmas in the USA because you can celebrate, but with warm desert weather and outdoor fun (and no need for bundling up).
For Christmas light displays and light shows, there are a bunch of options. Zoo Lights at the Phoenix Zoo is a holiday staple.
Tempe's Fantasy of Lights Parade kicks off the holiday season the day after Thanksgiving, with a free parade that sees about 35,000 people (so get there early!), followed by a boat parade in December.
Tlaquepaque's annual Festival of Lights has over 6000 luminarias in the beautifully decorated Sedona arts village, and World of Illumination claims to be the largest Christmas light show in the world.
But it's best to do what the locals do and check out the incredible light displays individual homeowners put up. Valley residents go so over the top that news channels usually put together a map of the best in the area.
Visitors are very welcome but do be aware that you're driving through private neighborhoods and be respectful in terms of volume.
The best part of planning Phoenix as one of your Christmas trips isn't the events, it's the weather. You can expect warm, sunny days with crisp nights. Take advantage of it by exploring downtown (don't miss the artsy Roosevelt Row area, especially for First Fridays) or head out on hikes.
Try Camelback Mountain if you want tough hiking trails, or South Mountain or Papago for something more casual, but still scenic. -Jessica Elliott of How Dare She
READ MORE: 90 Christmas Traditions Around The World
3. Christmas in Palm Springs, California
Looking for a great Christmas destination? Consider Palm Springs, California! Daytime temperatures are in the balmy 70s here, and snow is a rarity on the desert floor. But that doesn't mean it's not one of the best places to go in the US for Christmas.
The city kicks off its California Christmas season with the annual Festival of Lights parade, complete with Santa Claus, marching bands, and floats decorated with holiday lights. Held in downtown Palm Springs in early December, it's an event you won't want to miss.
There are many fabulous light displays in and around Palm Springs, and you'll want to drive around to view all of them. RoboLights is the biggest show of them all, with more than 8 million lights in a one-acre plot that features all kinds of sci-fi exhibits year round.
In nearby Cathedral City, an entire street gets bedecked in so many lights and Christmas decorations that it's called Candy Cane Lane!
If you're really missing snow, don't fret. Just get tickets for the aerial tramway to the upper station on Mount San Jacinto. There, you are very likely to see snow, along with a lit Christmas tree. -Dhara of It's Not About the Miles
READ MORE: 30 DIY Recycled Christmas Decorations to Make at Home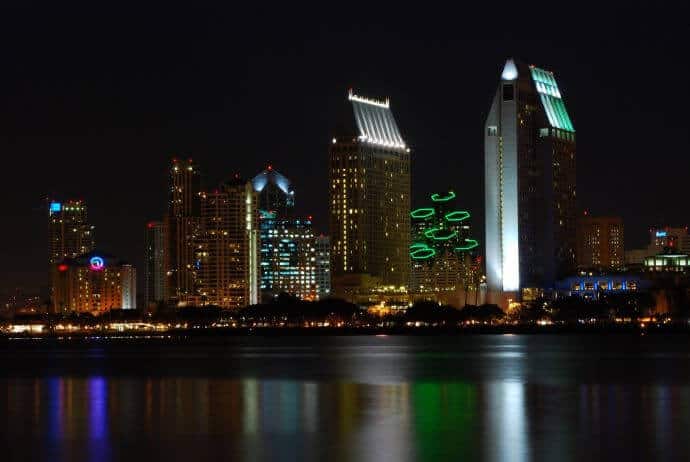 4. Christmas in San Diego, California
Visiting San Diego, California for the holidays is arguably one of the best Christmas vacations in the US, especially if you're looking to escape the cold.
December temperatures here are usually in the mid 50s to low 60s and sunny. But they're also known to reach the mid 70s, which is the perfect temperature to go out and explore the myriad hiking trails in San Diego.
San Diego will offer you a seemingly paradoxical US Christmas. Did you get a surfboard and snow skis as presents? No problem! In San Diego, you can try them both out in one day.
Maybe that explains why we celebrate the start of the Christmas season in San Diego with the arrival of "Surfin' Santa," rather than Christmas Carols.
What better way to celebrate the American Christmas holidays than with an ice skating rink right on the beach? There's perhaps no cooler Christmas experience than hitting the ice while looking at palm trees and hearing ocean waves crash in the background.
Another fun Christmas event that's usually held the first weekend in December is December Nights in Balboa Park, which is our biggest San Diego Christmas Market.
Here you will find beautiful Christmas lights and decorations, booths selling treats and gifts, and traditional Glühwein as well as American Christmas food. Parking is a nightmare, so I would highly recommend taking either public transportation or Uber/Lyft.
Did you know that Theodore Seuss Geisel (aka Dr. Seuss) lived most of his life in San Diego? Each year, the Old Globe Theatre in Balboa Park puts Dr. Seuss' How the Grinch Stole Christmas! on its schedule, and I highly recommend it. –Maria Haase of Maria Abroad
READ MORE: 30 Symbols of Christmas: The History & Meaning of Traditional Christmas Decorations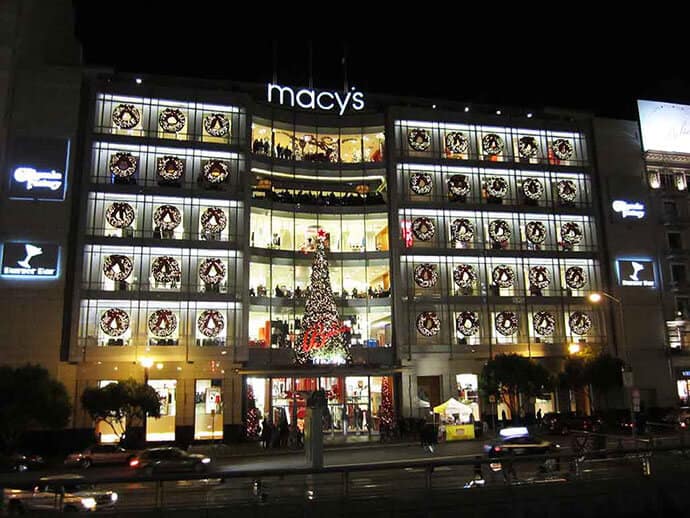 5. Christmas in San Francisco, California
Spending a festive Christmas in San Francisco, California is amazing. Not only are the temperatures here fairly mild during the holidays, but the "City by the Bay" is one of the best Christmas cities in the US thanks to its excellent array of winter attractions.
Macy's is responsible for much of the city's festive decorations. Every year on the day after Thanksgiving (a.k.a. Black Friday), the retailer sponsors the annual Christmas Tree Lighting Ceremony at Union Square.
The entire area becomes lit up with Christmas decor, from the palm trees surrounding the square to Christmas wreaths hanging from the windows at Macy's. Union Square basically becomes a magical Christmas wonderland.
You can also get festive by ice skating at the Union Square rink, or adopting a puppy or kitten from Macy's ground floor windows. But please adopt responsibly, and remember that these new family members will be with you, not just for a season, but for a lifetime.
So why not explore San Francisco for a quick weekend this holiday season? -Constance of The Adventures of Panda Bear
READ MORE: The 21 Best Environmental Charities & Animal Charities for Holiday Donations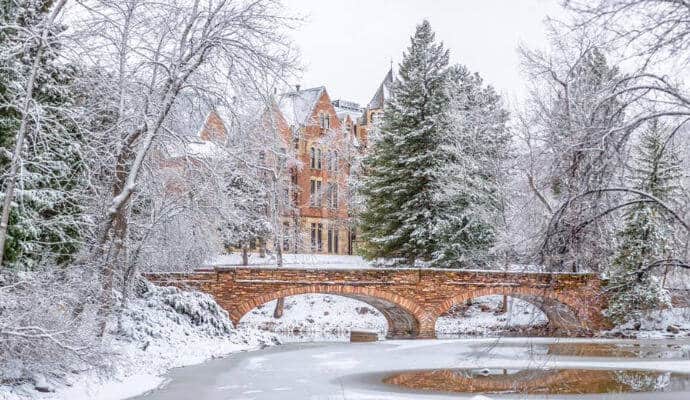 6. Christmas in Boulder, Colorado
Boulder is one of the best places to go for Christmas in the USA. Why, you may ask? Because there are so many things to do in Boulder in winter, especially around the holidays!
The city lighting is impressive, with more 275,000 colorful LED lights and lighted ornaments illuminating Boulder's Central Park. Since 1947, the giant star on Flagstaff mountain has shone throughout the holiday season, until just after the New Year.
It's worth visiting downtown Boulder just to see the Christmas lights and walk around Pearl Street Mall, where the Lights of December Parade is held every December. If you're traveling with kids, the mall is also where children can visit Santa during St. Nick on the Bricks.
Skiing at the Eldora Mountain is one of the most typical things to do in Boulder around Christmas and New Year. It's so special going down the slopes skiing at that time of year, and having a hot chocolate at the Eldora Mountain Resort to warm up afterwards.
There's also special Afternoon Tea at different hotels (with special holiday beverages), and a huge Christmas tree at the Boulderado Hotel. If you have a sweet tooth, try the chocolate truffles made from Boulder microbrewery beer at Piece, Love, & Chocolate.
If you're looking for the best places to celebrate Christmas in the USA, Boulder, Colorado is a delightful winter wonderland. -Sara Rodríguez of Mindful Travel by Sara
READ MORE: Real Christmas Trees vs. Fake Christmas Trees: Which is Better?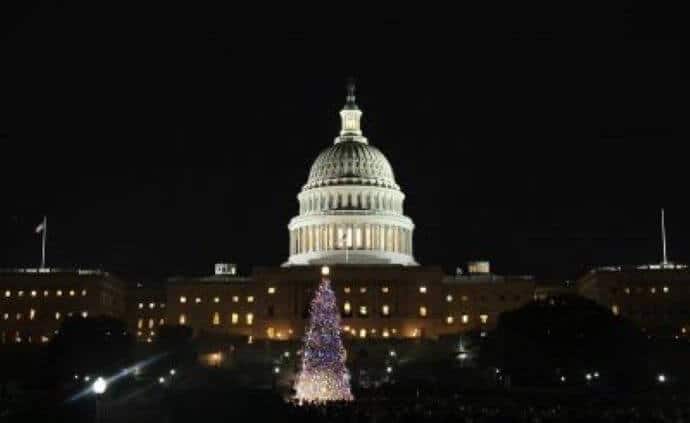 7. Christmas in Washington, DC
If you ask me, Washington, DC is one of the best places to visit for Christmas in the USA! The nation's capital goes all out for the holidays, celebrating in a way only DC can.
This includes decking the halls of the White House. During Christmas time, visitors can tour the Presidential residence and see the annual White House gingerbread cake, dozens of lavishly decorated Christmas trees, and an 18th-century nativity scene.
Tip: make tour reservations through your Congressman's office at least 3 months in advance, as these tours fill to capacity early.
There's also the National Christmas Tree and its surrounding 56 mini trees (one for each US state and territory). The U.S. Capitol building also has its own decorated Christmas tree, which is located just below the east steps.
Other must-dos for Christmas in DC include attending The Messiah at the National Cathedral, "Enchant DC" (the world's largest light maze, hosted at Nationals Park), and Zoolights at the Smithsonian Zoo.
Weather in DC can be unpredictable in December. It can be 80º on Christmas Day, or it can be in the 20s and snowing. Highs are usually in the 40s and 50s, but check the forecast before going on a sightseeing tour! -Maggie McKneely of Pink Caddy Travelogue
READ MORE: Countries that Don't Celebrate Christmas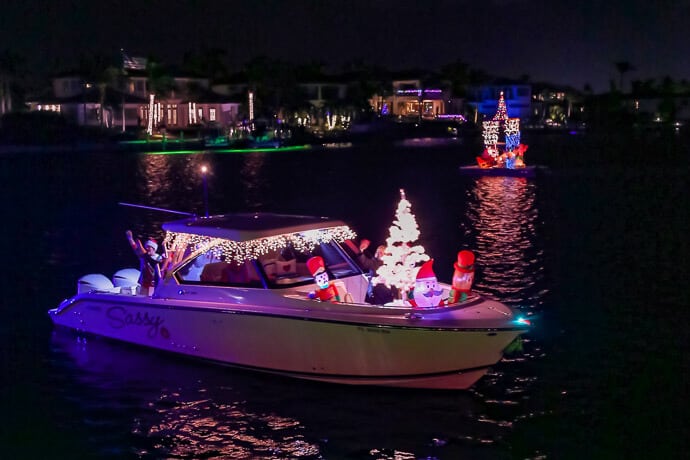 8. Christmas in Key West, Florida
If you're looking for a tropical Christmas in the USA, the Conch Republic of Key West, Florida is truly the place to be.
Imagine swimming, snorkeling, and taking a Champagne sunset cruise on a schooner in the warm waters. You'll be pinching yourself to believe that it's really Christmastime, because the average temperature here in December is a comfortable and sunny 76ºF.
The holiday season kicks off with the traditional Key West Christmas Parade down Duval Street in early December, and continues straight through the New Year.
If you love the charming Key West architecture, check out a private walking tour, a trolley tour, or the Historic Inns Holiday Tour. The Nutcracker Key West at the Tennessee Williams Theater is also popular: It sells out quickly, so it's best to buy your tickets early.
But our absolute favorite way to get into the holiday spirit is at the Key West Bight Before Christmas. This is the traditional Lighted Boat Parade, with their festive bright lights glowing as they pass the judges in Key West Bight.
Key West is truly unique, and one of the most memorable and best places to spend Christmas in the USA. -Lori Sorrentino of Travlinmad
READ MORE: The Best Food Gifts from Around the World (The Ultimate Gourmet Guide)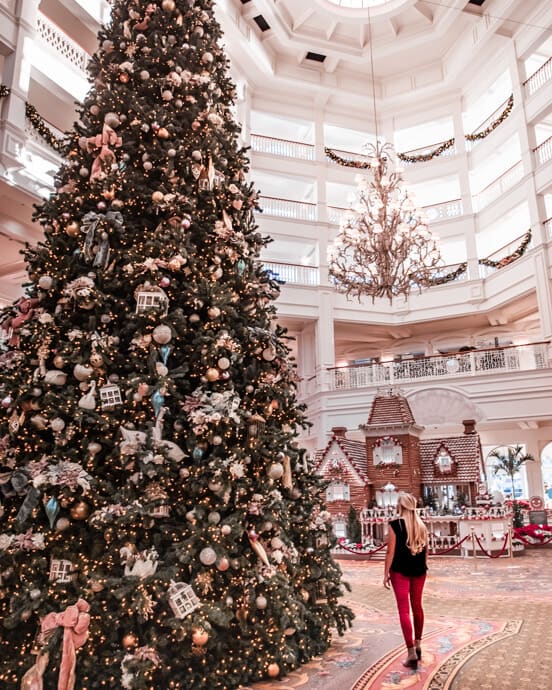 9. Christmas in Orlando, Florida
A white Christmas may be the norm for many Americans, but Christmas in Orlando always means the possibility of shorts and flip flops.
Even without the snow, Orlando is one of the best places to visit during Christmas, and goes all out in terms of decorations, from the myriad theme parks to local neighborhoods.
The theme parks all have special holiday events and decorations, such as Grinchmas at Universal Studios and massive gingerbread creations at many of the Disney hotels.
Many of the local communities also host special events and cover their houses, yards, and streets with festive Christmas decorations. There are also several outdoor skating rinks that pop up around the area.
For something a little more unusual, check out the Winter Park Boat Parade. Boat owners deck their boats in Christmas lights and other Christmas decorations to show off once the sun sets. Jolly ol' St. Nick usually makes an appearance on one of the boats.
Orlando's winter is considerably milder than the rest of the country, with highs reaching the 70s most days.
There are occasionally waves of cold fronts, but in Orlando the cold doesn't usually last more than a day or two in December. Most days are sunny, clear and beautiful.
Even if you tend to prefer a white Christmas, give Orlando a try for the holidays one year. You may find that a green Christmas isn't so bad after all! -Christine Wheeler of Live Love Run Travel
READ MORE: Lebkuchen Recipe (a.k.a. German Christmas Cookies)
10. Christmas in Atlanta, Georgia
As a rare ATL native, I've been celebrating Christmas in Atlanta for 50+ years. And some of my favorite local holiday events date back to my childhood in the 1970s and early '80s.
Christmas in the South means you're unlikely to get any snow (which is one reason many people consider
Georgia
and Florida the best places for Christmas in the USA)!
You can also head downtown to Centennial Park to see the Chinese Lantern Festival and explore the city's authentic German Christkindl Market, which features traditional singing and dancing, food, drink, and seasonal items in open-air booths.
Families with kids will enjoy riding the iconic Pink Pig at Macy's Lenox Square,
Rudolph the Red-Nosed Reindeer
at the Center of Puppetry Arts, Celebrations in Lights at the Children's Museum of
Atlanta
and much more.
You could go to a different attraction every day from November 15 to
Xmas
Eve, and you still wouldn't experience half of the awesome
things to do in Atlanta
for Christmas.
But that just makes this our family's favorite time of year to explore our hometown. –Bret Love & Mary Gabbett of Green Global Travel
READ MORE: Atlanta Christmas Events: 50+ Things to Do
11. Christmas in Dahlonega, Georgia
One of our favorite places to celebrate
Christmas in Georgia
, Dahlonega was home to the Georgia gold rush of the late 1820s, which was the first major gold rush in the United States.
Today, Dahlonega GA is a popular tourist town with an amazing array of historic sites, shops, restaurants, and wineries. But it's an especially great place for Christmas vacations
Southern Living recently called it a "perfect Christmas Town," in part due to 19th century buildings on the town's historic square, which offers loads of Christmas lights and holiday cheer.
Dahlonega's Old Fashioned Christmas celebration starts with the Lighting of the Square on the day after Thanksgiving, followed by the Dahlonega Arts Alliance Christmas Market the day after that.
Santa is typically available for free photos by the Dahlonega Square Christmas tree on the first four weekends after Thanksgiving, as well as being the highlight of the Dahlonega Christmas Parade in mid-December.
Visitors can also see the Festival of Trees at Hancock Park, watch a Christmas show at the Holly Theater, or take a romantic horse-drawn carriage ride through Downtown Dahlonega. –Bret Love & Mary Gabbett of Blue Ridge Mountains Travel Guide
READ MORE: The 20 Best Cultural Festivals Around the World
12. Christmas in Helen, Georgia
The quirky mountain town of
Helen
GA offers an unusual mixture of
Bavarian architecture,
German restaurants
, and down-home hospitality. Recently listed as one of
Southern Living
's "Best Christmas Towns in the USA," it's one of Georgia's
best
destinations for Christmas holidays
.
Christmas in Helen GA always begins the day after Thanksgiving with the Lighting of the Village ceremony. Local choirs perform before the downtown Helen Christmas lights are unveiled, then Santa and Mrs. Claus pose for free photos in Riverside Park.
The traditional German Christmas Market opens in the Helen Square and the Festhalle parking lot on Thanksgiving weekend, and the annual Helen Christmas Parade finds costumed characters, decorated floats, and marching bands moving through the heart of town a week later.
Other Christmas vacation ideas can include holiday shopping at Christmas & More and The Christmas Shoppe, experiencing a Victorian-style Christmas at the Hardman Farm State Historic Site, and getting some great selfies with Christmas lights at the gazebo in Unicoi Hill Park.
Lots of folks make day trips from Atlanta to explore
Helen
in December. But if you want to enjoy a longer getaway, check out the retro-funky Barrel Cabins at Helen's Unicoi State Park. They were recently updated with new appliances but retain their old school charm.
The park makes a great base for exploring the area's excellent array of hiking trails, waterfalls, and unique tourist attractions. –Bret Love & Mary Gabbett of Blue Ridge Mountains Travel Guide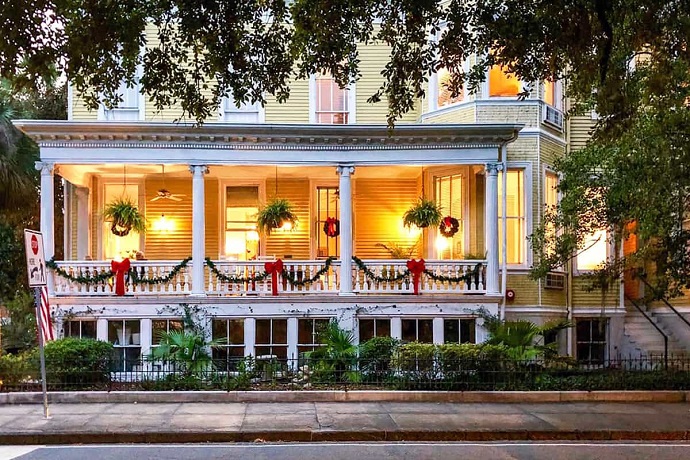 13. Christmas in Savannah, Georgia
If you want to feel like you've stepped onto the set of a Hallmark Christmas movie, Savannah is one of the most enchanting destinations for Christmas holidays.
The coastal city's Historic District looks extra magical when its Southern-style mansions are all aglow with twinkling lights and draped in holiday greenery.
Some of the most popular seasonal events include the Savannah Christmas Market, the Gingerbread Trail, and the Holiday Boat Parade.
The Tour of Homes is a popular fundraising event that grants ticket-holders entry into mansions decorated like a Southern Living magazine cover.
The most cheerful areas of Savannah during the holiday season include River Street, Broughton Street, and the City Market.
Plant Riverside is considered Savannah's Entertainment District, so you can expect lots of colorful LED lights and live shows in that area.
For a more traditional ambiance, stroll through Savannah's Historic District and stop in Cathedral St. John to see its elaborate nativity scene and trees made from hundreds of poinsettias. -Erin Clarkson of Savannah First-Timer's Guide
READ MORE: The 15 Most Haunted Hotels in America
14. Christmas in Honolulu, Hawaii
Honolulu is the primary gateway to the islands of Hawaii, and it's also the perfect place to enjoy an unconventional Christmas on the beach.
As one of the warmest winter destinations in the US, Honolulu boasts beautiful weather in December (with average high temperatures of around 77°F), as well as the unique chance to spot surfing Santas.
Within the city itself, there is no shortage of holiday festivities. The stunning Honolulu City Lights takes place in Honolulu Hale throughout December and features gorgeous Christmas decorations as well as a festive parade. This is one of the most unmissable Christmas events in Honolulu.
The annual Festival of Lights Christmas Boat Parade is also a spectacular event to attend. Head to the Hawaii Kai Towne Center in Honolulu to witness many splendidly decorated boats cruising by the marina in the evening.
One insider tip is to not miss "The Nutcracker" annual Christmas ballet performance at the Blaisdell Concert Hall. This ballet showcases Oahu's interesting history, as well as many aspects of Hawaiian culture. –Jiayi of The Diary of a Nomad
READ MORE: Hawaiian Mythology (Intro to Hawaiian Gods, Goddesses and Legends)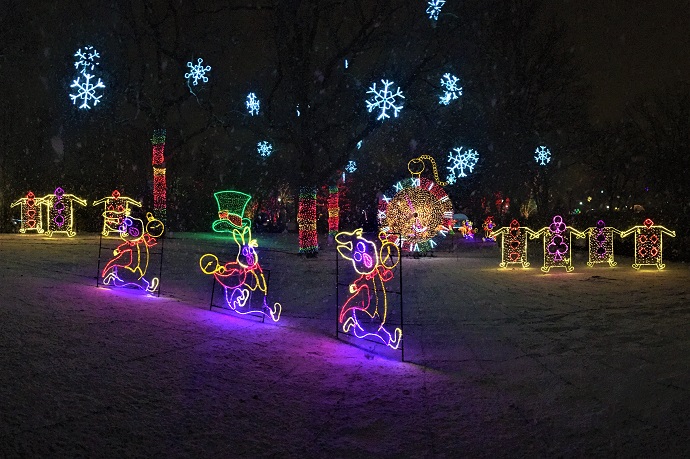 15. Christmas in Chicago, Illinois
Starting with the Christmas Parade on North Michigan Avenue the weekend before Thanksgiving each year, the season for Christmas in Chicago lasts through the first week of January.
While the week of Thanksgiving and Christmas are filled with school break tourists, the time between those two holidays is a bit less hectic and crowded.
Each winter, Chicago schedules Christmas trains on each of its lines (which are named by colors). These trains are completely transformed for the season, from themed seat cushions and workers dressed like elves inside to fully wrapped cars and Santa with his reindeer outside.
The cost of riding these festive trains is exactly the same as the regular ones.
Each year, the Lincoln Park Zoo puts on a Christmas light display that covers its entire 35 acres. Zoo admission is free. But for Christmas 2021, entry to the zoo lights is $5/person, making it one of the best family Christmas attractions in Chicago.
Visitors should use public transit or a rideshare service to get to the zoo, because parking is both difficult and expensive.
Right in Chicago's downtown Loop, the annual Christkindlemarket offers festive shopping, snacks, and beverages. The annual market mug is a collector's item for many locals, and entry to the Bavarian-themed market is free. -Brodi Cole
of Our Off Beat Life
READ MORE: 40 Fun Facts About Thanksgiving Traditions Around the World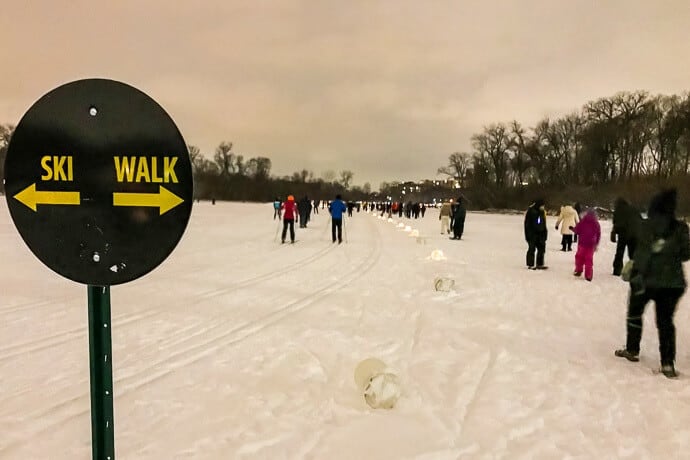 16. Christmas in Minneapolis/St.Paul, Minnesota
If you are wondering where to go for a white Christmas in the USA, chances are good that Minneapolis & St. Paul will grant you your holiday wish. The Northland is known for its cold, snowy winters, and locals love to brag about all the fun to be had if you bundle up a bit.
There's twice the fun to be had in the Twin Cities at Christmastime. In Minneapolis, the outdoor Holidazzle festivities include light installations, fireworks, food, a kid zone, skating rink, beer garden, movies, and a tented craft marketplace.
St. Paul prides itself on the displays in Rice Park. There are Christmas markets at the historic Landmark Center or Union Depot (complete with a North Pole Express Holiday Train), the long-running Black Nativity production, and popular Hmong New Year celebrations.
Across dozens of the Twin Cities' world-famous stages, live music and theater performances brighten the season and bring people together. Start your Prince tour at First Avenue, or take in a show (and great Mississippi River views) at the Guthrie Theater.
For a taste of Minnesota's Scandinavian heritage, visit the American Swedish Institute's holiday displays, or check out Ingebretsen's Nordic Marketplace for gifts and deli items.
Best of all, embrace the outdoors for a complete holiday experience. Try ice skating, sledding, skiing, or simply walking around the cities' beautiful lakes. It's invigorating, and deserving of a warm libation afterwards. -Kristin Henning of Travel Past 50
READ MORE: 40 Ways to Celebrate New Year Traditions Around The World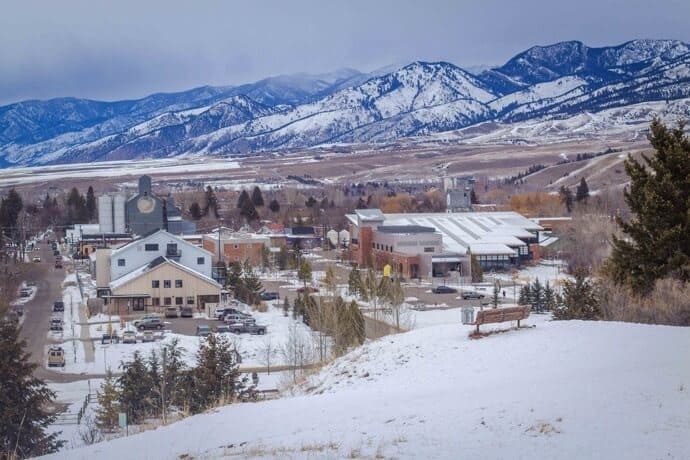 17. Christmas in Bozeman, Montana
If you've ever imagined spending the holidays in the American west, the winter wonderland of Bozeman, Montana is truly one of the best places to visit during Christmas.
Bozeman really shines during the winter. A blanket of snow usually covers the town throughout December, and temps hover around freezing. Main Street gets decked with bright, colorful lights that shimmer against the picturesque mountain backdrop.
Several local parks maintain ponds for ice skating and pick-up hockey games. And you can go dashing through the snow in Santa's sleigh just north of town.
There are also two world-class ski areas within an hour's drive– Bridger Bowl and Big Sky–the latter of which is one of the largest ski resorts in the country.
Both resorts put on a torchlight parade and fireworks show for the holiday season, with Big Sky doing it up for Christmas Eve and Bridger celebrating on December 30th.
Bozeman is just over an hour from the north entrance of Yellowstone, where you can combine your holiday festivities with a 5-day Winter Wolf & Wildlife Watching tour from Get Your Guide. -Ryan Victor of Passions and Places
READ MORE: 70 Cool & Weird Animals Around the World (An Epic Guide)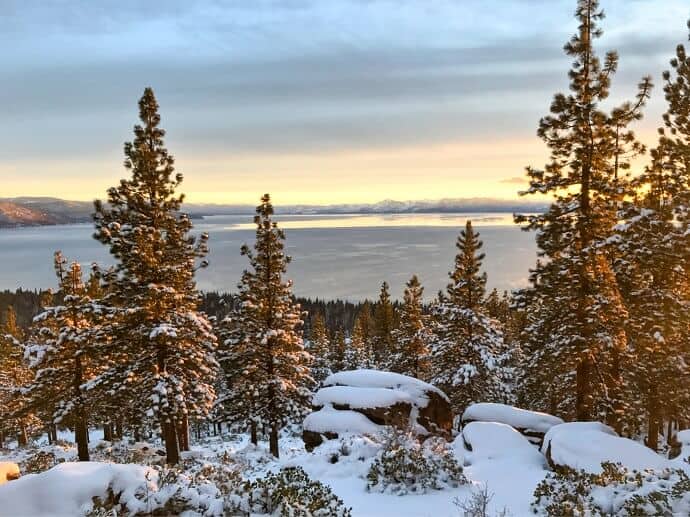 18. Lake Tahoe, Nevada/California
For a wintery scene right out of a fairytale, why not head to the lake for Christmas this year? Located on the border between Nevada and California, Lake Tahoe offers many different ways to celebrate the season.
South Lake Tahoe offers an excellent opportunity for party people, with casinos, nightlife, plenty of Christmas lights, and holiday food. You can even ski or snowboard across the state line at Heavenly Resort. For nature lovers, there is a 1/2-day Photographic Scenic Tour.
Drive to the iconic Emerald Bay viewpoint for unbeatable lake views, and enjoy a mellow winter hike in Tahoe's Desolation Wilderness.
If you're not a fan of big crowds, head to the North Shore of Lake Tahoe. Here the vibe is more laid-back and local, but that doesn't mean there's a lack of things to do.
Visit the old Olympic Village and go ice skating at Squaw Valley's old Olympic rink. If you love burritos, you've got to stop by T's Rotisserie in Incline Village on your way to the Mount Rose Pass sledding hill.
With 14 world-class ski resorts, excellent snowmobiling tours, and top-notch snowshoeing and backcountry skiing, Lake Tahoe is one of the best places to visit in December in the USA. Most locals enjoy cutting down their own Christmas tree ($10 permit required).
Whichever side of the lake you visit, expect wintery weather. One of the best tips for visiting Lake Tahoe in winter is to either rent an all-wheel drive vehicle or carry snow chains.
Snowstorms are measured in feet here, so bundle up and get ready for a wintery Christmas you'll never forget. -Meg Atteberry of Fox in the Forest
READ MORE: Holiday Gift Guide (Includes 75+ Christmas Gift Ideas)
19. Christmas in NYC, New York
One of the best family vacations for Christmas is to see Christmas in NYC.
Christmas in New York City is truly magical, and we love starting the season by watching the Macy's Thanksgiving Day Parade. For us, the holiday season doesn't truly begin until the Macy's Santa and his reindeer make their way into Herald Square.
But of course the Big Apple is home to plenty of other holiday attractions that make it one of the best places for Christmas in the USA. Of course, there's the massive (70 to 100-foot-tall) Christmas Tree at Rockefeller Center, as well as the ice skating rink at its base.
In just a few hours you can do an easy self-guided walking tour of all the major NYC Christmas window displays. From Bloomingdales and Bergdorf Goodman south to the incredible displays at Saks Fifth Avenue and Macy's, it's a can't-miss Christmas attraction.
Along the way there's also Radio City Music Hall, the Winter Village at Bryant Park, and the incredible FAO Schwarz toy store.
The latter opened a new 20,000-square-foot location at 30 Rock in 2018, three years after its previous owners (Toys R Us) closed the 150-year-old flagship store on 5th Avenue.
READ MORE: NYC Christmas Window Displays (Free Walking Tour)
20. Christmas in Asheville, North Carolina
Located in the heart of Western North Carolina's
Blue Ridge Mountains
,
Asheville NC
is one of our favorite towns in the USA and is one of the best places to visit during Christmas.
It has a little something for everyone– a bustling downtown area, a thriving cultural scene, critically-acclaimed
restaurants
, and all of it surrounded by some of the most picturesque mountain scenery you could ever imagine.
Christmas at Biltmore is a spectacular celebration in its own right, with "America's Largest Home," Antler Hill Village, and the entire estate decked out in the luminous lights and sounds of the holiday season.
Whether you explore the rooms of Biltmore House by day or embrace the romantic elegance of their Candlelight Christmas Evenings, it's truly a must-see event.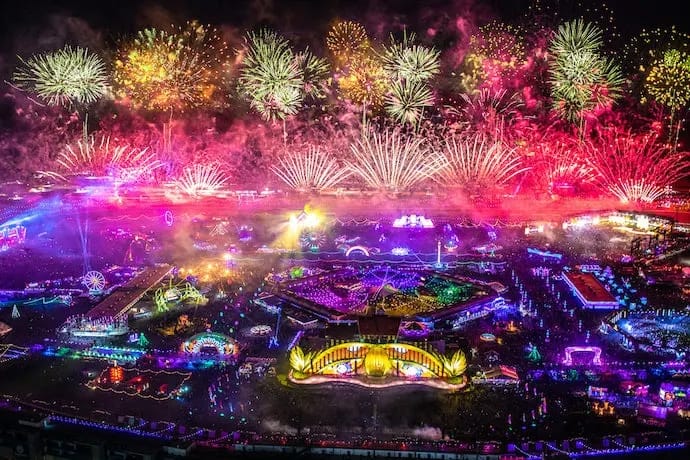 21. Christmas in Charlotte, North Carolina
As the largest city in North Carolina, Charlotte is a great place to consider if you're wondering where to go for your Christmas vacation.
The city is home to numerous museums, theaters, and the Carrowinds amusement park, and their holiday celebrations are second to none.
Carrowinds hosts their annual WinterFest throughout the month of December, with ice skating, live entertainment, holiday shopping, and seasonal activities the whole family will enjoy.
Truist Field (home to the Charlotte Knights minor league baseball team) also hosts an event called the Light The Knights Festival. You'll have the opportunity to meet Santa, go ice skating, enjoy live music, and more.
In addition to these two festive NC Christmas events, the Charlotte Motor Speedway hosts an enormous 3.75-mile drive-thru Christmas light display, with over 4 million lights!
They'll also have a Christmas Village set up, with an indoor movie theater, craft vendors, and the Lil' Donut Express.
Several Christmas parades and holiday shows can also be found throughout the city of Charlotte during the month of December, which means you'll never run out of things to do for the holidays! –Samantha Dickens
READ MORE: Top 20 National Forests in America for Camping & Hiking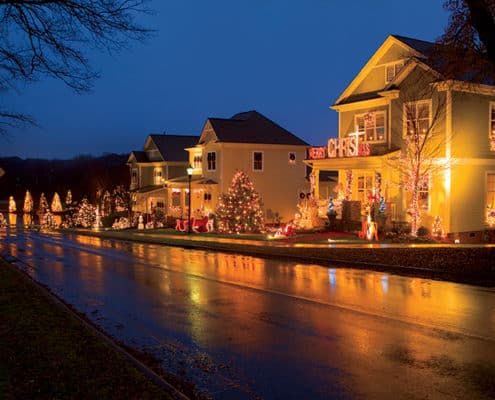 22. Christmas in McAdenville, North Carolina
Located along the south fork of the Catawba River in a small suburb of Charlotte, McAdenville is known as one of the merriest Christmas towns in North Carolina.
With a population of 900, this tiny town sees an influx of visitors who flock to the city each Christmas to get a taste of old-fashioned hospitality and holiday spirit.
They're best known for "Christmas Town USA," a citywide Christmas celebration that dates back to 1956, which put them on the map as one of the South's best Christmas holiday destinations.
The annual Christmas event gained national attention in 1980 thanks to a feature on the CBS Morning Show, then earned major accolades in Southern Living. Now, Christmas Town USA has become a beloved NC Christmas tradition.
Visitors are welcome to drive through the town to see the lights, or park and immerse themselves in the down-home Christmas cheer on foot, with carolers milling about.
This year will mark their 67th year of putting on this extravagant Christmas light display, tree lighting ceremony, and Yule Log Parade. The lights typically stay up until December 26th. –Samantha Dickens
READ MORE: 50+ Pieces of Advice I Would Include in a Letter To My Younger Self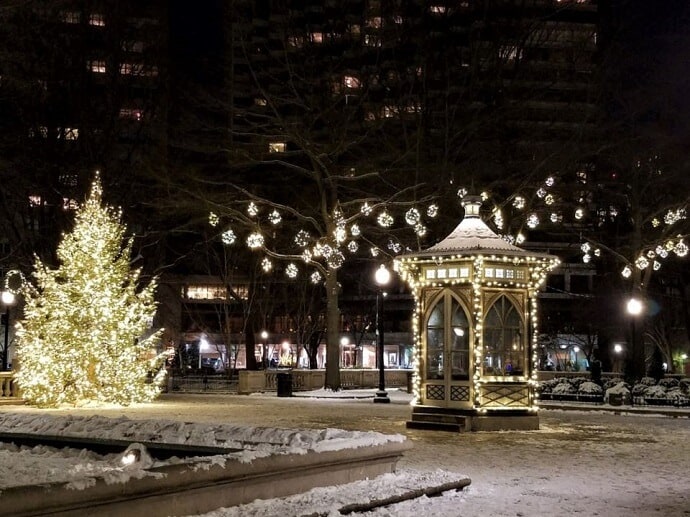 23. Christmas in Philadelphia, Pennsylvania
Center City Philadelphia might not be the first place that leaps to mind for a place to celebrate the Christmas season, but there are plenty of things to do there for the holidays.
You can visit a German-style Christmas Market with over 80 vendors in Philly's famed Center City Love Park, across the street from a Made in Philadelphia Holiday Market with over 45 vendors.
There's a huge, high resolution screen musical Christmas show in the lobby of the Comcast Center, and a live performance of the Pennsylvania Ballet's Nutcracker performed in the historic Academy of Music (Philly's version of the La Scala Opera House).
Don't miss a chance to have dinner at Parc, a festive, Parisian-style bistro on Philadelphia's genteel Rittenhouse Square, which is beautifully illuminated for the season.
We also love the daily free Christmas light show and organ concert in the Grand Court of the historic Wanamaker Building near City Hall, which has been a Philly tradition since 1956.
While in the area you can go ice skating on a pop-up rink in front of the historic City Hall, and end the evening with a Christmas sound and light show projected onto City Hall itself.
During your time in Philadelphia, you should also take a walking tour of the most historic square mile in the United States! -Suzanne Fluhr of Boomeresque
READ MORE: 15 Recycled Christmas Cards Crafts for Kids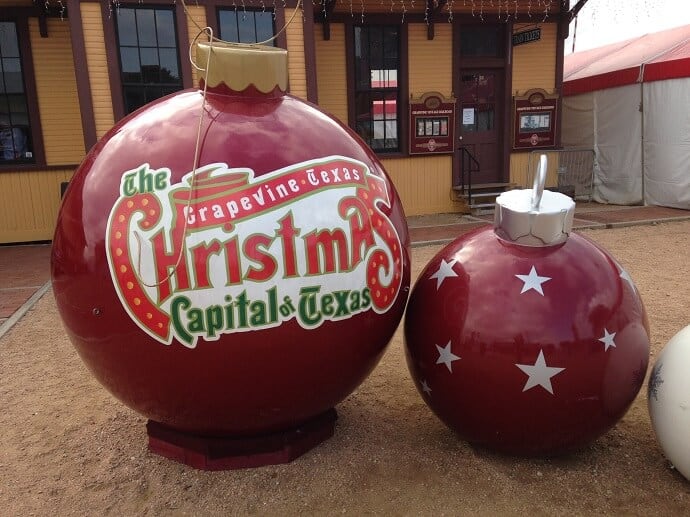 24. Christmas in Grapevine, Texas
They say everything is bigger in Texas, and the holiday season is no exception.
In fact, Grapevine– the self-proclaimed Christmas Capital of Texas– is a great place to celebrate Christmas in America. Both locals and visitors can participate in more than 1,400 different Christmas events in just 40 days.
Activities and events range from photos with Santa and a nightly light show spectacular to Christmas parades and holiday shows. The best part? There's something for all ages.
Bring the kids, and embark on the North Pole Express for a visit with Santa and Mrs. Claus. Or gather your best friends and set out on a Christmas Wine Train, complete with wine, hors d'oeuvres, and lively holiday music.
At the Gaylord Texan Resort & Spa, you can see many of your holiday favorites come to life in ICE!, a fascinating display carved from 2 million pounds of ice.
Weather here varies from mild and frosty to downright cold temps, so do check the forecast before heading out to explore. -Karon Warren of This Girl Travels
READ MORE: 40 Fascinating Christmas Traditions in Mexico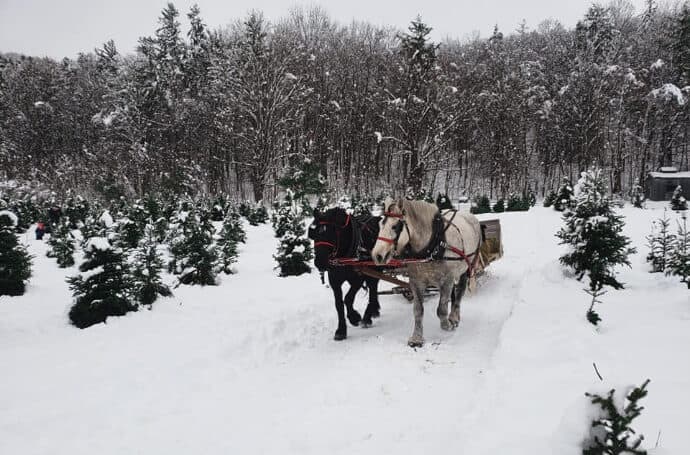 25. Christmas in Stowe, Vermont
Vermont in winter is truly like a snow globe come to life. It's basically what you most likely envision when you think of American Christmas traditions with a classic snowy scene.
Not only is a white Christmas in Vermont almost guaranteed, but there are so many charming villages and spots throughout the state that practically scream Christmastime!
If you're into winter sports, you can definitely find lots of those here. But for holiday-themed activities, you'll want to do traditional things like cutting down your own Christmas tree at a local farm and going riding in a horse-drawn sleigh.
Don't miss the Christmas lights that adorn Church Street, the main shopping thoroughfare in the hip city of Burlington, and maybe take a Classic Beer Tour that includes lunch. Exploring the city is one of our favorite things you can do in Vermont.
Vermont is not a very big state, so you can see a whole lot of it during a fairly short visit. I definitely recommend visiting picturesque Stowe, which is one of the best Christmas towns in the USA (and also happens to have has its own popular beer tour).
Tucked in the mountains of Vermont, this is a perfect small town destination, with its white-steepled church and quaint Main Street. It looks particularly amazing at Christmas, when it's usually covered in snow. -Amy Hartle of New England With Love
READ MORE: What Is Ecotourism? (The History & Principles of Responsible Travel)
26. Christmas in Alexandria, Virginia
Imagine brick-paved streets lined with 18th century buildings, shop doors graced with Christmas greenery, and everyone clad in their finest tartan kilts.
In Alexandria, Virginia, you're likely to hear a Scottish brogue among the southern drawls. This charming city located across the Potomac from Washington DC celebrates the Christmas holidays with a combination of both American and Scottish traditions.
While it's fairly unlikely that Alexandria will have a white Christmas, there's usually enough of a chill in the air that you'll want a hot chocolate to warm up you while you watch the Annual Scottish Walk Christmas Parade.
Alexandria's Scottish clans, all decked out in traditional tartan kilts, celebrate the arrival of the Christmas season and herald the way for Santa Claus himself.
After the Scottish Walk, the sounds of bagpipes fill Alexandria's streets as all the pipe and drum bands gather at Market Square for the Mass Band Concert.
Over at the Carlyle House, they celebrate the holidays with a nod to Alexandria's colonial past. A Soldiers' Christmas features re-enactors from the First Virginia Regiment.
They set up camp to show how Christmas traditions in the USA were celebrated in the 18th century, complete with a small colonial Christmas feast that concludes with a 5-gun salute.
After a day of shopping in Alexandria's 160 indie shops and boutiques, everyone heads to the waterfront. There, after sunset, the Potomac River lights up with the Alexandria Holiday Boat Parade of Lights. –Brianna Simmons of Casual Travelist
READ MORE: The 10 Best Places to Visit in Scotland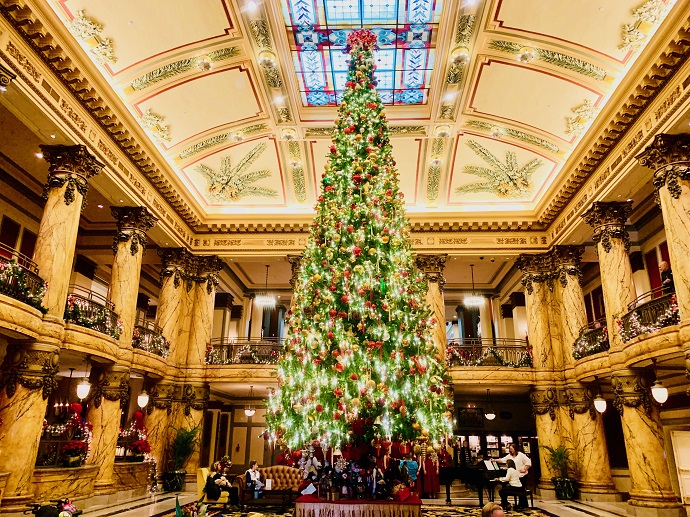 27. Christmas in Richmond, Virginia
Christmas in Virginia sparkles with a fun mix of modern celebrations and historic sites decorated in the spirit of the holidays.
Stay at The Jefferson Hotel to surround yourself with elaborate decorations and historic luxury. Here, a huge Christmas tree, festive garlands, and holiday lights set the stage for free concerts, special teas, and visits with Santa.
Richmond's eclectic neighborhoods add more holiday fun with carriage rides, holiday markets, and special performances making it one of the best places in the USA to visit at Christmas.
One of the best things to do in Richmond, the Lewis Ginter Botanical Garden twinkles with more than 1 million lights at the walk-through GardenFest of Lights.
Nearby, the Gilded Age mansion at Maymont reflects the Victorian splendor of Christmas in the 1890s. Downtown Richmond shines in December, with a giant Christmas tree and decorated buildings during RVA Illuminates.
Time your visit right and you can also watch the Richmond Boat Parade of Lights on the James River. -Julie McCool of Fun in Fairfax VA
READ MORE: List of National Parks By State (An Epic Guide to "America's Best Idea")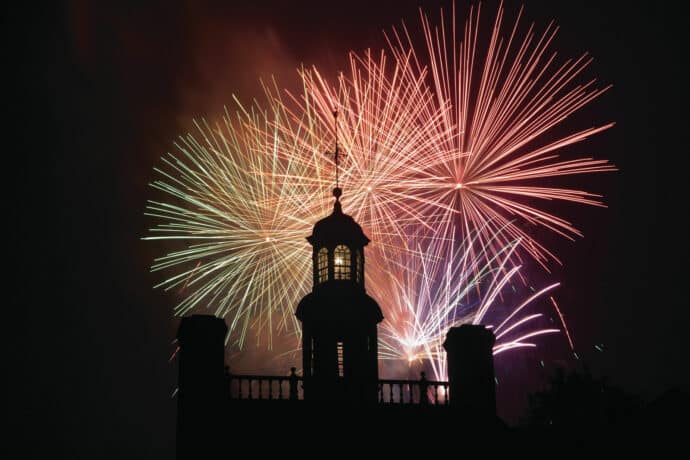 28. Christmas in Williamsburg, Virginia
Named by Country Living as one of the "Best Christmas Towns to Visit," Williamsburg VA has an endless assortment of holiday activities and attractions that are perfect if you're wondering where to go for Christmas.
Thanks to Colonial Williamsburg and Busch Gardens, the historic city has become a major tourism hotspot. They're also among the best places in Virginia to celebrate the holiday at Xmas!
During the holiday season, Colonial Williamsburg offers Christmas events daily, using historical elements that will transport you back to the 18th century.
At Busch Gardens, which is billed as "the World's Most Beautiful Theme Park," rides and rollercoasters are transformed with over 10 million dazzling Christmas lights during their Christmas Town celebration. Visitors can enjoy amazing holiday shows, delicious Christmas treats, and myriad shopping opportunities.
For the third year in a row, the Williamsburg Christmas Market offers more than 30 different vendors over the course of four weekends. There will be also photo opportunities with Santa, live music, and food available from local restaurants. –Samantha Dickens
READ MORE: Top 10 Living History Museums in America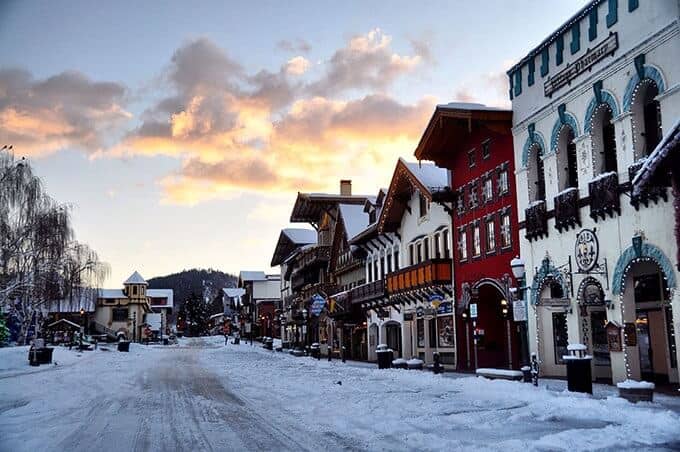 29. Christmas in Leavenworth, Washington
Just 2.5 hours east of Seattle lies the small, Bavarian-themed town of Leavenworth. Flanked by mountains, with a river passing between them, this tiny town is straight out of a classic US Christmas postcard.
The German-inspired facades of downtown were a way to revitalize a once-dying logging town. It's inarguably beautiful during the winter season: Snow clings to the rooftops, and almost every building is illuminated by lights. It's like a Christmas village come to life!
On December weekends, visitors and locals alike stand on the main street to watch the shops turn on their Christmas lights. Carols are sung, and a parade passes through.
For more holiday spirit, you can wander through the Nutcracker Museum, warm up with German brats and local beers, and enjoy live music in a magical setting.
Because it's on the other side of the Cascades from Seattle, Leavenworth enjoys lots of sunshine all year round. Winter brings snow to this lovely little mountain town, making it one of best places to travel for Christmas in the Northwest.
Outside of Christmas festivities, there are many other things to do in Leavenworth. You can go snowshoeing, skiing, sledding, and drink in the beautiful snow-capped pines. Or grab a coffee and walk around Blackbird Island, which can be easily reached via a small bridge.
You can't leave the town without sampling the local craft beers from Icicle Brewery. Order a soft pretzel with housemade cheese sauce and grab a seat outside by the fireplace to mingle with other travelers and locals alike.
If you're planning to attend a Christmas lighting ceremony, give yourself plenty of time to get there. Highway 2, which connects Seattle to Leavenworth, is a mostly single-lane road that can get backed up with traffic on busy weekends, especially during the holiday season. -Katie Diederichs from Two Wandering Soles
READ MORE: Best Coffee In the World (A Gourmet's Guide to 30 Types of Coffee)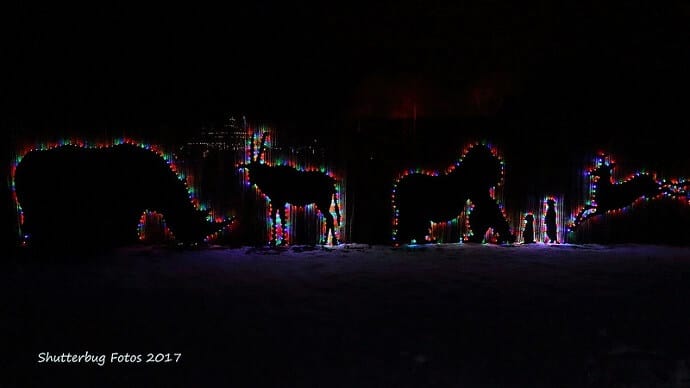 30. Christmas in Seattle, Washington
Looking for one of the best places to travel for Christmas this year? In my opinion there's no better place than Seattle, Washington. Emerald City residents love to celebrate, no matter what time of year it is. But during the festive season the city really comes to life at night.
So what makes Seattle one of the best places to spend Christmas in the US? There are very few cities in America where you're less than an hour from the ocean and the mountains. So if you love winter sports and other outdoor activities, the city will feel like heaven on Earth.
The best holiday-related things to do in the area are watching the light show at Woodland Zoo, the annual Macy's holiday parade, and the star lighting event.
If you travel with children, check out the Winterfest at the Seattle Center for a winter train around the village, ice rink, ice sculpting, and caroling. For an extra treat, the Gingerbread Village at the Seattle Grand Sheraton is a place the kids will love.
The best part of visiting Seattle in December is that it has the perfect Christmas weather. This is the coldest time of year there, and if you're lucky you may have a white Christmas.
The bottom line is that Seattle is one of the best places to spend your Christmas. While it may not be nearly as warm as an African Christmas, you're still guaranteed to have tons of fun! -Lydia of Africa Wanderlust
READ MORE: Animals in Kenya: A Guide to 40 Species of Kenya Wildlife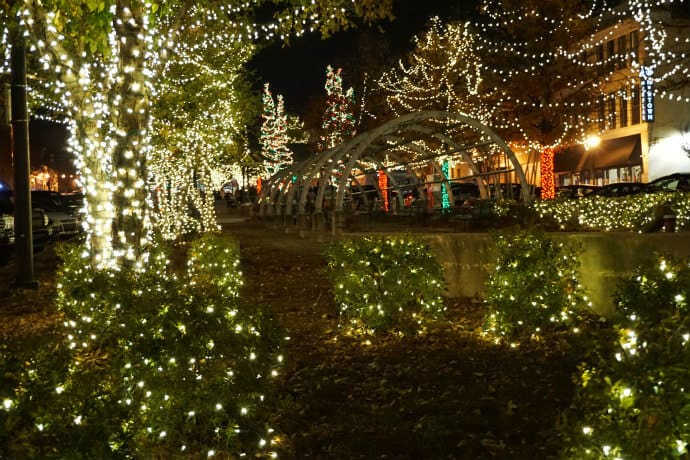 Spending your Christmas Vacation in the USA?
Check out the following services we use!
DollarFlightClub or Airfarewatchdog to find a cheap plane tickets.
Booking.com or Agoda to find a hotel deals.
Viator for a stellar day tour.
Lonely Planet for Travel Guides.
World Nomads for Travel Insurance.
Rental Cars.com for Car Rentals
.
Outdoorsy RV and trailer rentals.
TrustedHousesitters for great people to watch your house and pets while you travel!
Looking for Travel Gear? Check out these great options!
The 30 Best Hiking, Running, & Walking Shoes for Men
The Best Hiking Gear: 35+ Product Reviews
The Best Backpacking Gear: 35+ Product Reviews
The Best Gifts for Campers, Hikers & Nature Lovers
The Best Travel Clothes for Women & Men
The 30+ Best Women's Hiking, Running & Walking Shoes
The Best Vegan Boots for Women & Men

The Best Backpacks for Travelers
The 35 Best Daypacks for Travel
Plastic Free Products for Travelers
Best Camping Tents for Families