The first press trip my daughter and I ever took together was in 2006. The Bahamas weren't all that far from our home in Atlanta, but to a 5-year-old it seemed like a different world. Though it's been six years now, I still remember it like it was yesterday: the mixture of wonder and fear on her face as she swam with dolphins for the first time; the curiosity of exploring the Pirates of Nassau Museum (especially the costumed characters that made up the living history element); her incredulousness at being allowed near the flamingoes at the Rand Nature Center… It may be trendy, but it remains one of our favorite trips we've ever taken together. Here are the attractions we loved in the Bahamas: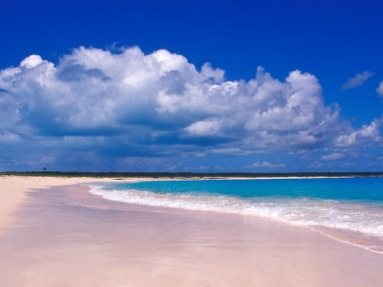 ESCAPE TO QUIET PINK SAND BEACHES
Looking to get away from the hustle and bustle of Nassau? Take the
Bahamas Fast Ferries
boat to Harbour Island (pictured above), just north of Eleuthera, where you can rent a golf cart to explore a sleepy fishing village filled with quaint shops and restaurants serving fresh seafood caught mere hours before. It's also full of history, with sites such as Barracks Hill, Haynes Library, the Old Fort, the Sugar Mill and the Landing, many of which date back hundreds of years. Or you could just savor the sweet serenity of the crystal clear waters and gorgeous pink sand beaches.
EXPLORE UNDER THE SEA IN A PERSONAL SUB
Not quite ready to scuba dive, but still eager to explore the wondrous world beneath the waves? Try an aquatic adventure in Stuart Cove's SUB (Scenic Underwater Bubble), a self-contained underwater motorcycle featuring a bubble that allows you to breathe without the use of snorkel tubes or regulators. With ascents guided by safety divers and a tethered buoy ensure you remain at a depth of 15-20 feet, the seahorse-shaped SUB slowly propels you around coral reef and alongside the colorful fish the Bahamas are known for, without ever getting your head wet!
SWIM WITH STINGRAYS
Beginning with a 25-minute ride through picturesque Nassau Harbor aboard a 65-foot catamaran, the Stingray Adventure at Blackbeard's Cay provides visitors with a chance for one-on-one encounters with these graceful creatures. Taking place in a park located on the island, the visit begins with an educational briefing on Southern Atlantic Stingrays before guests are allowed to snorkel in a massive lagoon filled with dozens of them. Lunch and drinks are also available.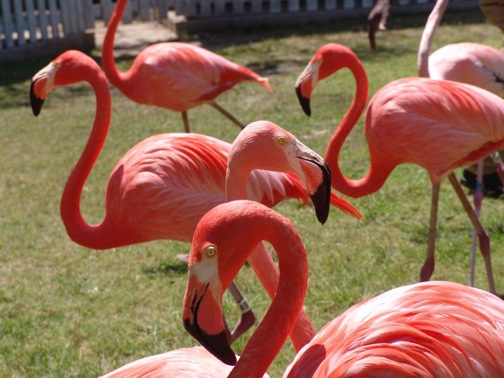 GET CLOSE TO NATURE
Named for renowned Freeport-based philanthropist James H. Rand, the Rand Nature Center is a 100-acre sanctuary designed to preserve the natural habitat of Grand Bahama Island for future generations. Though located mere minutes from downtown Freeport, the center boasts a bevy of flora and fauna that should appeal to nature lovers of all stripes. But bird-watching enthusiasts are in for a special treat, as the Center's pond frequently attracts Antillean Peewee birds, Red-legged Thrushes, Stripe-headed Tanagers, the endangered Bahama Parrot, an occasional Kirtland's Warbler and the prized West Indian flamingos, the national bird of the Bahamas.
GET CULTURED
The Bahamas have been occupied and contested by numerous different peoples over the past 500 years, producing an immensely rich tapestry of artistic expression. The National Art Gallery of the Bahamas offers an overview of how these disparate influences affected the local culture, tracing the history of Bahamian art from the pre-Colombian era to the present. From ancient pottery to modern mixed media installations, the gallery provides visitors with a better understanding of Bahamian culture, as well as offering a variety of author readings, film series, family art workshops and talks with emerging artists on the local scene.
GO ISLAND HOPPING
Eager to explore all the Bahamas have to offer? Try the all-day Island Hopping Cultural Safari from Grand Bahama Island's East End Adventures. The trip heads via speedboat to snorkel one of the Blue Holes off the island's coast before heading to a quaint fishing village called Sweeting's Cay. Here, you can explore the secluded settlement and devour a delicious native lunch before venturing to deserted Lightbourne's Cay for sunbathing and shell-hunting. Finally, it's back to the mainland's Lucayan National Park, where you hike to inland caves, view mangrove habitats and learn about island history and culture.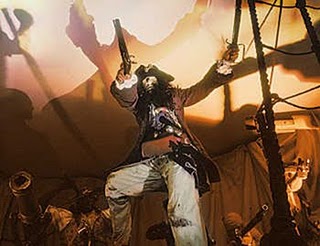 PARRRRTY WITH PIRATES
The 700 islands of The Bahamas were frequently used as a home base by legends such as Sir Francis Drake, Blackbeard and Calico Jack during the Golden Age of Piracy, when they raided so many Spanish galleons that Spanish troops destroyed Nassau twice in retaliation. The arrrgh-worthy Pirates of Nassau Museum offers an interactive experience complete with costumed guides, a walk-aboard replica of the pirate ship Revenge and replica weaponry ranging from pistols and rifles to swords and crossbows, teaching kids about the dangerous lives of the REAL pirates of the Caribbean.
SAMPLE LOCAL CUISINE
Seafood lovers won't want to miss a trip to Nassau's Arawak Cay, the site of the massive celebration known as the Junkanoo Summer Festival. What began as a series of makeshift stall serving prepared conch has evolved into an extensive community of eateries offering Bahamian delicacies such as conch salad, conch fritters, cracked conch, grilled shrimp and lobster, and a variety of fish dishes, all prepared with an elegant blend of spices. There is also a storytelling porch, an open stage and a grassy seating area for audiences where concerts and other special events are often held.
SHOP TIL YOU DROP
The 12-acre Grand Bahama Island shopping center known as the Port Lucaya Marketplace is a shopaholic's dream come true. Inside its brightly colored, island-style clapboard structures you'll find nearly 70 retail shops offering everything from duty-free jewelry to fine china, nearly 100 straw market vendors, 13 restaurants, and a variety of artisans and hair braiders. Numerous water sports companies offer opportunities to charter a fishing or dive boat and arrange for various tours, while Count Basie Square features live bands five nights a week and occasional native shows featuring limbo and fire dancing. –Bret Love
If you enjoyed reading The Bahamas Top Attractions, you might also like:
Top 5 Eco Attractions in Curacao
Outdoor Adventures on Dominican Republic's North Coast
St. Kitts- Know Your History