From Bali to Vanuatu, exotic islands offer an exceptional opportunity to get away from it all, balancing exhilaration and relaxation. But when it comes to the best beaches in the world, different types of travelers crave different types of experiences.
Some people just want to kick back and soak in the sunshine, with beach gear on the sand and a cocktail in hand. But nature lovers crave something more.
They want to hike in thick forests teeming with wildlife. They want to explore the ocean, snorkeling or Scuba diving with a diverse array of marine life.
For nature lovers, the best beaches in the world offer a chance to explore multiple ecosystems where the sand and sea meet.
The following are our picks for the top 10 beaches in the world with picturesque coastlines where travelers can enjoy a broad variety of landscapes, plants, animals, and active adventures.
READ MORE: The Effects of Mass tourism (How Overtourism is Destroying 30+ Destinations)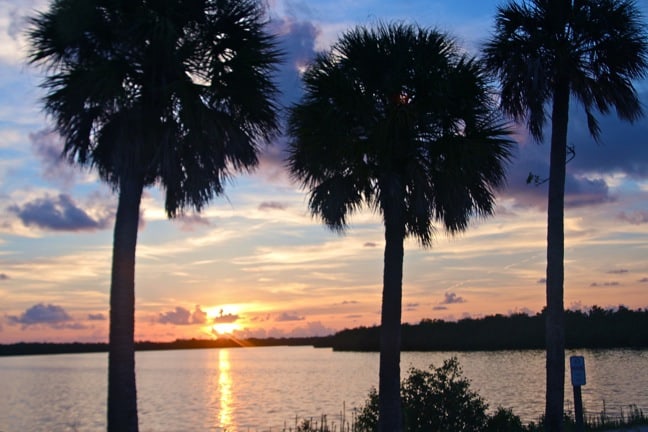 Best Beaches in the World Guide
Tayrona National Park (Colombia)
Kaloko-Honokōhau National Historical Park (Hawaii)
South Water Caye (Belize)
Amalfi Coast (Italy)
Marino Bellena National Park (Costa Rica)
Assateague Island (Maryland)
Gardner Bay (Galapagos Islands)
Trunk Bay (US Virgin Islands)
Fraser Island (Australia)
Isla Holbox (Mexico)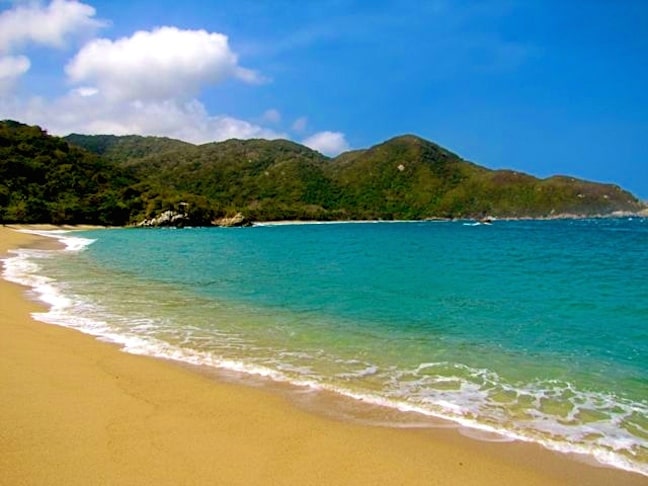 1. Tayrona National Park (Colombia)
Thick jungles hug the Caribbean coast in Northern Colombia, where mountains and beaches collide.
Tayrona might be the country's most popular National Park, but the rugged landscape and 12,000 hectares of land provide a sense of seclusion and discovery to those willing to lace up their hiking boots for a trip to the beach.
Tayrona National Park is accessed by a two-hour hike, or a shorter jaunt on the back of a horse. You'll be sandy and sweaty by the time you reach the beach, which will make the ocean views that much cooler.
The park is home to 100+ species of mammals and 300+ species of birds. To get up close to the winged residents, reserve an upper hammock, which are located on a rocky outcrop that juts into the ocean.
The cool Caribbean breeze turns cold at night, but the star-filled sky and the crashing waves below will make the evening chill well worth it. Just bring extra blankets!
READ MORE: What is an Eco Lodge? The Top 20 Eco Resorts & Eco Hotles in the World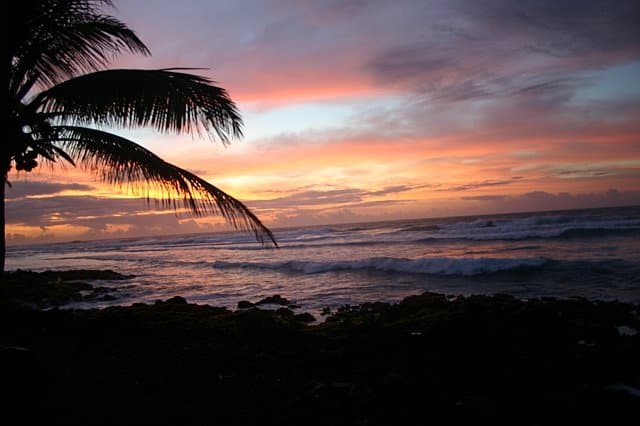 2. Kaloko-Honokōhau National Historical Park (Hawaii)
The white sand beaches of Kaloko-Honokōhau are rich with history, and a favorite spot for nesting Sea Turtles and resting Hawaiian Monk Seals.
But the waters truly come to life at night here off the coast of Kona on Hawaii's Big Island.
Nighttime snorkeling trips leave from Honokohau Harbor, where you can swim with Manta Rays eerily lit by their glowing dinner of phosphorescent plankton.
It's an incredible experience swimming in dark, vast waters that suddenly lights up with the glow of these tiny cool & weird ocean animals. You'll feel like you're in a dream as the graceful Manta Rays glide all around you and beneath your feet.
Wildlife can be tricky to find at night, especially in the water. So this light-up experience is truly one-of-a-kind.
READ MORE: Hawaiian Mythology (Intro to Hawaiian Gods, Goddesses and Legends)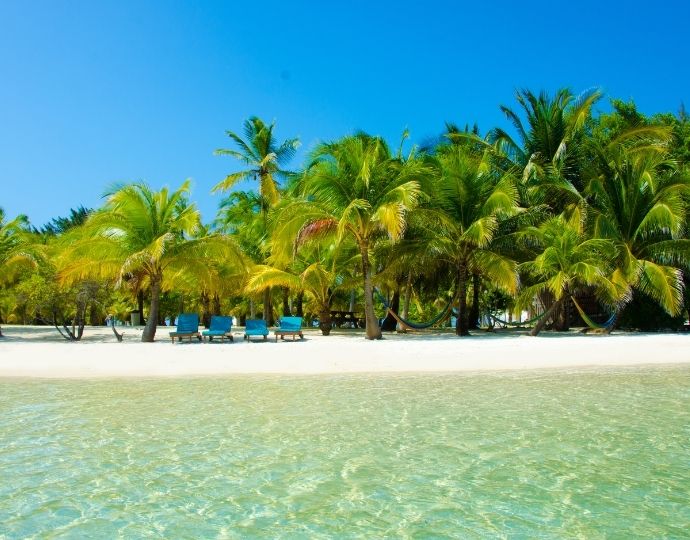 3. South Water Caye (Belize)
This tiny island in Belize is like something from a postcard, with glistening white sand beaches and coconut palms swaying in the breeze.
But what makes it noteworthy for nature lovers is its location on the Belize Barrier Reef, the second largest reef system in the world.
The protected waters of the South Water Caye Marine Reserve offers stunning coral and a dazzling array of marine life, such as Rainbow Parrotfish, Nassau Grouper, and Spotted Eagle Ray.
At night, if water conditions are good, you can snorkel with lights and watch as the moral opens up and colors change dramatically.
But you can also see stunning sights while snorkeling, kayaking, or paddle boarding right from the South Water Caye beach; go birdwatching on nearby Bird Islands; or search for the Manatees that frequent Man Of War Caye.
READ MORE: The 16 Best Mayan Ruins to Explore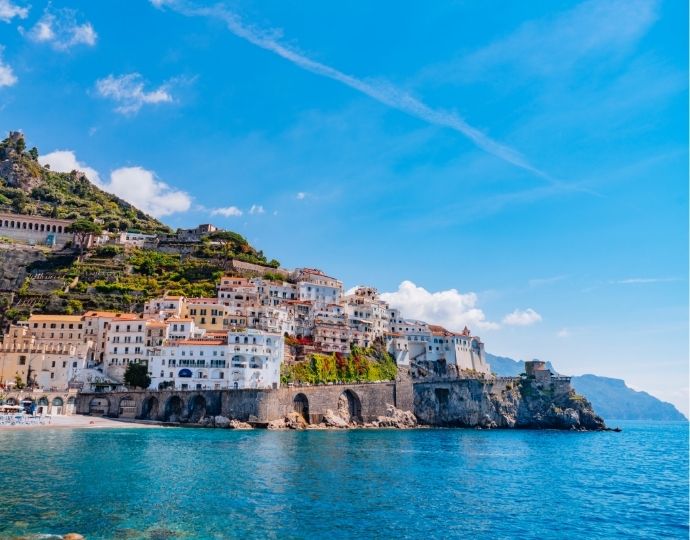 4. Amalfi Coast (Italy)
While the Amalfi Coast is well-known for its historic architecture and colorful fishing villages, its pristine environment reminds us that nature often rivals the artistry of humans.
The sheer coastal cliffs and rocky shorelines mark the edge of Italy. This is widely considered among the world's best beaches, and sunbathers flock here to soak in the sun and the sights.
Footpaths along the Amalfi Coast allow nature lovers to hike the area and explore its natural beauty.
Ancient paths meander through sweet-smelling lemon orchards and vegetable gardens built into the craggy, coastal mountains.
If you don't mind heights, you'll be rewarded with sweeping views of the Tyrrhenian Sea, with nothing between you and the ocean but the whip of Mediterranean wind.
READ MORE: 40 Green Travel Tips (The Ultimate Guide to Sustainable Travel)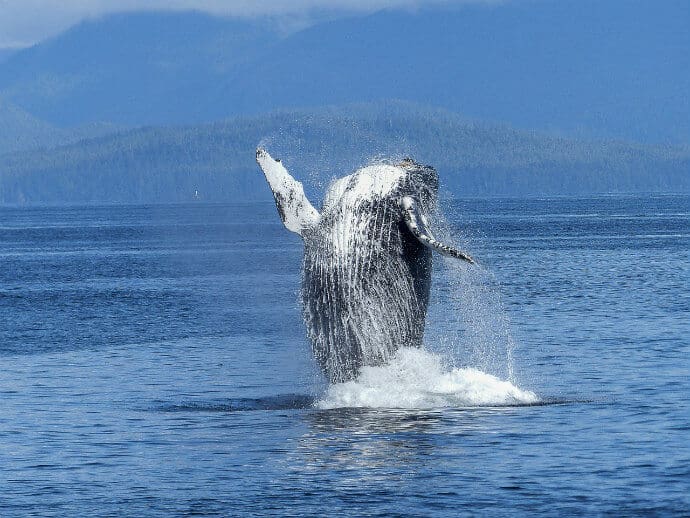 5. Marino Bellena National Park (Costa Rica)
No photo can truly capture the excitement you feel at the moment when a Humpback Whale breaks the surface of the water, exposing its knobby, enormous back as it glides along gracefully.
While it isn't likely that you'll see a whale breach (a.k.a. jump completely out of the water), Marino Ballena National Park offers some of the world's best chances of a Humpback Whale sighting and other Costa Rica Animals.
A boat ride will get you closer to the action, which sometimes includes Dolphins. But whales can also be spotted from the long stretches of beach, which actually form the shape of a whale's tail!
Snorkeling, horseback riding, and camping are also popular activities at Marino Ballena National Park, each of them providing a unique way to interact with the natural landscape of this stunning shoreline.
But no matter what you're doing, if it's the whale migration season, you'll want to keep a close eye on the water.
READ MORE: Ecotourism in Costa Rica: The Ultimate Eco Travel Guide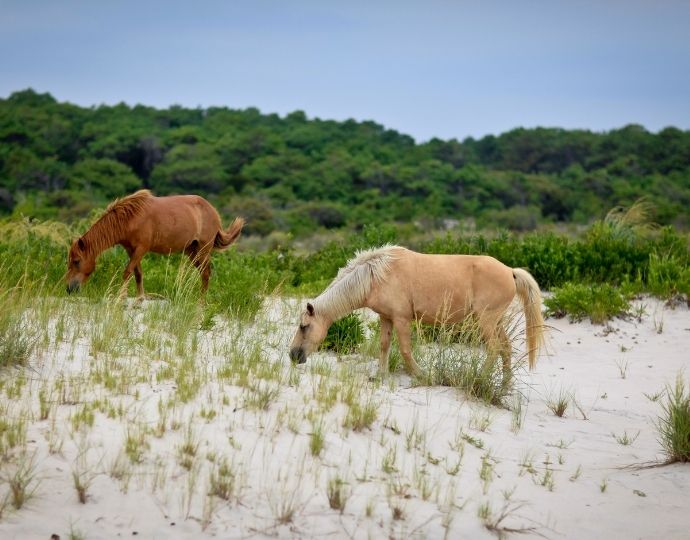 6. Assateague Island (Maryland)
The wild horses of Assateague are actually the descendants of domesticated horses. But the ones who have managed to survive life among Maryland's windswept sand dunes and stormy seas are a hearty bunch.
Despite their relation to domesticated horses, which are accustomed to humans, the ponies of Assateague Island are wild and therefore should not be approached.
Visitors and horses can both be harmed by interaction.
But it's thrilling simply watching the wild horse herds from a safe distance, with the backdrop of salt marshes and maritime forests behind them.
Assateague is a barrier island, or a coastal landform and dune system that is formed by the waves. This makes the entire island, from the salty air to the rugged beaches, a testament to the power of nature that created it.
READ MORE: List of National Parks by State (An Epic Guide to "America's Best Idea")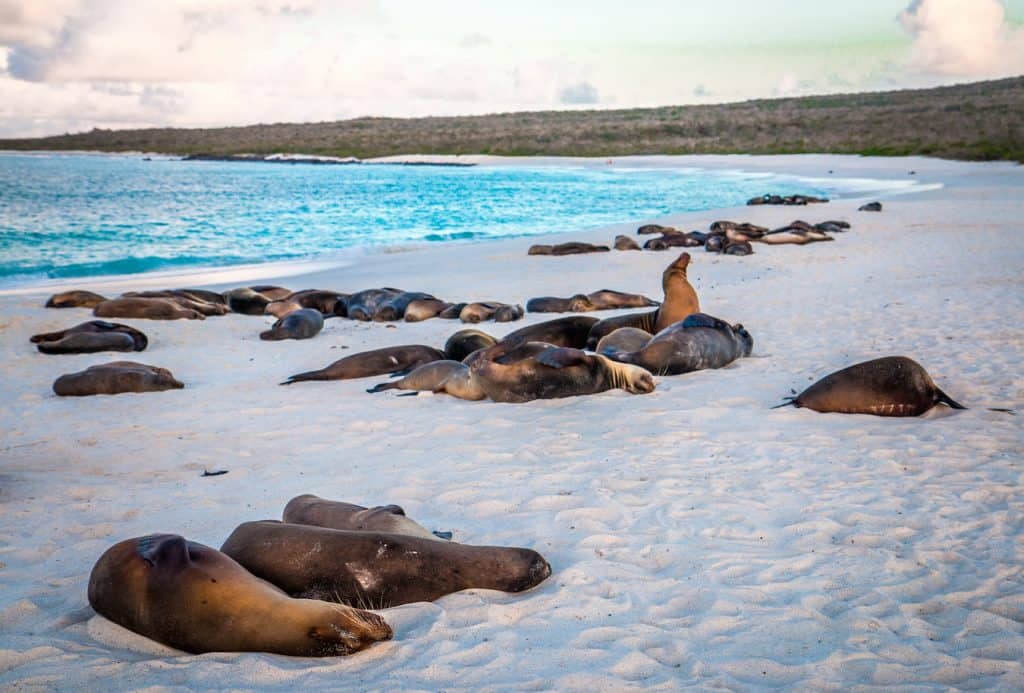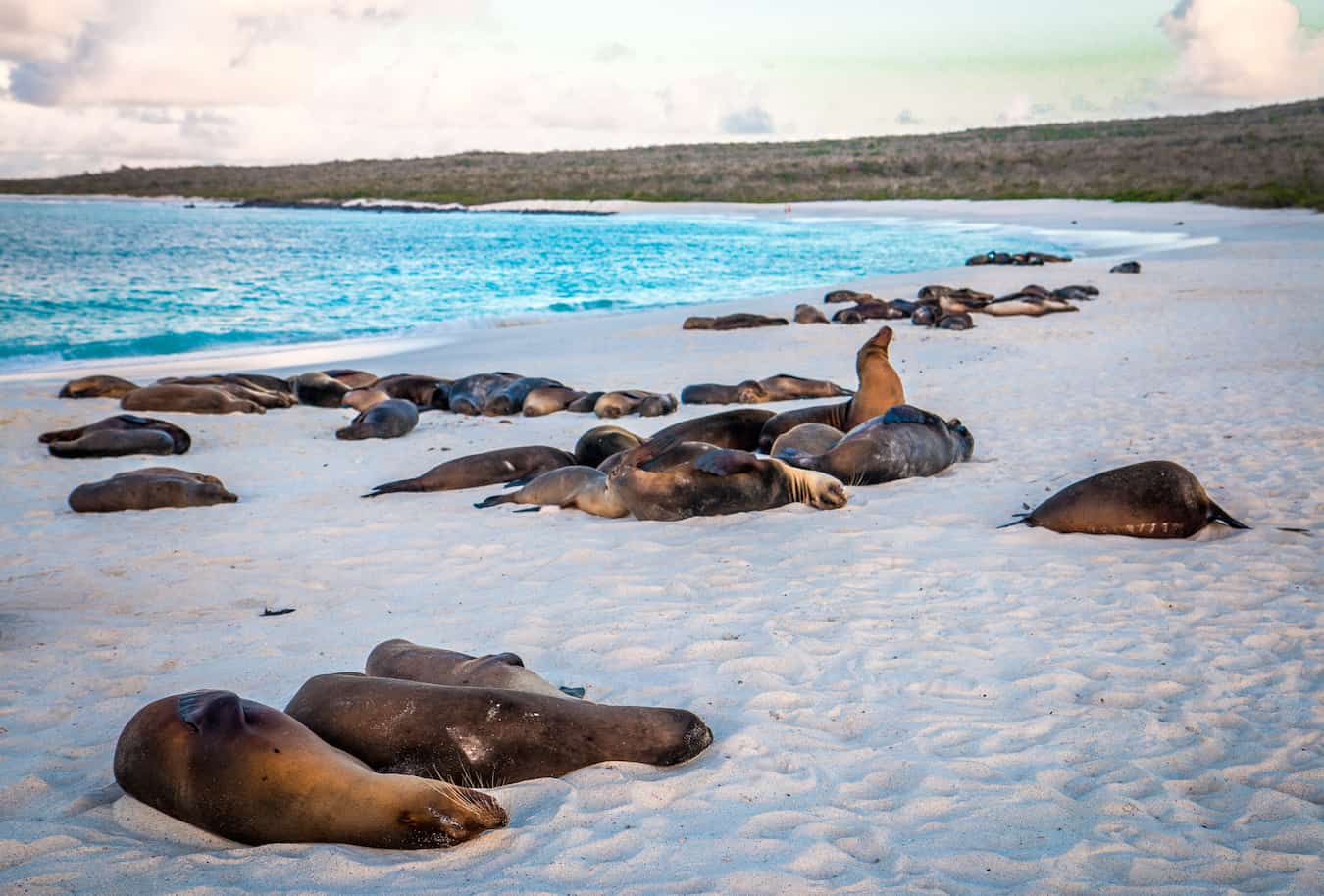 7. Gardner Bay (Galapagos Islands)
Galapagos Sea Lions, Giant Tortoises, and Galapagos Penguins are just a few of the incredible Galapagos Islands Animals who call Darwin's famous islands home.
Gardner Bay is home to one of the most popular beaches on Española Island, where visitors come to view the mating dances of Blue-footed Boobies and the sight of the Waved Albatross in flight.
The bay's abundance of wildlife, both on land and swimming beneath the turquoise water, offers endless surprises to beach visitors.
Many Galapagos small ship cruises wind down with a sunset visit, allow guests to stroll amongst the massive Sea Lion colony here as the sky turns more beautiful by the minute.
READ MORE: Galapagos Birds: 25 Spectacular Species You can see on a Galapagos Cruise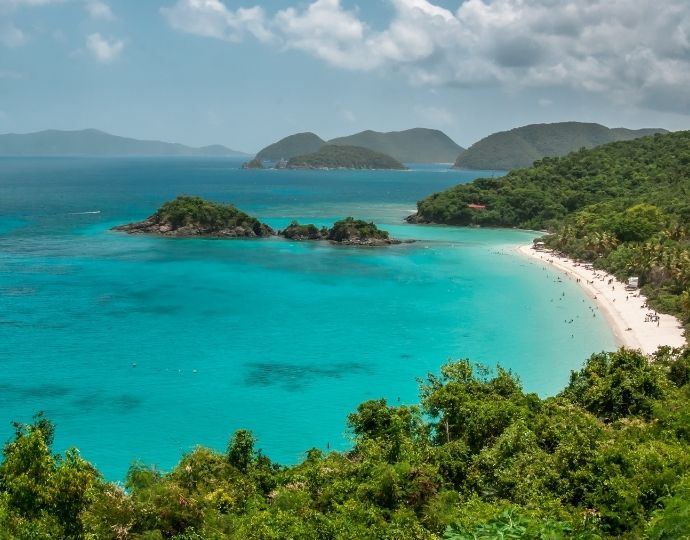 8. Trunk Bay (US Virgin Islands)
Gorgeous coral reefs lie hidden beneath the crystal clear waters just off the coast of Trunk Bay, on St. John's in the US Virgin Islands.
Part of Virgin Islands National Park, this is widely considered one of the most beautiful beaches in the Caribbean, and first-time visitors won't wonder why for long.
The white sand and turquoise water are the stuff of which tropical vacation dreams are made.
But the picture-perfect images aren't limited to Trunk Bay Beach. This is also a great place for snorkelers and responsible Scuba divers to try their hand at underwater photography.
The combination of colorful sea life and high visibility provide ample opportunities for vivid shots of life under the sea.
READ MORE: 20 Best Caribbean Islands to Visit (If You Love Nature & Hate Crowds)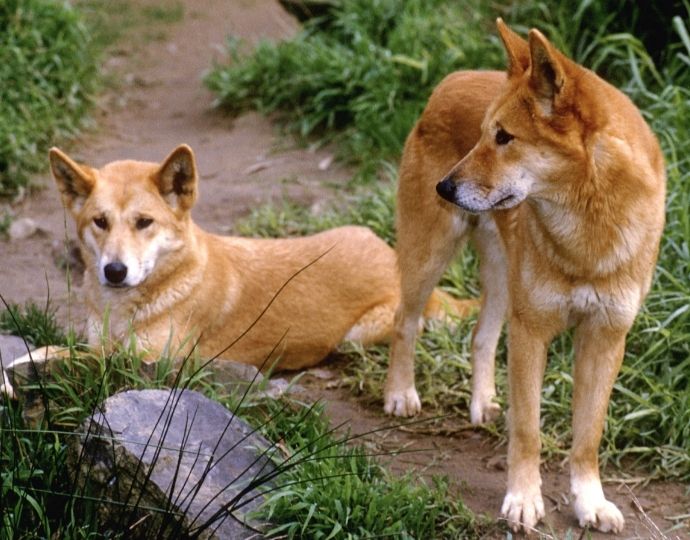 9. Fraser Island (Australia)
The largest island on the East Coast of Australia is home to rainforests, eucalyptus woodlands, mangroves, peat swamps, sand dunes, and an incredible variety of plant and animal species.
Despite the island's popularity, the green, lush landscape will make you feel like you've discovered new, uncharted territory.
The fresh water lakes which dot the island are some of the cleanest in the world.
The Dingoes of Fraser Island are some of the last remaining wild ones that have not cross-bred with domesticated dogs.
Other Weird & Cute Australian animals to watch for include Swamp Wallabies, Echidnas, Brushtail Possums, and Sugar Gliders.
READ MORE: 70 Cool & Weird Animals Around The World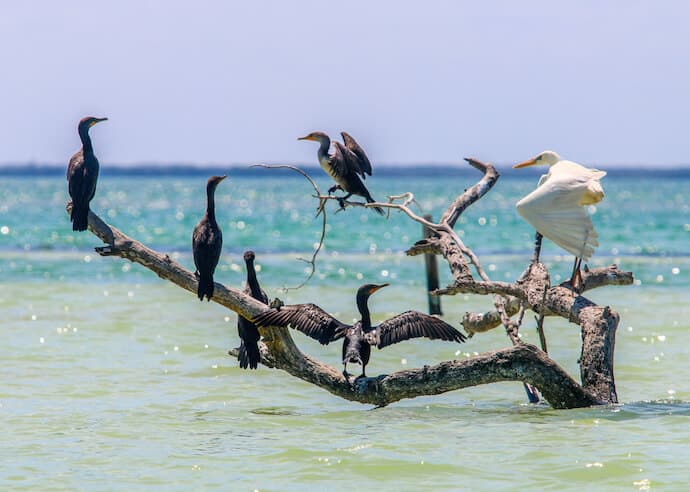 10. Isla Holbox (Mexico)
Located about 86 miles from Cancun (around 3 hours by bus) on the northern coast of the Yucatan Peninsula, Isla Holbox is a tiny fishing village that has grown into a haven for ecotourism and boutique Eco Hotels.
BIO: Britany Robinson is a freelance writer based in Portland, Oregon, with bylines in The Washington Post, BBC Travel, Green Global Travel, and many more. You can check out her full portfolio here.