When most people think of Indian animals, the Royal Bengal Tiger is usually the first species that springs to mind. And with good reason: The subcontinent is home to more than half of the world's wild tigers, with a thriving population in nearly 50 tiger reserves.
But the national animal of India is hardly the only endemic species of Indian wildlife. In fact, India is home to approximately 7.6% of the world's species of mammals, 12.6% of its bird species, and 6.2% of its reptiles.
Protected by more than 120 national parks, 18 Biosphere reserves, and 500+ wildlife sanctuaries, the animals of India are vast and varied. It's the only country in the world where you have a relatively good chance of seeing (Asiatic) Lions, (Bengal and Indochinese) Tigers, and (Sloth) Bears.
Other iconic species of wild animals in India include Asian Elephants, Snow Leopards, Clouded Leopards, the Great Indian Rhinoceros, Deer (including Barasingha, Chital, and Hangul), the Dhole (a.k.a. Indian Wild Dog), and endemics such as the Nigiri Leaf Monkey.
Before you travel to visit India, check out our guide to 40 incredible Indian wildlife species, which includes many of the country's most fascinating apex predators, birds, mammals, and reptiles.
READ MORE: 50 Fascinating Facts About Indian Culture
WILD INDIAN ANIMALS
Click our printable Indian Animals List with Big Cats in India, Birds in India, Mammals in India, Indian Snakes, Indian Lizards and other Indian Wildlife.
BIG CATS IN INDIA

Asiatic Lion
Although a majority of wild lions live in Africa, India is home to the last population of Asiatic Lions. These Indian big cats live in Gir Forest in Gujarat, located in western India. The Asiatic Lion is the state animal of Gujarat.
Like other lion species, Asiatic lions live in prides. But they're smaller than the African variety, weighing around 300-500 lbs.
Asiatic Lions are also distinguished from their African counterparts by an extra fold of skin along their stomachs.
With a total population of around 500, these lions' slightly different features may be a result of inbreeding.
But wildlife conservation in India has helped grow the population to where many lions now live outside the Gir Protected Area.
READ MORE: The Walking With Lions & Canned Lion Hunting Connection

Royal Bengal Tiger
As one of the five remaining species of tiger, Royal Bengal Tigers make up about half of all wild tigers.
Tigers are the largest big cats in India, and Bengals can weigh anywhere from 240-500 lbs. There are about 2500 of these tigers today, who can be found in different types of forests.
They spend most of their time alone, hunting for medium-sized mammals in India such as deer and boars early in the morning or late in the evening while resting during the day.
Deforestation as well as poaching have caused dramatic population declines for these tigers over the last few decades.
But conservation efforts are working toward strengthening Bengal tigers' environments and cracking down on poaching.
READ MORE: Ranthambore National Park- On The Trail Of Tigers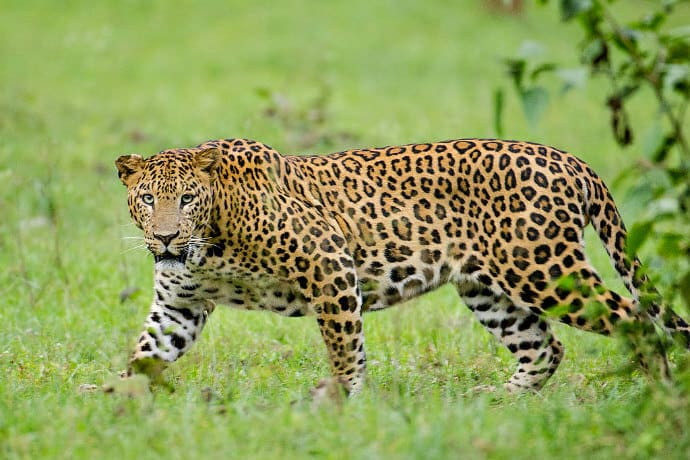 Indian Leopard
Primarily found in the trees, Indian Leopards are distinct from other leopards for their larger spots (or rosettes) and coat colors, which vary depending upon their habitat.
Rosettes, like a tiger's stripes, are distinct for each animal, with no two sets being exactly alike.
These leopards are solitary animals who leave the trees only to hunt for different varieties of deer and Sambar (state animal of Odisha) and Langur monkeys.
Their hunting style relies upon their strong jaw muscles. And, unlike other predators, they have been known to bring their prey into the trees with them.
Along with their treetop homes, Indian leopards are fond of swimming and sunning themselves.
READ MORE: Saving Asian Animals (10 Best Conservation NGOs)

Snow Leopard
With a thick, long coat, Snow Leopards are found in the Himalayan mountains of North India. The Snow Leopard is the state animal of Himachal Pradesh.
These cats have a light gray coat to camouflage them in the snow and keep them warm in the cold.
Their large paws also keep them agile on the thick snow of the mountains. Since they live in the mountains, these solitary cats feed on different species of mountainous sheep.
These leopards are also distinct for their more passive nature, since they have not been observed to be aggressive to people.
This attitude is highlighted by their inability to roar due to the anatomy of their throats, which make them appear to be a less intimidating variety of leopard.
READ MORE: Endangered Species Spotlight: Snow Leopard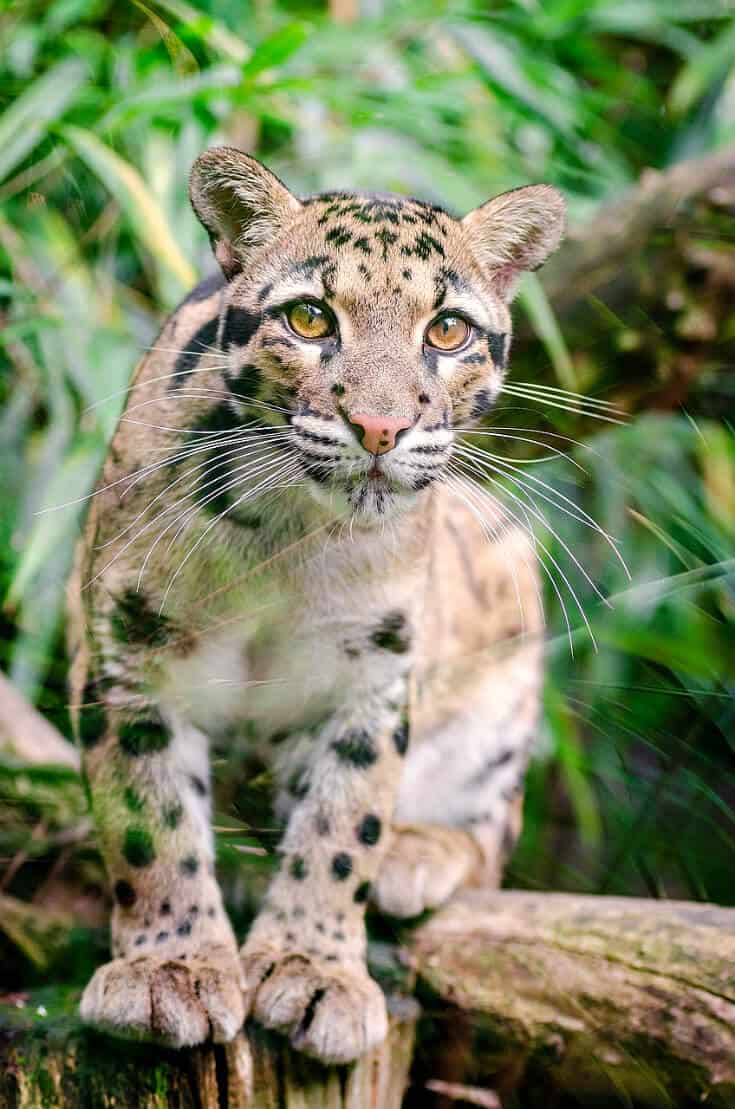 Clouded Leopard
Large spots, short legs, and a large head distinguish the Clouded Leopard from other leopard species. The Clouded Leopard is the state animal of Meghalaya.
Clouded Leopards come in two subspecies, one of which is found in the forests of southeastern Asia and the other found on the islands of Borneo and Sumatra.
Like other leopards, they live in trees and feed on mammals like monkeys. But their larger heads and teeth set them apart. Their short and powerful legs also aid these Indian animals in climbing and hunting.
These cats are also a bit smaller than other leopards, weighing only up to 50 lbs. But they more than make up for it with their impressive strength.
The powerful Clouded Leopard has even been known to hang upside down from tree branches, making the most of their strong paws.
READ MORE: 60 Weird Animals Around The World
BIRDS IN INDIA

Indian Spotted Eagle
Residing in northern India, the Indian Spotted Eagle has brown feathers with lighter spots that give the bird its name.
These birds of prey live in forests, where they hunt for mammals, amphibians, and smaller birds.
Their coloring is lighter than other species of spotted eagles. They also stand out from other spotted eagles due to their mouths and eyes. The Indian Spotted Eagle's mouth is the widest of its related species, and its eyes are darker than others.
This eagle has a bizarre call that is commonly described as a high-pitched cackling sound. And they prefer to reside in forest areas rather than wetlands, which are preferred by their sister species the Greater Spotted Eagle.
READ MORE: 15 Beautiful Birds Of The Galapagos Islands

Golden Eagle
A golden neck and back stand out against the dark brown body of the Golden Eagle.
This beautiful bird is found in open areas, particularly the Himalayas. There it feeds on small mammals such as rabbits and rodents, as well as smaller birds in India.
Golden Eagles are great hunters: Large eyes provide these birds with excellent eyesight during the day, which helps with finding prey from long distances.
They also hunt in pairs, tag-teaming their prey, with one eagle directing prey to the other. Pairs are a serious commitment for the Golden Eagle, since they mate for life and have several nests and chicks together over their lifetimes.
READ MORE: How To Experience Traditional Mongolian Culture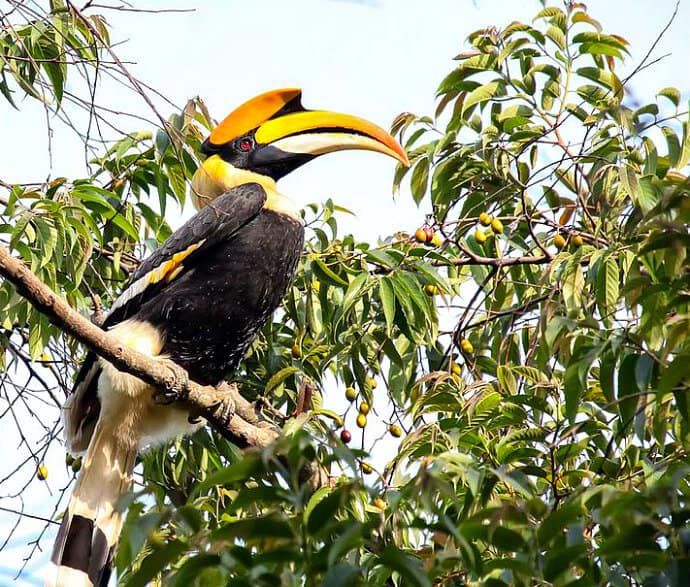 Great Indian Hornbill
The Great Indian Hornbill is easily identifiable by a bright yellow feature resembling a horizontal banana.
This feature, called a casque, sits on the bird's upper bill, but has not been observed to serve a specific role in the bird's behavior.
They feed on fruit (which also provides them with all the water they need), along with small mammals and other small birds.
Using their bright yellow bills, the Great Indian Hornbill eats its prey in an unusual way: It throws it into the air after capturing it, and then swallows it whole.
In India, the bird is found in the Himalayas as well as the Western Ghats.
READ MORE: Tibetan Culture In Ladakh, India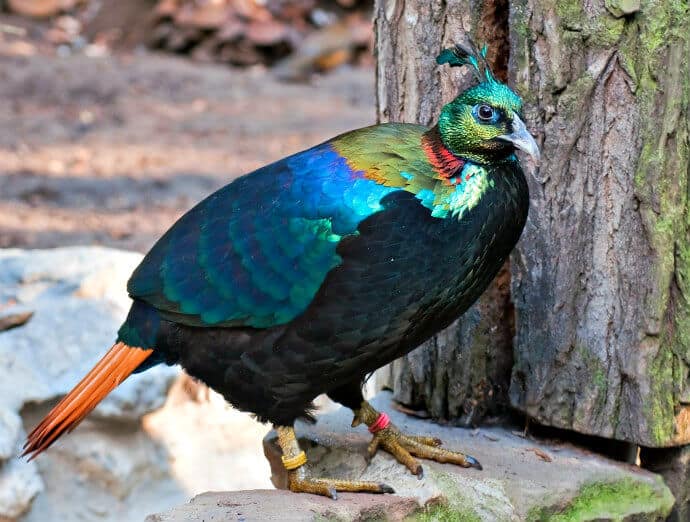 Himalayan Monal
Also known as the Impeyan Pheasant, the Himalayan Monal resides in the world-renowned mountains in North India.
Much like peacocks, the males have bright plumage, with feathers in varying shades of blue, green, red, and purple. This led to the species' nickname, "the nine-colored bird."
Female Himalayan Monals, on the other hand, are a light brown color with black feathers interspersed, similar to female peacocks.
These birds use their bills to feed on insects by digging them out of the ground. Due to their environment being cold and mountainous, the Himalayan Monal is well-equipped to dig in the snow when scavenging for food.
READ MORE: 10 Best Mountains in the World (World Travel Bucket List)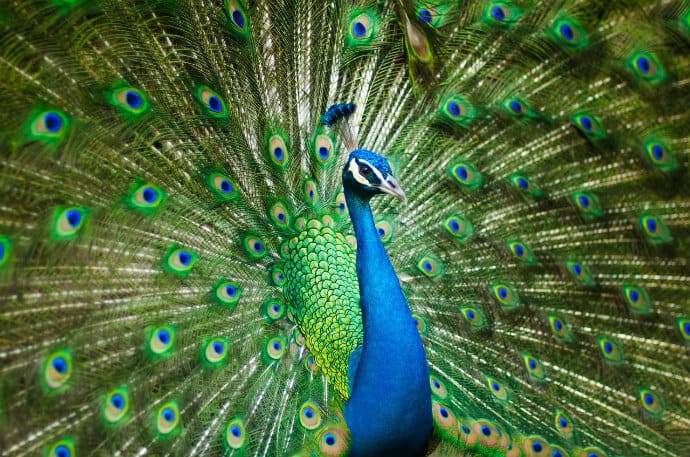 Indian Peafowl
The Indian Peafowl is one of the most striking birds in the world and is the Indian national bird.
Male Peacocks are notable for their glorious blue and green feathers, as well as the distinctive mating dance they use to woo females.
Female Peahens are brown in color, and males use their bright coloring to attract the more modest-looking females.
The Peacock's long, distinguishable feathers are often called a tail, but they are actually a "train" made of feathers covering the base of the tail (called coverts).
Although males are flashy in appearance, they are able to evade predators who grab onto their feathers by flying away, with the feather detaching from its body easily.
READ MORE: Salman Rushdie on India's Struggle for Independence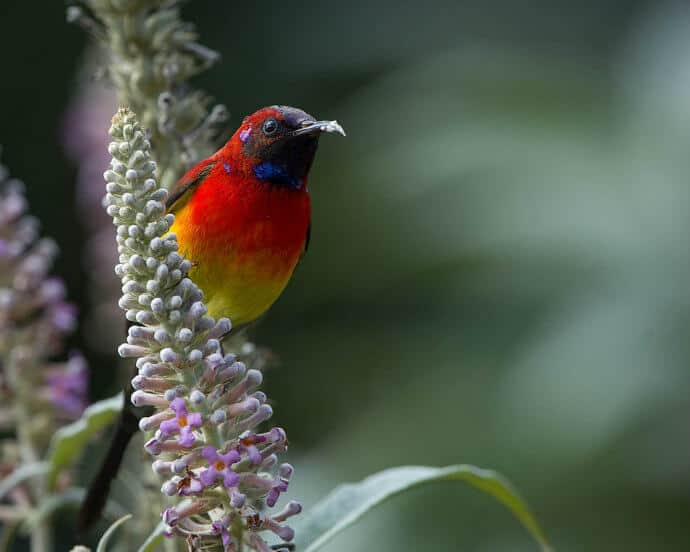 Mrs. Gould's Sunbird
Named for Elizabeth Gould, the wife of noteworthy English ornithologist John Gould, Mrs. Gould's Sunbirds are known for their colorful beauty.
These vivid birds have all the primary colors accounted for, with red backs, yellow stomachs, and a small blue patch on the face. They feed on insects and nectar and reside in tropical forest habitats.
Mrs. Gould's Sunbirds are more easily found in eastern and southeastern Asia, in countries like Bhutan and Nepal. They're fairly uncommon in India, but they have been spotted in the eastern part of the country.
Thankfully, these pretty birds have a stable population, and are of least concern in terms of conservation status.
READ MORE: 10 Steps To Bhutan Happiness: A Nature Lover's Travel Guide

Oriental Dwarf Kingfisher
Although it is small in size, the Oriental Dwarf Kingfisher is a proficient predator that should not be messed with.
These birds measure just 13 cm (5 inches) in length. Yet they feed on a variety of small amphibians and reptiles by hovering over bodies of water and quickly diving after their prey.
Water sources are important for this bird, as they like to live near small streams in the forest.
The Oriental Dwarf Kingfisher is also noteworthy for its bright orange beak and feet along with multicolored feathers of yellow, orange, blue, and pink.
They are aptly known as the 3-toed Kingfisher for the presence of three toes on each foot.
READ MORE: 10 Most Important Rivers in The World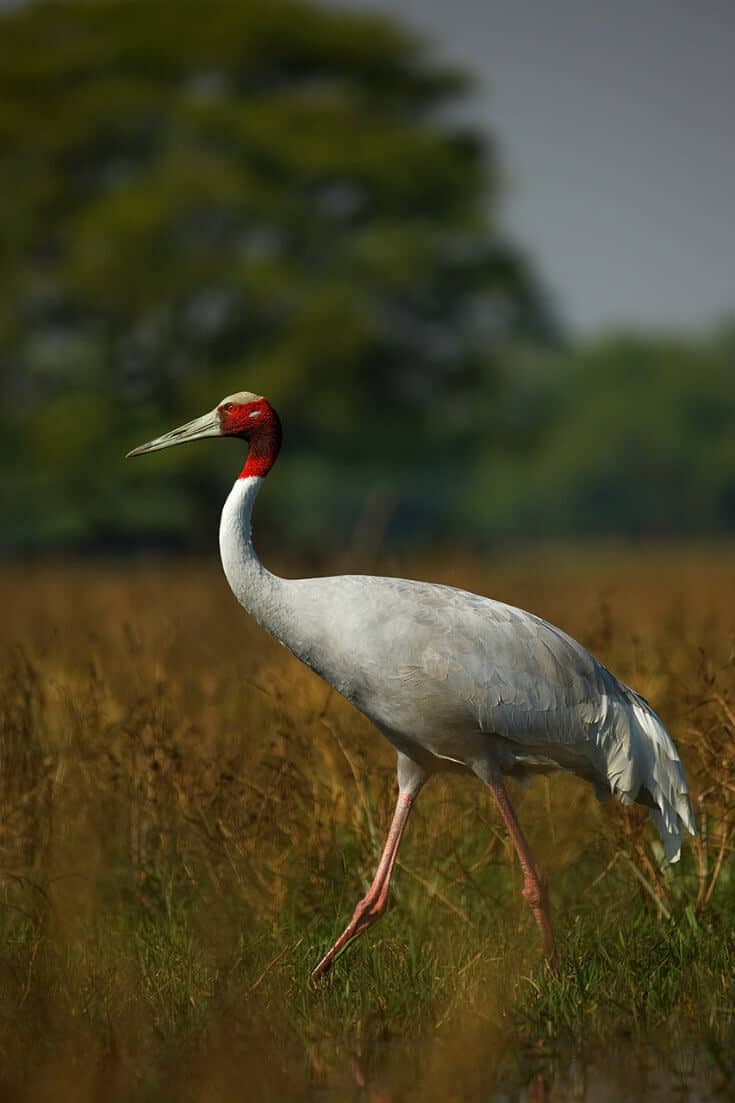 Sarus Crane
Found in northern and central India, the Sarus Crane is the tallest flying bird in the world (at a height that can range up to 5 feet 11 inches).
These tall birds stand out, not only for their height, but their red heads and legs set against gray bodies.
Sarus Cranes live in small groups in the wetlands areas of northwestern India. They feed on plants and insects near the water, including in agricultural areas.
Out of all the world's crane species, the Sarus Crane is arguably the least social. They're known to be territorial and, at times, aggressive.
MAMMALS IN INDIA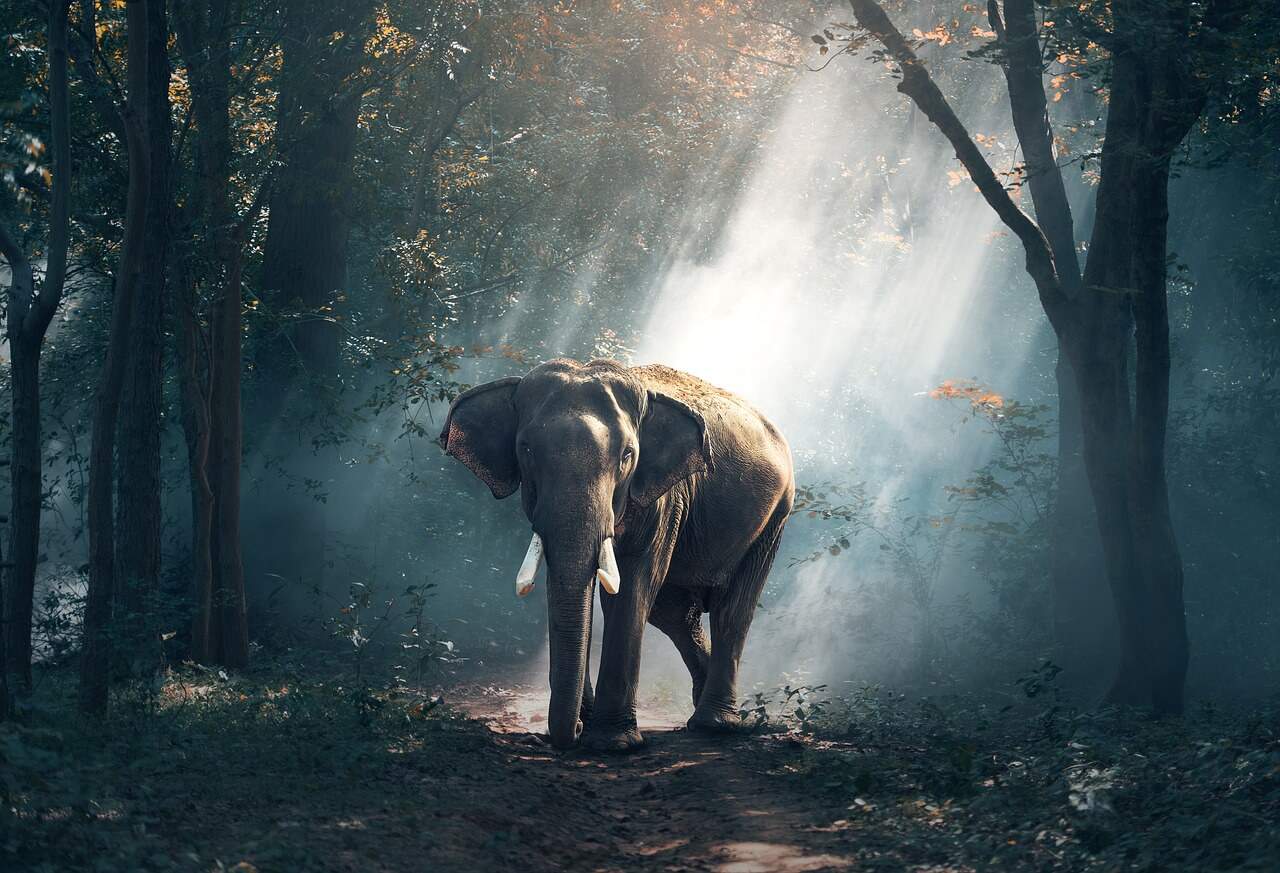 Asian Elephant
One of two species of elephants in the world, the Asian Elephant is the slightly smaller counterpart of the African Elephant. Their ears are smaller and rounder than the African elephant's, and female (as well as some male) Asian elephants do not have tusks.
The Asian Elephant a.k.a. Indian Elephant is the state animal of Karnataka, the state animal of Kerala, and the state animal of Jharkhand.
These elephants can usually be found in forests and grassy areas. They communicate with each other over distances of up to 2 miles by making very low rumbling sounds.
An especially noteworthy feature of elephants is their trunks, which have a finger-like attachment at the end that allows them to grip objects, drink water, and communicate.
With strong emotional ties rooted in Hinduism, Asian Elephants also have a huge significance in traditional Indian culture.
READ MORE: 50 Interesting Facts About Elephants (for World Elephant Day)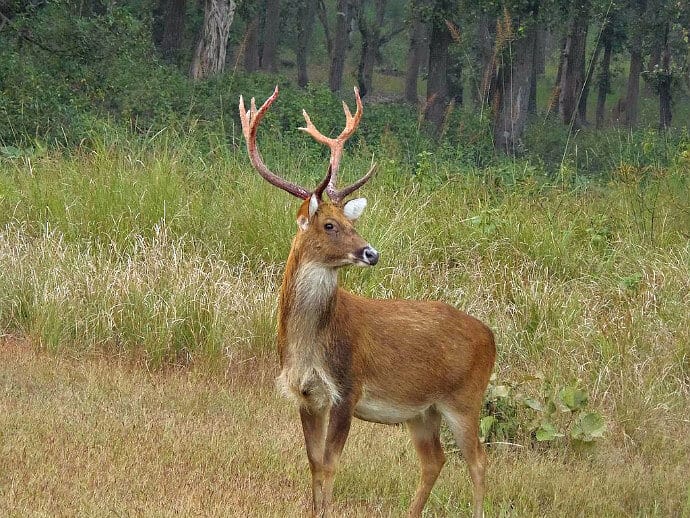 Barasingha Deer
With a name that translates as "12-tined," the Barasingha Deer is named for the presence of between 12 and 20 tines on its antlers.
Living in northern and central India, the Barasingha Deer is the state animal of Madhya Pradesh and the state animal of Uttar Pradesh. These deer have golden coats, but can be difficult to spot in the wild.
Barasingha Deer are also referred to as swamp deer, since they usually live along rivers and not in the open forest.
Like other deer, the Barasingha grazes on grass and plants growing near the water throughout the day.
Unfortunately, their preferred habitats are in trouble due to being converted into agricultural land or deforestation. But they can be found in several national parks in India.
READ MORE: Kanha National Park Tiger Reserve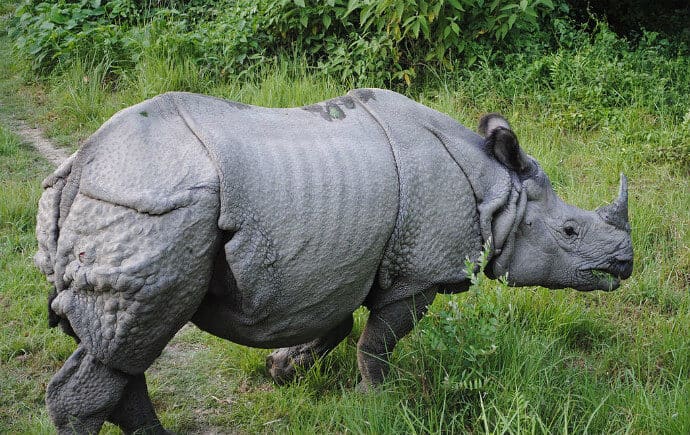 Indian Rhinoceros
Found in northern India, the Indian Rhinoceros is also known as the Greater One-horned Rhino for its singular horn. It is the Assam state animal.
This horn is 8-25 inches long and black in color. The rest of their bodies are gray, with layers of skin resembling armor.
Their skin is tough but flexible, which helps these large mammals move. Despite a weight of around 2.2 tons, these rhinos can run at a speed of up to 30 miles per hour when provoked.
Although they are large in size, these animals graze on grass, leaves, and fruit found throughout their homes in grassy areas and forests. Unfortunately, it is one of the most critically endangered Indian animals.
READ MORE: Killing For Conservation: Can Hunting Save The Black Rhino?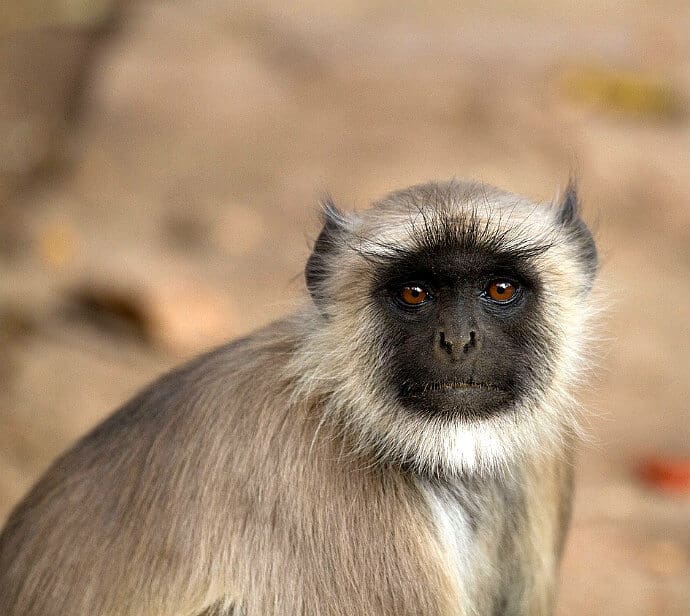 Langur Monkeys
Langur Monkeys come in several varieties, and can be found throughout southern and southeastern Asia. Phayre's langur is the state animal of Tripura.
They dine on leaves, fruit, and tree bark, and their complex stomachs and digestive systems cause these monkeys to have slight pot bellies.
Unlike many other monkeys, Langurs do not use their long tails to grab objects. But they are used for balance and sometimes communication.
They spend most of their time high in the trees and infrequently come down to the ground. When they do, at least one monkey remains in the trees to watch out for potential predators (such as tigers) while the other monkeys are drinking water.
READ MORE: 40 Amazing Costa Rican Animals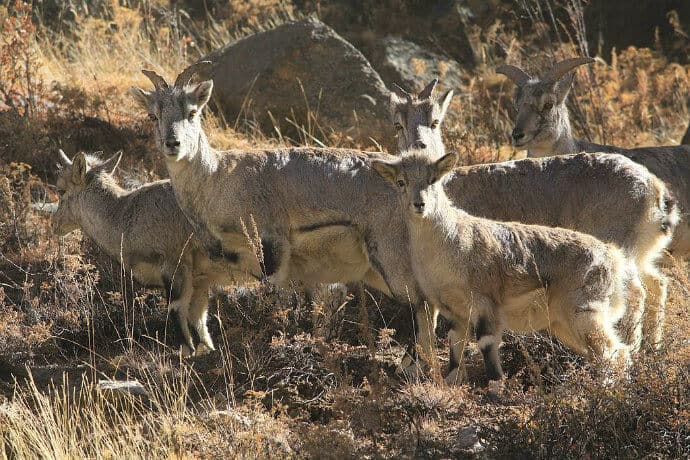 Himalayan Musk Deer
Found in the Himalayas, the Himalayan Musk Deer lives in the mountains. These deer are named for a musk sac, which is used for communicating with one another as well as attracting females.
Himalayan Musk Deer feed primarily on grass, moss, and other plants, and do not usually venture out very far to forage.
However, males are known to be quite territorial and aggressive with one another.
Strong senses of smell and hearing help these deer watch out for each other and their respective homes. They will sometimes scream to alert other deer when they have been hurt.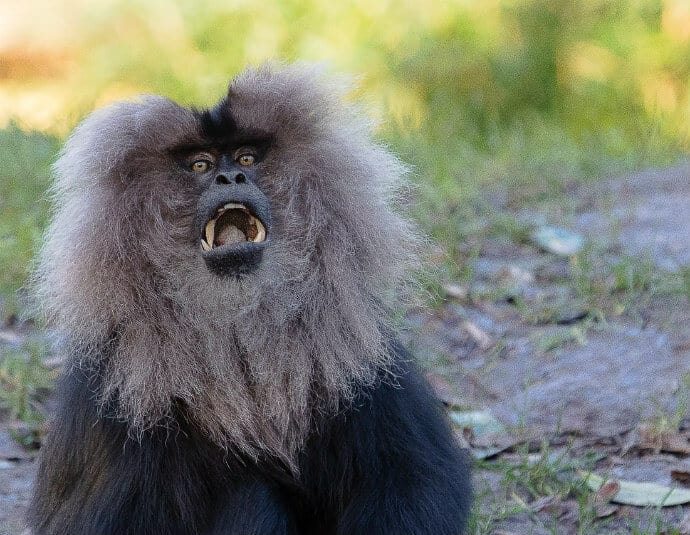 Lion-tailed Macaque
Lion-tailed Macaques can only be found living in rainforests in the Western Ghats of India. These monkeys have black fur all over their bodies, but their tails are bare except for a ball of hair at the end that looks like a pom-pom.
Lion-tailed macaques rely heavily on spoken communication, and have 17 vocal patterns.
They are also notable for their large cheeks, which can hold huge quantities of food (such as fruit, flowers, and occasional lizards) in order to quickly escape predators they encounter while foraging.
Their cheeks can store the same amount of food as their stomachs, which makes for quite an interesting sight!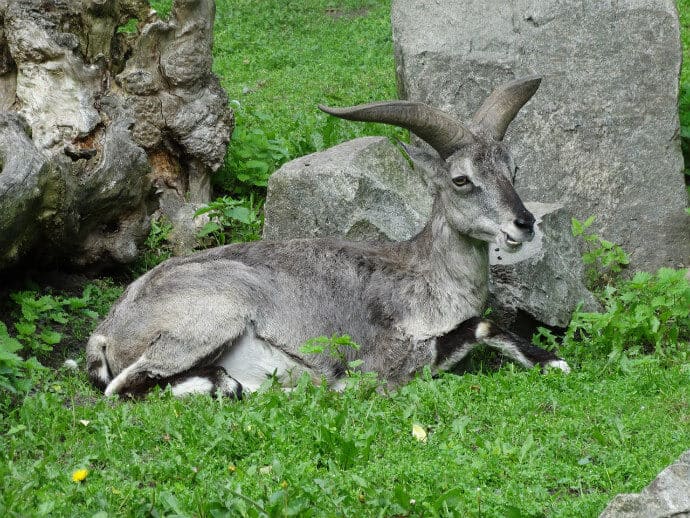 Bharal (Himalayan Blue Sheep)
Although they are technically sheep, Bharals look a lot more like goats. They are marked by large horns and a blue-gray coat of fur, rather than the typical white fur of the average sheep.
They are found in the Himalayas and can live in many different types of habitats, from hot mountains to cold cliffs. Their blue-colored fur helps camouflage them in the mountains.
These sheep feed on different types of grass depending on the season, and they stay near cliffs in order to easily run away from predators.
One of their main predators is the Snow Leopard, making them a crucial part of the Himalayan ecosystem.
READ MORE: The Annapurna Circuit Trek (Why It May Be Now or Never)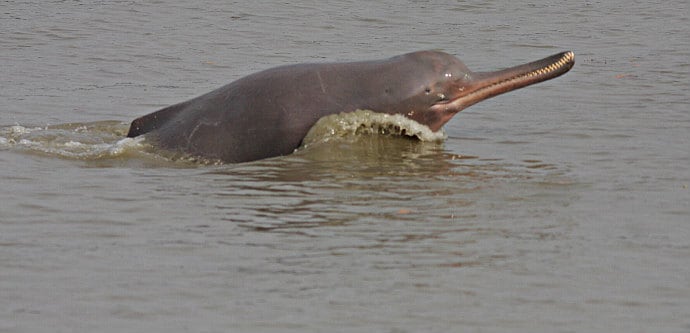 Ganges River Dolphin
Found in the sacred Ganges River, this river dolphin is the national aquatic animal of India and one of the oldest known species in existence. Unfortunately, it's also among the most endangered Indian animals on this list.
The Ganges River Dolphin is gray-brown in color, with females having a longer snout than males, and may travel solo or in small groups.
Due to severe pollution of the Ganges River, these dolphins and their prey are endangered because they inevitably ingest chemicals from all of the toxic substances in the water.
These dolphins only live in freshwater environments, and due to poor eyesight they swim on their sides and have stronger hearing skills.
They use echolocation for hunting, and they are carnivores who feed on fish as well as aquatic plants when necessary.
READ MORE: How to Grade Captive Dolphin Facilities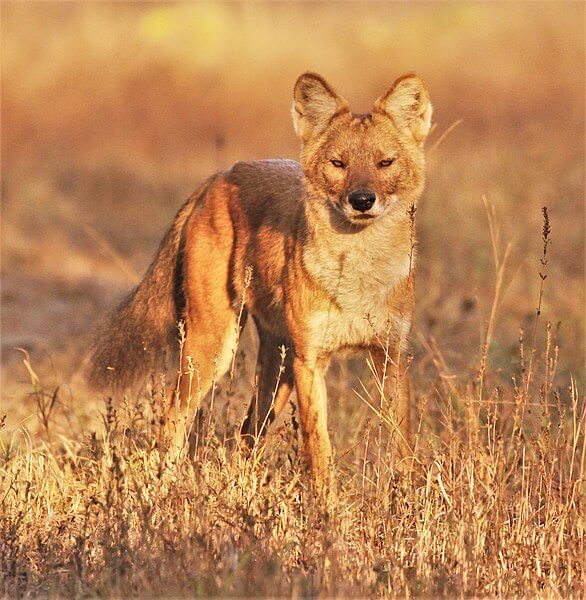 Dhole (Indian Wild Dog)
About the same size as a German shepherd, Dholes are nonconformists in the world of dogs. With one less molar on each side of their mouths and a tail more like that of a fox, Dholes stand out amongst other animals their size.
These Indian Wild Dogs are known for their speed on both land and water, which aids in their hunting of larger prey such as deer and buffalo.
These dogs are also distinct for their communication style, which consists of whistles amongst the pack.
Since they are able to prey on much larger animals, the biggest threat to the Dhole is humans, habitat loss, and diseases from domesticated dogs. Fortunately, numerous conservation NGOs are working to save this rare Indian animals.
READ MORE: Facts About the Dhole (Indian Wild Dog)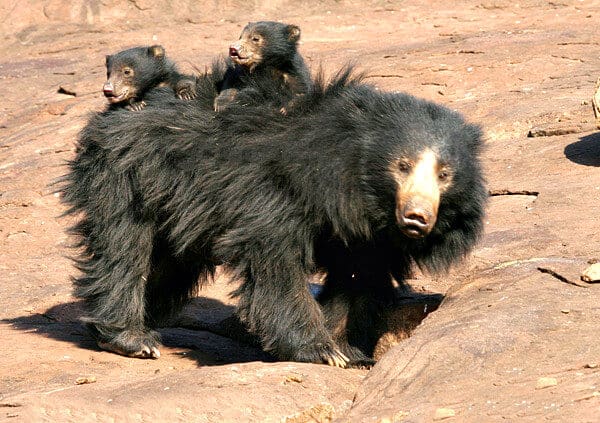 Sloth Bear
Identifiable by their black, shaggy coats, Sloth Bears can be found in the forests of India.
These noisy, solitary bears primarily feed on termites, ants, and fruit, using their paws and long claws to dig termites out of the ground.
Since they're missing their two front teeth, the bears consume the termites by sucking them up through the gap.
Sloth Bears are unusual for a few reasons: Unlike most other bears, they do not hibernate.
Their shaggy fur has a strange purpose, as the extra hair on their backs is utilized for carrying young sloth bears until they are 6-9 months old. Sloth Bears are the only bears to carry their young this way.
READ MORE: Top 10 Things To Do In Agra, India (For Nature/History Lovers)
Indian Wolf
Sometimes mistaken for a fox due to their small size, the Indian Wolf can be found in open areas of India. They weigh in around 40-60 lbs and measure about 2-3 feet in length.
These wolves are distinct from other wolves for other reasons as well, including their infrequent howling, mating time in October, and short, dense coat of fur.
Their lack of howling is sometimes attributed to the wolves being less territorial than most wolf species, and their short fur is useful in the Indian wolf's warm environment.
These small wolves feed on small mammals such as rabbits and rodents. Sadly, these beautiful Indian animals are increasingly endangered due to habitat loss and human conflict.
READ MORE: 5 Species of Animals That Mate For Life
Indian Snakes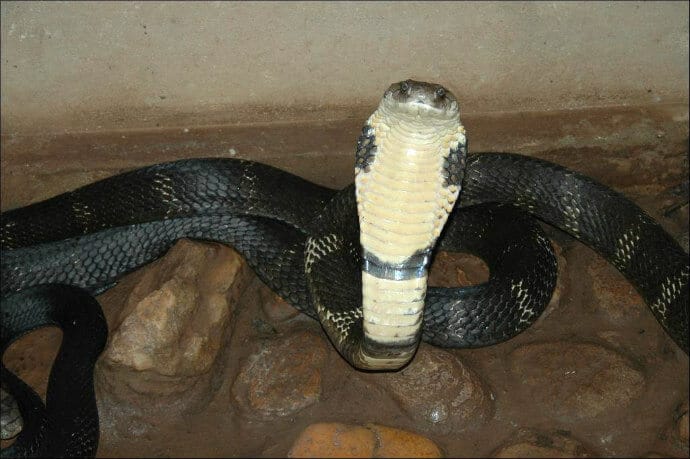 Giant King Cobra
One of the most well-known snakes in the world, the Giant King Cobra is not technically even a cobra. These snakes are more closely related to the deadly Mambas found in northern Africa.
Regardless of their specific species, King Cobras are known for being the longest venomous snakes in the world.
They can grow up to 10-13 feet in length—twice as long as a person. Their venom targets the immune systems of its prey, rather than the circulatory system.
Other unusual qualities include their diet (mostly other snakes) and nest-building. King Cobras are the only snakes in the world who build nests in preparation for laying eggs.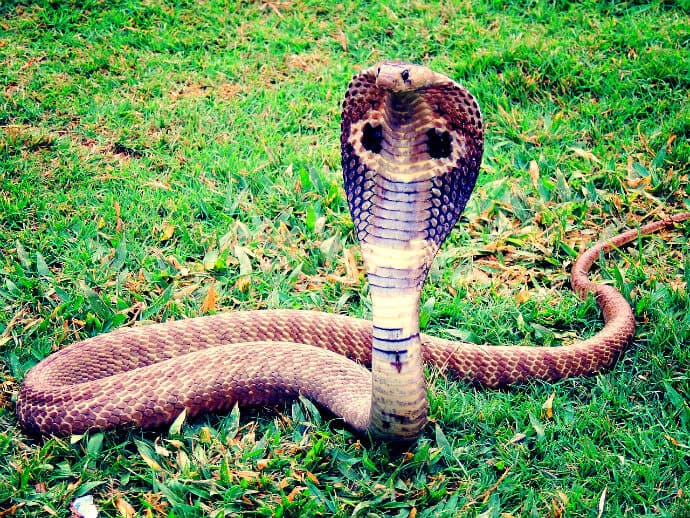 Indian Cobra
With a distinctive design on its hood resembling a mouse or glasses, Indian Cobras are large Indian snakes that are found in most habitats other than deserts.
When under threat, these snakes raise their hoods and stretch their necks up, showing off the hood mark.
These snakes feed on reptiles and rodents, always swallowing them whole, but also feed on other venomous snakes. Their venom is very potent, and can paralyze or even kill their victims, including humans.
In search of food, Indian cobras sometimes wander into human-populated areas such as farms, villages, or even buildings. This can occasionally lead to humans being bitten.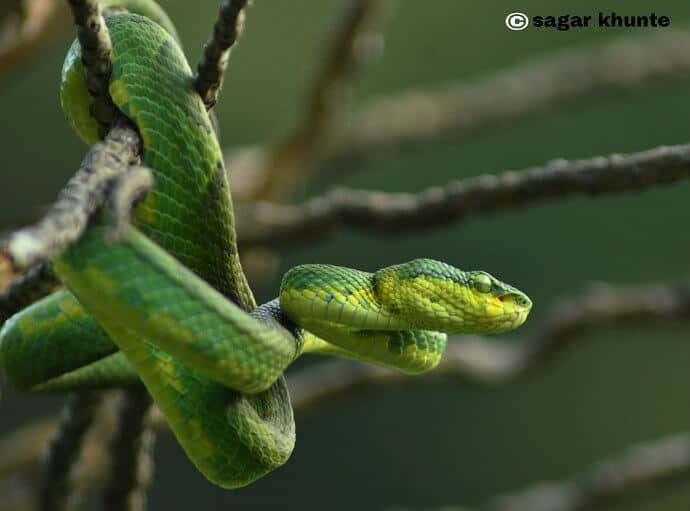 Indian Green Pit Viper
Known by many other names (such as the Bamboo Pit Viper, Green Tree Viper, and Bamboo Snake), the Indian Green Pit Viper can be found in southern Indian jungles.
These snakes are named for their bright green color, which helps camouflage them from predators in the forest.
The fangs on these snakes are a unique feature: They are hollow and can grow back if they fall out.
These snakes live high in the trees and hunt at night, feeding on birds, lizards, and occasionally rodents. They often prefer to rest in the shade of bamboo and other thick trees rather than along the water.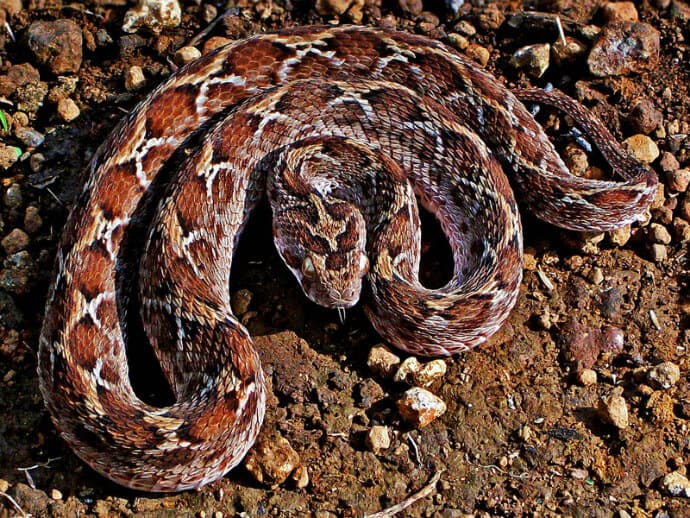 Saw Scaled Viper
The Saw-scaled Viper is named for its unusual scales, which are arranged in uneven rows all over its body.
They are smaller than many other venomous snakes, but are known for having quite a temper. When they're angry, these snakes move slowly: Their uneven scales rub against each other to produce a hissing noise, which becomes louder the angrier they get.
There are eight species of Saw-scaled Vipers, and some of these are the cause for the most deaths by snake bites globally.
These deadly snakes are primarily found in north India, feeding on a wide variety of prey ranging from insects to small reptiles.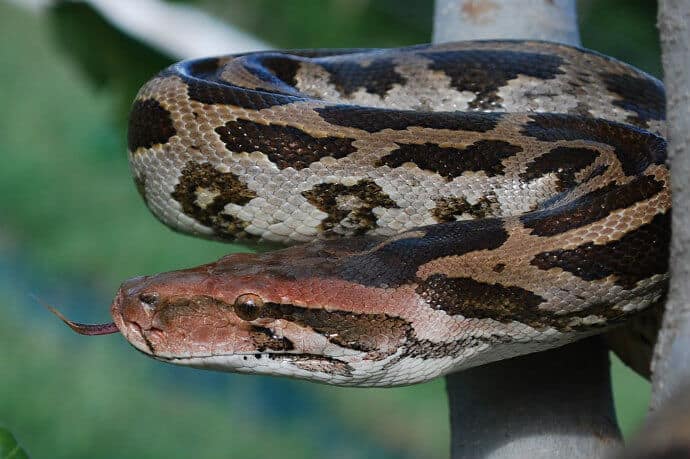 Indian Rock Python
Like other pythons, the Indian Python is a constrictor that wraps around and squeezes its prey rather than biting them or injecting them with venom.
With a light green color, these snakes live alone in the forest, hanging on tree branches during the day and hunting at night. But they can adapt to many other environments as well, as long as water is nearby.
They usually prey on small mammals, reptiles, and birds, constricting them and swallowing them whole. But they have a special preference for rodents.
This method of eating allows these large snakes to abstain from eating for weeks on end.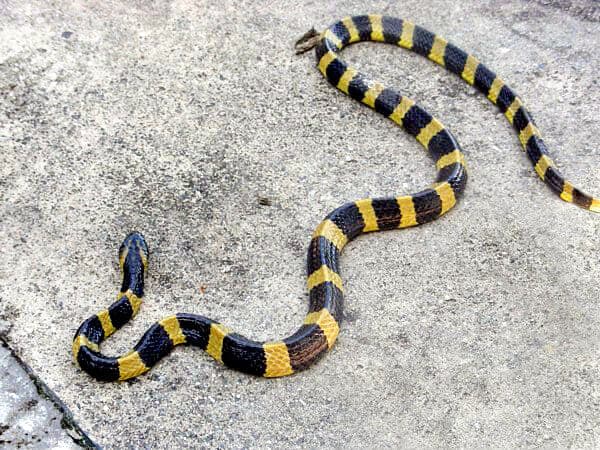 Kraits
Small, but incredibly deadly, Kraits are the most highly venomous snakes in India.
The average krait is only three feet long, but their bites can quickly cause respiratory failure and death for their victims.
They hunt at night, their prey being other snakes as well as reptiles and small mammals.
Kraits come in several different varieties. The Common Krait is virtually inactive during the day, but bites its prey at night, ultimately causing paralysis.
Some species can be found in water as well as on land. Sea Kraits feed on eels and other fish, and their venom is incredibly potent as well.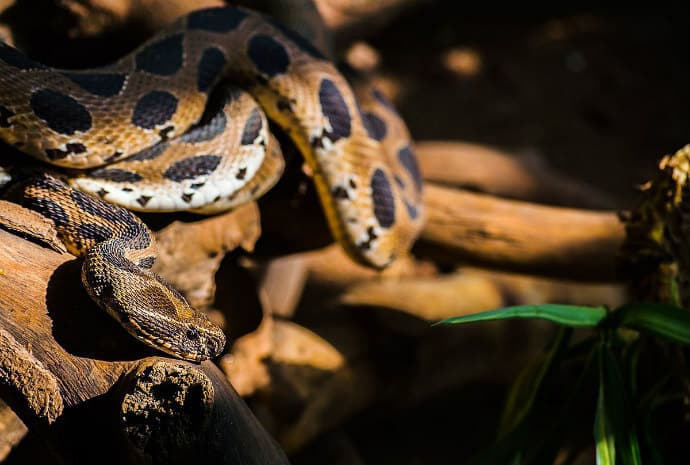 Russell's Viper
Rounding out the big four of India's most dangerous snakes, Russell's Viper is very aggressive and responsible for many snake bites in populated areas.
Named for Scottish herpetologist Patrick Russell, these snakes are four feet long on average, with a dark brown body and lighter brown spots.
These snakes are usually found in open areas feeding on small mammals, birds, and reptiles, but are sometimes seen in human-populated areas when hunting for food.
Bites from these snakes can lead to immense pain and possibly kidney failure. Luckily, adult snakes do not move very fast unless provoked, so they are best left alone.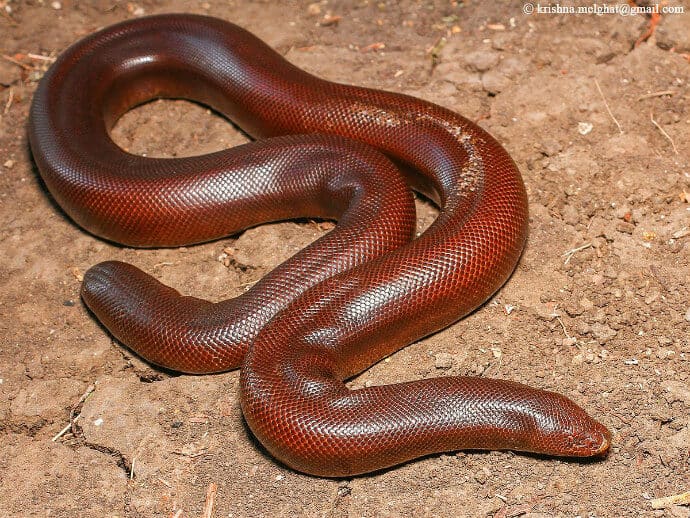 Red Sand Boa
Found throughout India, the Red Sand Boa is easy to identify by its dark red color. These nocturnal snakes live in agricultural or desert areas, where they feed on rodents and other snakes by using constriction.
These snakes are non-poisonous, but they are often traded illegally due to perceived beliefs of bringing good luck and curing diseases.
Part of this belief comes from the presence of "two heads:" one being the actual head and the other being the tail, which greatly resembles a head.
These snakes are also endangered because they are dug out of the ground, where they tend to reside, by farmers.
INDIAN LIZARDS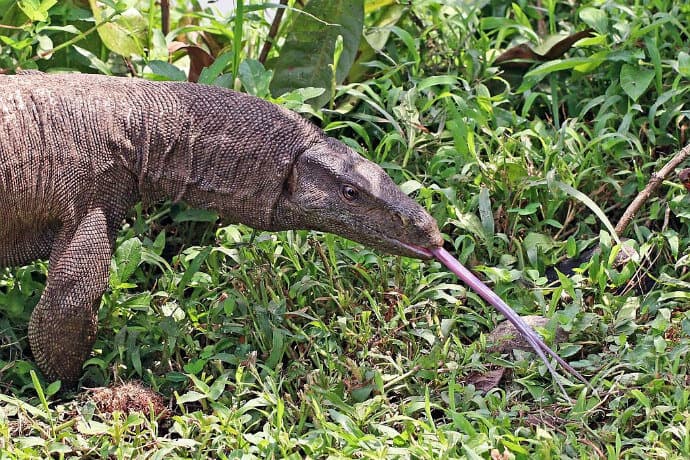 Bengal Monitor Lizard
Spending most of their days searching for food, Bengal Monitor Lizards are found in various habitats throughout India.
Unlike similar lizard species, Bengal Monitors are more adaptable to different climates and can live in areas with both high and low levels of precipitation.
Their tongues resemble those of snakes, with a fork in the middle that helps them find food. Their prey ranges from small mammals and birds to other reptiles.
Bengal Monitor Lizards are also exceptionally strong. They tend to burrow in the ground when escaping predators. To keep safe, they fill their lungs with air and dig their claws into the hiding space, making them virtually impossible to dislodge.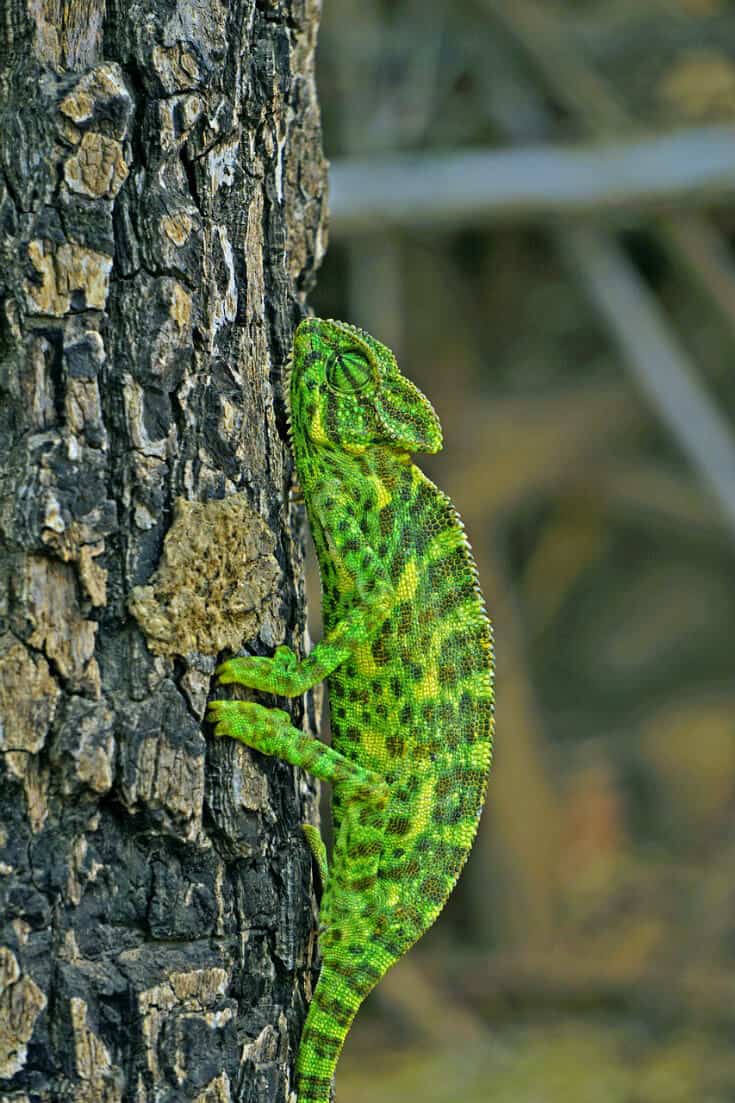 Indian Chameleon
The Indian Chameleon is similar to other chameleons in its physical characteristics.
Like monkeys, they have prehensile tails that help them balance and comfortably stay up in the trees. Like other chameleons, the Indian variety changes color for communication purposes.
Their large eyes can move in separate directions of each other, giving these lizards a wide range of vision.
Indian Chameleons are typically green or brown in color. Their color-changing ability is due to the presence of pigment granules found in some of their cells that respond to the chameleons' emotions and environment, not to match their current background.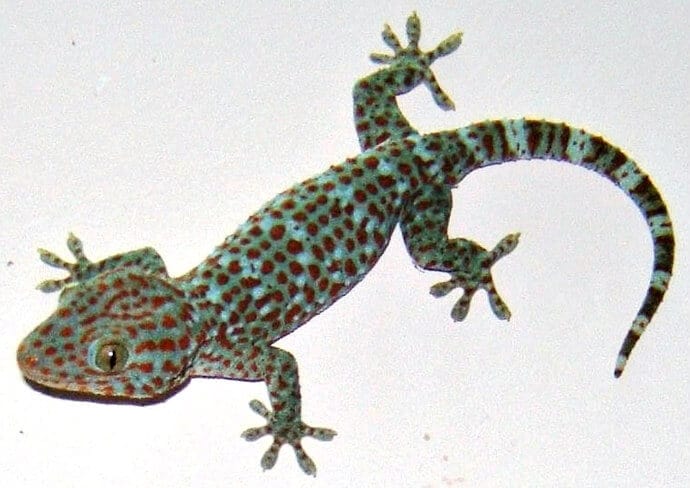 Indian Gecko
The Indian Gecko, also known as the Tokay Gecko, can be found in rainforest environments.
These Indian lizards are one of the largest species of gecko, and are identified by their bright blue-gray bodies covered with red and yellow spots.
These geckos stand out for their noticeable adaptations: Their large eyes have clear scales over them that act like lenses, and their strong jaws and teeth can give a nasty bite that, thankfully, is not venomous.
These nocturnal lizards can be found eating insects as well as other geckos, and are usually alone. If you see one, be cautious, as they can be territorial when confronted by people.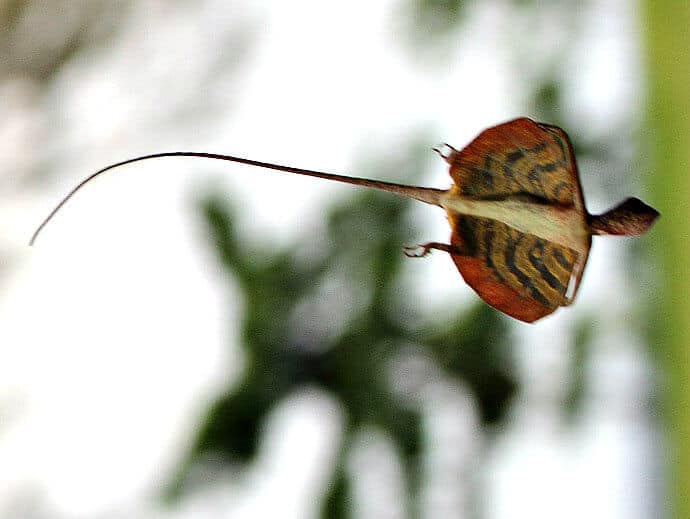 Dragon Lizards (Fan-Throated and Southern Flying)
India is home to Dragon Lizards of various shapes and sizes.
The Fan-Throated Dragon Lizard is named for the layer of skin beneath its chin, which resembles a fan. This lizard can be found all over India, living along the forest floor.
There were five known species of Fan-Throated Lizard, but in 2016 a new species was discovered. It was named for British naturalist and broadcaster Sir David Attenborough.
Another aptly-named lizard is the Southern Flying Dragon Lizard, or Draco Lizard. Though they technically do not have wings, the long ribs and tails of these lizards extend and allow them to "fly" in order to avoid predators.
READ MORE: Top 5 Things to do in Indonesia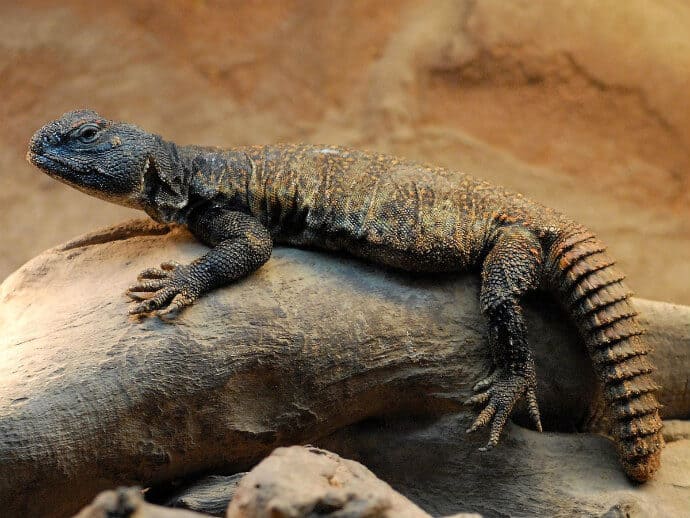 Spiny Tailed Lizard
Found in northern Africa as well as India, the Spiny-tailed Lizard can handle the heat. Also known as the Dab Lizard, this reptile is vegetarian and feeds on plants found in their habitats.
Their scientific name, uromastyx, is Greek for "tail," and their tail is a very important physical feature.
Their common name comes from the spines that grow all along their tails, which can be used to defend themselves against predators.
Spiny-tailed Lizards sleep with their powerful tails facing the entrance to their dens in order to protect themselves.
Another useful adaptation is their yellow-brown coloring with black spots, which helps camouflage them against rocks.
READ MORE: 30 Amazing Galapagos Island Animals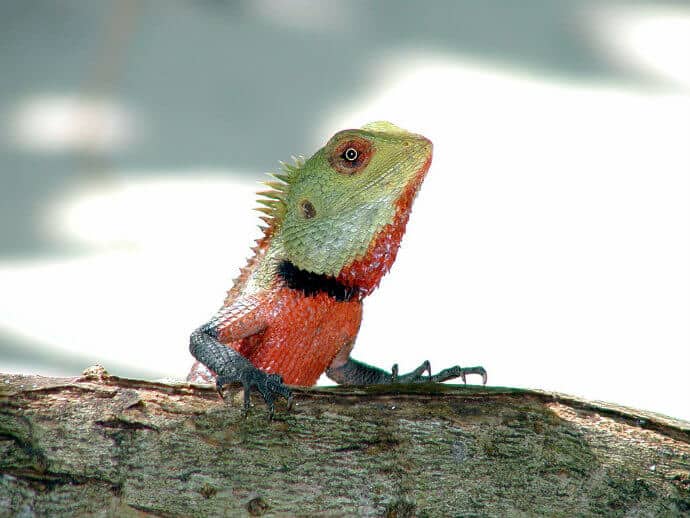 Oriental Garden Lizard
Found in forests, the Oriental Garden Lizard is also known by several other names. It is sometimes known as "Bloodsucker," most likely because males have red heads and necks when mating.
They are also called calotes, and come in a variety of colors ranging from orange to purple.
Other names for the lizard include Eastern Garden Lizard and Changeable Lizard, which is fitting considering their wide range of coloring.
These lizards feed on insects, and when they bite they do not draw blood. Along with insects, they feed on rodents and other lizards, swallowing their prey whole like some snakes do.
OTHER INDIAN REPTILES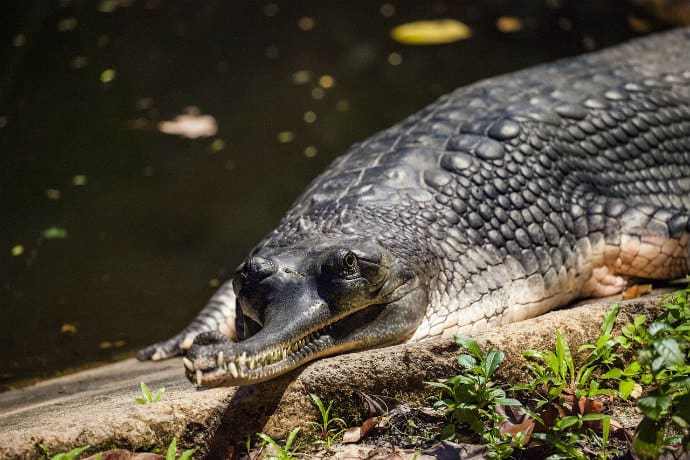 Crocodiles (Gharial, Mugger, Saltwater)
India is home to several different species of crocodiles, and some are more dangerous than others.
The Mugger Crocodile has a characteristic flat nose and is one of the largest crocodile species. Although it feeds on Indian reptiles and fish, this massive croc has also attacked and killed large mammals and people.
The Gharial, another of the more endangered species of Indian wildlife, is found in northern Indian rivers. It does not target people, but uses its sharp teeth to feed on fish and human corpses found in the water.
Southern India is home to the Saltwater Crocodile, which, ironically, can be found in freshwater as well,. It can weigh over 1,000 pounds and can also be dangerous to humans.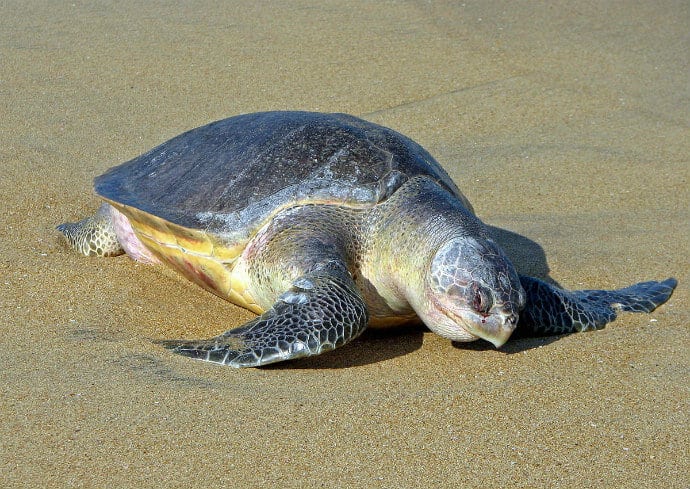 Olive Ridley Sea Turtle
With an olive-green skin and shell color, the Olive Ridley Sea Turtle is found in the warm waters of the Indian Ocean.
These turtles are some of the smallest sea turtles in the world, and only weigh up to 100 lbs.
Some of these turtles are solitary, while others nest in large groups called arribadas. It is unclear to researchers why their nesting patterns vary so greatly.
Located in the eastern Indian city of Odisha, Gahirmatha Turtle Sanctuary is one of the world's largest nesting sites for the Olive Ridley.
This area became a sanctuary in 1997, and attracts thousands of turtles during the annual mating season, which lasts from October through May. –by Anika Chaturvedi; intro by Bret Love