Though it's widely regarded as the world's best island, Palawan is actually an archipelago in the Philippines that is comprised of roughly 1,780 islands and islets.
Puerto Princesa is the province's capital and most urbanized city, but places such as Coron, El Nido, and San Vicente are much more highly-rated as tourist destinations. So these are the areas where you'll find most of the best Palawan resorts and hotels.
We fell in love with the region during our 2016 Palawan tour, when we explored more than a half-dozen islands in the region.
Coron, Palawan resorts such as Club Paradise and The Funny Lion ranked among our favorite places we've stayed, and friends couldn't stop talking about all the 5-star El Nido Resorts. So for this piece we collaborated with some travel blogging friends to bring you the best in Palawan accommodations.
From elegant beach resorts in Coron and El Nido to eco-friendly hotels in San Vicente and even a remote private island resort in Tay Tay, we hope these unbiased reviews will help you decide where to stay in Palawan.
READ MORE: Why Palm Oil is Bad for Palawan, Philippines (& the Planet)
BEST PALAWAN RESORTS
BEST PALAWAN HOTELS
CORON PALAWAN HOTELS & RESORTS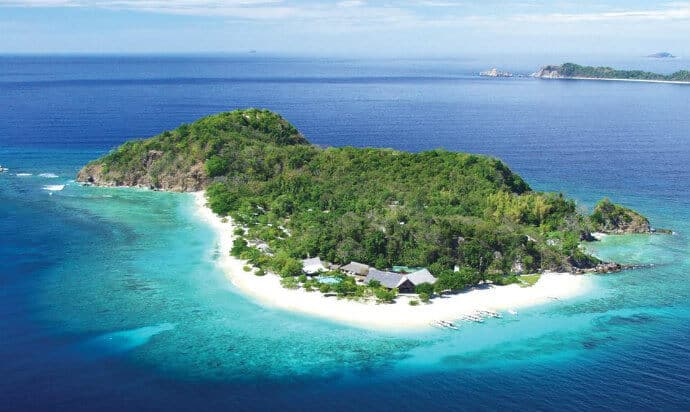 Quality: 4 Stars / Budget: $$$$
Located just off the coast of Busuanga and Coron Island, Club Paradise is a secluded private island resort so nice, we decided to stay there twice. It was easily our favorite of the Coron, Palawan resorts we visited, and we'd go back again in a heartbeat!
This remote Coron beach resort offers numerous kinds of accommodations. There are Garden Suites, Garden View Cottages, Hillside Cottages, Sea View Cottages, as well as Standard and Deluxe Sunset Villas. We stayed in a lovely Garden Suite, but would've preferred the amazing views of the beachfront cottages (which were being renovated during our visit).
All of the rooms are sleek and modern, but with lots of wood furniture and accents, rattan, and gorgeous photos of beautiful Coron beaches and other Palawan attractions. You'll likely see lots of Asian animals around, including beautiful tropical birds and several resident Monitor Lizards.
Their buffet-style Firefish Restaurant was just OK, but the Glow Spa is excellent, offering traditional Filipino Hilot massages at remarkably low prices (we paid around $30 for an hour-long couples massage). All three of their beaches boast sensational views of the surrounding scenery.
The snorkeling off the beach is exceptional: We saw Sea Turtles, Octopus, Giant Clams, Pufferfish, Reef Sharks, and more less than 50 yards from shore. Club Paradise staff can also arrange island-hopping, Scuba diving, and various other Coron tours for you. Check Rates. –Bret Love
READ MORE: The Top 15 Things To Do in Coron, Palawan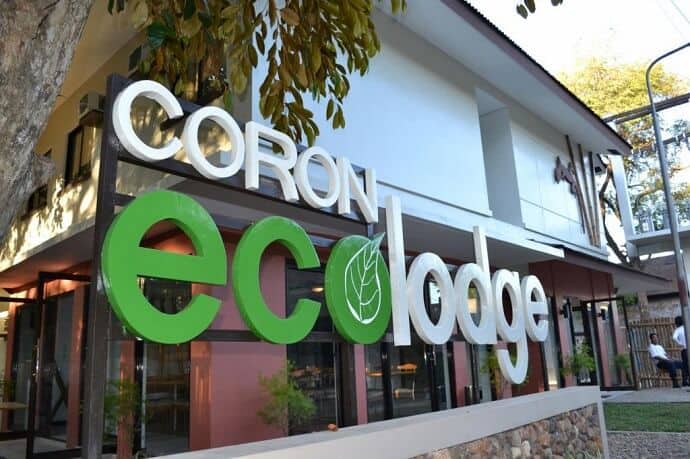 Quality: 3.5 Stars / Budget: $
One of the highest-rated cheap hotels in Coron, Palawan, the Coron EcoLodge has earned the TripAdvisor Certificate of Excellence the last two years in a row. Surprisingly affordable compared to most eco lodges, the boutique hotel is located on a quiet street, Calle Real.
One of the newer Coron Island hotels, it features creamy interiors sparsely decorated with wooden Gecko and Stingray accents (all of which are made by local Filipino artists). The decor may seem simple, but, at less than $50 a night, the price is definitely right.
If you're looking to explore the best Coron, Palawan attractions, the hotel offers an excellent location. The Coron EcoLodge is within a half-mile of the Coron Public Market and Mt Tapyas, within 2 miles of Maquinit Hot Spring, and just 3.5 miles from Kayangan Lake and Twin Lagoon!
Other amenities the hotel offers include AC, flat screen TVs, free WiFi, a peaceful garden patio, and on-site bar and restaurant offering a la carte breakfast. Check Rates. –Bret Love
READ MORE: The Best Exotic Islands to Visit (World Travel Bucket List)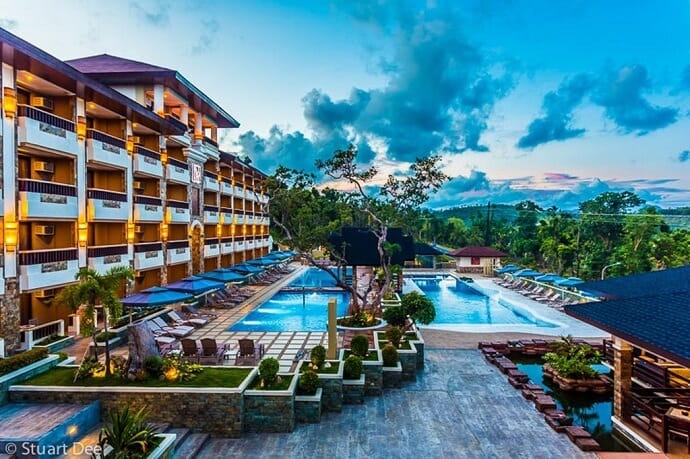 Quality: 3.5 Stars / Budget: $$
The Coron Westown Resort was a great place to spend a 4-day weekend getaway with my girlfriends. It took just 25 minutes to get there from Busuanga Airport, and it's located 5 minutes from downtown, where all the action is (restaurants, bars, shops, and countless tour companies).
While it may not be one of the luxurious 5-star beach resorts you'll find in other parts of Coron, Palawan, our room was quite cozy and met all our needs. The resort offers 5 different room types, from the basic Deluxe Room all the way up to expansive Family Rooms.
When we weren't out on island-hopping excursions to discover the best of Southeast Asia's outdoor attractions, we were hanging out at the resort. Most of our time there was spent chilling by one of their three pools and sampling the delicious Filipino food at the poolside cafe.
One unique thing about this Coron resort is the rock formation decor at the side of their lobby. It looks so similar to the signature karst limestone rock features you'll see when you go island-hopping in the Philippines, it's absolutely spectacular!
The resort also offers their own Coron Island-Hopping day tours and other tour packages you can sign up for, which are about the same prices as those you'll find along the main street. Check Rates. -Lydia Yang of Lydiascapes
READ MORE: The World's 25 Most Unique Hotels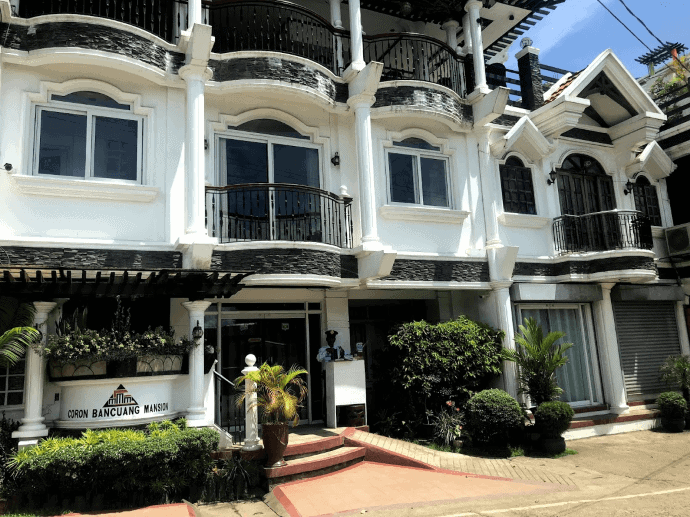 Quality: 4 Stars / Budget: $$
Bancuang Mansion is a luxury hotel in Coron, Palawan that offers stunning views of the bay, the town, and the island.
The mansion is located on a main street, just 2800 feet from the center of Coron town. But once you're inside the property, you can hardly hear any noise from the road below whatsoever.
The hotel has just 10 rooms, all of which are situated towards the back of the property. Because it's so small, you'll find the staff is attentive to your needs as if you were the only guests there. They'll even personalize any Coron tours you're interested in, offering private guides to the major sites.
In terms of amenities, Bancuang Mansion offers a picturesque pool, a rooftop restaurant with beautiful views of the bay, and a spa with exquisite (yet surprisingly affordable) services.
All of their rooms are equipped with air conditioning, large beds, WiFi, and power outlets. Every room has a modern feel, with Deluxe, Honeymoon, and even Penthouse Suites, all of which will make you feel like royalty.
The whole property is elegantly designed, with cultural artwork tastefully displayed throughout the mansion. Check Rates. -Alyssa Bourmeche of OjosExtranjeros
READ MORE: What is Glamping? A Guide to Luxury Camping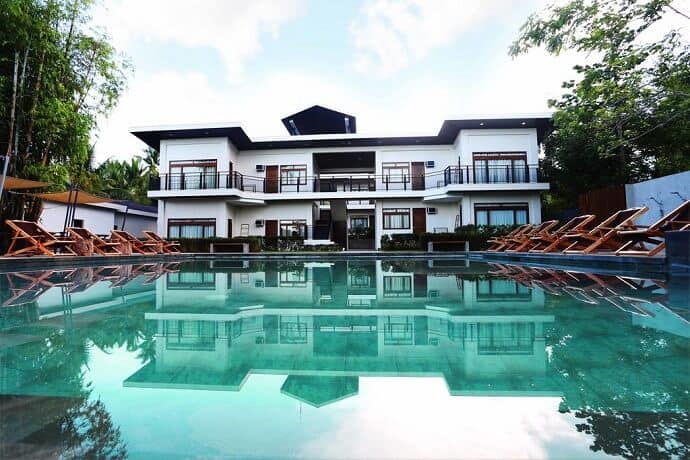 Quality: 4 Stars / Budget: $$$
Located just 30 minutes from Busuanga Airport, The Funny Lion is one of our favorite resorts in Coron, Palawan. This contemporary boutique resort is close to the best tourist attractions in Coron, with hotspots like Mt Tapyas and Kayangan Lake less than 5 miles away.
They offer three different types of rooms, all decorated in natural hues, with free Wifi, flat screen TV, coffee maker, mini bar, and work desks. Our 260-square foot Pride King Room was remarkably spacious and comfortable, with a stunning view of the infinity pool and surrounding hills.
The "Pride Rock" patio around the pool was our favorite spot, with poolside food and beverage service, an open-air bath, and exceptional views of Coron Bay (which is widely considered one of the best places in the world to Scuba dive).
Their Hunt Restaurant offers delicious Asian fusion dishes and seafood specialities in a spectacular setting, with hardwood furniture and antique decor. It's also where the serve continental breakfast in the morning. You can also request in-room dining.
We heard good things about, but did not have a chance to visit, their Sea Tree Spa, which offers an array of massage treatments for those seeking a bit of R&R. But even if you don't visit it, we found the Funny Lion so relaxing, it was hard to say goodbye! Check Rates. –Bret Love
READ MORE: The Walking With Lions/Canned Lion Hunting Connection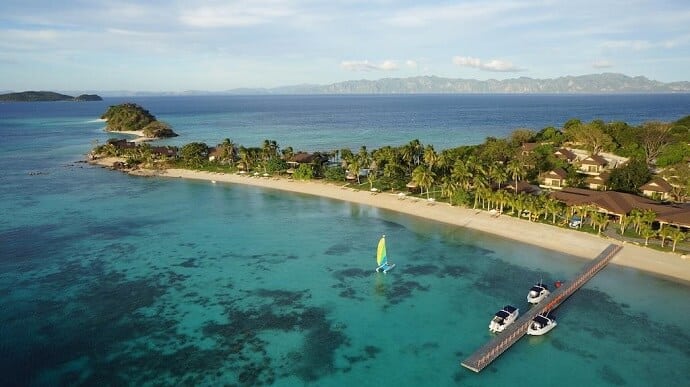 Quality: 4.5 Stars / Budget: $$$$$
Widely considered one of the best resorts in Palawan, the Two Seasons Coron Island Resort & Spa is a 5-star luxury property that truly immerses you in the sort of tranquil exotic island paradise for which the region is world-renowned.
Located on the Malaroyroy Peninsula of Bulalacao Island, the resort feels remote and private, with postcard-worthy views practically everywhere you turn. If you really want to indulge yourself in relaxation, try a massage at their serene spa.
This eco-friendly resort boasts house reef bustling with marine life, which is a protected sanctuary for Giant Clams and Sea Turtles. So naturally the snorkeling right from the shore tends to be pretty extraordinary, and they offer beginner Scuba courses as well.
The resort's luxurious bungalows are the stuff a bride's honeymoon dreams are made of. Amenities include AC, flat screen TV, private balconies, lush gardens, two 650-foot long beaches, complimentary rentals of certain water sports equipment, and more. Check Rates. –Bret Love
READ MORE: The 20 Best Small Ship Cruises (World Travel Bucket List)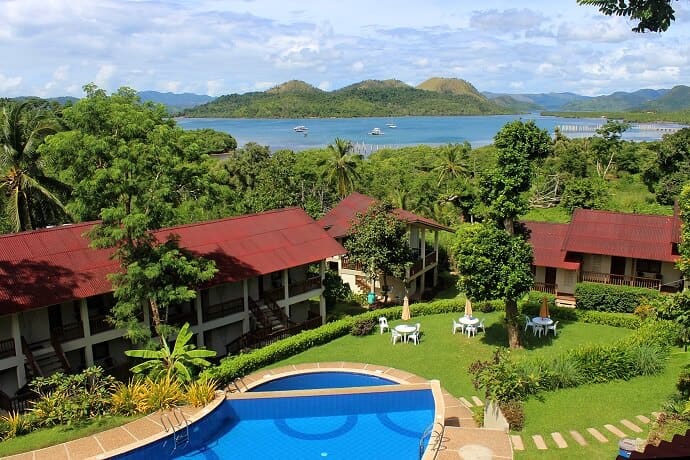 Quality: 4 Stars / Budget: $$$
Located in mainland Coron, the Asia Grand View Hotel is replete with a breathtaking view of Coron Bay and impressive vistas of the nearby islands. The hotel is located about 2 km away from Coron town, but you can easily hail a tricycle and get to the downtown area in 5 minutes.
The rooms (either Deluxe or Superior) feature oriental-inspired interior design elements, like wooden flooring and furniture, with verandas overlooking the bay, gardens, or swimming pool.
The hotel also offers a restaurant and bar, Scuba diving lessons and dive shop, massage service, transportation services, and bookings for tours such as shipwreck diving and island hopping.
The hotel is gradually working towards becoming a more eco-friendly hotel. Among its initiatives are providing thermo bottles instead of plastic bottles for drinking water, encouraging guests to reuse towels through signage, and recycling containers of toiletries and personal care products.
They also have their own aquatic plant-based wastewater treatment system, whereby the treated water is recycled for watering their garden. Check Rates. -Jing Calonge of Finding Jing
READ MORE: What is Ecotourism? (History/Principles of Responsible Travel)
EL NIDO RESORTS & HOTELS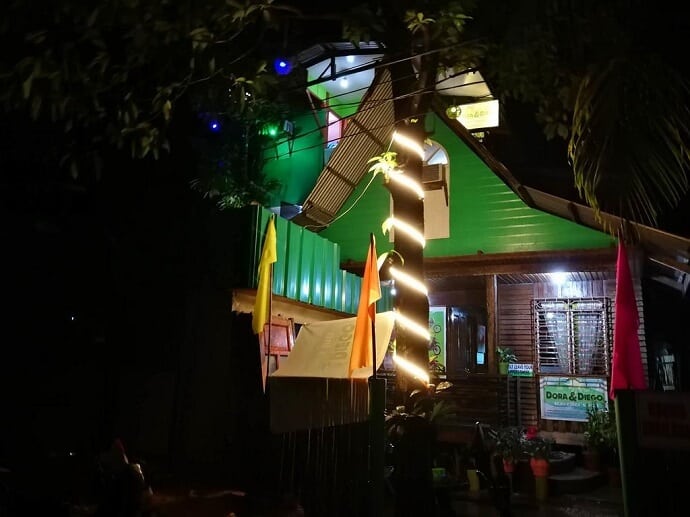 Quality: 3 Stars / Budget: $
We visited Palawan on a fairly tight budget, but that didn't mean we had to stay in mediocre El Nido accommodations. We chose the lovely Dora and Diego Traveller's Inn, as we wanted a hotel within walking distance to the town center, and were very happy with our stay.
There are only private rooms available here, ranging from single rooms with a private bathroom to family rooms that sleep six. We stayed in a spacious, air conditioned double room with a shared bathroom.
As it is a budget hotel, the rooms at Dora and Diego's were quite basic. But they had a very comfortable and homey feel, with excellent WiFi (which is rare in El Nido!) and free coffee and tea.
The friendly owners made this a great place to come back to each day after exploring the El Nido attractions, and they couldn't have done a better job of looking after us during our stay.
Staying right in El Nido town meant we had easy access to numerous restaurants and shops nearby. Walking around the bustling town center and checking out the local shops was a great way to pass the time each evening. Check Rates. –Luke Storey of The Coastal Campaign
READ MORE: How Mass Tourism is Destroying 30 Destinations Travelers Love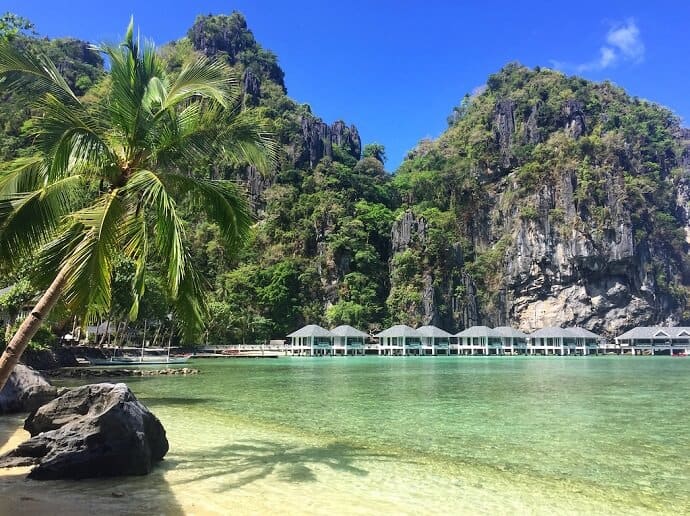 Quality: 5 Stars / Budget: $$$$$
As you step off the boat onto the jetty at El Nido Resorts Lagen Island, you feel like you're walking into a James Bond filming location.
The resort boasts over-water bungalows tucked under towering limestone cliffs and overlooking the crystal clear water of the shallow lagoon. Located just a 30-minute boat ride from El Nido airport, this laid-back, eco-friendly hideaway is the epitome of a luxury Palawan resort.
The 51 rooms, suites, and cottages here incorporate timber recycled from old Filipino homes. The most sought after accommodations are the villas on the water (which are linked via a boardwalk around the crystal-clear lagoon) and beachfront cottages with amazing panoramic views.
Days here revolve around non-motorized watersports and exploring the surrounding islands via the resort boat. Kayaking in Big Lagoon and Small Lagoon, snorkeling at sister resort Miniloc Island, and hanging out at El Nido Resorts' nearby private beach clubs are all on the agenda.
End your day with cocktails by the pool, before dining under the stars and admiring the incredible natural habitat surrounding you. Check Rates. -Marianne Rogerson of Mum on the Move
READ MORE: 21 Tahiti Photos to Fuel Your Polynesian Fantasies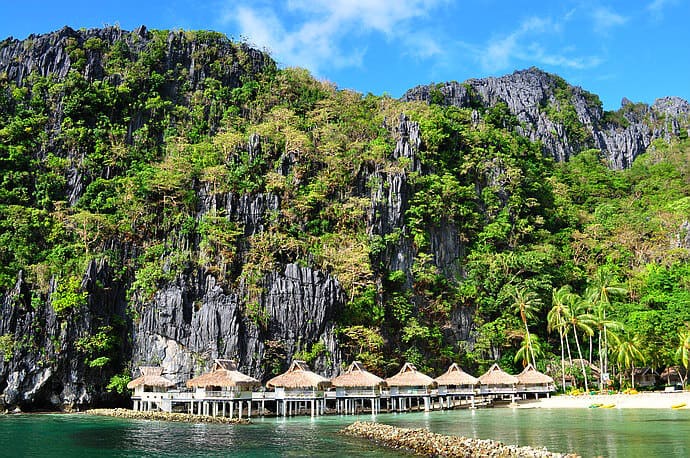 Quality: 4.5 Stars / Budget: $$$$$
If you're looking for a combination of relaxation and adventure, El Nido Resorts Miniloc Island is the perfect place for you. Located in Bacuit Bay, the eco-friendly island resort offers guests a wide range of outdoor activities.
All-inclusive accomodation options range from overwater bungalows and deluxe rooms with sea views to family sized cottages. While the rooms are generally on the smaller side, all have a private terrace and the décor is contemporary, with a focus on using locally sourced wood.
Overall, Miniloc Island has a casual, laid-back feel. A single restaurant caters all meals, with a buffet offered each evening. The new swimming pool is a welcome addition, and the small beach is just for guests. The beach bar is perfectly positioned to enjoy drinks while soaking up stellar sunset views.
This picturesque Palawan resort is tucked away in a small cove backed by dramatic limestone cliffs and lush forest. The location is perfect for enjoying the nearby El Nido attractions before the day- trippers arrive.
But there are also plenty of activities on the island to keep you busy, including paddle boarding, windsurfing, and table tennis.
You can also explore the nearby big and small lagoons by kayak, or snorkel right off the beach. There are several complimentary day tours to nearby islands, and dive courses are offered at the onsite PADI dive centre. The resort spa is a welcome treat, too.
Like their sister resort, Pangulasian Island, Miniloc Island is committed to running their business in a sustainable way. Their deluxe seaview rooms are fully powered by solar energy, and the staff are committed to providing employment opportunities to local communities and protecting the local environment. Check Rates. -Rachel Rodda of Adventure and Sunshine
READ MORE: Why Responsible Travel Matters (& Greenwashing Sucks)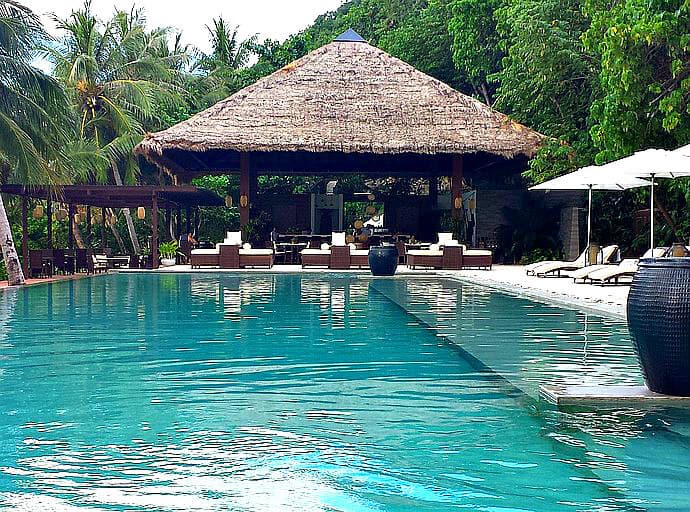 Quality: 5 Stars / Budget: $$$$$
El Nido Resorts Pangulasian Island is another eco-luxury resort located in Bacuit Bay. Backed by rainforest, the beachfront resort offers 42 stunning villas that are well designed for privacy.
There are three different settings to choose from: You can be beachfront, amongst the rainforest canopy, or right by the infinity pool. The décor is contemporary and spacious, with a generous touch of luxury. Each villa has a private terrace, and the beach villas are just a few steps from the sea.
Pangulasian Island is the perfect Palawan resort if you want to retreat from the hustle and bustle and just relax. With a small number of villas, it really feels like you're on your own private island.
In terms of activities, you can enjoy book a massage at the onsite spa, hike to the lookout behind the resort for stunning sunsets, or just laze by the pool or on the beach. With just one restaurant and two bars, the focus here is very much on R&R.
If you can draw yourself away from lounging in your daybed, you can also enjoy excellent snorkeling right off the beach, take a kayak for a paddle around the island, or join a boat tour to explore some of the beautiful nearby islands.
Like other El Nido Resorts, Pangulasian Island is committed to sustainability. From the activities they offer guests to the food prepared in the kitchen and how they manage waste and water management, being eco-friendly always seems to be front of mind. Check Rates. -Rachel Rodda of Creators of Coffee
READ MORE: An Idyllic Escape to the Philippine Island of Danjugan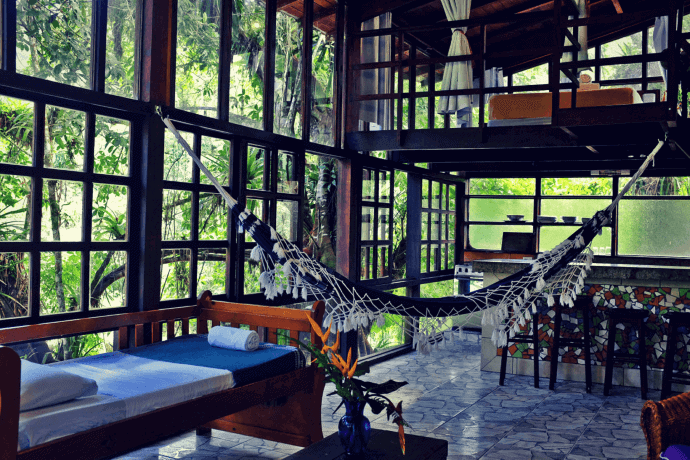 Quality: 3 Stars / Budget: $
Looking for eco-friendly hotels in Palawan? Check out the amazingly budget-friendly Suites by Eco Hotel, which offers rooms with breakfast for less than $50 a night!
This unassuming El Nido hotel is located on the west coast's Corong Corong beach. They offer a variety of different accommodations to choose from, including Standard double rooms, Deluxe double rooms, Queen rooms with a sunset views, and Premier King rooms with sea views.
The location is one of the best things about the Suites by Eco Hotel. You can stroll out of your room and right onto Corong Corong beach to watch the sunset every night. The El Nido Public Market is nearby, and you'll be less than 2 miles away from the popular Papaya Beach.
This low-key beach hotel has a relaxed tropical vibe that I responded to really well. I especially loved being able to lounge on the patio in my own personal hammock. Other amenities include AC, flat-screen cable TV, free Wifi, continental breakfast, and all the furniture in the rooms is upcycled.
Overall, it's fair to say that this is one of the best cheap hotels in El Nido, Palawan. Check Rates. – Louis Smith of TheNorthernBoy
READ MORE: 57 Sustainable Travel Tips and Traveler Can Use
SAN VICENTE PALAWAN RESORTS & HOTELS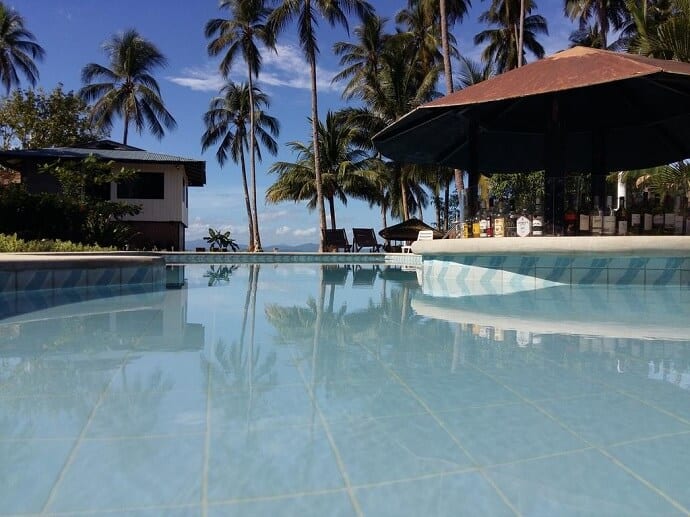 Quality: 4.5 Stars / Budget: $$$
One of the top-rated resorts in San Vicente, Palawan, Sunset Beach Resort is located along Macatumbalen Beach, with impressive views of the sea and sunset.
It's a convenient location for exploriung the town, which is just three minutes away by car/motorbike or 15 minutes on foot. There you'll find the local market, lots of shops, and the bus/van terminal.
The resort offers rooms with garden, pool, or ocean view, all with super-comfy Queen size beds, AC, flat screen TVs, minibar, and indigenous art such as masks and wood carvings. Guests also rave about the friendliness of the staff, including Roberto and Thelma, the welcoming owners.
This is the perfect Palawan resort if you want to relax and unwind, enjoying dinner and drinks from the on-site restaurant/bar while savoring the sunset.
If you want to explore the San Vicente area, there's great hiking nearby, bike rentals, and incredible island-hopping opportunities by boat. Check Rates. –Bret Love
READ MORE: Top 10 Things To Do in San Vicente, Palawan (Philippines)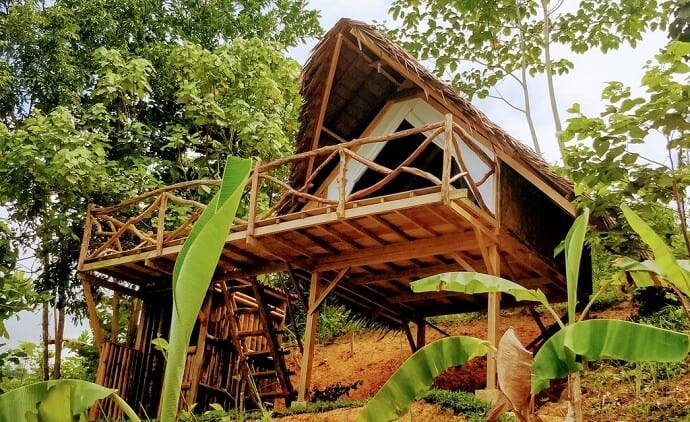 Quality: 3.5 Stars / Budget: $
Looking for a way to truly get away from it all during your Palawan vacation? Check out this rustic jungle hideout, where soothing nature sounds will lull you into a restful sleep.
Located in the Port Barton district, this San Vicente hotel is located just over 10 miles from the center of town. The cottages are really more like framed-in glamping tents on stilted platforms, with thatched roofs.
All rooms have a terrace balcony and private bathroom, while some also offer a seating area and ocean views. Other amenities include a mobile hotspot device, drying rack for clothing, a restaurant/bar on-site, and mosquito netting.
About that last part, if you're insect-averse (or simply don't like "roughing it"), this may not be the place for you. It's called a "Jungle lodge" for a reason, and bringing bug spray is definitely not a bad idea. But at around $30 a night, it's a very cheap Palawan hotel for those on a tight budget.
White Beach and Coconut Beach are a 15-20 minute walk away, and there's hourly transportation to Port Barton for those looking for more nightlife. Check Rates. –Bret Love
READ MORE: 60+ Cool Camping Gear Reviews (Tents, Sleeping Bags & More)
TAYTAY, PALAWAN RESORTS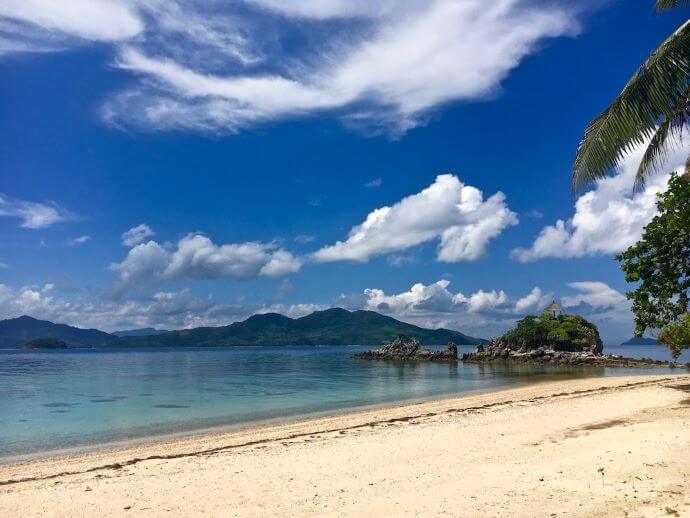 Quality: 4.5 Stars / Budget: $$$
If playing castaway on a small private island in the Philippines is on your bucket list, look no further than Flower Island Eco Resort. Located off the coast of Palawan, far from the crowds of El Nido, this Tay Tay resort offers quiet solitude and a back-to-nature serenity.
Constructed out of low-impact materials, the resort features mid-range beach huts, most of which are ventilated using the ocean breeze. If you come during low season, you may well have the entire beach to yourself, with few other hotel guests around.
Some of the huts are bamboo, while a few are concrete structures with air conditioning. There's a spa, cocktail bar, kayaks, and snorkeling equipment aplenty, so we took to the water to see an incredible array of marine life under the surface.
Flower Island also offers tours to a nearby Pearl Farm, which provides interesting insight into how this delicate process is being threatened by climate change.
The resort's mission is to preserve the island and surrounding nature through tourism. It's largely self-sufficient, and much of the food is grown there (or fished by line from the hotel's pier). To reduce food waste, each day has a different menu featuring the freshest local produce.
We went to a nearby island to visit the Save the Palawan Seas foundation, which the resort supports. This environmental NGO has been campaigning to increase patrols against dynamite fishing. It's a huge threat to the coral in this part of the world, as fish stocks decline and local fishermen resort to more and more desperate measures to fetch a decent catch.
They also teach villagers methods to grow their own organic vegetables at home to reduce poverty. Spending an hour or two with the volunteers was a memorable part of our stay here, and showed us some of the challenges and opportunities that lie in store for Palawan in the future. Check Rates. –Ellie & Ravi of Soul Travel Blog