Mary and I got our first experience with haunted hotels in America the very first time we traveled together, when I took her to Barnsley Gardens Resort in north Georgia for Valentine's Day in 2009.
The ruins of 19th century cotton baron Godfrey Barnsley's estate were undoubtedly eerie at night, as winds whispered in the trees around the English garden. But it wasn't until we met on-site historian Clint Coker that we heard the haunted stories of the romantic resort's tragic history.
Barnsley's wife Julia died of consumption before construction was completed, but her ghost appeared to him in the gardens and told him to finish work on the manor for their six children. The resort staff won't discuss it, but we've heard rumors that Julia's ghost is still sighted there today.
The family lost their fortune after the mansion was ransacked by Union soldiers during the Civil War, and his daughter Julia is widely thought to have been the original inspiration for Scarlett O'Hara.
Stories such as these fascinate us as travelers, because they really bring the colorful history of the hotel to life. We've since had an opportunity to visit several other haunted places around the world, including ancient castles in Scotland, Ireland, and the Czech Republic.
With Halloween creeping up on us, we thought this would be a perfect time to look at the most haunted hotels in America. So we enlisted the help of some travel blogging friends who actually stayed in them, including famous hotels from Florida to California and the one that inspired The Shining!
READ MORE: The 25 Most Unique Hotels in the World
Most Haunted Hotels in America (by State)
Haunted Hotels in Arizona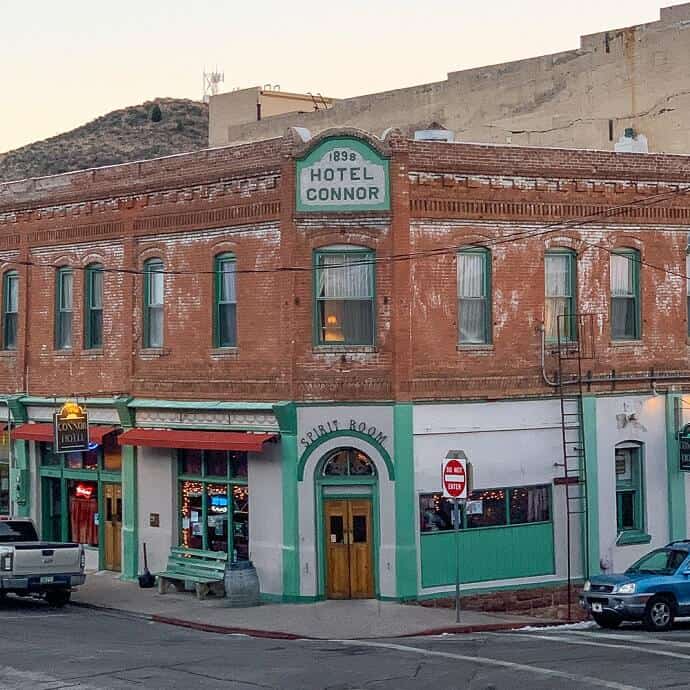 One of the most haunted hotels in Arizona, the Connor Hotel is located in the town of Jerome, which is billed as the largest ghost town in the United States.
This hotel is supposedly haunted by "The Lady in Red," a type of ghost typically associated with a jilted lover or a prostitute killed in a fit of passion. For the spookiest stay, book Room 1, where the ghost has been seen most often by guests and staff alike.
The hotel Connor was originally built in 1898. Then it burned down, not once, but twice. It was rebuilt a final time with brick in 1899. The Connor closed in the 1930s, but the Spirit Room bar downstairs remained open. After the turn of the 21st century, the original hotel was remodeled and restored.
The haunted hotel is situated right on Main Street, near the Mine Museum and most of the town's restaurants and shops, so you really can't find a better location for exploring Jerome. The Connor consists of 12 rooms, each of which is decorated to transport you back in time to the early 1900s.
A former mining town, Jerome is a little obsessed with ghosts, with haunted walking tours, ghostly decor in many restaurants, and ghost-themed souvenirs in shops. While you're in Jerome, check out the Haunted History Ghost Walk or the Small-Group Main St Ghost Adventure from Viator.
If you want to feel like you're stepping into the city's haunted past, a stay at the Connor is truly a must. Check Hotel Rates on Booking.com –Colleen Lanin of Travel Mamas
Haunted Hotels in Arkansas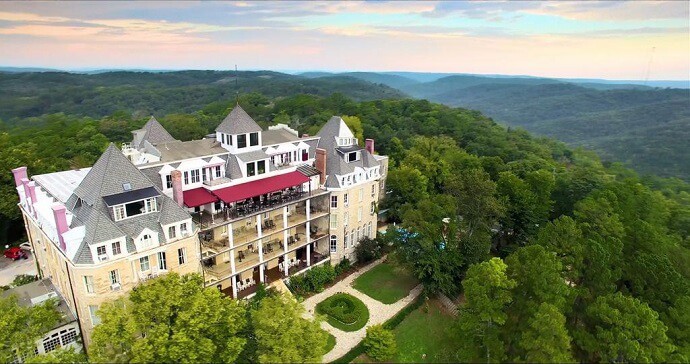 Built in 1886 and located in Eureka Springs, Arkansas, the Crescent Hotel– haunted though it may be– is a beautiful historic hotel.
Considered tops among the most haunted places in Arkansas, the hotel features 72 Victorian-style rooms, which includes a Governor's Suite, Penthouse, and even jacuzzi rooms. There are also four cottages located on the property, as well as a spa, pool, pizzeria, and pastry shop.
During the original construction of the hotel, a worker fell to his death from what is now known as Room 213. This room is said to be the most haunted room at the Crescent Hotel, and it is available for guests to stay in.
In the early 1900s, when the hotel was operating as a women's conservatory, a student also fell to her death from a top floor window. It's been speculated that she may have even been pushed.
In 1937, the property was purchased by Norman Baker, who believed he had a cure for cancer and turned the property into a cancer hospital and health resort.
Baker, who had no formal medical training, removed tumors and other body parts from patients and stored them in glass jars. Many of these people ultimately died because of Baker's experiments.
Many Hotel Crescent guests experience weird noises in their rooms at night, and see shadows floating in mid air. There have also been occasions where guests have smelled pipe tobacco, seen orbs, captured mist in photos, and even mysterious figures in windows.
Nightly ghost tours are offered by the haunted hotel, which means you don't have to be a hotel guest to have a paranormal experience. Ghost tour tickets can be purchased on the hotel's website.
If you ever find yourself in northern Arkansas, definitely stop in and check out the Crescent Hotel. Who knows, maybe you'll even experience a ghost! Check Rates on Booking.com -Michele Aaron of Pursuing Wanderlust Blog
Haunted Hotels in California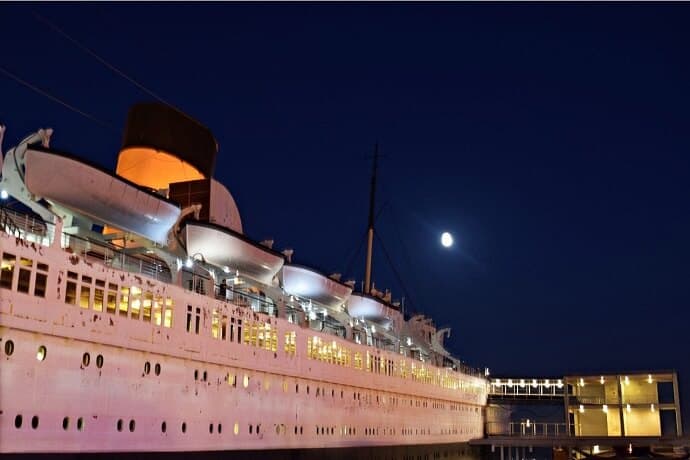 The most unique hotel in Southern California is also considered one of the "Top 10 Most Haunted Places on Earth" according to Time magazine.
The Queen Mary retired from her life as a luxury cruise liner to her final resting place in Long Beach Harbor. Each of her fully restored staterooms offers authentic wood paneling, Art Deco style decor, fully operable portholes, and original 1930s artwork.
You get a glimpse of what transatlantic travel was like during the '30s, '40s, and '50s, feeling transported back to a time where gilded elegance met death and intrigue on the high seas.
It's no wonder people believe the Queen Mary is among the most haunted hotels in California. The vintage decor and aging structure make your hair stand up on end from the moment you enter.
However, each reported haunting stems from real tragedies that occurred during the vessel's long service. Ghost sightings on the ship include a lady in white, a child by the first-class pool, and an engineer who died in the engine room.
The Queen Mary offers several ways to explore the haunted past, including the Haunted Encounter Tour, and a "Dining with the Spirits" special. You can go farther still with a paranormal ship walk and a paranormal investigation, where you walk the ship armed with high tech ghost hunting equipment.
You can even book suite B340, which is said to be the most haunted hotel room on the ship. It comes equipped with tarot cards, an Ouija board, and a crystal ball.
During the Halloween season, you can also purchase a package tour where you stay at the Queen Mary and partake in the Dark Harbor Halloween extravaganza. Other Long Beach attractions you can package with your stay include the Aquarium of the Pacific and day trips to Catalina Island.
If you choose not to spend the night, you can still take an interesting Queen Mary tour via Viator. But if you like your horror with a slice of history and elegance, staying at the Queen Mary might be right up your alley. Check Rates on Booking.com. -Ed and Jennifer Coleman of Coleman Concierge
READ MORE: The World's Best Small Ship Cruises
Haunted Hotels in Colorado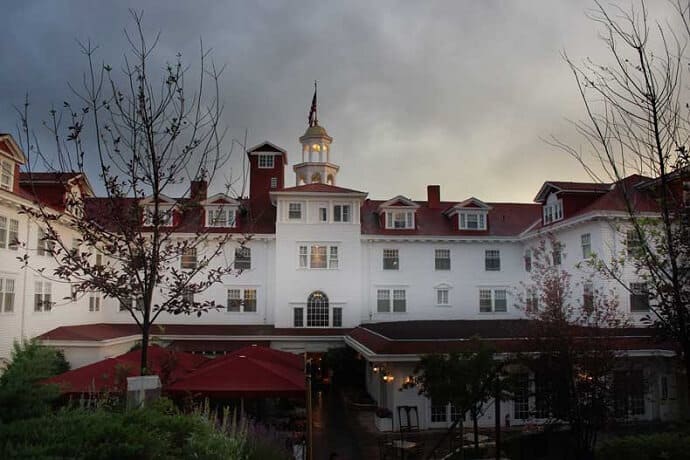 Nestled in Colorado's Rocky Mountains in the town of Estes Park, you'll find the famous (and chillingly beautiful) Stanley Hotel. Widely considered one of the most haunted places in America, this historic hotel draws tens of thousands of people each year who are seeking a paranormal experience.
The Stanley is the inspiration behind Stephen King's famous novel, The Shining. It was during his stay at the hotel that King came up with the original concept for the story.
Legend has it that King and his wife stayed at the hotel when they were the only guests booked there, because it was about to close for the winter season. That night he woke up panicked and terrified after having a nightmare about his young son being chased down the hotel hallway.
That experience inspired him to write one of the best-selling horror books of all time, which was later turned into a movie starring Jack Nicholson. When you stay at the hotel, The Shining plays on a continuous loop on Channel 42.
The Stanley Hotel ghost stories are much less scary than either King's experience or the book he wrote. Many guests have reported hearing someone playing a piano in the middle of the night, seeing apparitions, or hearing children giggling in the empty hallways.
The fourth floor, where we stayed, is supposedly the most creepy part of the hotel. You can actually stay in the same haunted hotel room Stephen King did all those years ago. We didn't particularly find the Stanley Hotel haunted, but it's an intriguing and iconic place for horror fans to visit.
If you aren't brave enough to actually spend a night in the original hotel, you can book a night in the hotel's annex building, or simply take a 90-minute ghost tour for a less creepy hotel experience. Check Rates on Booking.com -Melissa Smuzynski of Parenthood and Passports
READ MORE: Travel Books That Inspired Our Love of Adventure
Haunted Hotels in Florida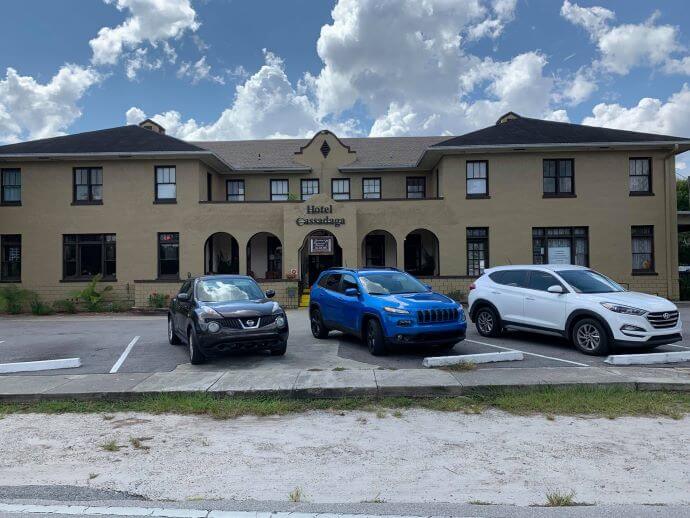 Ever wonder what it would be like to talk to the dead? Or maybe to learn something about the future? If your answer was yes, then perhaps you should consider a visit to the "Psychic Capital of the World," Cassadaga, Florida.
Founded in 1894, the town is officially known by locals as the "Cassadaga Spiritualist Camp." It's notorious as a place where you can find a huge concentration of mediums and psychics.
In 1927, Hotel Cassadaga was built in order to support the myriad people who were visiting in order to speak to their loved ones that passed away and learn more about spiritualism. Today they welcome everyone, from devout spiritualists to skeptics as well.
The current haunted building sits on top of the original structure, which burned down in 1926. This place definitely feels like a creepy hotel when you're trying to catch some rest.
Here you can have morning coffee and get a 15-minute psychic tea leaf reader to tell your fortune. The hotel is haunted, but it feels like the spirits in Cassadaga are as friendly as "Casper the Friendly Ghost".
The welcoming nature of the staff allowed me to learn more about their way of life at the spiritualist camp. The double rooms, suites, and executive rooms are all decorated with antique furniture and wallpaper that transports you to another time with its spooky ambiance.
Cassadaga is located smack dab in between Orlando, Florida and Daytona Beach. Located less than an hour away from the beach and popular theme parks, Cassadaga is the perfect spot for a haunted overnight or day trip. Check Rates on Booking.com –Sarah Fay of Travels of Sarah Fay
READ MORE: What is an Eco Lodge? The Best Eco Resorts & Eco Hotels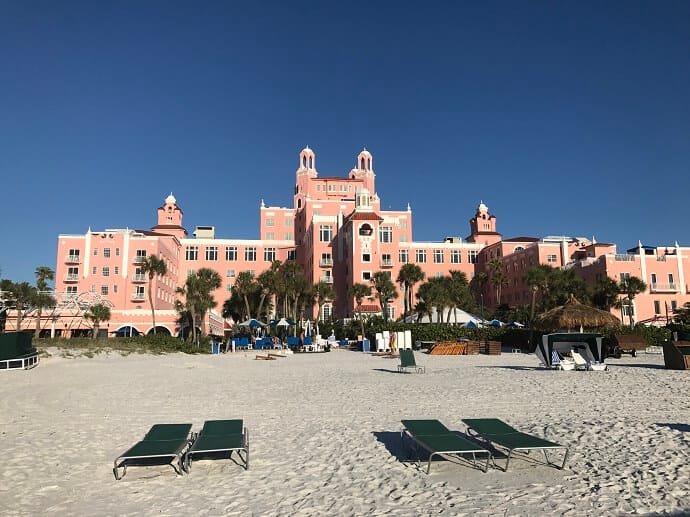 The Don Cesar Hotel is located on a gorgeous stretch of white sand beach in St. Pete Beach, Florida. Known as the Pink Palace because of its striking pinkish-red color, it's a large resort, with 250+ rooms including suites suitable for families.
This famously haunted resort exudes laid-back Florida luxury, with extensive facilities to keep multi-generational visitors happy. In addition to extensive poolside games (like ping pong and table football), my children loved playing with the giant chess set on the beach.
With direct beach access, you can rent beachside loungers and chairs as well as watersports equipment. There's a poolside bar so that you can enjoy table service by the pool. At the end of the day, the sunset is greeted with a loud ceremonial gong ceremony at poolside.
Off the resort, you have the attractions of St. Pete's Beach at your doorstep, including the Salvador Dali Museum, the Chihuly Museum, Dolphin Cruises, Eco Tours, and excellent dining establishments.
Established in 1928, the Don Cesar hotel is on the National Register of Historic Places. It has been a local landmark for decades, attracting famous and wealthy visitors such as F. Scott Fitzgerald.
The hotel served as a military recuperation base briefly during World War 2. In the 1970s, a group of entrepreneurs decided to bring the building back to life as a luxury hotel.
The Don Cesar is known as one of the haunted hotels in Florida because of the stories about the first owner, Thomas Rowe. He was a welcoming host and chatty man from Ireland who fell in love with a high society lady, whose family did not approve of their match.
He agreed to meet his love at the fountain so they could run away together. But her family intervened, and she was whisked away to marry another. Now his ghost supposedly wanders the halls, making sure his beloved hotel is running smoothly and waiting for his true love to meet him at the fountain.
We personally did not find the hotel spooky, but more charming and romantic. Which is probably precisely what Thomas Rowe originally intended! Check Rates on Booking.com –Shobha George of Just Go Places Blog
Haunted Hotels in Georgia
The state of Georgia is full of Southern charm and history dating back to the pre-Civil War era. Although my favorite place to visit is North Georgia, Savannah comes a close second.
Located in the heart of the coastal city in historic Lafayette Square, the Hamilton Turner Inn is a great place to stay due to its perfect blend of luxury, southern atmosphere, and haunted history.
There are 17 luxurious rooms available, all with amenities including free Wi-Fi, breakfast, afternoon refreshments, evening wine, and late night port and cookies. The Inn's goal in décor and atmosphere is to stay true to its heritage as a private residence built in the 1870s, which it does admirably.
Like Savannah itself, the Hamilton Turner Inn is known not only for its southern charm and history, but also as one of the most haunted places in the US.
Visitors to the Inn have reported hearing a child's laughter and billiard balls rolling down the hallways, as well as seeing a cigar-smoking man on the hotel's roof at night.
Even if you don't witness or hear anything spooky during your stay, the Inn exudes an eerie sense of being transported back in time. And there are many other haunted attractions in Savannah, including numerous Savannah ghost tours and creepy gothic-style cemetaries. Check Rates on Booking.com. –Jordan Bradford of The Solo Life
READ MORE: Barnsley Gardens Resort: A Southern Gothic Love Story
Haunted Hotels in Louisiana

The Bourbon Orleans Hotel deserves special mention for being one of the most haunted hotels in New Orleans. Which, if you've ever explored the city in depth, you know is really saying something!
The haunted building dates back to 1817, when a local entrepreneur opened the Orleans Ballroom, a hotspot on the New Orleans social scene for masquerade balls and Quadroon balls. In 1881 the building was sold to the Sisters of the Holy Family, which converted it into a convent, orphanage and school.
It was here that the oldest African-American order of nuns cared for victims of the vicious Yellow Fever outbreak that killed thousands of people in the late 1890s.
Among the scary hotel stories that surround the building today, there have been reports of a wounded Confederate soldier on the third and sixth floors; a beautiful Quadroon dancer floating mournfully beneath the ballroom's chandeliers; a nun who committed suicide sobbing in room 644; and orphaned kids who died from Yellow Fever playing in the hallways, lobby, and kitchen.
Though it's considered among the most haunted hotels in Louisiana, the Bourbon Orleans offers excellent amenities for guests. These include the Roux on Orleans restaurant, live jazz bands at the Bourbon O bar on some nights, a pool, free WiFi, and outdoor balcony seating in some rooms.
The hotel also offers an excellent French Quarter location within walking distance of the New Orleans Historic Voodoo Museum, St. Louis Cathderal and Jackson Square. If you love Southern gothic tales of hauntings and horrors, check out a New Orleans ghost tour from GetYourGuide or Viator.
You can also Check Rates on Booking.com. -Bret Love & Mary Gabbett of Green Global Travel
READ MORE: Haunted New Orleans: The Most Haunted City in America
Haunted Hotels in Massachusetts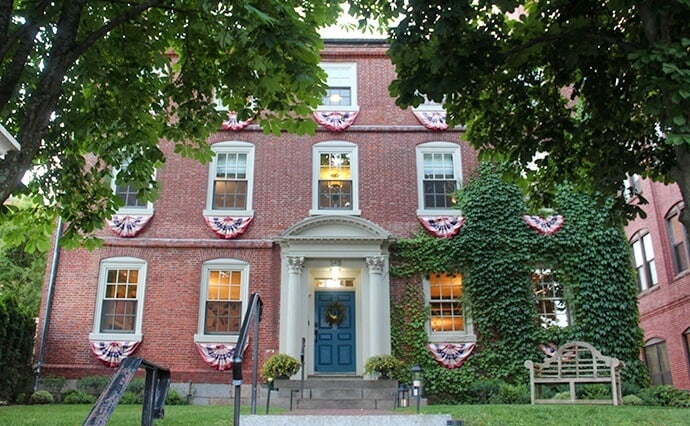 The Merchant is a new hotel with a dark history. Located in the famously witchy city of Salem, Massachusetts, the site on which the hotel was built was once home to the sadistic George Corwin.
Operating as town sheriff during the Salem Witch Trials, Corwin was a viciously cruel man who enjoyed torturing suspected witches, including crushing one victim to death.
It is said that the spirits of those unfortunate women who lost their lives during the trials (which were made famous by Arthur Miller's play, The Crucible) are suspected to be behind the building's hauntings.
During construction of the building, workers reported viewing flashing lights, hearing disembodied voices, watching trash barrels being stacked in the air. A shocking image of a ghostly woman even appeared in a Polaroid picture that was taken when the building was empty!
Although The Merchant is said to be incredibly haunted, the vibrant, boutique-style rooms make the hotel's supernatural history easy to forget.
Still history buffs can find more about Salem's dark past nearby, with haunted tours and ghost walks that include sites such as the Peabody Essex Museum and the Witch House. Check Rates on Booking.com -Crystal of Wandering Crystal
READ MORE: 40 Fun Facts About Thanksgiving
Haunted Hotels in Missouri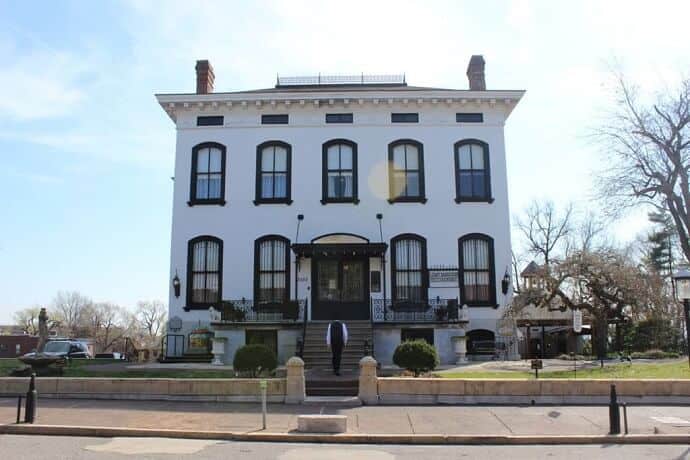 Lemp Mansion (St. Louis, Missouri)
Known for being one of the 10 most haunted places in America, Lemp Mansion is a definite must-visit on any trip to St. Louis. The mansion, which is now a bed and breakfast, regularly attracts ghost hunters and lovers of the paranormal.
Fans of pop culture may recognize the mansion, brewery, and underground caves from the Travel Channel's Ghost Adventures, Paranormal Witness & Ghost Hunters.
The mansion was originally owned by the Lemp family, whose William J. Lemp Brewing Co. dominated the St. Louis beer market in the years before Prohibition with its Falstaff brand.
While the haunted hotel's history goes back to the 1830s, the family tragedies began in 1901, when the eldest son died at the age of 28. This was just the beginning of many deaths and suicides in the Lemp family, some of whom are said to haunt the hotel to this day.
One spirit, known as "the monkey-faced boy," is rumored to be William Lemp's illegitimate son, Zeke, who was born with Down syndrome and hidden from public view. Another legend suggests Zeke was William's deformed or mentally disabled brother. There are no records to substantiate either claim.
Still, Lemp Mansion is strikingly beautiful. Outside you'll find white concrete lions to greet you at the entrance, while the inside feels like you stepped back into the early 1900s. The B&B boasts five suites, a fine dining restaurant, a mystery dinner theater, and ghost tours.
Make sure to take a peek at the downstairs restrooms, as they're really spectacular. You can also check out other popular St. Louis attractions & tours from Viator. –Ashley Hubbard of Wild Hearted
READ MORE: Harmful Traditions & Cultural Practices Tourists Shouldn't Support
Haunted Hotels in Nevada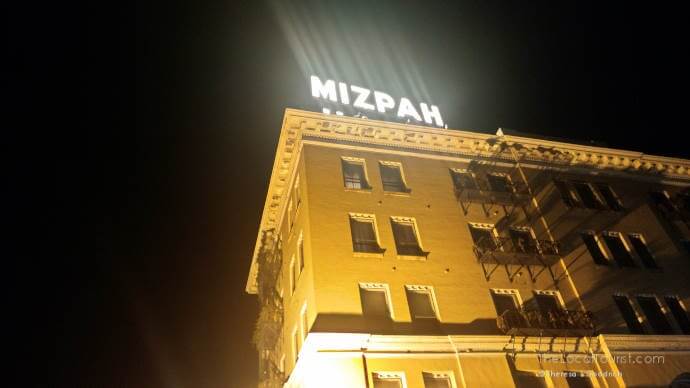 Tonopah, Nevada is located about halfway between Reno and Las Vegas. A small town of just 2,500 people, it's home to the Central Nevada Museum, Tonopah Historic Mining Park, and Mizpah Hotel.
Built in 1907, this historic hotel not only claims the first electric elevator west of the Mississippi River, but also occasional haunting by "the Lady In Red."
After a recent renovation that brought the hotel back to its original splendor, a stay in the Mizpah offers a unique experience of the luxury of a bygone age. Suites include the Wagon Suite, with appointments from 1908, and a Junior Suite. Standard rooms range from a Queen Economy to a King Room.
Avid ghost hunters can even stay in the Lady In Red Suite. According to legend, the Lady in Red was the Mizpah Hotel's resident lady of the evening. She occupied a suite on the fifth floor, but met her untimely demise when a jealous ex-lover decided that no one else should have her.
To this day she haunts that floor as well as the hotel's historic elevator, and is known to whisper into the ears of lonely men as they travel up and down.
We stayed just a few doors down from her former suite. And while we didn't get a chance to meet her, getting my morning coffee from the hallway credenza– near the scene of the crime– was unsettling.
If you're staying on the third floor you might meet the ghosts of some playful children, and the basement is said to be home to murdered miners.
If all of that haunting leaves you a bit shaky, take a seat at the bar and order a glass of wine. The Mizpah Hotel is owned by Fred and Nancy Cline of Cline Vineyards, so the wine selection is top-notch.
Because you're in Nevada, you can also play some slots in the lobby before visiting the Tonopah Historic Mining Park, which is located just up the hill from the hotel. While in Nevada, check out these other top rated tourist attractions from Viator. Check Rates on Booking.com -Theresa L. Goodrich of The Local Tourist
Haunted Hotels in North Carolina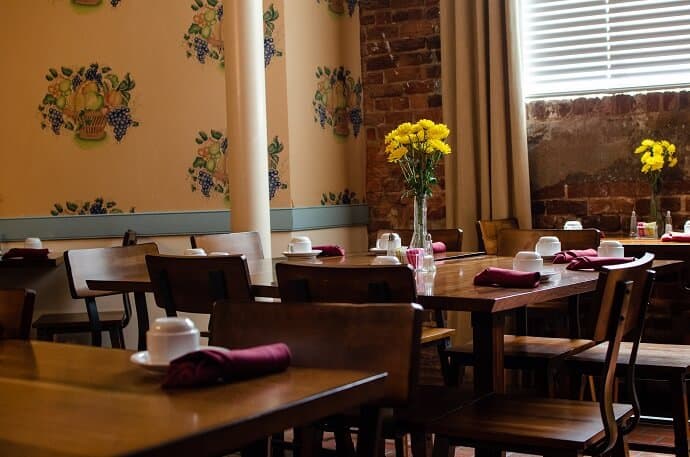 The Brookstown Inn in Winston-Salem, North Carolina is a beautiful hotel with a shady history. The former cotton mill-turned-hotel has preserved a lot of the building's past, including exposed brick, open layouts, and wooden ceilings.
During its cotton mill days, the fourth floor was used as a dormitory for the women working there. On one particular day, two of them got into a fight and one pushed the other down an elevator shaft.
Even today, there are reports that Sally (the fallen victim) roams the halls of the former dormitory. Perhaps in the hopes of warding off bad spirits, the Inn also has a sweet resident cat named Sally.
Located next to Old Salem, which is also one of North Carolina's most haunted spots, the Brookstown Inn is a popular place for Winston-Salem visitors. Because it's so large, the inn also serves as a popular event venue for weddings, meetings, and conferences.
When in Dash City, you should also visit Reynolda, the home curated by Winston-Salem's wealthiest family. We also enjoy exploring local creations in the Downtown Arts District (DADA) section.
While you're in Winston-Salem, check out the Historical Ghost Tour and other fun activities in Winston-Salem. Check Rates on Booking.com -Christina Riley of NC Tripping
READ MORE: Greensboro, North Carolina Travel Guide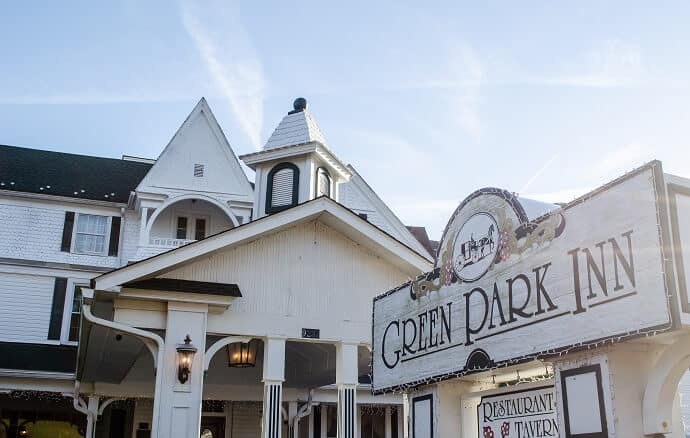 Long known as a posh getaway for famous people, the Green Park Inn is a historic hotel listed on the National Register of Historic Places.
Annie Oakley, JD Rockefeller, and even President Calvin Coolidge have stayed at this Blowing Rock, North Carolina hotel. Atlanta native Margaret Mitchell is said to have written parts of her Pulitzer Prize-winning Gone with the Wind while staying here.
From the moment we checked in to the time we left, the Green Park Inn felt cozy and really didn't give me the creeps. We even walked the halls of the third floor and past Room 318, both of which are supposedly haunted by the spirit of a woman who committed suicide there.
The hotel sits off US 321 and right across the street from one of North Carolina's most popular tourist attractions, the Blowing Rock. An on-site restaurant (the Chestnut Grille) and bar (Divide Tavern) are two great places to fill up before and after your day out in Blowing Rock.
But honestly, between them and the various sitting rooms and other places to chill out throughout the Green Park Inn, I think you could easily spend your days lazing around here without ever leaving. Check Rates on Hotels.com -Carl Hedinger of NC Tripping
READ MORE: Top 10 Unique Things To Do in Asheville, NC
Haunted Hotels in Texas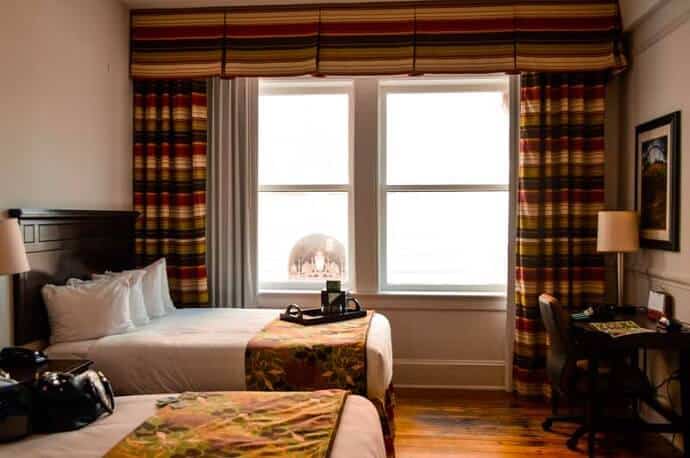 There are many things to do in San Antonio, which ranks among the most popular cities in Texas.
Other than delicious eats and countless leisure getaways, you can also choose to stay at one of several haunted hotels in the city. From Hotel Gibbs to the Emily Morgan Hotel, San Antonio is known for strange happenings.
During my visit I stayed at the Menger Hotel, which was set up across from the Alamo and is considered among the most haunted hotels in Texas. The Menger has beautiful interiors and offers a variety of rooms, with a friendly and easy-going ambiance that belies its haunted history.
Still, the Menger Hotel's past is, shall we say, complicated. From the Civil War and recruitment for Teddy Roosevelt's Rough Riders to fires, robberies, and murders, this historic building has witnessed more deaths than most.
Both guests and staff alike have reported many incidents of paranormal activity at the Menger. Whether it be strange noises or translucent faces, the spirits from the past seem to linger on.
When you're in San Antonio, check out the local Ghost Tour or some of the other fun tourist activities available through Viator. Check Rates on Booking.com -Daisy Li of Beyond My Border
READ MORE: Rescuing Sea Turtles with Sea Turtle Inc in South Padre Island, Texas
Haunted Hotels in Washington, D.C.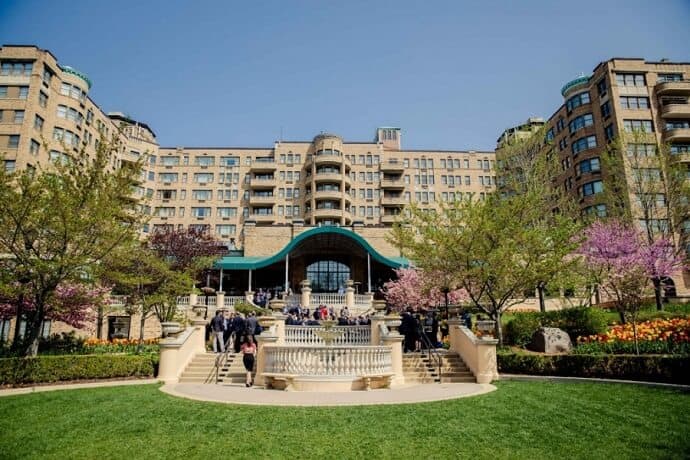 Originally built in 1930, the Omni Shoreham Hotel in Washington DC has housed many guests (and, according to some visitors, ghosts).
There are multiple different types of rooms that you can book, but the infamous haunted area is the hotel's suite. The suite had numerous deaths and suicides recorded early in the hotel's history, and the "ghost suite" can be booked during room overflows and on request.
I haven't stayed in the suite personally (and certainly don't plan on doing so), but the rest of the hotel has a funny feeling no matter which room you're in. Past guests have reported hearing loud noises, piano playing, and seeing strange figures throughout various parts of the hotel.
With these stories in mind, come prepared to see something spooky! On top of haunting places and creepy hotels, there are also plenty of other things to do in Washington DC.
If you're interested in seeing more of the city after getting the pants scared off you, you can visit the highlights during a Washington DC tour through Viator. Check Rates at Booking.com –Casey LaClair of Viraflare