[Updated 11/5/22] Christmas has been celebrated as a Christian holiday dating back to A.D. 336. Many of the traditional symbols of Christmas transcend cultures and continents, including Christmas trees, gifts, ornaments, and Santa Claus (who's known by many names).

The holiday's widespread popularity supersedes both its religious and pagan origins. Did you know that, while 70% of the planet's population is not Christian, nearly 80% of the world's countries observe Christmas traditions in one form or another?

Yet Christmas legends and Christmas traditions around the world vary drastically, with each culture adopting their own customs, their own holiday folklore, and their own Christmas dishes.

This in no way diminishes the religious implications for those who observe the holiday for those reasons.

It's more a testament to the power of these ancient Christmas customs– evidence that we all want to commune, commemorate, and care for one another.

Each of those traditional Christmas symbols—evergreens, candy canes, wreaths, stockings— has a fascinating history that explains how it worked its way into the hearts of millions of people.

So read on for a deep dive into 30 symbols of Christmas and learn the meaning of traditional Christmas Decorations- such as mistletoe, twinkling Christmas lights, and more!
READ MORE: 90 Christmas Traditions Around the World
Symbols of Christmas Guide
Advent Calendar
Advent Candles
Angel Tree Toppers
Boughs of Holly
Christmas Bells
Christmas Candy Canes
Christmas Dove
Christmas Elves
Christmas Garland
Christmas Lights
Christmas Ornaments
Christmas Pickle
Red & Green Christmas Colors
Christmas Tree Tinsel
Christmas Wreath
Evergreen Christmas Trees
Giving Christmas Gifts
Hanging Christmas Stockings
Hanging Mistletoe
Gingerbread
Poinsettia Plant
Santa Claus
Santa's Reindeer
Yule Log
Star Tree Topper
Christmas Bows
Christmas Cookies
Eggnog
Christmas Cards
12 Days of Christmas
1. Advent Calendar
Advent calendars are special calendars used to count down the days until Christmas.
Each day (starting on December 1st and running until the 25th) coincides with a small door that can be opened to reveal a Christmas picture, and sometimes even a piece of chocolate or small candy.
The Advent calendar tradition is of German origin. It dates back to the mid-19th century, when German Protestants made chalk marks on doors or lit candles to count the days leading up to Christmas.
Gerhard Lang is credited as the creator of the first printed Advent calendar, after being inspired by a homemade calendar his mother had made for him.
He modified the original to include little doors, which have now become a staple of Advent calendars.
Lang later co-founded the Reichhold & Lang printing company, which printed cardboard Advent Calendars.
While this type is still around today, versions made out of different materials and designs are widely used in homes all across the world.
READ MORE: 20 Fun Christmas Eve Traditions Around the World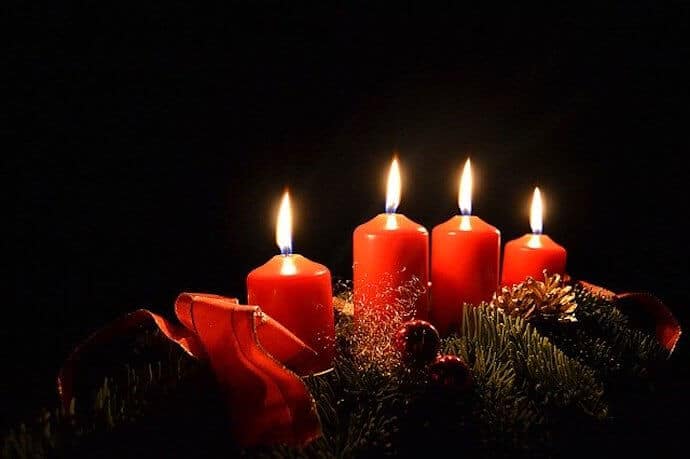 2. Advent Candles
Advent candles were originally part of the holiday wreath tradition, and the two combined as part of a long-standing Catholic tradition.
That being said, there is historic evidence that Germanic people used wreaths and candles in the time before Christianity to provide hope during the dark days of winter.
In fact, the Catholic Church didn't actually adopt the tradition until some time in the Middle Ages!
The four candles symbolize the number of weeks for Advent. Traditionally, three of these candles are purple, standing for prayer, penance, and preparation.
The other candle, which is lit on the third Sunday of Advent, is rose-colored. It signals a time of rejoicing. New religious practices sometimes change the color of the candles to uniformly white.
Regardless, the light of the Advent candles symbolize Jesus Christ as "the light of the world."
READ MORE: The 20 Best Places to Spend Christmas in the USA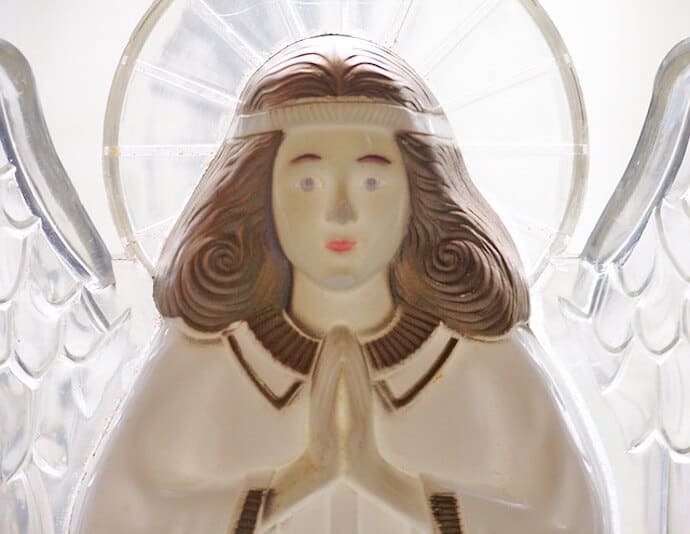 3. Angel Tree Toppers
With Christmas being primarily known as a Christian holiday, it's no wonder that one of the most recognized Christmas tree decorations is the Christmas angel tree topper.
The angel represents the role of angels in the birth of Jesus. As recounted in the most famous Bible story of all, angels appeared in the sky over Bethlehem to announce the savior's birth.
For many faithful Christians today, the Christmas tree angel is the culmination and highlight of their most meaningful holiday décor.
READ MORE: 30 Recycled Christmas Decorations & DIY Christmas Crafts to Make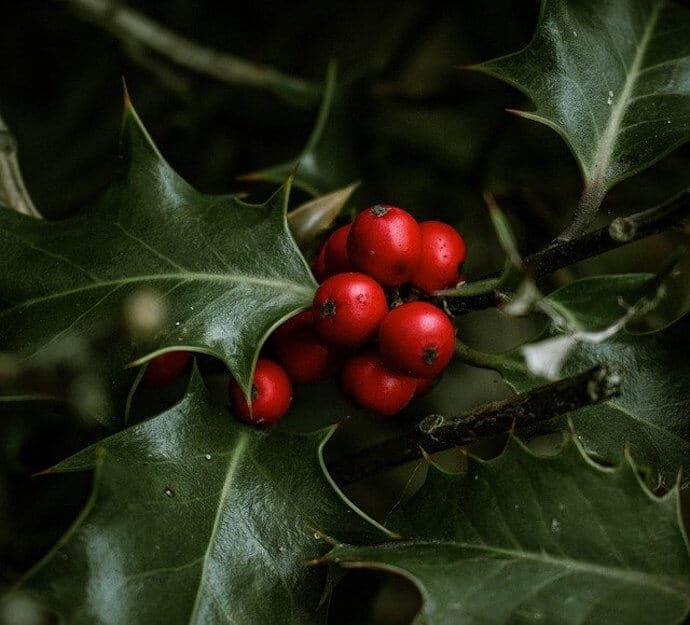 4. Boughs of Holly
Boughs of holly were made famous by the opening line of the Christmas carol, "Deck the Halls."
The song was written by Scottish composer Thomas Oliphant in 1862, using a Welsh melody that dates back to the 16th century.
But the red-berried greenery was an important wintertime accoutrement long before it earned a place of honor amongst our quintessential Christmas decorations.
Ancient druids admired holly's resilience, and regarded the plant as an emblem of eternal life. So while it was bad luck to chop down a holly tree, hanging boughs of holly in the home brought good luck.
Romans connected holly with Saturn (their god of agriculture and harvest) and hung boughs of it for Saturnalia, the Pagan festival that many historians say ultimately became Christmas.
Christians adopted the symbol many years later, assigning it a new meaning. For them, the red berries represented the blood of Christ, and the pointy leaves the crown of thorns placed upon his head as he was crucified.
READ MORE: 20 Awesome Things to Do for Winter in North Carolina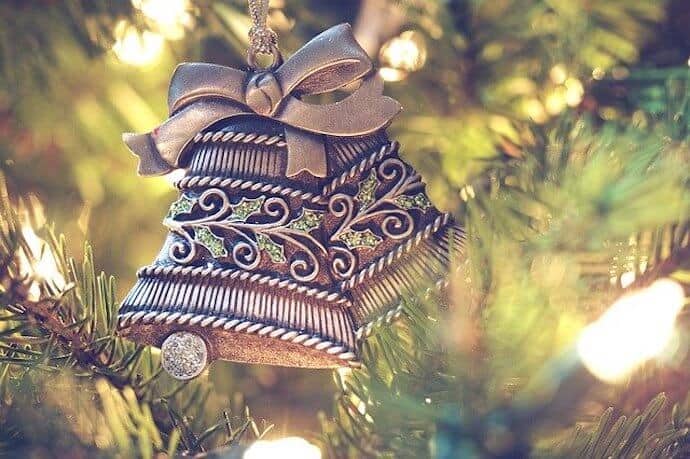 5. Christmas Bells
Bells were a part of significant events and celebrations long before Christianity, and the noise they made was originally used to ward off evil spirits.
Later, the bells were used to announce any big moment, good or bad, which is why they were used for the birth of Christ.
As Christian churches expanded across Eurasia, bells became a standard feature of them because they announced the start of church services to the community.
So Christmas bells were rooted in the ringing to announce church services on the holiday.
Christmas bells later branched out into being used as musical instruments for children and carolers.
As a result, they became one of the most common of all Christmas ornaments.
READ MORE: Atlanta Christmas Events: 50+ Things To Do for Christmas in Georgia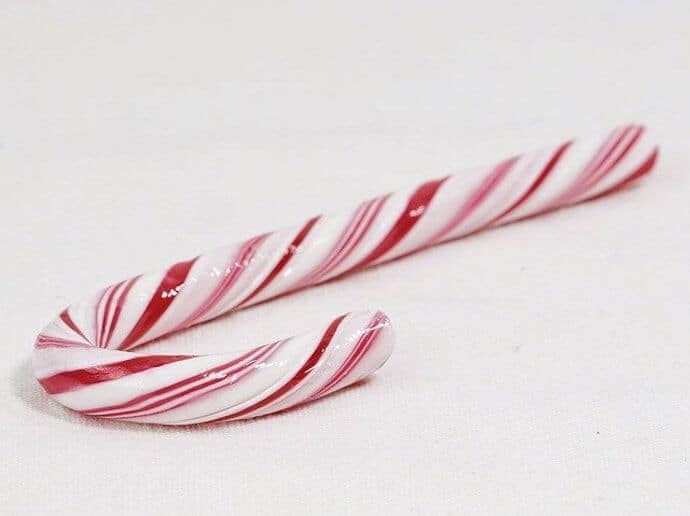 6. Christmas Candy Canes
When the Christmas tree was adopted in Germany in the 1600s, along with it came the tradition of hanging sweets on the tree.
Included in the original sweets was a popular candy called a sugar stick. This traditional Christmas candy was straight and completely white.
According to folklore, the curved crook was introduced to the sugar stick back in 1670, when a choirmaster at the Cologne Cathedral altered the shape to resemble a shepherd's staff.
Stripes weren't added to the candy cane until the 20th century, some 200-plus years later. But no one is really certain how or why the stripes came to be.
During the early 1900s, the peppermint and wintergreen flavors were added.
The Christian legend of the candy cane has a different take. Some claim that the shape of the candy is actually a "J" for Jesus, and that the red and white stripes represent blood and purity.
However, there is no historical evidence for this particular candy cane story.
READ MORE: NYC Christmas Window Displays: A Free Walking Tour in New York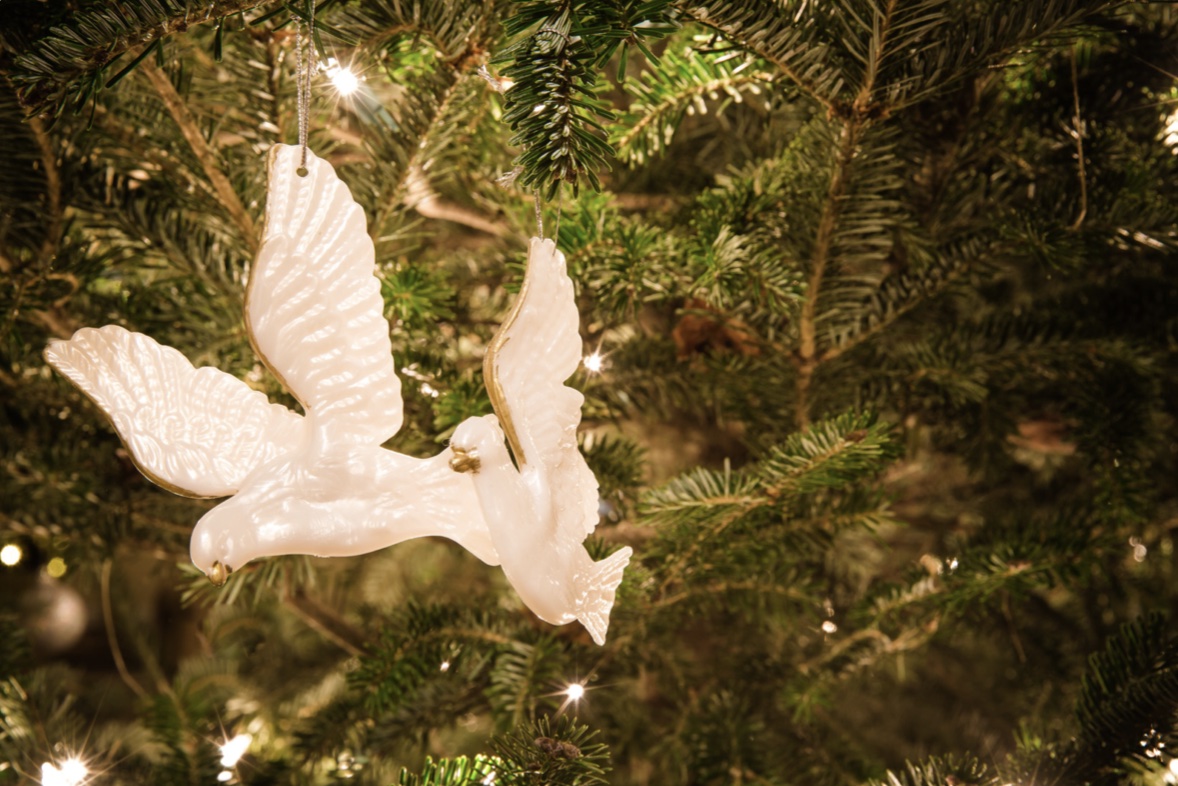 7. Christmas Dove
You can often find a white dove ornament perched between the branches of Christmas trees. But why?
White doves have been a popular Christmas tree decoration and Christmastime symbol in general for centuries.
The idea of associating doves with Christmas originated in the Bible.
Following the Three Wise Men (who brought gold, myrrh, and frankincense as gifts to the baby Jesus), shepherds bore more modest gifts such as fruits, honey, and doves.
The dove, which is referenced a number of other times in the Bible, represented peace on Earth, and has become a traditional symbol of peace during the holiday season.
READ MORE: Countries That Do Not Celebrate Christmas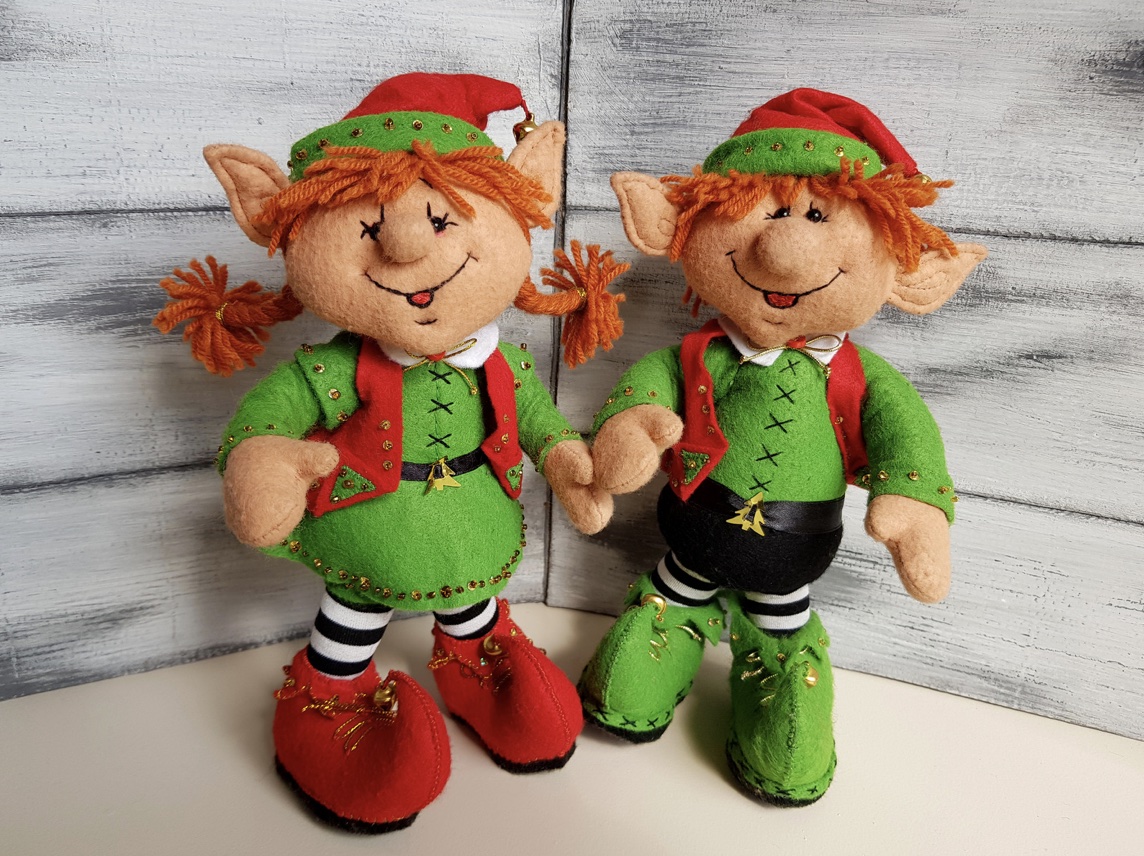 8. Christmas Elves
Originating in Scandinavian, Germanic, and British folklore, elves were described as tiny, immortal creatures that possessed magical powers.
They were believed to protect homes against evil and would reward good behavior, but play tricks on people if they misbehaved.
These mischievous creatures made their way into Christmas folklore in the 19th century, when Christmas celebrations were gaining in popularity.
Scandinavian writers created the elves' role as Santa's helpers, who would keep Santa's naughty and nice list in order and help design and make toys for children. From there, elves became synonymous with Santa and the North Pole.
They've made their way into many modern households through the "Elf on the Shelf" tradition.
This involves a special elf being sent to a family's home from the North Pole to keep an eye on the kids and see if they're going to make the naughty or nice list.
READ MORE: 15 Simple Recycled Christmas Cards Crafts for Kids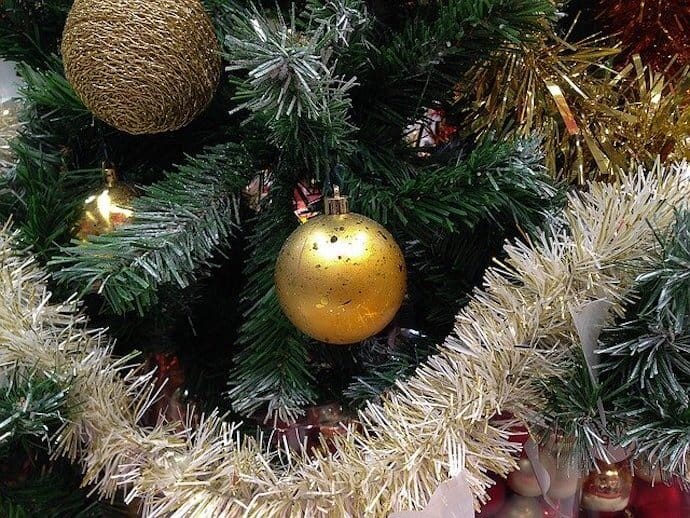 9. Christmas Garland
Evergreen boughs have been a part of winter celebrations for countless centuries, and the Winter Solstice has long had evergreen holiday garland among its many traditions.
The evergreen originally provided inspirational persistence to help people get through the cold, dark days of winter.
When Christianity came along, the Christmas celebration simply adapted this custom. But as the years have passed, most Xmas garland has morphed into something completely different.
Artificial Christmas decorations now rule the day, and so we have garland made of everything from strings of lights and paper snowflakes to shiny tinsel.
READ MORE: The 10 Most Festive Christmas Towns in Virginia to Visit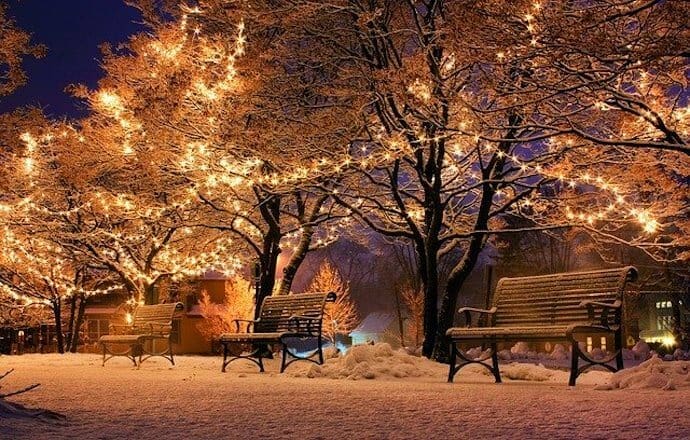 10. Christmas Lights
Christmas lights were the brainchild of Edward Hibberd Johnson, who was Thomas Edison's boss and a promoter of his inventions.
Before Christmas lights were hung on real Christmas trees, people used candles, which obviously brought huge risks. With Edison's light bulb invention and the holiday-related fire hazard, Johnson saw an opportunity.
Johnson, who was part owner of the Edison Lamp Company, set up a window display that wowed the newspaper reporters of his day.
People would visit just to admire the bulbs, just as we do with outdoor Christmas lights displays today.
Astoundingly, the entrepreneur created an appetite for Xmas lights before electricity was even commonly available! Nowadays, some 150 million lights a year are sold in the US alone.
READ MORE: 20+ Best Christmas Lights Displays in Georgia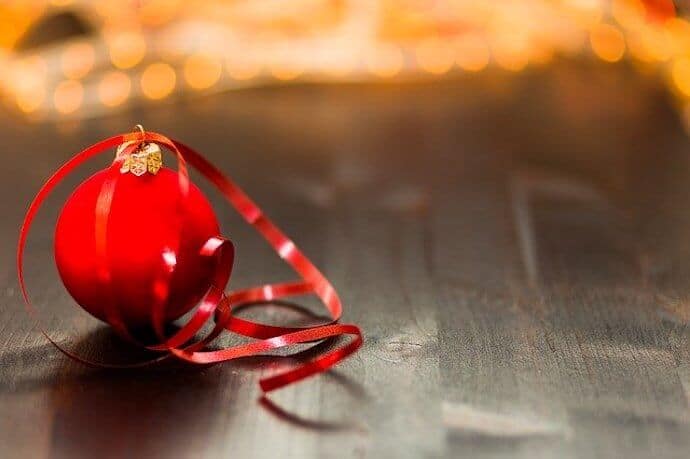 11. Christmas Ornaments
As mentioned above, the use of evergreen trees to observe winter holidays dates back long before Christmas was created. But the Christmas ornaments we use to decorate them are a mere 500 years old!
In the 16th century, Germans began decorating their trees with real apples, candles, nuts, and berries.
At that time, these trees were known as "paradise trees" (perhaps a reference to the Garden of Eden?).
The puritanical early Americans were initially less inclined to adopt the Christmas tradition. That is until a depiction of Queen Victoria (who was married to German Prince Albert) included a decorated Xmas tree.
Wealthy Americans soon followed suit, and businesses caught on to a profitable marketing scheme.
By the late 1800s, the Woolworth department store was selling millions of dollars' worth of German-imported Christmas ornaments every year.
READ MORE: 15 Fun, Festive Ways to Celebrate Christmas in Helen GA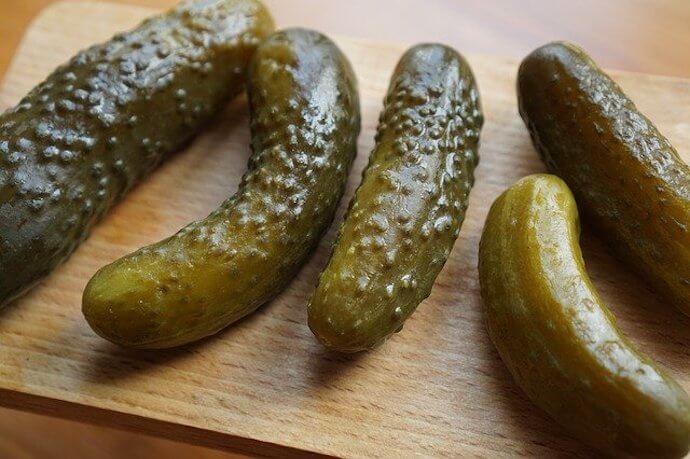 12. Christmas Pickle
While many of us did not grow up with the Christmas pickle as a symbol of Christmas in our homes, these unique ornaments have become increasingly commonplace.
And yet the origins of the pickle as a Christmas tree ornament remain up for debate.
The Christmas pickle tradition holds that, once the children are asleep, parents will hang a glass pickle on the tree. The first child to spot the pickle on Christmas morning gets to open a special present.
Some people think this odd tradition was passed down from Germany. Some believe a story about a Civil War soldier who was saved from starvation by a pickle.
Others believe St. Nicholas once saved two boys from drowning in a pickle barrel.
But Martha Stewart suggests that the Christmas pickle was most likely just a gimmick to sell more ornaments. Ultimately, who knows how this weird Christmas decoration came to be a common thing?
READ MORE: The Best Food Gifts From Around the World (The Ultimate Gourmet Guide)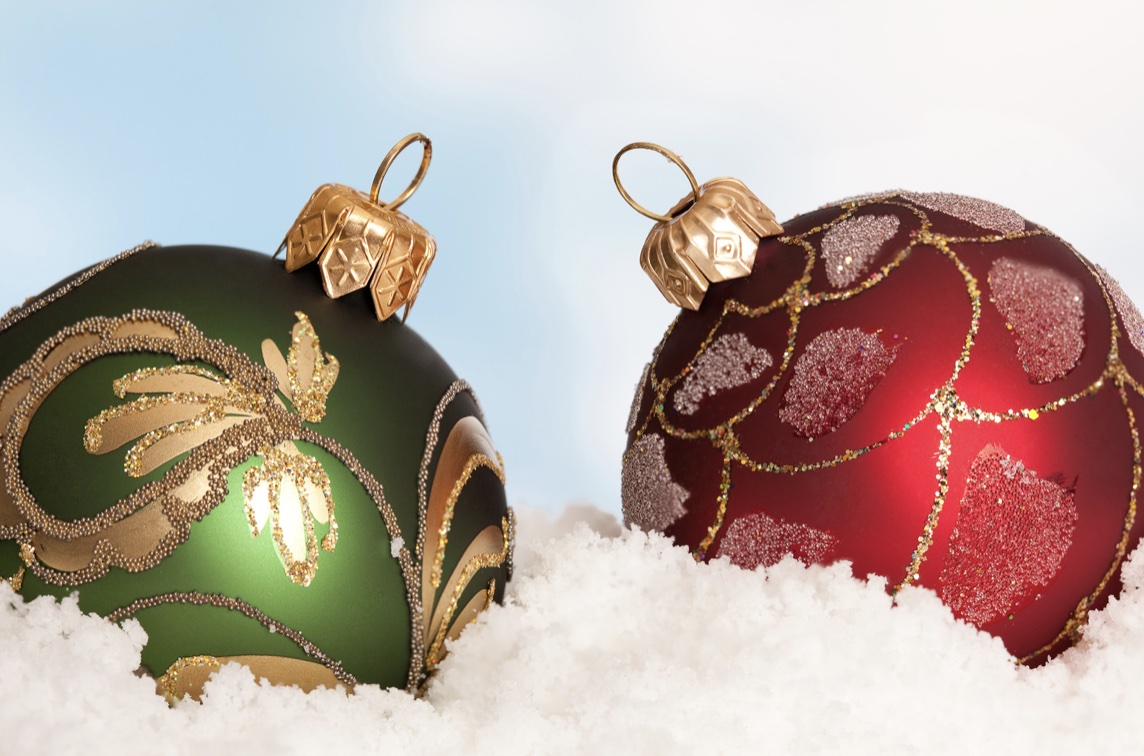 13. Red and Green
Christmas Colors
When you think of Christmas colors, red and green immediately come to mind. And while nobody knows for certain how they became the unofficial colors of Christmas, there are a few theories…
Many Christians see the colors as being inspired by the life of Jesus, with green representing the everlasting life of Christ (much like evergreen trees, which stay green all winter long) and red representing the blood shed during his crucifixion.
Historians argue that the colors originated during the ancient celebration of Saturnalia, where Romans would hang boughs of Holly in their homes. The tradition of hanging red and green holly evolved into hanging other red and green decorations.
But what really solidified red and green as Christmas colors was actually Coca-Cola!
In 1931, they created magazine ads that featured Santa dressed in red (the brand's trademark color) surrounded by a green border and writing.
The ads became so popular that they defined the American image of Santa, and red and green were solidified as the colors of Christmas in most people's minds.
READ MORE: The 15 Best Christmas Towns in Georgia to Visit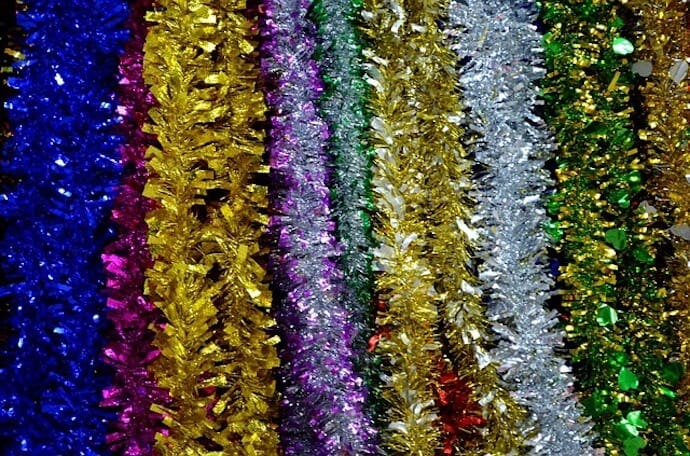 14. Christmas Tree Tinsel
Once more, we return to German Christmas traditions to find the origins of tinsel. The original Christmas tinsel strands were not just colored silver: They actually were silver!
Silver tinsel was actually made of silver that had been hammered out super thin and cut into strips.
Unfortunately the smoke from candles on the Christmas tree turned the silver tinsel black, so tree tinsel evolved.
Nowadays, it is found in many shapes and colors. There's gold tinsel, multicolored tinsel, tinsel garlands, and Christmas trees made entirely of tinsel.
Fortunately for our holiday budgets, there are no precious metals involved.
READ MORE: 40 Ways to Celebrate New Year Traditions Around the World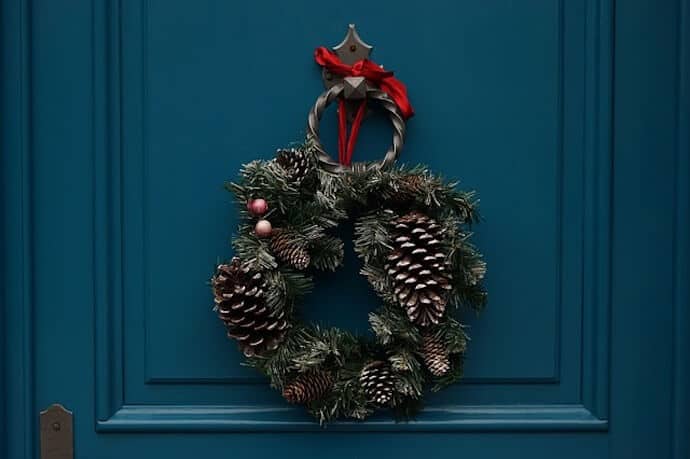 15. Christmas Wreath
Another nod to the pagan (a.k.a. polytheistic) influence on Christmas, holiday wreaths are another variation on boughs of evergreen historically brought in to brighten homes during the bleak wintertime.
However, the wreath actually made its first big stir in ancient Greece, where wreaths of laurel were worn somewhat like crowns.
These laurel wreaths were donned by athletes who had won competitions, as well as by priests, brides, and guests of honor.
Christmas wreaths, on the other hand, started off as ornaments rather stand-alone décor. Since then, lots of symbolic meaning has been given to the wreath.
The wreath's circular shape and evergreen material are said to represent eternal life. A German pastor converted it into a symbol of Advent by adding candles, with one for each week leading up to the holiday.
READ MORE: 10 Great Places to Celebrate Christmas in Virginia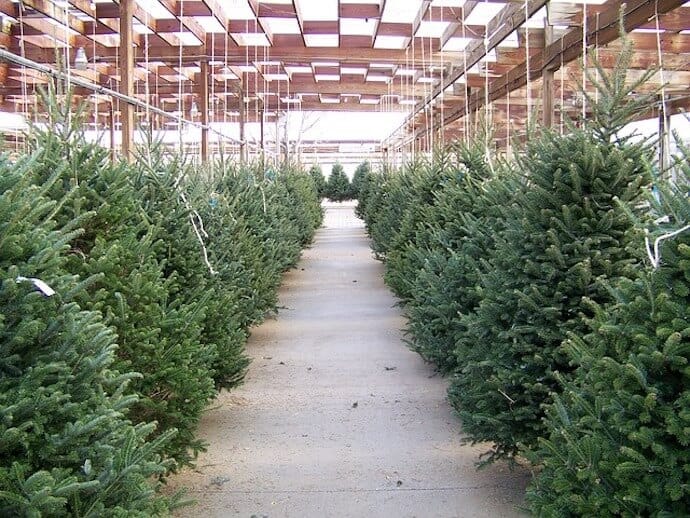 16. Evergreen Christmas Trees
As we know by this point in our story, the history of Christmas trees started long before Christmas became the most important Christian holiday.
Evergreen plants have long held symbolic significance during the wintertime. Among the ancient Egyptians, Celts, Druids, Romans, and Vikings, they were believed to keep evil and illness away.
Germany is credited with the first legit real Christmas tree, with a tradition that kicked off in the 16th century.
This was when the triangular shape became a common thing, which added more Christmas tree meaning.
Now, the three corners of the triangle represented the Holy Trinity of Christianity- the Father, the Son, and the Holy Ghost.
Americans were slow to adapt to this as one of the Symbols of Christmas, waiting until the mid-1800s.
But now Christmas tree farms are in all 50 states, with Boone NC Christmas Tree Farms being well known for having some of the best trees in the eastern United States.
READ MORE:The 15 Best Christmas Towns in North Carolina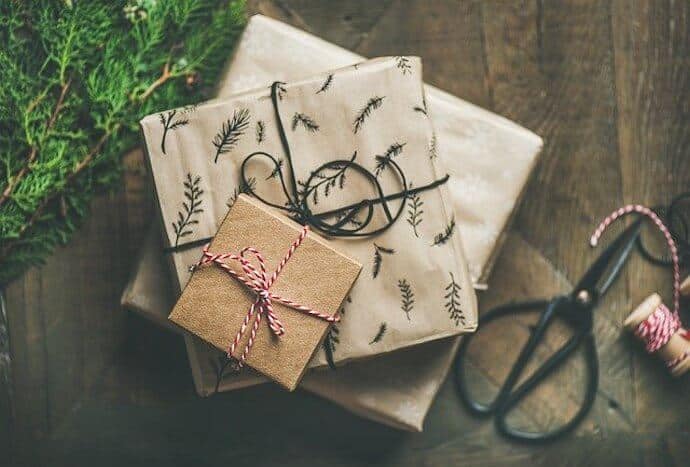 17. Giving Christmas Gifts
Christmas gift giving is yet another continuation of pagan traditions, in particular the Roman festival of Saturnalia.
Saturnalia began on December 17 and culminated a week later on December 24.
During this celebration (which included a feast, drinking, gambling, and other makings of merry), presents such as pottery, fruit, nuts, and candles were exchanged.
Though early Christians wanted to completely do away with the pagan traditions, church leaders feared a significant backlash in the case of Saturnalia.
So instead we got Christmas gifts– an homage to the three wise men bringing the baby Jesus gold, frankincense, and myrrh.
Since then, Christmas presents have transformed into the fulcrum of the festivity. Of course these days the custom centers around children, with long lists of Christmas gift ideas sent to Santa so his elves will have time to make the toys.
READ MORE: Best Gifts for Travelers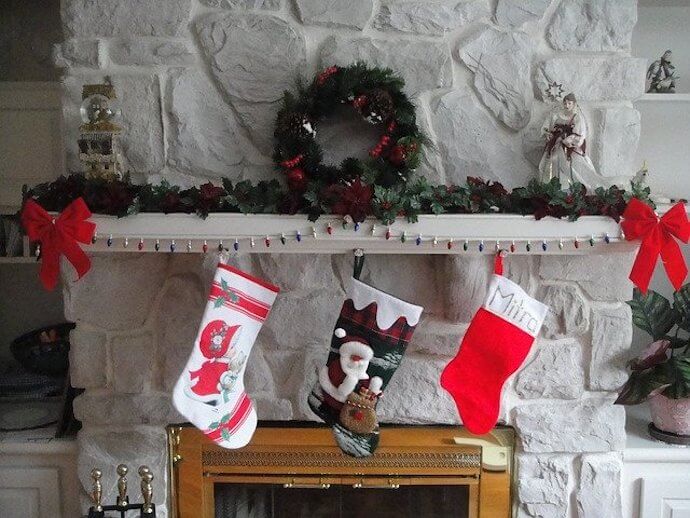 18. Hanging Christmas Stockings
Stockings hanging along the fireplace mantle is arguably one of the most recognizable symbols of Christmas.
Historians believe this tradition got its start before Christmas was widely celebrated, and that the real St. Nicholas (a.k.a. Santa Claus, Father Christmas, etc) was the catalyst.
After his parents died in an epidemic, the Greek Christian bishop spent his life sharing the family fortune to help the poor and needy.
He was known to drop gold coins into the socks of girls who couldn't afford dowries. He would drop the riches down the chimney or through the window, and it would land in stockings that were hung to dry.
The Christmas sock tradition in the US and Europe dates back to at least the 1700s. It even appears in the famous 1822 poem, "A Visit from Saint Nicholas", also known as "Twas the Night before Christmas."
READ MORE: Best Environmental Charities & Animal Charities for Holiday Donations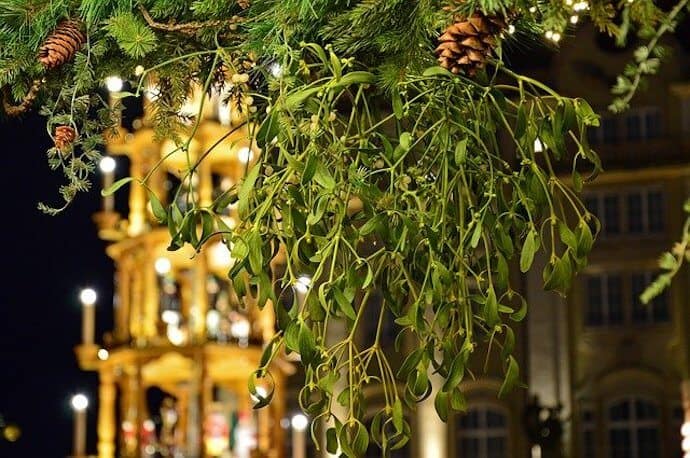 19. Hanging Mistletoe
Mistletoe was often part of ancient Druid and Celtic wintertime rituals. Back then the mistletoe plant was considered a cure-all with preternatural powers.
However, the kissing under the mistletoe at Christmas tradition began with Norse mythology.
Baldur, who was born to the Norse goddess Frigga, was supposed to be protected from every plant. But unfortunately, Frigga forgot to have mistletoe agree to this edict.
Consequently, the trickster god Loki fooled another god into killing Baldur with a mistletoe spear. After a failed attempt to revive Baldur, it became tradition that any two people passing under mistletoe would kiss in his memory.
One last interesting mistletoe fact: The word is of Anglo-Saxon origin, with "mistle" meaning dung and "toe" meaning twig. So, linguistically, mistletoe translates to "dung on a twig." Happy kissing!
READ MORE: 15 Festive Ways to Celebrate an Asheville NC Christmas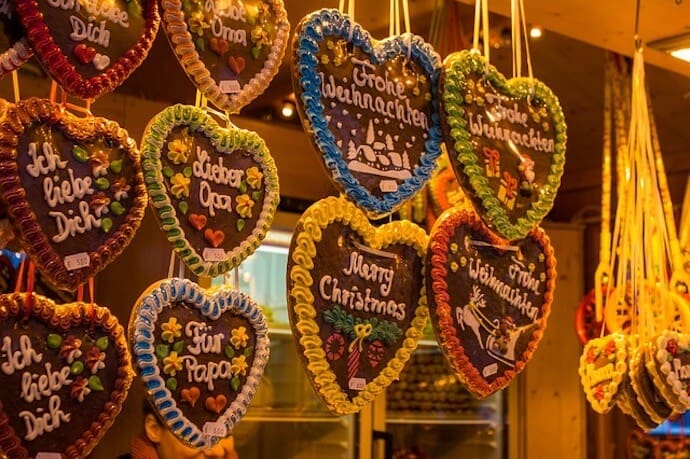 20. Lebkuchen (German Gingerbread)
Gingerbread is among the most common go-to Christmas treats, providing the makings of both (gingerbread) men and (gingerbread) houses.
But this holiday tradition actually began with German Christmas cookies, aka Lebkuchen cookies. Amazingly, 13th century monks are credited with creating these German gingerbread cookies.
Well-baked German gingerbread is quite different from the dry, rigid gingerbread many of us have grown accustomed to. Instead, an authentic Lebkuchen recipe produces a much more cake-like (and very sweet) cookie.
Lebkuchenherzen are heart-shaped and typically as big as dinner plates, and they are still a favorite Christmastime staple in Germany today.
READ MORE: German Christmas Cookies- Lebkuchen Recipe (aka German Gingerbread)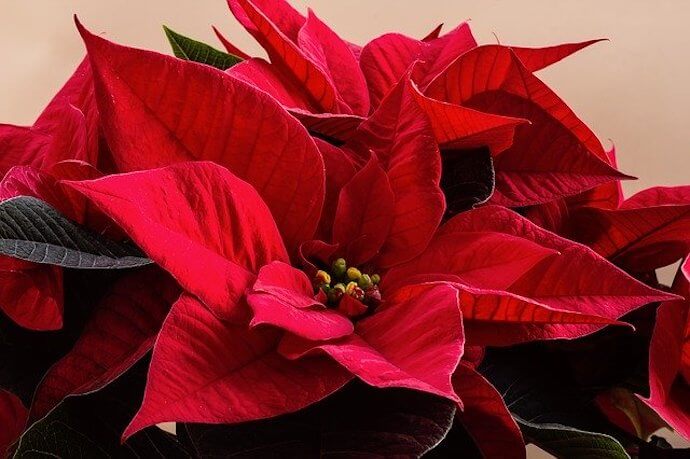 21. Poinsettia Plant
How did the tropical poinsettia flower, which is native to Central America, become a part of one of the Symbols of Christmas?
Legend has it that a young girl named Pepita was upset because she had no gift for the baby Jesus.
When she was told that Jesus would love any present she had to offer, she picked weeds that she put near a nativity scene.
The weeds transformed into the lovely red flowers we now know as red poinsettia. Pink and white poinsettia plants are a thing, too.
In reality, the "flower" of the poinsettia is actually the plant's leaves.
The poinsettia plant was named after Joel Roberts Poinsett, the first-ever U.S. ambassador to Mexico, who brought them home in the early 1800s.
But displaying poinsettias for Christmas didn't become a U.S. tradition until over 100 years later.
Entrepreneur Paul Ecke Jr. sent them to TV studios across the country to promote the idea, and they are now one of the most popular plants sold in the United States.
READ MORE: 40 Fascinating Christmas Traditions in Mexico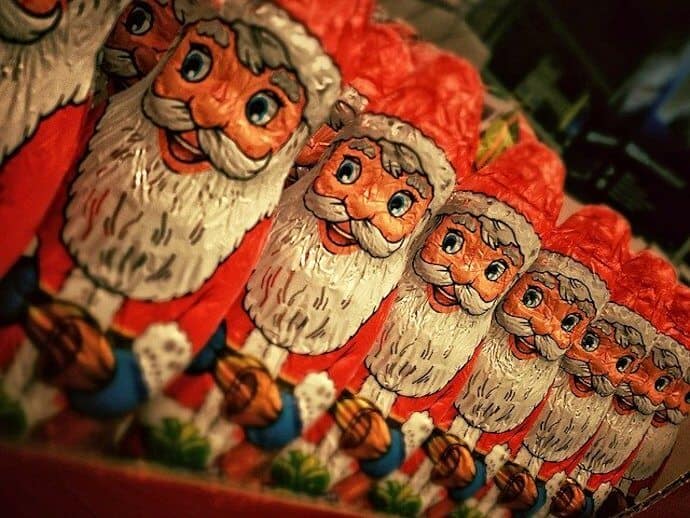 22. Santa Claus
Santa Claus as we now know him is an amalgamation of international influences.
His original persona dates back to the 3rd century in Turkey, where a monk named Nicholas was beloved for sharing his inherited family wealth to help the poor, sick children (and, oddly enough, sailors).
He eventually became the most popular saint in all of Europe.
After the Protestant Reformation, St. Nicholas remained especially revered in Holland, where he was nickname Sinter Klaas (a shortened form of Sint Nikolaas).
Sinter Klaas made it to the US in the late 1700s, brought over by Dutch immigrants. Holding a feast on the anniversary of his death, December 6, was and remains a Dutch tradition.
Santa's popularity in the States escalated in the early 1800s, when he became a figure in New York history, This was partly due to John Pintard (of the New York Historical Society) and Washington Irving, who included him in a book, The History of New York.
But jolly old St. Nick really made it big with the publication of Clement Clarke Moore's 1822 poem, "An Account of a Visit from Saint Nicholas".
By 1820, American retail stores were using Sinter Klaas's likeness to advertise at Christmas. And by 1840, Santa Claus himself was popping up in shops for children to visit.
READ MORE: The History & Names for Santa Claus Around the World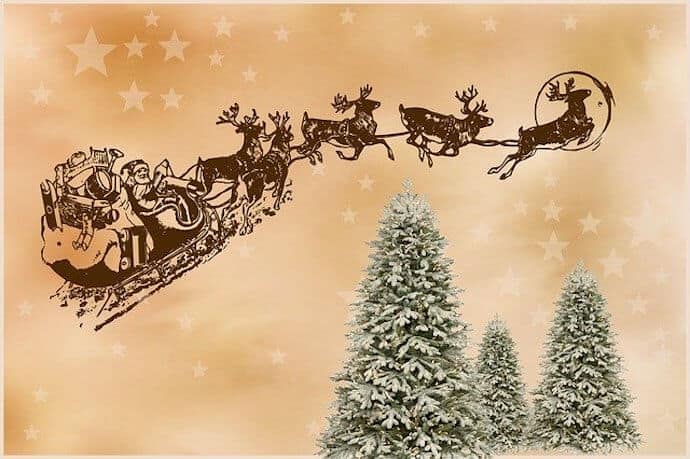 23. Santa's Reindeer
Oddly, the actual Saint Nicholas has no ties to reindeer whatsoever. He was from what is now Turkey, not anywhere near the animal's natural domain.
In fact, early versions of Saint Nick attached him to a ground-bound white horse.
The first recorded account of Santa's reindeer came in 1821, from a 16-page booklet with a poem titled, "A New Year's Present: To the Little Ones from Five to Twelve. Part III".
The writer remained anonymous, but publisher William Gilley relayed that the author knew of a such animals from his mother's account of the Arctic.
In terms of his legend, Santa did not yet live in the North Pole at this time!
A couple of years later, A Visit from Saint Nicholas upped the ante by not only having Xmas reindeer but giving them a headcount (eight) and individual names.
"Rudolf the Red-Nosed Reindeer" didn't appear until 1939.
That's when the most famous reindeer of all was introduced in a story by Robert L. May, a copywriter for Montgomery Ward.
READ MORE: The Best Gifts for Campers, Hikers & Nature Lovers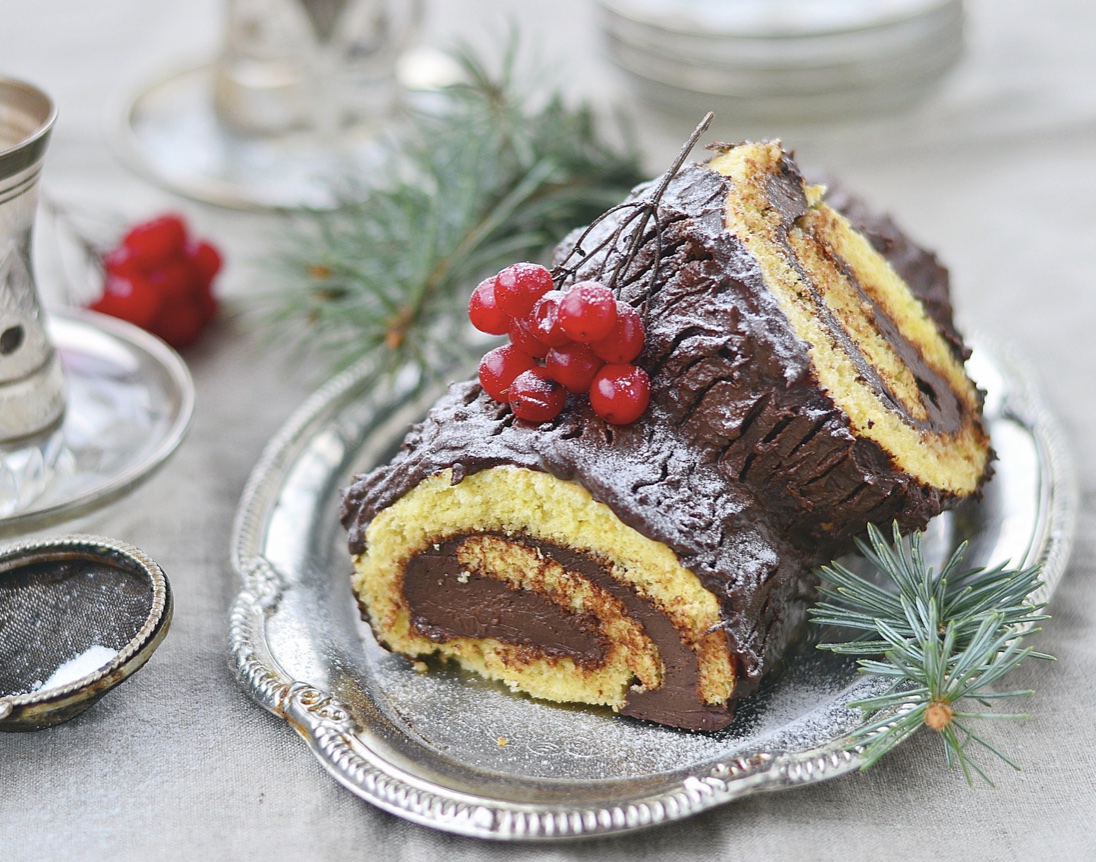 25. Yule Log
Burning a Yule log is an incredibly old tradition that predates Christianity.
It was originally used as part of Ancient Norse winter solstice celebrations, which eventually merged with Christmas holiday traditions in the early Middle Ages.
Christians adopted many secular traditions from winter solstice festivals, which is why the word "Yule" and "Yuletide" (which are related to the Old Norse word jól, the name of the Pagan winter feast) are now associated with Christmastime.
The Yule log tradition originally involved bringing an entire Yule log into a home, placing the larger end in the fireplace, and lighting a fire that would burn throughout the 12 days of Christmas.
Today the tradition is less common, but the symbol of Christmas remains.
Many families will burn a smaller Yule log during the holidays or enjoy an edible Yule log (La Bûche de Noël) as dessert after their Christmas dinner.
READ MORE: Traditional Food Around the World: 30 Famous Dishes You Can Make at Home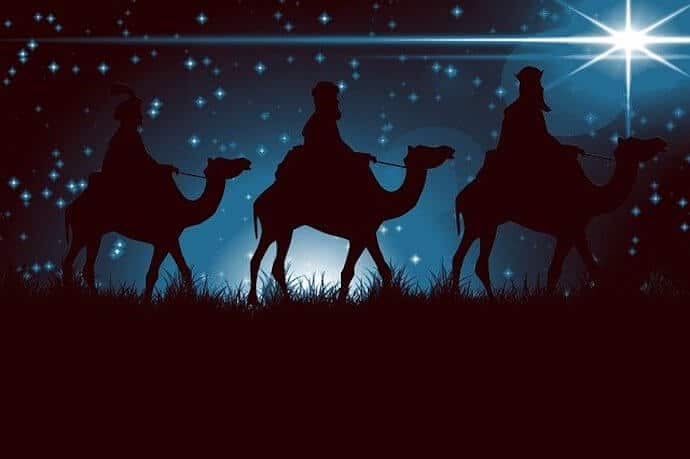 25. Star Tree Topper
The Christmas tree star topper comes from similar origins as the Christmas tree angel.
According to the Bible, a star rose with the birth of Christ. It helped to guide people to his birthplace in Bethlehem so that they could worship him.
So we put a star atop the Christmas tree to pay homage to the guiding light on that night.
With the Christmas holiday gradually becoming more and more secular, star tree toppers might be a bit more commonly appreciated now simply for their shape.
These days, trendy Christmas tree decoration designers are increasingly offering an array of unique Christmas tree toppers, including snowflakes, gingerbread houses, bows, and poinsettias.
READ MORE: 10 Eco Lessons in Quotes from the Lorax (Dr Seuss' Conservation Classic)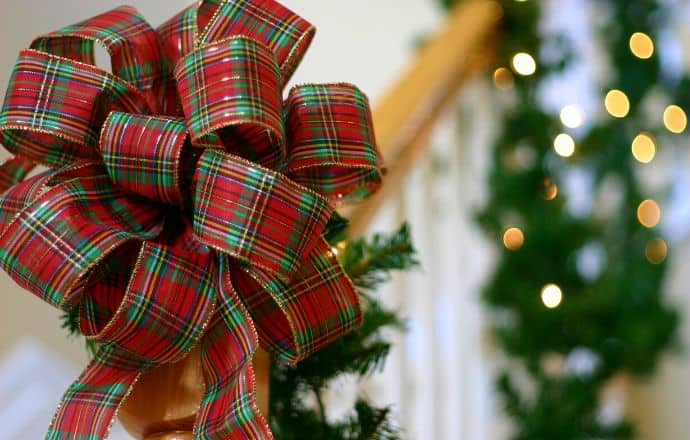 26. Christmas Bows
One of the most common decorations you'll see during the holiday season, Christmas bows are used on wreaths, presents, swags, and much more.
But if you've ever heard the classic song, "Tie a Yellow Ribbon 'Round the Old Oak Tree," you already know that bows can symbolize more than just pretty accessories for wrapping gifts, decorating mailboxes, and topping Christmas trees.
With its often-intricate methods of construction, the Christmas bow actually represents how the holiday season should bring us all together, bound by benevolence, goodwill, and unity.
In short, they're a Christmas symbol of peace and harmony within the community, which couldn't be more important in a world that is all too often polarized by differing ideologies.
27. Christmas Cookies
From decorating cookies with your parents and grandparents to leaving them out with a cold glass of milk for Santa, Christmas cookies have been an important part of holiday traditions for countless centuries.
Winter solstice feasts were originally held to celebrate the harvest, with wine and beer adding boozy holiday cheer. But by the Middle Ages, bakers were beginning to add desserts to the menu for special occasions, using butter, lard, and sugar to create sweet treats.
In Medieval Europe, exotic (and expensive) ingredients such as cinnamon, nutmeg, ginger, and dried fruit became more available, and gradually appeared in recipes for "biscuits" at Christmas time.
In the US, Christmas cookies were introduced in the late 18th century. But it was the changing of import laws in the early 19th century that brought the first ornately-shaped cookie cutters over from Europe.
Once the ability to bake cookies shaped like common Christmas symbols (stars, stockings, trees, etc) became accessible, more new cookie recipes were introduced. And eventually the American tradition of the Christmas cookie exchange was born!
28. Eggnog
Stores around the world seem to be putting out their Christmas decorations earlier and earlier in recent years. In the USA, many department and grocery stores have their Xmas displays up before Halloween.
For us, it's not TRULY the Christmas season until our local grocery stores start selling eggnog. Much like Girl Scout Cookies, eggnog is only available for a short time each year, and for us it's an annual holiday tradition.
But how did eggnog come to be such a popular Christmas drink? It started off in the UK, where they made a cocktail of milk curdled with spiced brandy or sherry and called it "posset."
Unfortunately, early American settlers didn't have access to these expensive ingredients. So they substituted it with homemade rum (a.k.a. "grog), and the creamy cocktail became known as "egg-and-grog."
It evolved into eggnog because it was served in wooden "noggin" mugs, and it became so popular in the U.S. that even George Washington had his own personal recipe!
29. Christmas Cards
It's a common Christmas custom to send Christmas cards to friends and family every year, often with a photo of your family and/or a note detailing the highlights of their year.
The Christmas tradition started back in 1843 with Sir Henry Cole, a British civil servant and inventor. The London resident was very popular at the time, and was receiving more holiday notes than he could handle due to the inexpensive nature of the penny stamp.
So the innovative Cole hired artist J.C. Horsley to create a festive holiday design he could have printed in huge quantities, and thus the world's first Christmas card was created.
It was German immigrant and lithographer Louis Prang who launched the first commercial Christmas card business in America in 1856, but the Hall Brothers (now known as Hallmark) popularized folded Christmas cards inside envelopes in 1915.
30. 12 Days of Christmas
Unless you're from a country that doesn't celebrate Christmas, you probably sing (or at least hear) this beloved Christmas carol in the weeks leading up to the holiday.
But did you know that the 12 days of Christmas actually refer to the 12 days between Jesus' birth on December 25 and the arrival of the Magi (a.k.a. 3 Wise Men) on January 6?
The original lyrics to this holiday classic date back to 1780, when they first appeared in a book for children, Mirth Without Mischief. But the lyrics were different from the version you know and love today: instead of a partridge in a pear tree, there was "a very pretty peacock."
British composer Frederic Austin adapted the tune to create the modern version of the song in 1909, adding the popular "Five gooooold rings!"
Interesting trivia: For 35+ years now, the
PNC Christmas Price Index
has calculated the total cost of every gift "my true love gave to me." As of 2021, the collective price was up to a whopping $41,205.58! – by
Jonathon Engels; with additional reporting by Christina Maggitas, lead photo via Canva