As rising numbers of diagnosed cases create growing concerns over the coronavirus (a.k.a. COVID-19), throngs of people have been swarming stores to stockpile medical, cleaning, and household supplies.
Just a few weeks into America's experience with this global pandemic, panic-stricken people have been hoarding more toilet paper, bleach, N95 medical masks, and hand sanitizer than they could use in a year. As a result, many grocery store shelves are empty of these important items.
Some opportunistic folks have tried hoarding hand sanitizer and price gouging for up to $80 a bottle on Amazon and eBay. Fortunately, both sites have banned price-gouging and booted the offenders, some of whom have gotten death threats for trying to capitalize on the COVID-19 crisis.
Using hand sanitizer and washing your hands frequently and thoroughly have been touted by the CDC as ESSENTIAL practices for the prevention of the Coronavirus. But if you find yourself staring at an empty shelf, there are simple ways to create your own DIY hand sanitizer at home.
What follows is a brief look at what COVID-19 is, how it spreads, how it's different from the flu, and how hand sanitizer works to prevent you from getting it.
We've also included instructions on how to make homemade hand sanitizer with just a few simple ingredients you can order online or you may have in your medicine cabinet already, and how to use them effectively.
And since we're not medical professionals, we've based this recipe on the World Health Organization's guide to local production, and included the CDC's recommendations as well. Read their full, detailed guides at the links below:
READ MORE: 10 Natural Travel Toiletries & Personal Care Products You Can Make
What is COVID-19?
The 2019 novel coronavirus, newly named COVID-19, is a type of Coronavirus.
Coronaviruses are a large family of viruses that can cause illnesses in people and animals. On rare occasions, viruses that infect animals can go on to infect people and then spread from person to person.
This is suspected to be the case with COVID-19, as the first infections have been traced back to a live animal market in Wuhan City, in the Hubei Province of China.
If contracted, the virus can cause mild to severe symptoms, including fever, sore throat, cough, shortness of breath, difficulty breathing, and in some cases even death.
People who have existing medical conditions (including diabetes, heart disease, autoimmune deficiencies, and lung disease) or who are older are more at risk for serious symptoms.
READ MORE: Going Green: 60 Tips for Earth Day & Every Day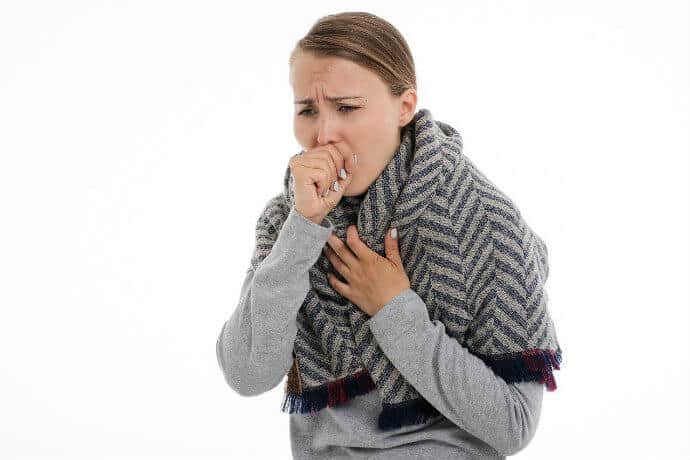 How is COVID-19 spread?
COVID-19 is mainly spread from person-to-person contact, through respiratory droplets produced by the coughs or sneezes of an infected person.
When someone with COVID-19 sneezes, the droplets can travel 6 to 10 feet before they drop to the ground. If the droplets land on fabric the virus can live for 6 to 12 hours; if they land on metal surfaces it can live for 12 hours.
The virus can then be transmitted by touching any surface or object that has these droplets on them, and then touching your mouth, nose, or eyes.
This is why practicing basic protective measures such as washing your hands THOROUGHLY, using hand sanitizer, and not touching your face are your best line of defense.
Scientists are still trying to figure out just how contagious COVID-19 is, and how to stop it. But we do know that the incubation period between exposure to the virus and developing symptoms can range from two to 14 days.
In other words, even if someone is asymptomatic (showing no symptoms), they can still pass on the virus to someone if they have been exposed to COVID-19 within 14 days of contact.
READ MORE: How to Avoid Products With Palm Oil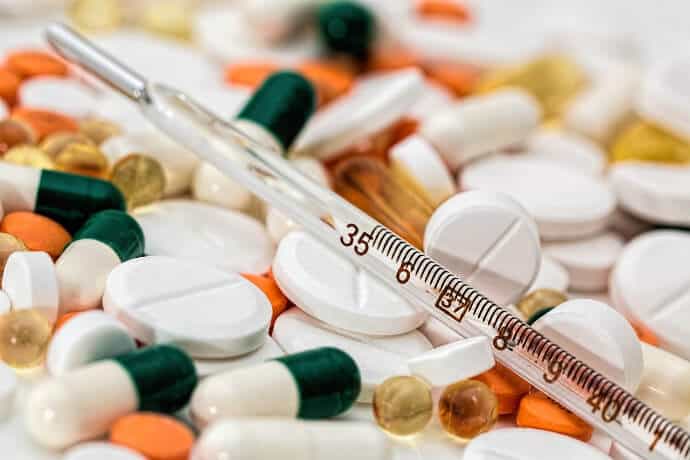 How is COVID-19 Different From Flu?
COVID-19 and the flu are both infectious respiratory illnesses. They can appear similar, causing many of the same symptoms. But at this point we have far more information about the flu.
The Coronavirus is so new, there has been no time to fully develop and test a COVID-19 vaccine yet. But numerous labs around the world are moving towards the human testing phase.
In order to figure out how easily a virus can spread, scientists determine a "basic reproduction number," or R0. This is an estimate of the average number of people who will catch the virus from a single infected person.
The flu has an R0 value of around 1.3, whereas preliminary studies have estimated that COVID-19 has an R0 value of 2 to 3. This means that each infected person has spread the virus to an average of 2 to 3 people.
As of mid-March, 2020) there were well over 100,000 cases of COVID-19 globally, whereas the flu affects millions of people each year. What we don't know yet is if the cases of COVID-19 will eventually reach those numbers (which appears likely due to the current trends in rate of infection).
If contracted, the flu's symptoms come on suddenly, whereas symptoms of COVID-19 can appear much more slowly. A person can be infected for two weeks without showing any symptoms at all.
If you are showing symptoms and/or if you have been in contact with someone who may have been exposed to COVID-19, don't go straight to the doctor. Instead, call your healthcare provider first to lower the risk of spreading the infection, and to find out how to proceed.
READ MORE: Top Foods to Buy Organic (& When It's Not Necessary)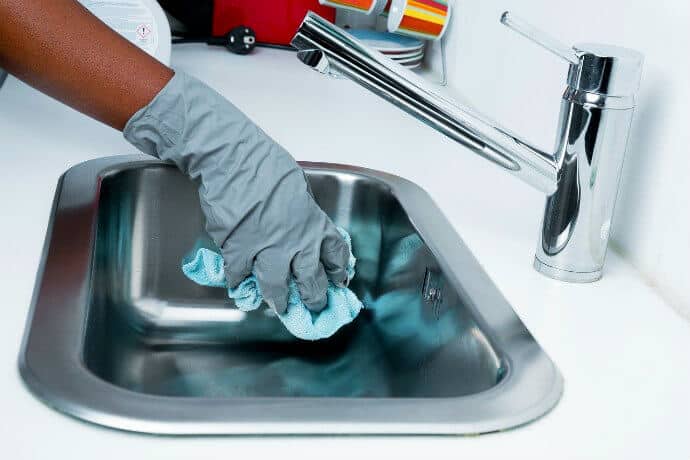 CDC Tips to Avoid Contracting COVID-19
• Avoid close contact with people who are sick, and stay home if you fall ill (except to get medical care).
• Clean and disinfect frequently touched surfaces, including tables, doorknobs, countertops, phones, toilets, faucets, and sinks daily.
• Avoid touching your eyes, nose, or mouth with unwashed hands. Although the virus can only live on your hands for 5 to 10 minutes, the average person touches their face around 23 times per hour, which can spread germs without you even realizing it.
• Wash your hands with soap and running water friendly for at least 15-20 seconds (about the time it takes to sing two verses of "Happy Birthday ") to remove and prevent the spreading of germs.
• Important times to wash your hands are before eating food, before caring for someone who is sick, after using the toilet, after touching an animal or handling pet food, after touching garbage, before and after preparing food, before and after treating a wound, and especially after blowing your nose, sneezing, or coughing.
READ MORE: Do It Yourself Pallet Projects (7 Easy Designs)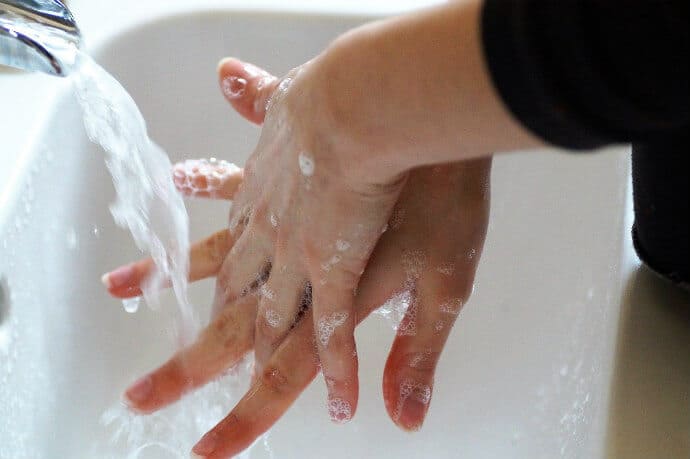 How to Wash Your Hands Effectively
Although it may seem like a simple task, the CDC lists five important steps you should follow to wash your hands effectively:
Wet your hands with clean, running water, turn off the water, and apply soap.
Rub your hands together with the soap to create a lather on the backs of your hands, under your nails, between your fingers, and on the palm of your hands. Lathering is important because it creates friction, which will help lift the microbes from your skin.
Scrub your hands for at least 15 to 20 seconds.
Rinse off your hands under the running water.
Either air dry your hands or dry them using a clean towel.
While washing your hands is the best way to combat the spread of germs, there are times when you aren't in close proximity to a sink. Particularly when you're at the grocery store, running errands, etc.
That's when having hand sanitizer around REALLY comes in handy.
To effectively use hand sanitizer, apply a generous amount of product to the palm of one hand and rub the product all over both hands, between your fingers and under your nails, until your hands are completely dry. This should take about 20 seconds.
It's important to note that the CDC says you should only use a hand sanitizer that contains at least 60% alcohol. And if your hands are visibly dirty, hand sanitizer might not be as effective.
READ MORE: 15 Ways to Reduce Waste & Embrace a Waste-Free Lifestyle
How to Make DIY Hand Sanitizer
For those situations where hand sanitizer is the best option, here's how to make your own DIY hand sanitizer, based on the WHO's guide:
Ingredients:
1 cup rubbing alcohol (90 to 99% isopropyl alcohol is best)
1 tablespoon hydrogen peroxide (3%)
1 teaspoon glycerin or 1/2 cup 100% Aloe Vera Gel
Clean water
Directions:
Combine alcohol, hydrogen peroxide, and glycerin or aloe vera gel together and stir.
Add water to reach 1 1/3 cups of sanitizer.
Using a funnel, pour the mixture into a pump bottle or empty store-bought hand sanitizer bottle.
READ MORE: 10 Green Products for a More Eco-Friendly Home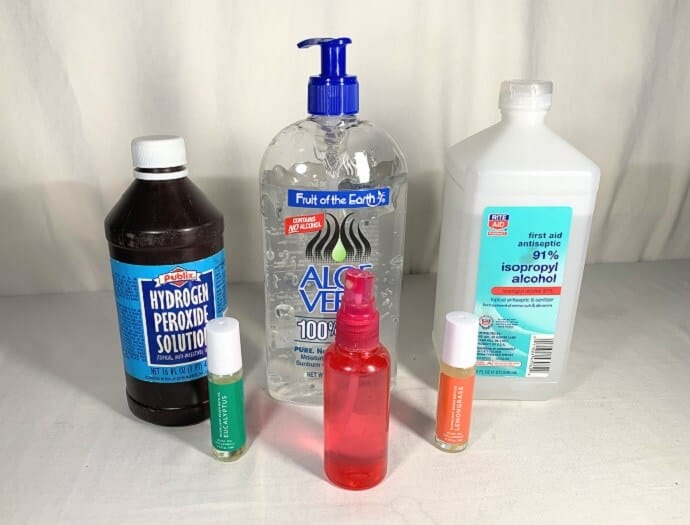 Essential oils such as lavender, lemongrass, eucalyptus, or peppermint can also be added. But then the ingredients will be slightly different.
If using essential oils, you should use 2/3 cups rubbing alcohol, 1/3 cup aloe vera gel, and 8-10 drops of the essential oil. All other directions remain the same.
The addition of any sort of perfumes or dyes is not recommended by the World Health Organization, due to the increased risk of allergic reactions. -Christina Maggitas