Hawaii's fourth largest island, Kauai, is known as the "Garden Island," and for good reason.
The island is filled with a variety of stunning terrain, including tropical rainforests, lush valleys, towering cliffs, and cascading waterfalls.
With some falls reaching hundreds of feet high and flowing into emerald pools and beautiful streams, the waterfalls in Kauai are nothing short of mesmerizing.
So read on to see our staff picks for the 15 best Kauai waterfalls, including directions on how to get to them!
READ MORE: The 20 Best Things To Do in Kauai, Hawaii (for Nature Lovers)

Best Kauai Waterfalls Guide
Hanakapiai Falls
Hanakoa Falls
Hinalele Falls
Hoolea Falls
Ho'opi'i Falls
Kalihiwai Falls
Kilauea Falls
Kipu Falls
Opaekaa Falls
Manawaiopuna Falls (aka Jurassic Park Falls)
Mount Wai'aleale Falls
Queen's Bath
Secret Falls (aka Uluwehi Falls)
Wailua Falls
Waipo'o Falls
READ MORE: Exploring Polynesian Culture: Food, Music, History & More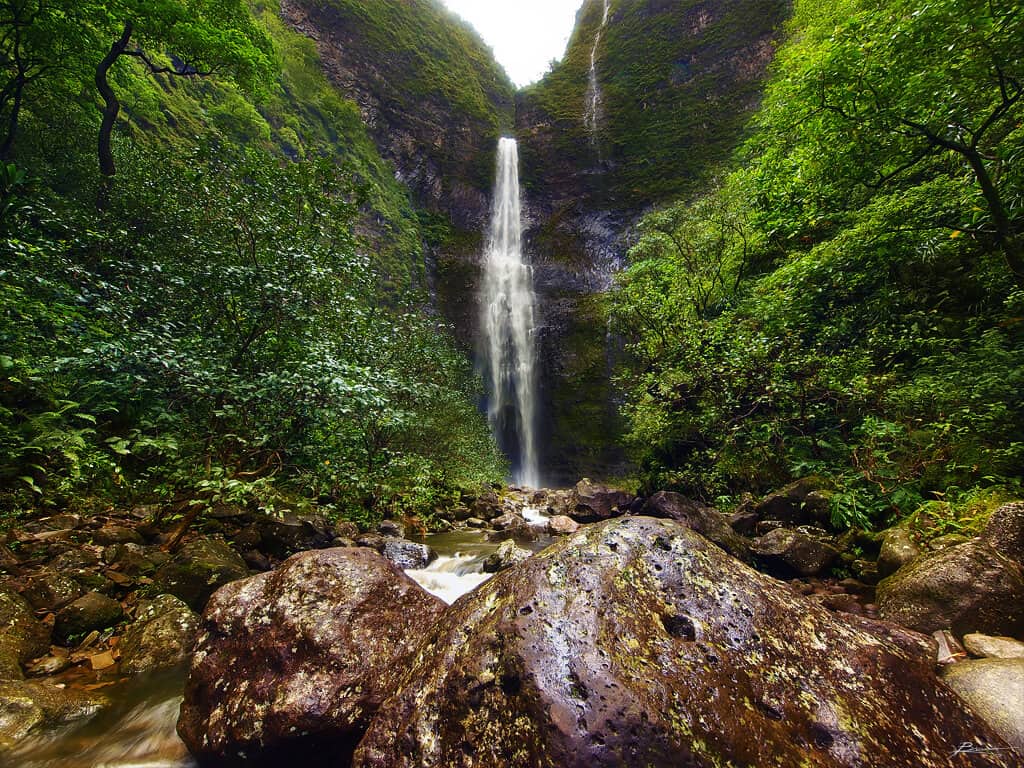 1. Hanakapiai Falls
If you enjoy trekking to see waterfalls, the Hanakapiai Falls Trail is one of the more challenging and popular hiking trails in Kauai you can tackle.
The 8-mile round trip trail begins right next to the lifeguard tower on Ke'e Beach, and immediately starts to incline. Be careful of the jutting boulders, tree roots, and slippery mud, any of which can knock you off your feet!
The trail continues along the Hankapiai Stream through dense bamboo forests. After four miles of hiking, you'll reach the stunning 300-feet waterfall, which drops down into a gorgeous emerald pool of water below.
The Ke'e area was closed off due to recent flooding when we visited. But the brief, distant view we got of these falls during our Kauai helicopter tour suggested it's well worth the effort to reach them.
Driving Directions:
From Wainiha Beach, head west on HI-560 (toward Ala Eke Road) for 3.5 miles until you reach the Kalalau/Hanakapiai Falls Trailhead.
READ MORE: Hawaiian Mythology (Intro to Hawaiian Gods, Goddesses & Legends)
2. Hanakoa Falls
The base of the 1000-foot, multi-tiered Hanakoa Falls can be reached via the Kalalau Trail, which runs along the Napali Coast of Kauai.
When we visited in 2019, the trail (as well as Hāʻena State Park and Nāpali Coast State Wilderness Park) had been closed for a year due to severe flooding.
Note that this hiking trail has been named among the most dangerous in the world by Outside, and numerous hikers have died there.
But those who have conquered the steep, challenging 11-mile trek say that this remote location makes for an unforgettable experience.
If you choose to do the difficult hike, you'll need a permit from the government office in Lihue, and plan on it being an all-day affair.
Or you can play it safe (as we did) and simply fly by the incredibly massive drop on a helicopter tour!
Driving Directions:
To reach the Kalalau trailhead, head north on Hwy 56 until you see a parking lot at the end of the road. On your left, you'll see the trailhead and a large sign labeled "Kalalau Trail."
READ MORE: The Top 10 Polynesian Islands to Visit in the Polynesian Triangle
3. Hinalele Falls
Located on the northern side of the island west of the town of Hanalei, Wainiha is the most remote and untouched area of Kauai.
The tiny town is the gateway to the remarkably pristine Wainiha Valley, Hawaii's third largest nature preserve.
Protected by the Nature Conservancy, the 7,050-acre preserve includes majestic mountains, one of Kauai's largest river systems, and part of the gorgeous Alaka'i wilderness.
The preserve is home to numerous species of rare and endangered Kauai birds, as well as more than 40 species of flowering plants that are only found in Kauai.
It's also home to Hinalele Falls, which is fed by the Wainiha River, a longtime favorite among local fisherman. It's one of the most remote, rarely-seen Kauai waterfalls, which doesn't even feature on most helicopter tours of the island.
It is possible to hike to this waterfall, but definitely not recommended due to the dense forest, copious rain, and radically unpredictable water levels.
READ MORE: 35 Beautiful Birds of Hawaii and the Polynesian Triangle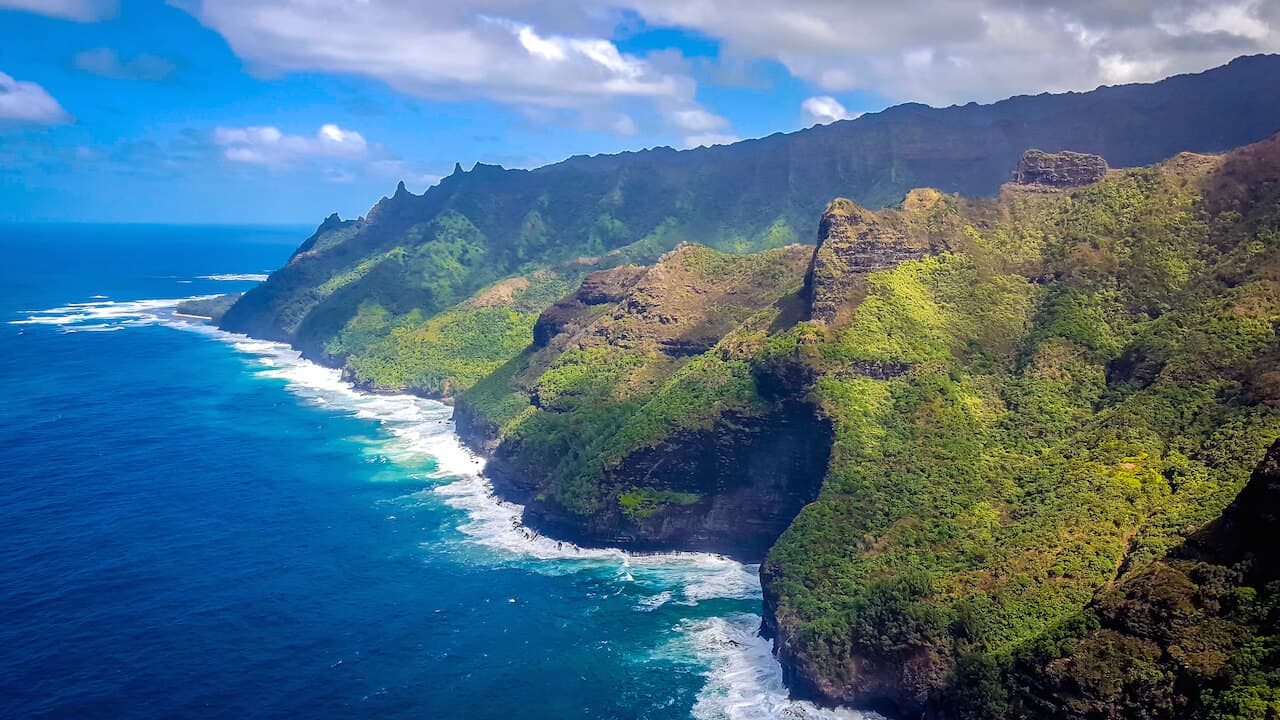 4. Hoolea Falls
While it may not be the largest waterfall on this list, Hoolea Falls is noteworthy for its incredible location in between Na Pali-Kona Forest Reserve and the Na Pali Coast State Park.
It can be found at the end of the 11-mile Kalalau Trail discussed above, which crosses various beaches, sea caves, and verdant valleys, offering jaw-dropping views all along the way. So be prepared for a long and relatively difficult hike.
Again, if you want to camp at Hanakoa, Na Pali, or the Kalalau Valley, make sure you have a valid hiking and camping permit.
The well-marked Kalalau Trail head is behind Kalalau Beach and is easy to follow. At the end you'll be rewarded with the sight of the beautiful rushing waters of the 100-foot Hoolea Falls, which flows down a volcanic rock wall.
It's also worth noting that it's completely normal for some hikers to go au naturel in this area. So be prepared for the possibility of seeing more skin than you're used to on a hike!
Driving Directions:
Same as the directions to get to Hanakoa Falls.
READ MORE: Hawaiian Monk Seal (Endangered Species Spotlight)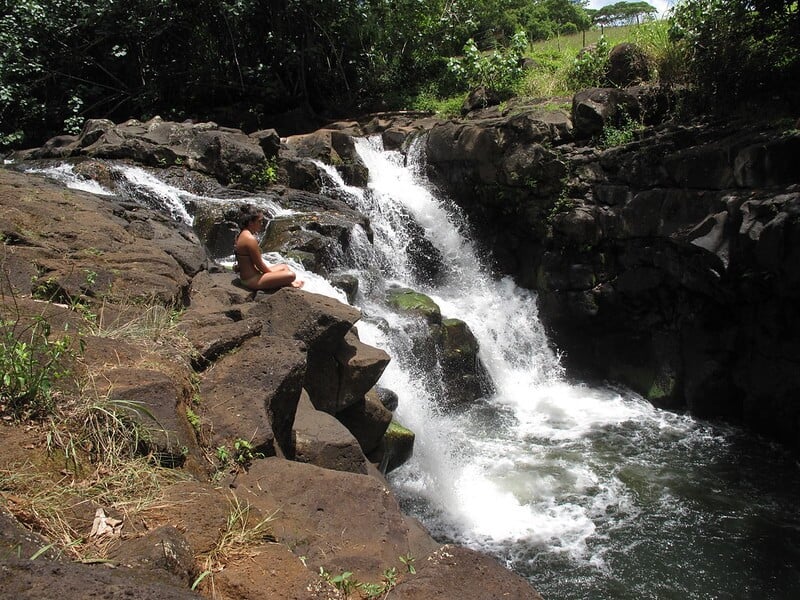 5. Ho'opi'i Falls
To reach Ho'opi'I Falls, you'll hike the popular 2-mile round-trip Ho'opi'i Falls trail, which has been rated as being moderately difficult.
The hike starts on a wide dirt path which can get pretty muddy after it rains, so watch your footing as you go!
Continuing on, the trail will be covered by a cooling canopy of branches as you follow a stream to Ho'opi'i Falls.
The falls are only about 20 feet tall, but are still a beautiful sight as the water flows into a cool blue pool at the bottom. When you're ready to head back, follow the trail back the same way you came.
Driving Directions:
From Highway 56 in Kapaa, take Kawaihau Road for just over 2 miles and turn right onto Kapahi Road. There will be a trailhead past the last house on your left.
READ MORE: The Best Things To Do on Hawaii's Big Island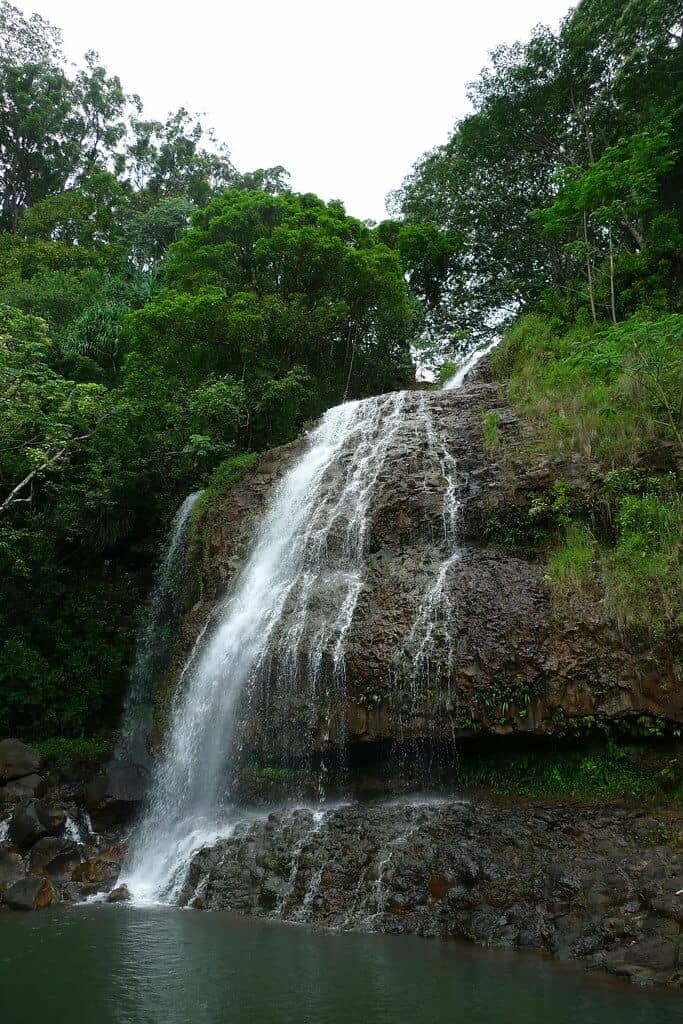 6. Kalihiwai Falls
Kalihiwai Falls is a multi-tiered waterfall that can be seen from the highway. But because it's located on private property, you'll have to take the guided Kalihiwai Falls Hike to get close.
At $129, the experience is pretty pricey, but also comes packed with adventure.
You'll get to explore the beautiful private ranch where the hike begins, take in magnificent panoramic views of Kauai's north shore, and get access to the top of the 500-foot summit of Pu'u O'Henui.
The guided hike will also take you through the lowland rainforest, where you can learn about Kauai's natural history.
But the main attraction is definitely the gorgeous multi-tiered Kalihiwai Waterfall, which you will essentially get all to yourself.
The total hike is about 4 miles long, usually takes about 3 hours, and is rated as moderately strenuous.
Driving Directions:
From Kilauea, take Highway 56 west towards Princeville. Around Mile Marker 25 you'll reach an unnamed waterfall.
Keep driving, and Kalihiwai Falls will be the next waterfall you see.
If you're doing the private hike, go one mile north of the Princeville Airport and on the ocean side of the Kuhio Highway you will see green and yellow flags and a "Princeville Ranch Adventure" sign.
READ MORE: The 15 Best UNESCO World Heritage Sites in the USA
7. Kilauea Falls
If you've talked to locals or longtime Kauai travelers, Kilauea Falls may have popped up on your radar as one of the best waterfalls in Kauai.
Unfortunately, it is no longer able to be seen up close without trespassing on private property. Kilauea Falls is located in a residential area of Kauai, and the Kilauea Falls Trail leading down to it is no longer accessible.
Although other websites may suggest it's still worth the risk to visit, we say it's always better to respect the wishes of the local community.
Some people have said that you can get glimpses of the falls from Kahili Quarry Road, which is the road that was previously used to get down to the Kilauea Falls trailhead.
READ MORE: Top 20 National Forests in America for Camping & Hiking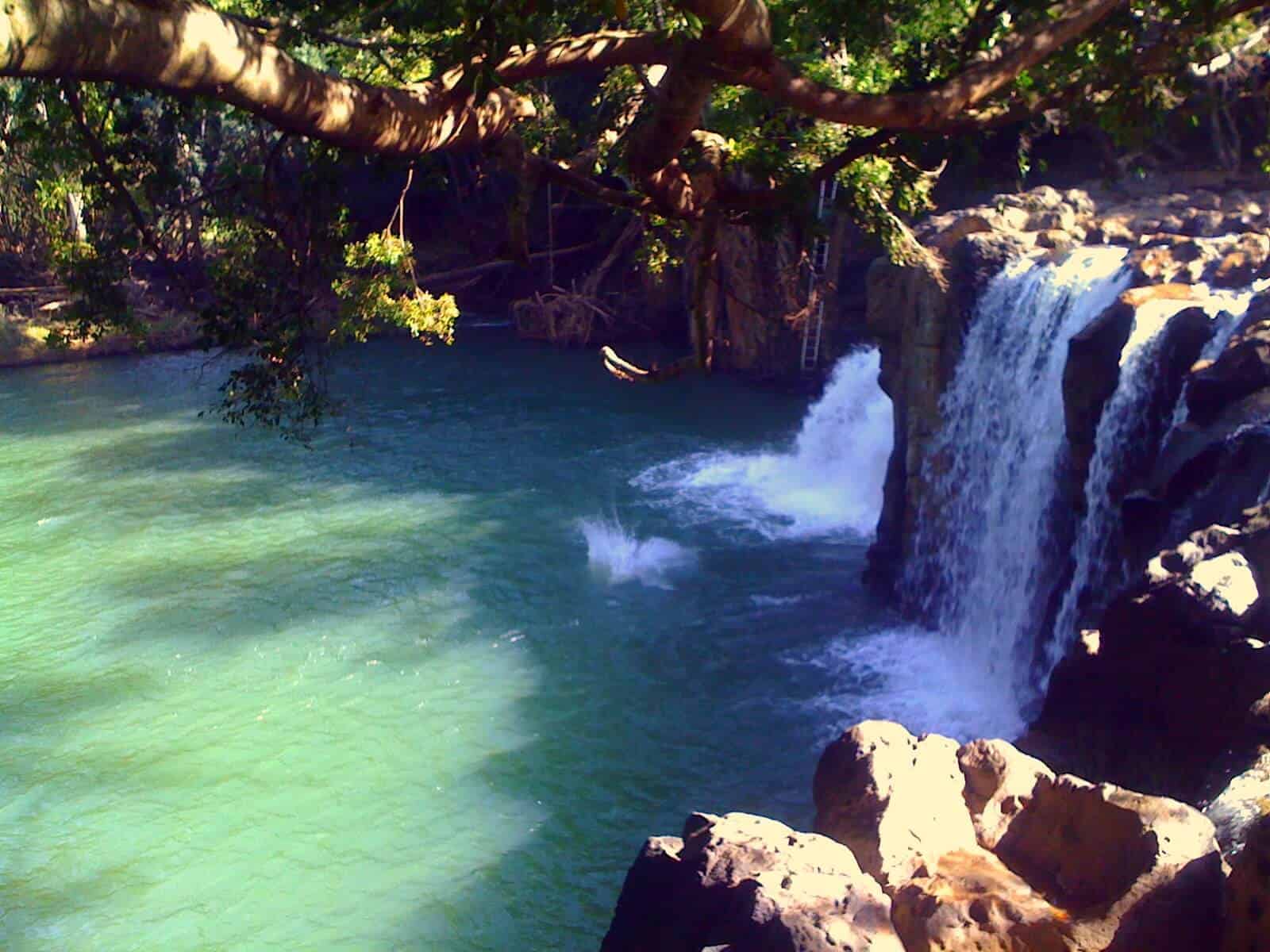 8. Kipu Falls
To reach the intriguing Kipu Falls, start at the dirt pullouts (which are used for parking), and then take a short path for about 5 to 10 minutes until you reach a fork in the road.
If you continue to the right, you will be led straight to Kipu Falls.
While it is beautiful up close, Kipu Falls is one of several waterfalls on Kauai that is best observed from a distance. The hike to reach it has gained a reputation for being incredibly dangerous.
This is because the fluctuating water levels of the river can make safety unpredictable when it rains, and the surrounding rocks are quite slippery.
If you do choose to hike there, proceed with caution!
Driving Directions:
From Lihu'e, head west on Highway 50. Turn left to head south on Kipu Road. After a quarter-mile, take a right at the fork in the road and follow the paved road to the dirt pullout parking area that will be just before the bridge.
READ MORE: The 30 Best Exotic Islands to Visit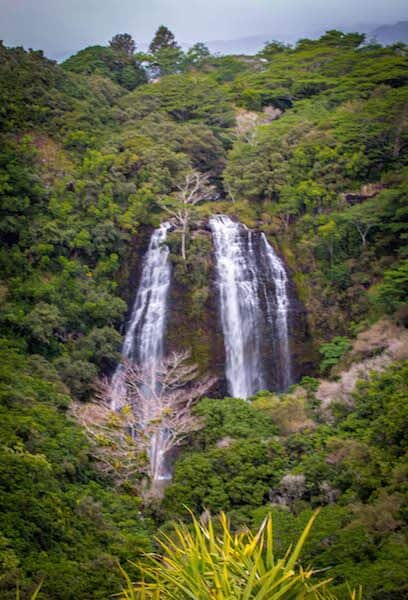 9. Opaeka'a Falls
One of the most popular waterfalls in Kauai, Opaeka'a Falls is a 151-foot-tall and 40-foot-wide waterfall located near Wilaua River State Park.
A long time ago, freshwater shrimp could be seen rolling and jumping around in the waters at the base of the falls.
So the name Opaeka'a combines "Opae" (the Hawaiian word for shrimp) and "ka'a" (meaning "rolling").
The falls is great for Kauai visitors of all abilities due to the easy accessibility and great views afforded from the roadside overlook.
There are paved pathways and safety rails leading from the parking lot to the falls, as well as restrooms and picnic tables.
You can also walk a short distance up from the Opaeka'a Falls overlook and cross Kuamo'o Road for stunning overviews of the Wailua River, which is popular for kayak and canoe trips.
Driving Directions:
Take Hwy 56 until you cross over the Wailua River. Look for Kuamo'o Road (Hwy 580), and continue straight for about 2 miles until you see the pullout for Opaeka'a Falls on your right.
READ MORE: 40 Fascinating Facts About the Hawaiian Goose (A.K.A. Nene Goose)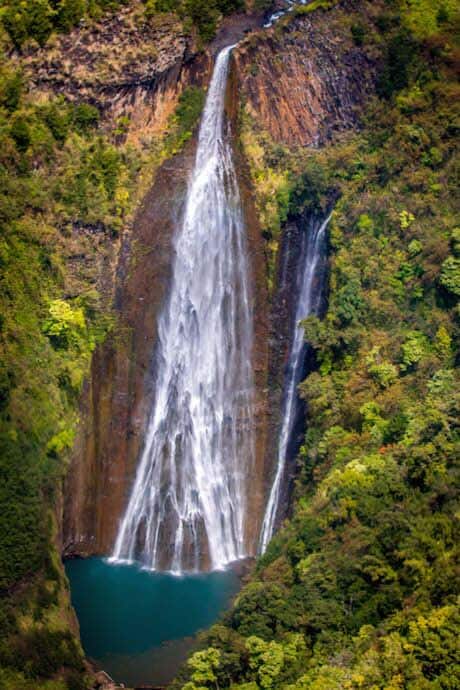 10. Manawaiopuna Falls (a.k.a. Jurassic Park Falls)
Of all the Kauai waterfalls on our list, this one might be the most famous. Manawaiopuna Falls is world renowned because it was featured in an opening scene of the 1993 classic, Jurassic Park.
Now commonly referred to as Jurassic Park Falls, this waterfall is a true natural wonder, with cascades thundering down a dramatic 400-foot-tall cliff.
The waterfall is located in the remote, fertile Hanapēpē Valley, which was was historically used for growing coffee, rice, and sugarcane. The nearby town of Hanapēpē also inspired by the town in the Disney animated film Lilo & Stitch.
Unfortunately, the valley and Manawaiopuna Falls are not accessible on foot or by car.
But flying over it was arguably the highlight of our helicopter sightseeing tour of Kauai, which provided a dazzling array of views (both closeup and from afar).
READ MORE: List of US National Parks by State (An Epic Guide)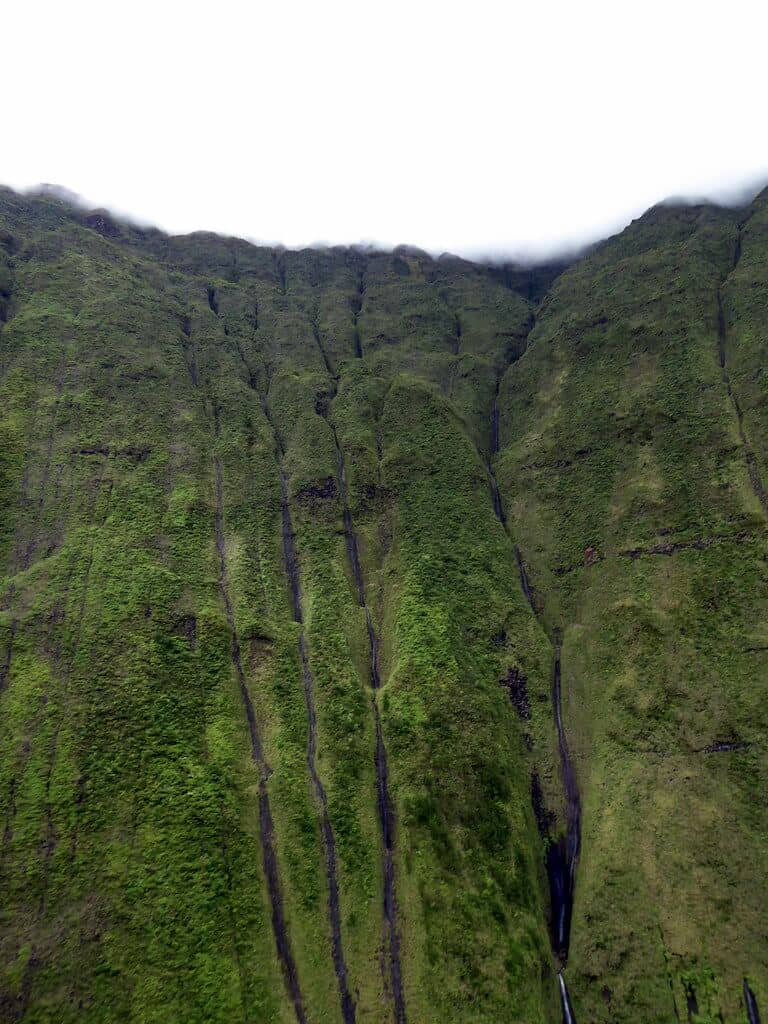 11. Mount Wai'aleale Falls
Located in one of the wettest spots on the planet, Mount Wai'aleale Falls cascades down the magnificent and massive Mount Waialeale.
Set in the center of Kauai, the island's tallest mountain is an inactive shield volcano whose summit, Kawaikini, stands at an elevation of 5148 feet.
The base of Mount Wai'aleale is known as the Blue Hole. This is where you can see the beautiful falls flowing down what's known as the Weeping Wall.
To reach it, take the Waialeale Blue Hole Falls Trail, which is 4.9 miles round-trip. A guide is highly recommended, and be sure to check the weather, as flash floods are common in the Wailua River.
But if you want truly stunning views of the mountain and the waterfall, most Kauai helicopter tours will feature Mount Waialeale as a highlight.
Ours took us straight down into the heart of the volcanic crater from which the island was originally created!
Driving Directions:
From Wailua, head west on Kaumoo Road. You'll pass through residential areas, then into the jungle. After 5.5 miles, you'll reach the Keahau Arboretum.
When you come to a "T" intersection, turn right and continue on the gravel road until you reach a gate, where parking will be available.
READ MORE: The Top 10 Volcanoes in the World to Visit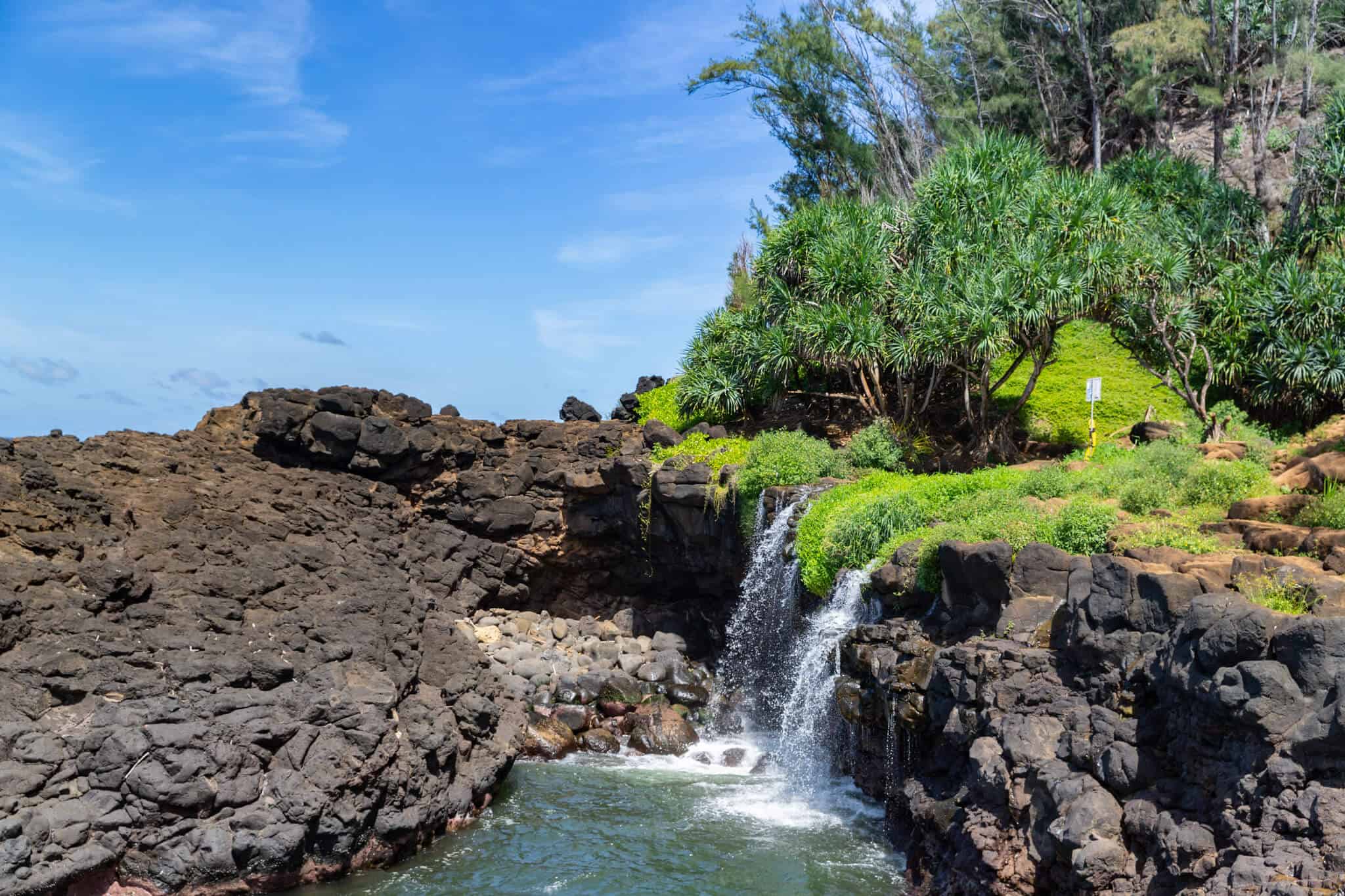 12. Queen's Bath
Located on the north shore of Kauai, the Queen's Bath is a unique tidal pool filled with water flowing from a scenic 15-foot waterfall.
The Queen's Bath Trail is great if you're looking to go hiking to waterfalls in Kauai, because it is easily accessible and is just 0.8 miles round-trip.
Around the halfway mark, you'll see an 8-foot waterfall before the path opens up to reveal the beautiful 15-foot waterfall flowing into the refreshing tidal pool.
The views from here are incredible, with the sparkling blue waters of Pacific Ocean as a backdrop to the falls. Just be sure to explore with caution, as the rocks here can be especially slippery!
Driving Directions:
Head towards Princeville on Ka Haku Road and take a right on Punahele Road. Continue for a little under half a mile until you reach the trailhead and spacious parking area.
READ MORE: 20 of the World's Biggest Waterfalls (by Continent)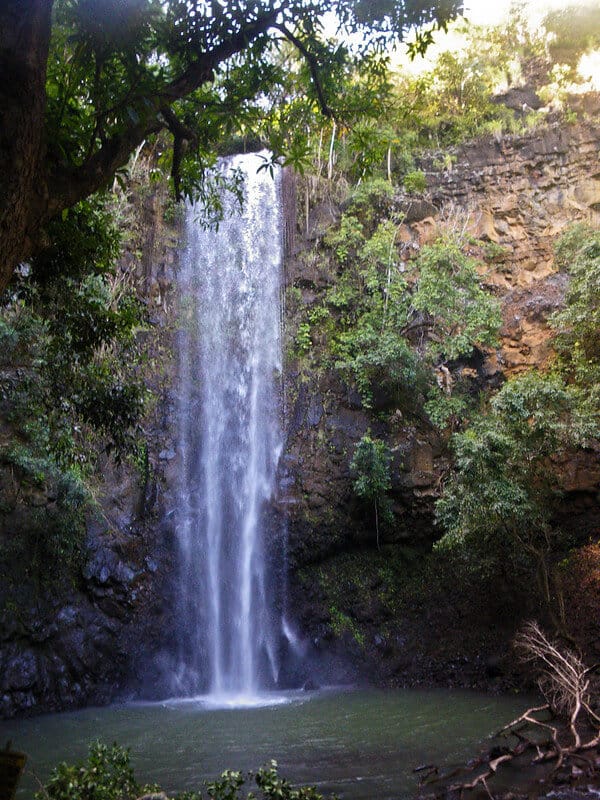 13. Secret Falls (a.k.a. Uluwehi Falls)
The Uluwehi Falls are often referred to by locals as the Secret Falls. But don't let that steer you away from visiting them!
Located in the Wailua River Basin, the Secret Falls are actually relatively eassy to access.
The trail to the falls via the Wailua River is 6.1 miles round-trip, starting on the river. There are kayak and canoe rentals available, or you can join a guided float trip.
You'll paddle up the Wailua River until you reach a bank on your right, where you will disembark and start walking on land.
Then just follow the trail along the riverbank. After you cross a small stream, you'll reach the beautiful Secret Falls and have a welcome opportunity to cool off in the pool at its base.
Driving Directions:
From Lehua Street, head southwest on Kuhio Highway for 2.6 miles, then turn right onto Kuamoo Road. Take a left onto Wailua Road and continue 400 feet until you reach the parking lot.
READ MORE: The 30 Most Comfortable Hiking Shoes for Women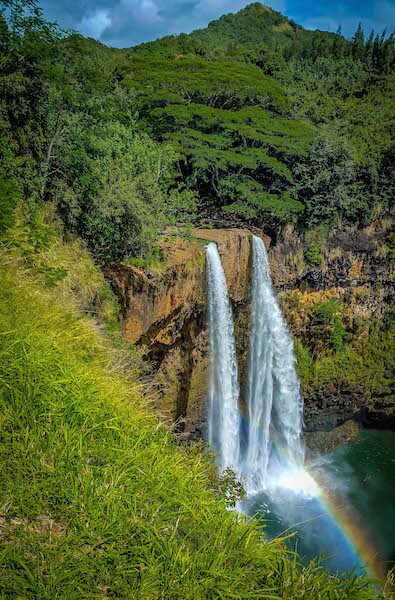 14. Wailua Falls (a.k.a. Fantasy Island Falls)
Iconic Wailua Falls is one of the most easily accessible and beautiful waterfalls on Kauai, cascading down 80 feet in two beautiful streams.
It was made famous by the hit '70s TV show Fantasy Island, where it was prominently featured in the opening credits.
The Wailua Falls hike is a short walk, as it is just 0.4 miles each way. But note that it is very steep and slippery, and is rated as difficult (even when it hasn't been raining).
What makes this a popular attraction for visitors and locals alike is the fact that you can get amazing views of this breathtaking waterfall right from the small parking lot.
We highly recommend getting there early. Not only will you avoid the crowds of tourists who tend to come here for afternoon picnics, but if you time it just right you might be lucky enough to get a photo like the one above, where the rising sun creates a rainbow on the waterfall's mist!
Driving Directions:
Take Kuhio Highway north toward Hanamā'ulu, then turn left at Ma'alo Road. Continue for a few miles until you reach the parking lot at the end of the road.
READ MORE: The 30 Most Comfortable Walking Shoes & Hiking Shoes for Men
15.Waipo'o Falls
Cascading in two tiers almost 800 feet into the Waimea Canyon below, Waip'o Falls is truly a spectacular sight to see.
The gorgeous falls can be seen from various outlooks all along the main Waimea Canyon road. But to get up close, you can also take the Canyon Trail to Waipo'o Falls which is 3.2 miles round-trip.
The trail will guide you on a scenic route along the picturesque rim of Waimea Canyon, where you can also catch views of the Koke'e Rain Forest.
At just over 1.5 miles you will reach the top of the waterfall where you can peer down at the canyon floor for some excellent photo opportunities.
But for our money, the very best views of Waipo'o Falls come via the Kauai helicopter tours, which get so close that you can almost feel the spraying mist on your face!
Driving Directions:
From Waimea, head north on Highway 550 into Koke'e State Park. Turn right on Halemanu Drive and follow the road to the Halemanu Koke'e Trailhead. –by Christina Maggitas, with additional reporting by Bret Love; lead image via Pixabay