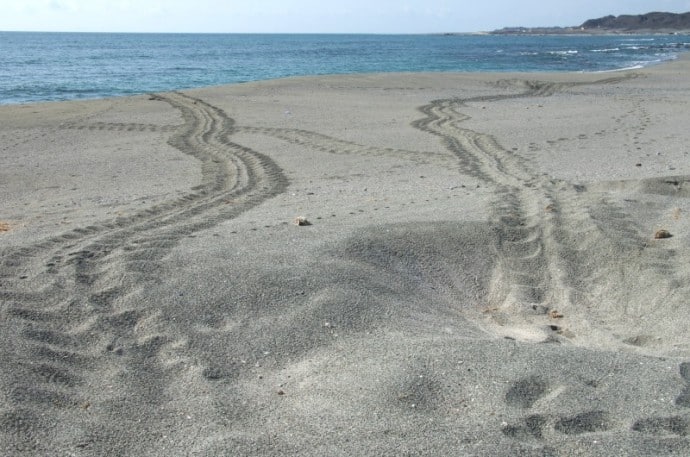 Masirah Island- Searching for Sea Turtles
They don't look like much. To my unadjusted eye, they merely look like tire tracks leading to holes in soft sand. But to those who know, like my husband, they mean only one thing – we are on an active turtle nesting beach. We've been waiting for this moment for almost a week.
We are in Oman, a land of forts and frankincense, Bedouins and wadis, desert dunes and rugged coastline. But for us, Oman is first and foremost a country whose white sand beaches serve as the yearly nesting sites for tens of thousands of sea turtles. Ever since Bruno described his cherished memory of watching turtles lay their eggs in the sand here, it's been the experience I've longed for most in Oman.
And so we headed for Ras al Jinz, a turtle nesting site of internationally-recognized importance. Every year, over 20,000 female green turtles – an endangered species – plod up the beach here to dig deep trenches with their rear flippers into the soft sand and deposit their eggs.
And every night, one hundred tourists watch the turtles in this most-intimate of act.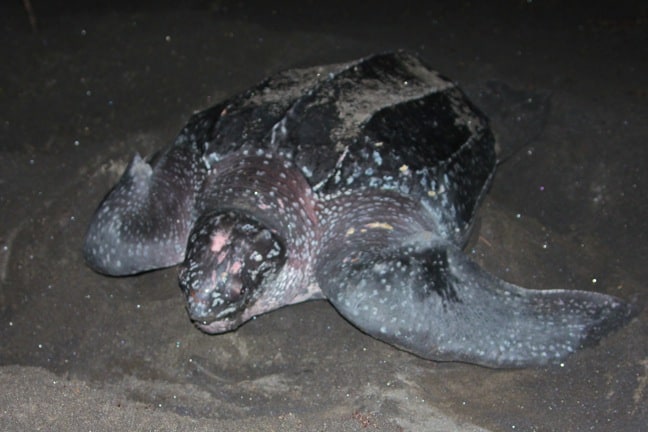 A guide at the colossal visitor's center had described the trip to me: At 9pm, I will meet in the lobby with the other ninety-nine tourists, where we will be sub-divided into groups of twenty. We will wait until a laying turtle is spotted, and then be guided down to the beach. I will be ushered up to the turtle with a few others from my group, be given a momentary glance, and be pushed on to make room for the next tourists. No cameras, no talking, no second glances.
Something didn't sit right with me about this experience. I understood the need for the Omani government to place strict controls on their Turtle Tours – to combat flippers being lifted out of the way and turtles being chased along the beach by inconsiderate tourists – but this wasn't the way I envisioned my close-up encounter with Oman's turtles. I declined to sign up for that night's tour, and headed instead for the Turtle Museum upstairs.
That's when an idea bloomed. A map in the museum showed protected turtle nesting beaches all the way down the east coast of Oman. Green turtles, Loggerheads, Olive Ridleys, and Hawsbills all laid their eggs along this stretch of coastline. A large dot on Masirah Island – a mere 400km away – showed that it was an important nesting site for the Loggerhead turtle. It seemed Ras al Jinz wasn't the only place to experience the ritual of nesting turtles!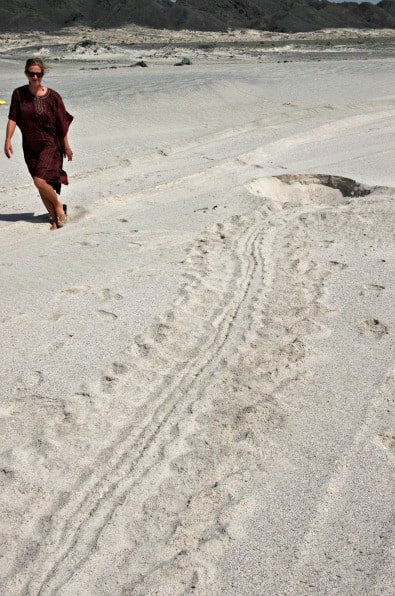 That very morning, camped along the beach near the fishing town of Sur, I had seen turtle heads poking out of the water, surveying the nearby beaches for a safe place to lay their eggs. "It'll be easy to find the turtles ourselves," I declared to Bruno as I pointed at the museum's map. "We'll simply travel down the coast, camp along the turtle beaches, and find them." It would be perfect. No swarms of tourists, no guided tours, no timed visitation – just us and the turtles. This was the romantic vision I'd dreamed about.
And so we drove to nearby Ras al Hadd, another protected green turtle nesting beach. It was gated off, but as long as you obeyed the set of rules posted at the gate, you could enter. The local fishermen had set up camp inside. There were broken nets, rusted boats, and old Land Cruisers, used in this region of the world to pull in heavy fish-filled nets from the water.
We walked along the beach. Bruno pointed out the round cavities in the sand. "These are turtle nests," he said. He walked on, looking around. "But there are no flipper marks. The turtle tracks have been erased by the wind and tides. These nests are old."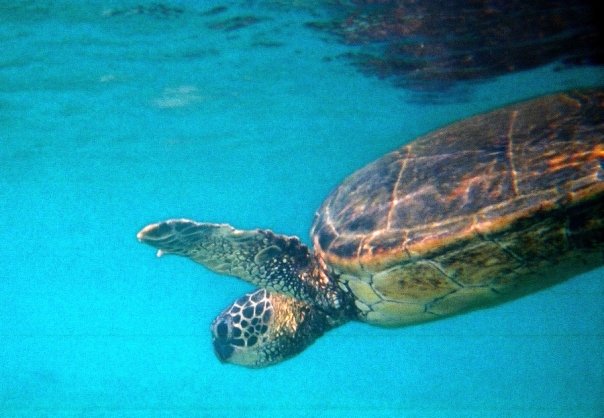 I'd learned in the Turtle Museum that turtles lay their eggs in certain seasons. Each species has a different peak season (in an amazing instinctual bid not to overcrowd the beaches), but none fell at this time. Though green turtles can be spotted any night of the year in this region, in March our chances were rather slim. We needed to increase the odds of spotting them by finding a recently-used nesting site.
This proved difficult to find, however. Turtles need undisturbed beaches in order to lay their eggs. Their bearings get confused when there is too much light, since it dilutes their lunar and stellar orientation. They are easily spooked by movement and noise, promptly returning to the safety of the sea at the sign of any disturbance. Nesting turtles and civilization don't mix well. And we were seeing far too much civilization along Oman's protected coastline.
Finally, we found an uninhabited white sand beach. We parked our camper van and went in search of turtle nests. Instead, we saw dead turtles. Actually, the first ones we smelled before we saw – they'd obviously been decomposing on the beach for a long time. Further on, I spotted a mound floating at the edge of the water. Thinking the green turtle was alive, I rushed into the water to try to push her out to sea, only to finally notice her drooping head and limbs. This massive, beautiful creature, too, was dead.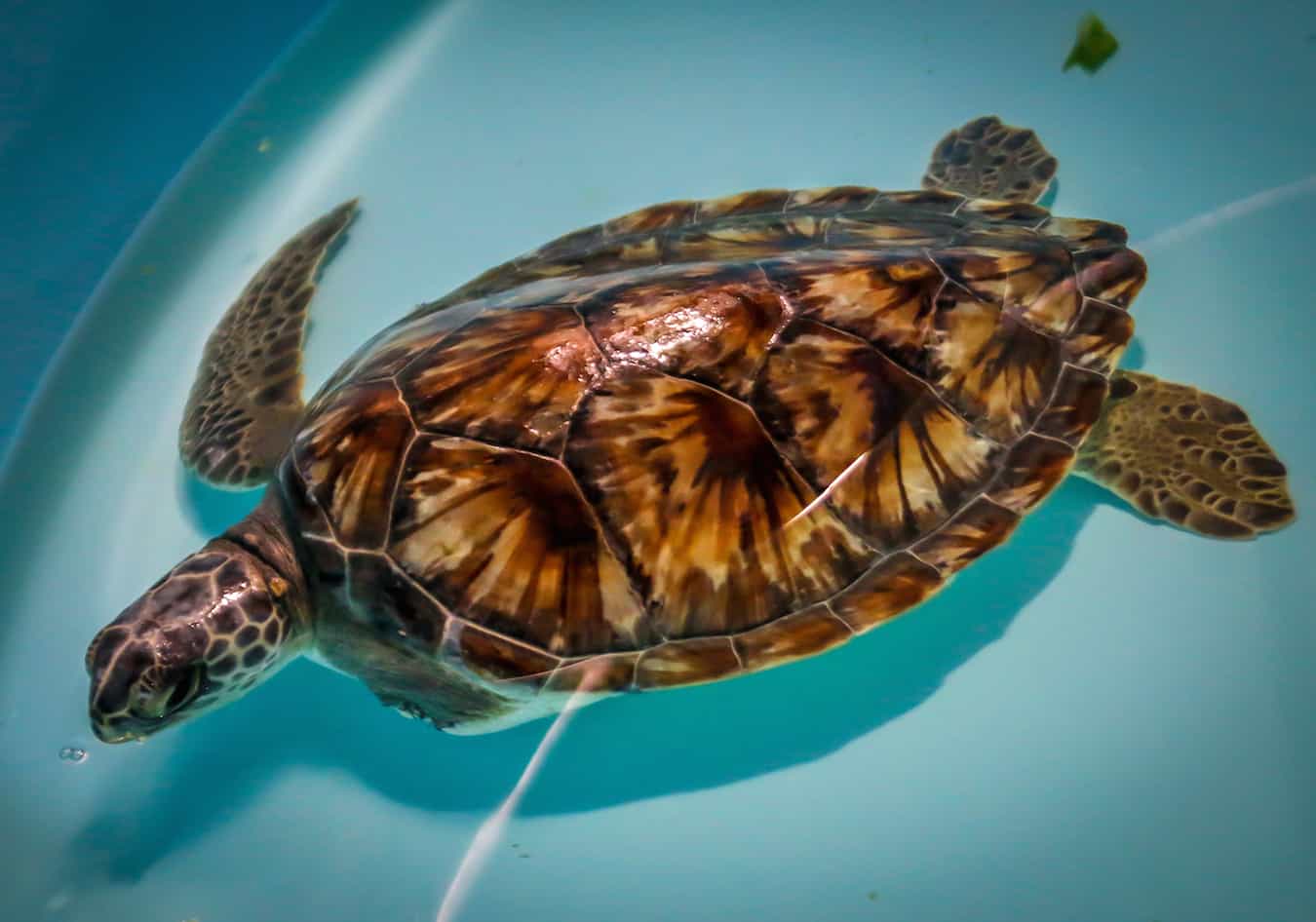 That day, we spotted six dead turtles – both Greens and Olive Ridleys – bobbing along the edge of the beach. I saw not a single live turtle, and not a single turtle nest. I spent an agonizing night wondering what had happened to these turtles and why there were so many dead on this beach.
The next morning, I received my likely answer. As the sun shimmered pink over the Arabian Sea, a dozen wooden fishing dhows bobbed in front of Dead Turtle Beach. The Omani government has strict laws against the catching and selling of turtles. Those laws, however, don't stop the turtles from ending up in the wide-spreading nets of local fishermen, who must throw them back into the sea when they find them drowned in their nets the following morning.
I admit to cursing fishermen and their livelihoods that morning, and for the next few days. All the way down the coast, the fishermen had taken over the best turtle nesting beaches – those with the soft sand instead of the rocky shores – and had filled them with their nets, tacks, and lines. Worse, they had littered the beaches with plastic bags – plastic that turtles mistake as jellyfish (a favorite food), eat, and choke to death on.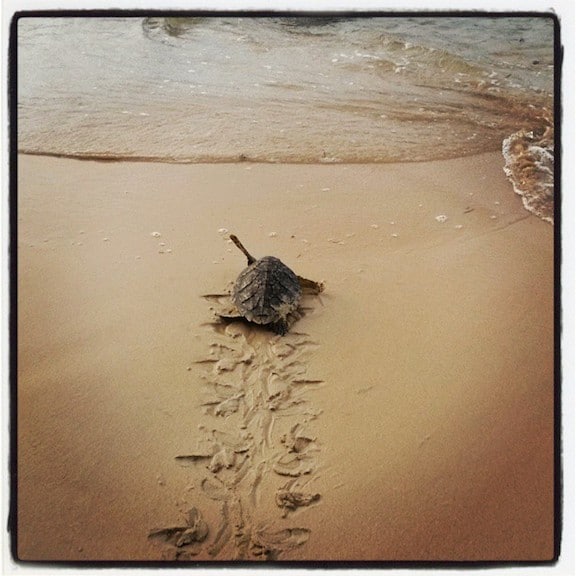 I cursed the fishermen because turtles already have odds stacked heavily against them. Thirty years after they are born, female sea turtles return to their birth beaches to lay their own eggs. With the speed of recent modern development on the Arabian Peninsula, luxury resorts, towns, and highways are often what they find instead. If they cannot find a suitable alternative within three days, the female turtles lose their eggs.
The baby sea turtles have it even worse. If the eggs don't get gobbled up by predators, birds catch most of the baby turtles that scurry the hundred meters from their nest to the sea. At the edge of the water, fish wait for the rest with gaping mouths. It is said that only one out of a thousand baby turtles reaches adulthood. I cursed the fishermen for further decreasing those odds. Fishermen and turtles could share these beaches, I felt, if only the fishermen were given a reason to care.
We reached Masirah Island and headed straight for Turtle Beach, its infamous Loggerhead turtle nesting site. Between fifteen and thirty thousand loggerheads lay their eggs here yearly, but once again, we were too early in the season.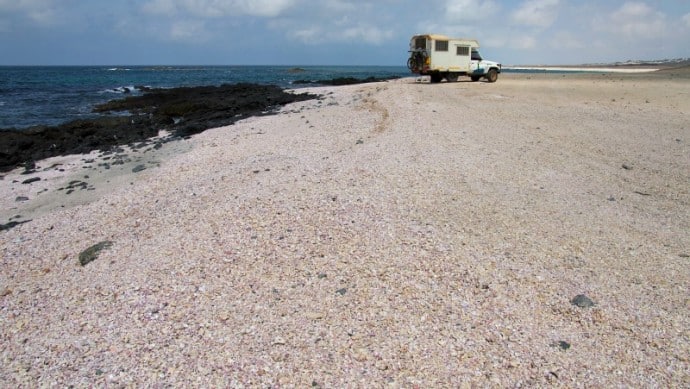 "It'll be like finding a needle in a haystack," said the receptionist at Masirah Island Resort, an eco-resort on Turtle Beach involved in turtle conservation. "You don't stand much of a chance. The full moon is approaching. Turtles don't like laying their eggs with so much light – it leaves them more vulnerable to predators." The receptionist must have seen my forlorn look, because he added: "At least the tide is high at night right now. Turtles prefer high tide because they don't have to walk so far to dry land."
We camped that night along Turtle Beach anyway – after drinking our sorrows away with a few imported beers at the Masirah Island Resort's swimming pool, that is.
It was the next morning that our fate began to change. We were driving along the coast of Masirah Island, stopping at each cove to do the same thing we'd been doing all week – search for signs of turtles.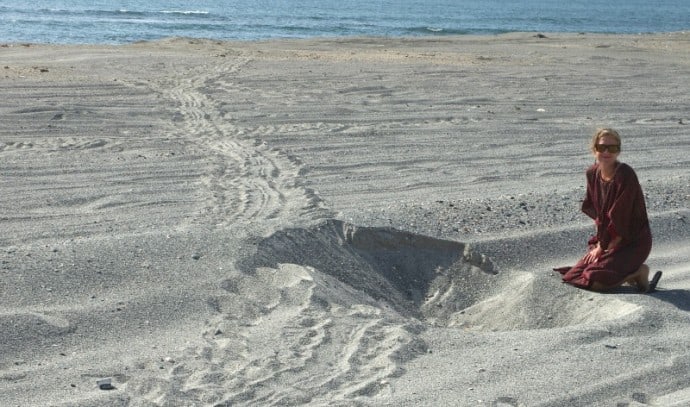 "Over here!" I shout to Bruno. I am standing before a gaping hole in the soft sand that I now recognize as a turtle nest. Something is different this time. Beside the hole is a set of tracks, a pattern of diagonal lines pointed upward that reminds me of my childhood drawings of Christmas trees. The tracks circle around in figure-eights and loop-the-loops, but eventually they connect this nest to the sea. "It's a fresh set of tracks!" I exclaim, with more excitement than I ever thought I'd feel about lines in the sand.
Bruno rushes over and confirms my find. These tracks were made last night – the rising tide hasn't yet washed them away. We've finally found an active turtle nesting beach.
Emotion washes over me. Mere hours ago, a turtle was hauling herself up this dune, searching for a site safe enough to leave her precious deposit. And here, in this hole before my feet, she left the fate of her babies to destiny. She would never return to this exact spot, never check on her eggs, never knowingly meet her offspring. I hadn't expected that standing here would be so meaningful.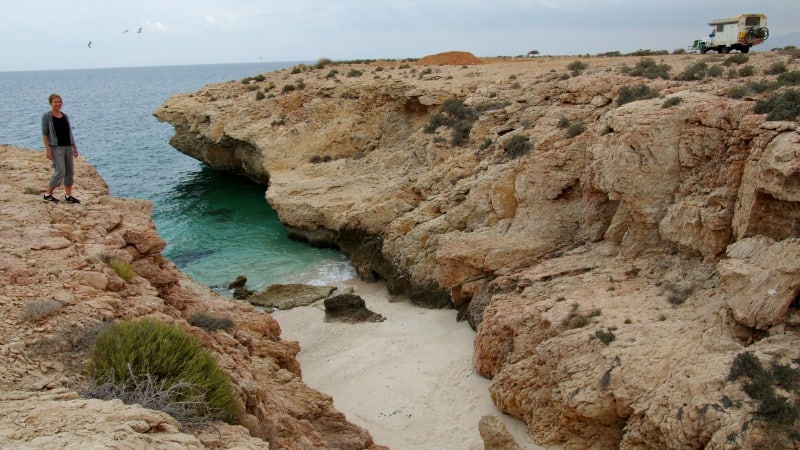 We continue walking, and quickly realize that the hole and set of tracks we've just found isn't the only fresh nest on this beach. There are tons of them, their tracks criss-crossing in a complex and timeless story of love and maternal instinct, of frantic desperation, of turtle against universe. We read their tracks like they are an intimate journal entry, and I feel that I'm glimpsing through a keyhole into the miracle of life. I almost don't even need to see the turtles actually nesting anymore.
But, of course, it would be a bonus. That day, we stumble upon so many active nesting beaches that we almost don't know which beach to choose as our campsite. Finally, we select one near the more protected south-west corner of the island with beautiful white sand, turquoise water, and of course, a dozen fresh turtle nests.
We pass the afternoon snorkeling in the nearby coral reef and walking along the beach, but I am too distracted with anticipation to take the day in. As we watch the sun finally setting, I imagine the turtles in the nearby water, watching that very same sunset and plotting their imminent venture onto the beach.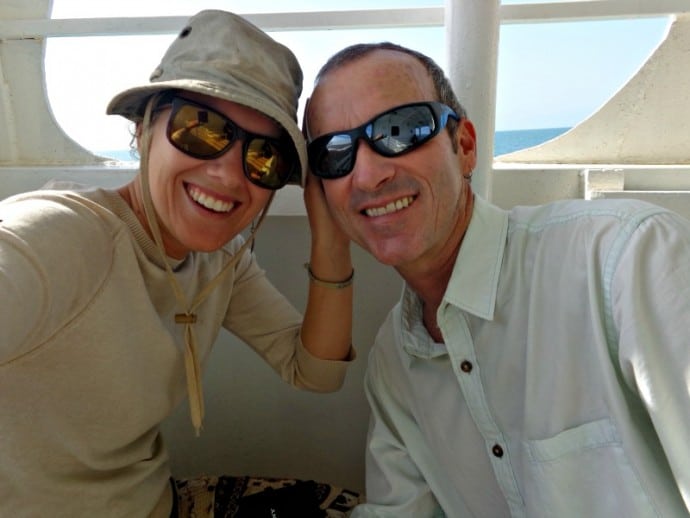 The moon rises from behind us. I know that means that some turtles will be scared off by its light, but in this moment I'm thankful for the moon. From our campsite, we have a clear view of the entire beach, illuminated by the full moon. If something creeps up from the water, we will see it.
Thus begins our night vigil on the beach. My stomach is doing flip-flops. Adrenaline is charging through my veins. My senses have never been so aware. I have never been so awake this late at night without the stimulation of technology.
At some late point, Bruno nudges me and tells me it's time to go to sleep. Our camper van has windows beside our bed, so throughout the night we lift our heads, glance outside in search of a dark form trudging up the dune, and drift back into a brief, sweet slumber. When dawn arrives, and our chances of seeing a turtle laying her eggs disappears, I am surprised to find myself well-rested and in high spirits.
At that moment, I can't quite pinpoint why I feel so happy, especially since I know without discussing it with Bruno that today we will leave Masirah Island and end our search for the nesting sea turtles of Oman. But as we drive away from this beach, this island, this coast, I suddenly comprehend my mood. The fact that turtles have managed to hold onto this age-old ritual, against the greatest of odds, is inspiring. I don't have to actually see the turtles nest with my very own eyes. Knowing they are doing it is good enough for me. –Brittany Sears of Wandering Footsteps
If you enjoyed our story on Masirah Island- Searching for Sea Turtles, you might also like:
TEXAS: Our Sea Turtle Rescue with Sea Turtle Inc
DOMINICA: Watching a Sea Turtle Giving Birth
JEKYLL ISLAND: Georgia Sea Turtle Center & Other Eco-Friendly Attractions
VIDEO: Snorkeling With Sea Turtles in Akumal, Mexico
VIDEO: Loggerhead Sea Turtle at the Geogia Sea Turtle Center
ENDANGERED SPECIES SPOTLIGHT: Dhole