If you're visiting Jordan and looking for 5-star luxury, 400-thread count Egyptian cotton sheets, spa treatments, and an impeccable concierge service… well, Captain's Desert Camp may not be for you.
But if you're seeking a truly authentic Bedouin cultural experience, where you can eat, drink, and explore the heart of the desert with a few of the 1.2 million Bedouin people who call Jordan home, Captain's Desert Camp is an exceptional place to stay.
Read More: ECOUTOURISM IN JORDAN TRAVEL GUIDE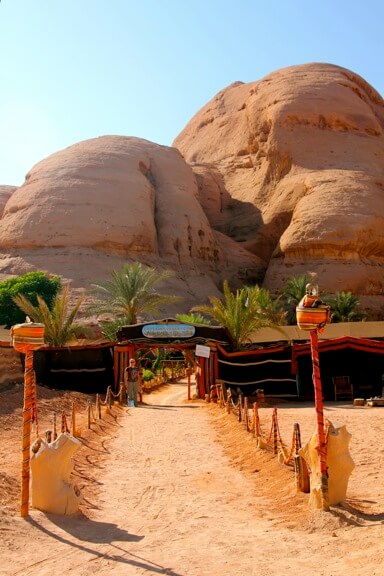 The eco-friendly camp is located in the vast desert of Wadi Rum (a.k.a. Valley of the Moon), a UNESCO World Heritage Site near Um Infous Mountain. It was created by entrepreneur Captain Abdul-Fattah Suleiman, who also owns Captain's Hotel and two restaurants in Aqaba.
It may not be as luxurious and upscale as their TripAdvisor-recommended hotel. But the camp (which is managed by Suleiman's son) features the same sort of attention to detail and service you'd expect from a fancy hotel, at a fraction of the price.
Read More: WADI RUM DESERT CAMPING & CAMEL TREKKING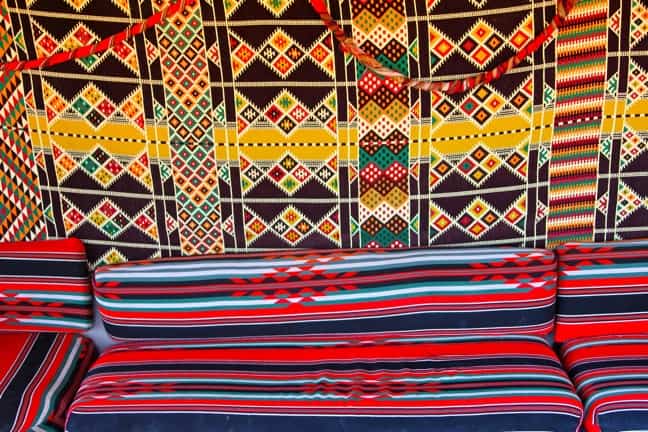 Upon arrival, guests are immediately welcomed like a member of the family.
As the staff took our luggage to our traditional goat-hair tent, we were led to the camp's expansive communal area for a refreshing cup of Bedouin tea, the mint for which is grown in the Captain's Desert Camp garden.
By the time we found the restrooms and freshened up, it was time for our sunset Jeep tour across the Wadi Rum desert.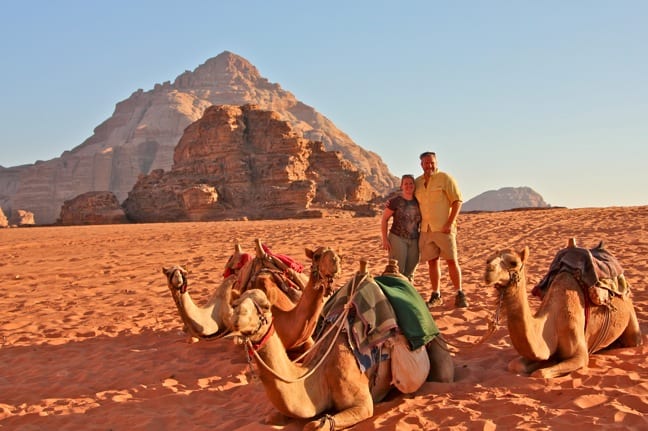 Our guide, Hasan Zawaideh, turned a simple drive through the desert into an adrenaline-pumping adventure. With Arabic music blasting through the speakers, we fishtailed and careened over massive sand dunes at breakneck speed, actually catching air a few times.
We stopped along the way for a photo op with surly camels, climbed rocks to see ancient petroglyphs from Nabataean times, drank more tea at a Bedouin encampment (where Mary tried on a traditional hijab), and scrambled 75 feet up a cliff for a spectacular view of the setting sun.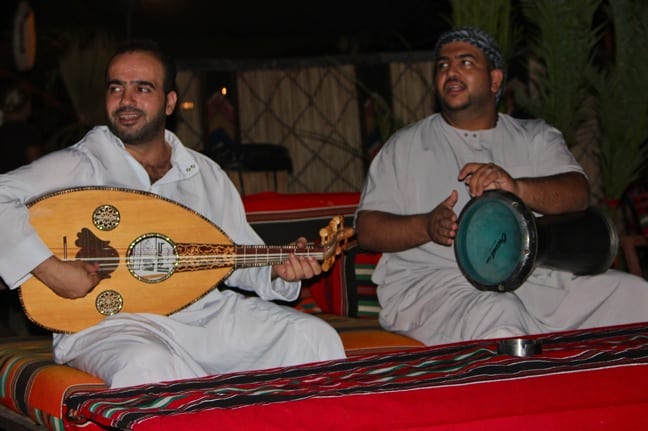 Back at Captain's Desert Camp, guests filed into the communal area for a big buffet-style banquet. The dinner included every possible type of mezza you could imagine, as well as freshly grilled bread and lamb and chicken kabobs.
Though the area was open-air, the futon-style couches, low tables, and coorful carpets gave it the feeling of a massive sultan's tent.
As we ate, Fadi Zou'bi (on oud, an Arabic lute) and Mohammad Bdaireer (on percussion) serenaded us with traditional Arabic music, providing an enchanting soundtrack as the stars lit up the nighttime sky.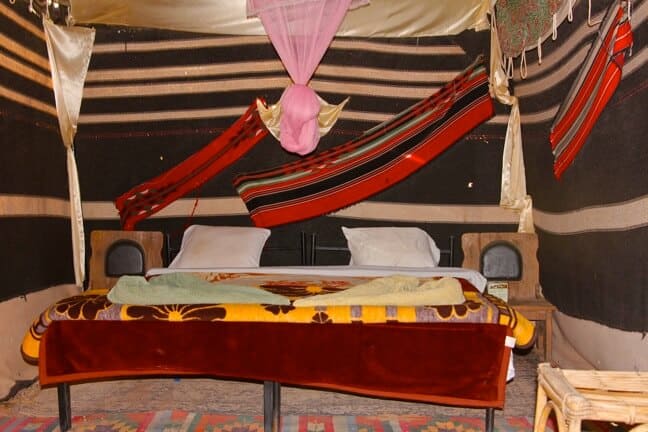 If there's any complaint to be made about Captain's Desert Camp, it's that the goat-hair tents become stiflingly hot during the day.
Like many of the overnight guests, we actually took our blankets to the communal area. There we slept under the bright, brilliant desert sky– a truly magical experience everyone should have at least once in their lives.
But sometime around 3 or 4AM the Wadi Rum desert air became surprisingly chilly. Then, we were happy for the comforting warmth of our tent.
If there's one piece of advice I'd offer to anyone visiting Captain's Desert Camp, it would be to take a guided camel trek. For us it was truly a bucket list item, and our guide Shaaban made the trip a blast despite the fact that he spoke little English.
There's something impossibly romantic about taking a camel ride through the desert at sunrise with the love of your life. But there were also plenty of laughs thanks to a persistent baby camel named Gamal, who wouldn't take no for an answer when it came to tagging along on our trek.
It was an incredible way to end our all-too-brief visit to Captain's Desert Camp. It ultimately proved to be our favorite place to stay in Jordan, despite (or perhaps because of) its relative lack of modern amenities. –Bret Love; photos by Bret Love & Mary Gabbett
Disclaimer: Green Global Travel uses affiliate links within our articles.

When you check prices, read reviews, or book your stay via our links, we receive a small commission that helps us keep cranking out awesome content. Thanks in advance for your continued support!

Below you'll find our affiliate links to Captain's Desert Camp. You can: