I've dreamed of visiting a place like Doune Castle, Scotland ever since I was a boy.
It started when I was 13, after I was cast in a theatrical production of Excalibur! The Story of Young King Arthur. For my research I read everything I could on the subject (including T.H. White's The Once & Future King cycle and Mary Stewart's Merlin books). My head was filled with stories of knights and damsels, magic and mayhem, castles and courtiers.
I'd visited some of Scotland's most famous castles during my 2002 visit to Edinburgh. But exploring Doune Castle during our tour with Rabbie's felt very different, in large part because the castle was both ancient and familiar.
The medieval stronghold was built in the late 14th century. It's largely empty, allowing you to use your imagination as you roam its ancient rooms and halls, picturing what life was like there 600 years ago.
Most importantly, Doune Castle feels familiar because it's one of the most famous filming locations in Scotland. It's been featured in Ivanhoe (both Liz Taylor's 1952 film and the 1996 BBC adaptation), Monty Python & the Holy Grail, Game of Thrones, and Outlander.
As a result, Doune has become one of the most popular castles in Scotland.
READ MORE: 10 Things To Do on the Isle of Skye (& How to Avoid Crowds)
DOUNE CASTLE, SCOTLAND TOC
HISTORY OF DOUNE CASTLE

Named after the Gaelic word for fort, Doune is strategically located at the confluence of the Ardoch Burn and the River Teith in Scotland's Stirling district.
It was originally built for Robert Stewart, the son of King Robert II (grandson of Robert the Bruce, who reigned from 1371 to 1390).
By 1388, Robert was appointed as Regent, ruling Scotland on behalf of his elderly father. He continued in this role during the reign of his elder brother, King Robert III (reigned 1390–1406), who was physically disabled after being kicked by a horse.
In 1398 Robert was named Duke of Albany, and by 1406 he had become Regent once more after King James I was captured by the English.
After Robert died in 1420, all his titles and property (including Doune Castle) were passed down to his son, Murdoch Stewart.
But when King James was ransomed and returned to Scotland, he had Murdoch executed for treason.
Doune Castle thus became a royal possession, serving as a retreat and hunting lodge for the Scottish monarchy for centuries.
In 1570, descendant James Stewart was named Lord Doune and became the first Earl of Moray. From that point on the castle became the seat of its keepers, and was owned by the Earls of Moray until it was donated to Historic Scotland in 1984.
Many Scottish notables frequented Doune Castle. Mary, Queen of Scots stayed there, occupying the warm rooms above the kitchen.
Her son, King James (who ruled England, Ireland, and Scotland), visited on occasion and ordered renovations in 1580.
And Charles Edward Stuart (a.k.a. Bonnie Prince Charlie) occupied the castle with his Highlanders during the famous Jacobite Rising of 1745, before they were ultimately defeated at the Battle of Culloden.
READ MORE: One Week in Ireland (The Perfect Ireland Road Trip Itinerary)
OUR DOUNE CASTLE TOUR
Because Doune Castle has become one of the most famous filming locations in Scotland, getting there early is vital during the summer if you want to avoid the crowds.
Even though we arrived right when the gates opened at 9:30AM, by the time we left the castle was swarming with organized tour groups.
Though guided tours of Doune are available, we opted for the immensely entertaining audio tour narrated by Monty Python's Terry Jones.
Using sound effects and vivid descriptions, the audio brings the castle's medieval history alive. Signs throughout the castle cue you on when to move to the next section.
Starting beneath the gatehouse– the castle's front line for defense– Jones points out a small slit between the top of the wooden gate and a stone archway.
"It may have been a portcullis," he says. "Or it may have been a murder hole through which rocks and boiling hot water could be dropped onto the heads of the attackers!"
Jones' narration (and that of Outlander star Sam Heughan, which is also available on an alternate track) adds great historical context to empty rooms such as the Great Hall, Lord's Hall, and kitchen.
But we also enjoyed turning off the audio and just taking it all in. The massive stones (which date back to 1580) that made up the walls. The stunning views of the verdant countryside. The intricate design details in the carved wooden benches and chairs.
It was easy to see why Doune Castle had been chosen as a filming location for epic tales such as Game of Thrones and Outlander.
Having seen those shows made it easier to imagine how these ancient rooms must have looked during medieval times. We could almost hear the sounds that must have reverberated wildly during the grand feasts held there.
We visited Doune Castle as part of Rabbie's West Highlands, Lochs & Castles tour:
Inveraray – Visit this 18th century town and discover an ancient jail and a gorgeous castle.
Doune Castle – One of the best preserved Medieval castles in Scotland. It's also featured in Monty Python's Holy Grail, Outlander, and The Outlaw King.
Loch Awe – The longest loch in Scotland has close connections to the MacArthur, Campbell, Stewart, and MacGregor clans.
Rest and Be Thankful pass – Let the beauty sink in at this stunning location that was once a popular rest spot for Highland soldiers.
Conservation Village of Luss – This idyllic village on the shores of Loch Lomond will make you want to pack your bags and move in.
Loch Lomond National Park – Admire the views and take postcard-perfect photos to share with your friends and family.
READ MORE: Things to Do During 48 Hours in Edinburgh
OTHER DOUNE CASTLE TOURS
For Outlander Castle fans, check out these full day tours from Get Your Guide:
Visit some of the most memorable locations featured in the Outlander series
Learn about the history that inspired the famous show
Explore the 16th century village of Culross, also known as Cranesmuir
See Doune Castle, a stunning place that you'll recognise as Castle Leoch
See the real life sets from the TV series "Outlander"
Visit Linlithgow Palace in the Royal Burgh of Linlithgow
Tour Doune Castle, home of the Clan MacKenzie
Explore the tiny village of Culross
Delight yourself at Doune Castle. Also, known as being the site of Castle Leoch and for Game of Thrones Fans; Winterfell
Explore the beautiful village of Culross and the historic town of Falkland
Visit both Blackness Castle and Midhope Castle
Castle Anthrax/Swamp Castle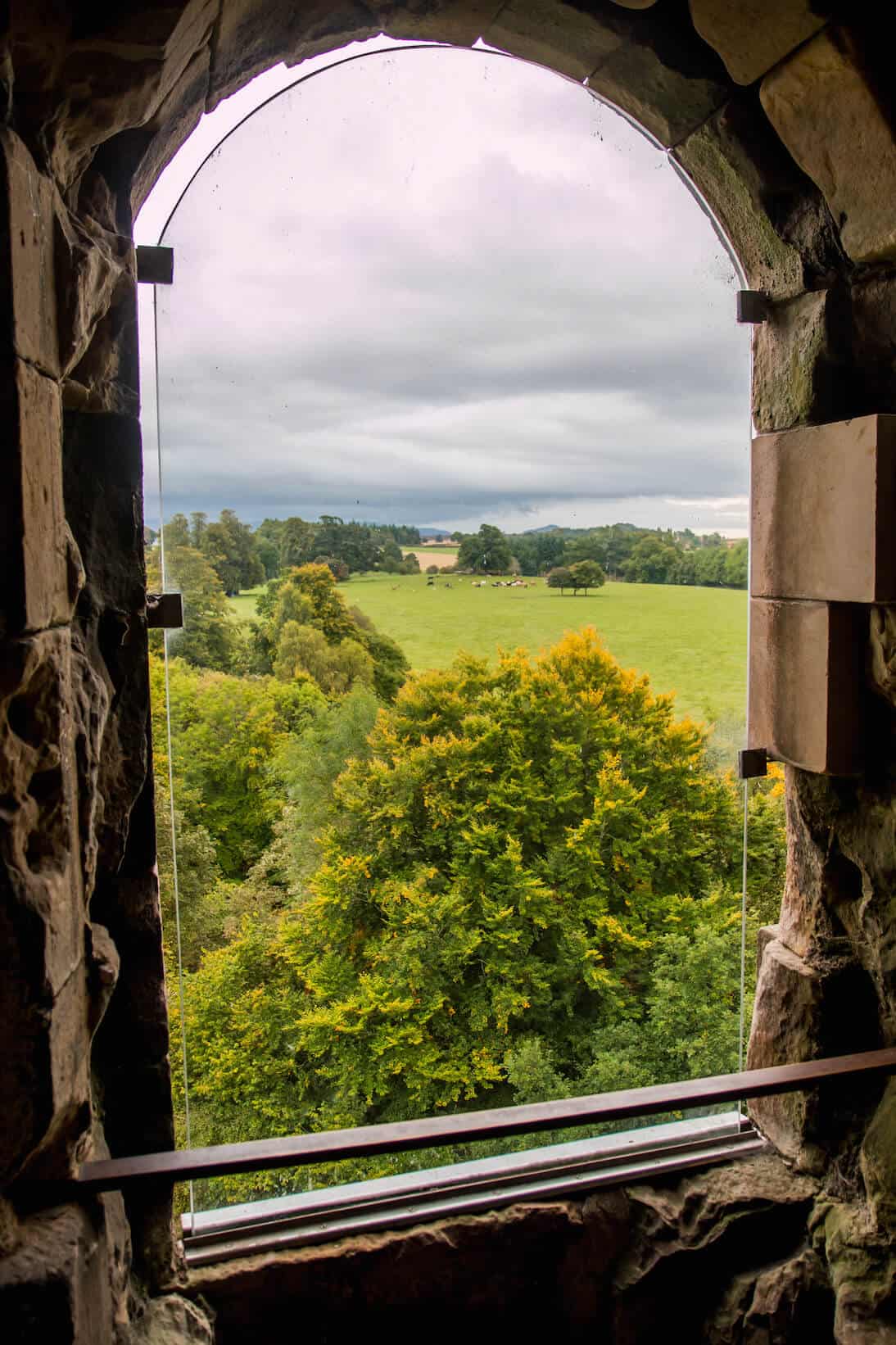 The Doune Castle – Monty Python Connection
One of the coolest things about exploring Doune Castle for me was the fact that I've probably watched The Holy Grail at least 50 times.
And of all the TV shows and movies shot on location there, none has used the castle's medieval beauty more effectively than Monty Python's 1974 comedy classic.
The producers hadn't originally planned to use Doune Castle as much as they did. In addition to getting consent from Lord Moray to film there, they also obtained permission from the National Trust for Scotland to film scenes at various other Scottish castles.
Unfortunately the NTFS changed their minds at the last minute. So the filmmakers cleverly used different parts of Doune to depict the various castles portrayed in the film.
The outside of Doune Castle will be familiar to anyone who's seen Holy Grail. Its east wall is where King Arthur (Graham Chapman) and Patsy (Terry Gilliam) argue with soldiers at the beginning of the film. And the front entryway is the place where the hilarious Trojan Rabbit scene was filmed.
The Great Hall was the filming location for the "Knights of the Round Table" musical number (a show-stopper in the Broadway musical adaptation, Spamalot). It's also where Sir Lancelot (John Cleese) interrupts a wedding in progress.
The server and kitchen areas are portrayed in the film as part of "Castle Anthrax," where Sir Galahad (Michael Palin) is mobbed by a group of randy women.
And the Duchess' Hall was used for the Swamp Castle scene, in which Prince Herbert (Terry Jones) is being held captive by his father's dumb guards.
Having Jones pepper the audio tour of Doune Castle with behind-the-scenes stories of filming Holy Grail there really made it special for me.
But these days there are probably more Outlander tours bringing fans to the castle, despite the fact that Doune only makes a brief appearance on the show.
READ MORE: The Top 5 UK National Parks
Castle Leoch
The Doune Castle – Outlander Connection
Fans wondering where Outlander is filmed will recognize Doune Castle immediately, because it was featured in many episodes of the show as Castle Leoch. The various characters introduced here included Mrs. Fitz, Murtagh, and Laoghaire MacKenzie.
For those who haven't seen the STARZ series based on Diana Gabaldon's historical romance novels, it follows married former WWII nurse Clare Randall (played by Caitriona Balfe).
In 1946, she finds herself transported back in time to the Scottish Highlands in 1743, where she falls for warrior Jamie Fraser (Heughan) and gets caught up in the Jacobite risings.
The castle was among the more recognizable Outlander filming locations during the series' first two seasons, including the great hall, courtyard, and surrounding grounds.
But there's a common misconception that the Doune Castle kitchen was a primary filming location for the series.
In reality, an exact replica of the kitchen was built in order to make filming easier, as filming at a historic landmark can bring some extra challenges.
READ MORE: Tracing Family Roots in the Scottish Islands & Highlands
Winterfell Castle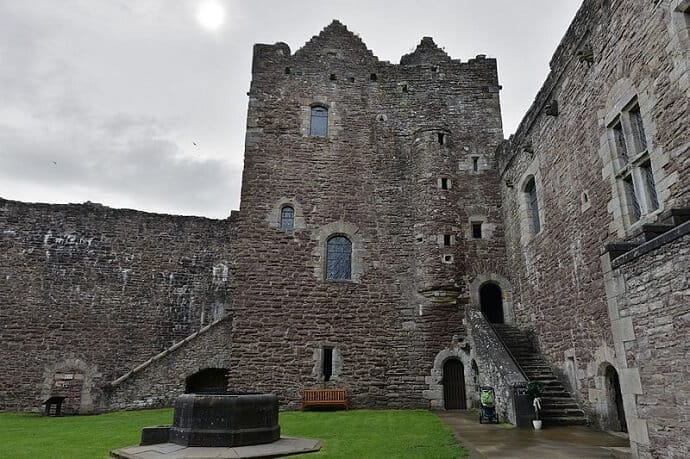 The Doune Castle – Game Of Thrones Connection
Doune Castle's thick-walled courtyard was featured in the pilot of Game of Thrones as Winterfell, home to House Stark.
Massive amounts of dirt were trucked in to transform the now verdant square into an archery range.
Dounce Castle appears in the famous scene where Jon Snow (Kit Harington) teaches a young Bran Stark (Isaac Hempstead Wright) to aim his arrow just as his sister, Arya (Maisie Williams) hits a perfect bullseye.
Whether you're a Game of Thrones fan wanting to see Winterfell, or just a history buff who loves medieval Scottish castles, Doune is well worth a visit.
We spent an hour there during our 5-day tour of the Scottish Islands & Highlands, and it honestly wasn't enough.
Sure, Scottish castles such as Edinburgh and Stirling are both larger and more historically important. Inveraray and Dunvegan are more modern, and much more lavishly decorated. But Doune Castle was my favorite of all the castles we visited on our trip to Scotland.
Perhaps that's because it was the most like what I envisioned as a boy, reading those King Arthur legends and dreaming of growing up to be a Knight in shining armor.
READ MORE: The Best Travel Books to Inspire A Love of Adventure
Facts About Doune Castle
DOUNE CASTLE LOCATION: In the Stirling district of Central Scotland at the confluence of the River Teith and Ardoch Burn.
PHONE: +44 (1786) 841742
OFFICIAL WEBSITE: https://www.visitscotland.com/info/see-do/doune-castle-p254201
DOUNE CASTLE HOURS: Open 10AM-4PM
DOUNE CASTLE TICKET COSTS: Tickets cost $11.64 for adults, $6.99 for children ages 5-15, and are free for children under 5.
HEIGHT: The castle is 95 feet tall from the ground to the top of Lord's tower.
DATE BUILT: The castle was built in the 14th Century.
Doune Castle FAQS
What was filmed at Doune Castle?
Doune Castle is one of the most famous filming locations in Scotland, drawing thousands of movie and TV fans to visit each year.
Most recently filmed at Doune Castle is the Netflix film Outlaw King and the TV series Outlander, in which it's called Castle Leoch, the seat of Clan Mackenzie.
Both the 1952 film featuring Liz Taylor and the 1996 BBC adaption of Ivanhoe were filmed here. There's also the hit HBO series Game of Thrones, for which the castle was used as the first season location of Winterfell, home of House Stark.
But perhaps the most famous and beloved movie that filmed at Doune Castle is the 1974 cult classic, Monty Python & the Holy Grail. Various locations in the castle can be recognized in some of the film's most famous and hilarious scenes.
Doune Castle is so recognized from the film that they have held a Monty Python Day at the castle every September since 2004.
READ MORE: Top 10 Oscar-Nominated Environmental Documentaries
How far is Doune Castle from Glasgow?
You can reach Doune Castle from Glasgow by car, taxi, bus, or train.
Driving a car or taking a taxi is the quickest way to reach the castle, requiring just under a 40-minute drive. But taxis can be quite pricey, costing around $90.
Buses cost $8-$14 and depart from the Buchanan Bus station. But because there is no direct transit from the station to the castle, the trip will take a little over 2 hours.
A train ride costs $11-$27 and lasts a little over 2 hours total, including a transfer in Stirling. There you will have to hop on a bus to reach the final destination.
Buses will drop you off at the Bridge of Teith. You will then have to walk about 12 minutes to reach the castle.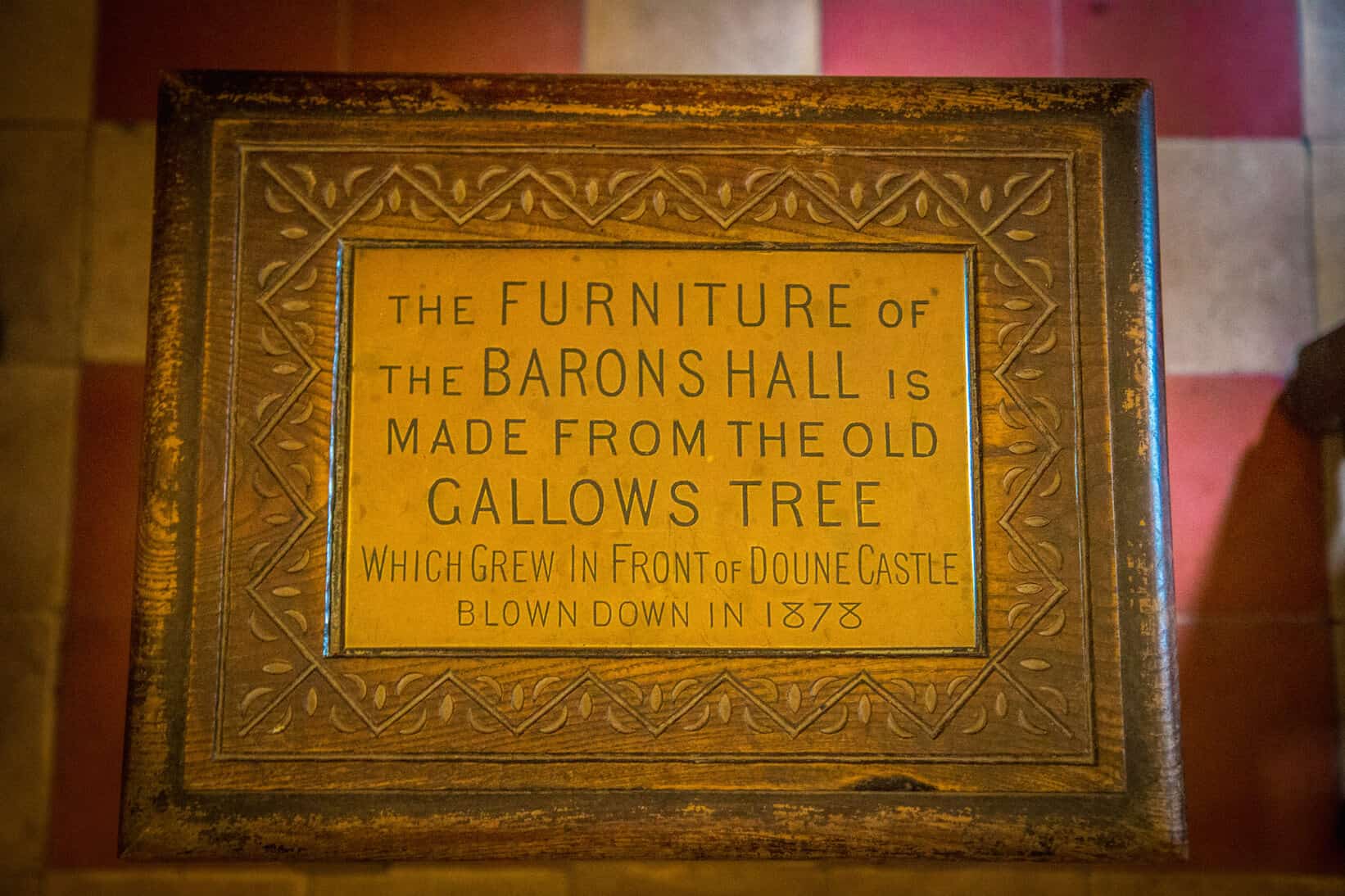 How far is Doune Castle from Edinburgh?
To get from Edinburgh to Doune Castle, you can drive yourself or take a taxi, bus, or train.
It's about a 50-minute drive by car or taxi, with the latter costing around $130.
Trains and buses will only cost you around $15. But because of transfers, the bus route will take close to 4 hours to reach the dropoff point for Doune, on Bank Street. From there you will still have to walk about 10 minutes to reach the castle.
If you choose to take the train, it will be a 2-hour trip total, including a transfer in Stirling to get on a bus that will drop you off at the Bridge of Teith.
How far is Doune Castle from Stirling Castle?
Stirling Castle is just a 10-minute car or taxi drive from Doune Castle, with taxis costing around $30.
If you want to catch a bus, the Cowane Centre in Stirling is just an 11-minute walk from Stirling Castle. There you can get on a bus that will take you to Bank Street in Doune.
From there, it's a 9-minute walk to Doune Castle. In total it will be about a 44-minute trip.
Doune Castle Hotels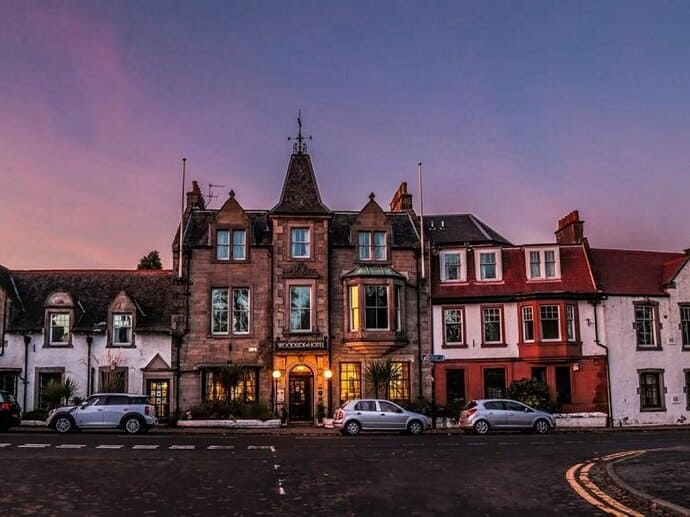 Tucked away in the historic village of Aberdour, the Woodside Hotel dates back to 1873.
It is a 25-minute drive by car from the Edinburgh International Airport, with free parking available at the rear of the hotel.
Free Wi-Fi is available in the lounge, and if you're looking for a great place to dine, the Clipper restaurant offers a menu that can be customized to your specific wants.
The restaurant also has its fair share of history, featuring a beautiful stained-glass ceiling that once belonged to the steam liner RMS Orontes.
Located on the Fife Coastal Path, the hotel is only a five-minute walk to the beach. It also offers easy access to the beautiful countryside as well as the Aberdour Golf Club.
Check Rates for the Woodside Hotel on Booking.com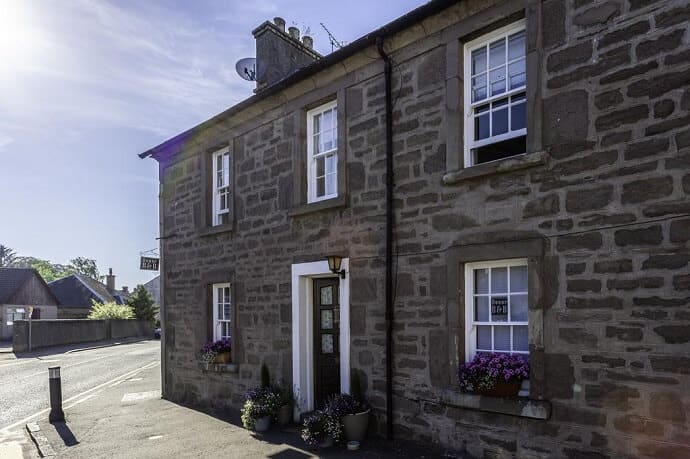 This family-run bed and breakfast sits in the heart of a 200-year-old stone cottage in Doune, Scotland.
It offers spacious rooms large enough a family of four, which are sure to make you feel right at home.
A full continental or English/Irish Breakfast is available for guests, as well as seating areas that offer free Wi-Fi.
Located 38 miles from the Edinburgh International Airport, Doune B&B is in a prime location for those wanting to experience all the village has to offer.
It's just a short walk from Doune Castle, as well as to surrounding cafes and picnic areas along the river Teith and the Ardoch Burn.
Check Rates for the Doune B&B on Booking.com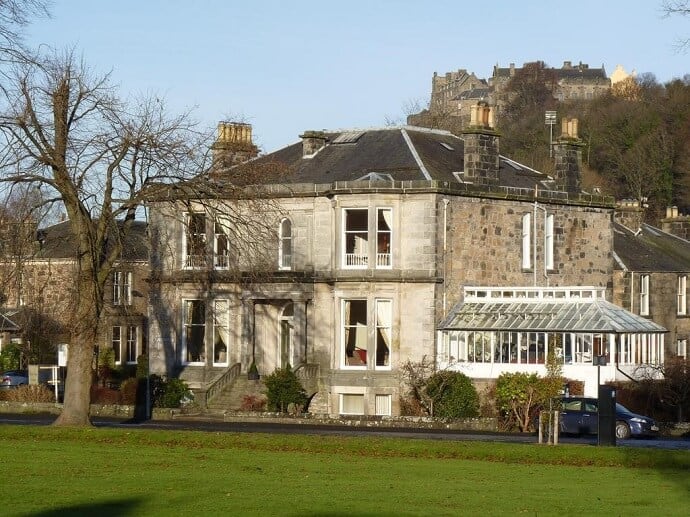 This award-winning hotel is both historical and modern. Its luxurious rooms draw inspiration from the Victorian period, but are fully furnished with all the modern amenities expected today.
Situated in the Kings Park Conservation Area, Victoria Square has a beautiful exterior showcasing traditional Scottish architecture. It's only a short drive away from Stirling Castle.
Victoria Square links with the renowned Orangery Restaurant to serve both resident and non-resident guests refined evening dining, lunch, and afternoon teas.
Along with its delicious food, the restaurant has a gorgeous commonwealth ceiling containing the emblems of the countries of the British Isles.
Check Rates for Victoria Square on Booking.com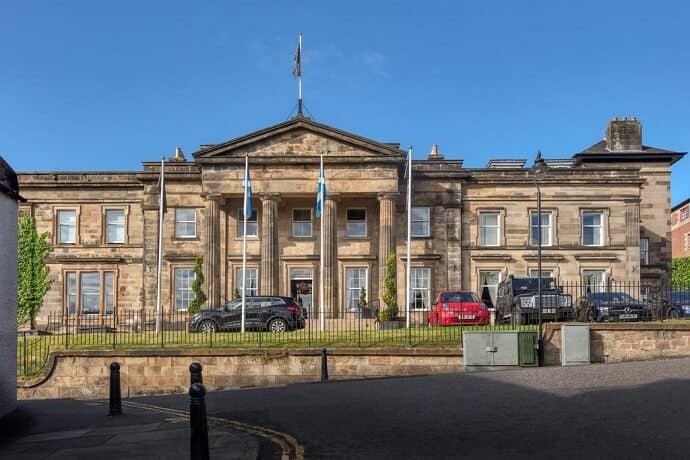 Once an original Victorian landmark, this historic building has been transformed into the Hotel Colessio.
Now it features stylish interior design, contemporary bedrooms, and world-renowned quality service.
Located in the center of Sterling, it's in a great location to explore Scotland. Both Edinburg and Glasgow are fairly close by, and the Stirling Railway Station is just a short walk from the hotel.
Along with a high-class cocktail and piano bar, the hotel offers traditional meals with a modern twist served from their onsite restaurant, the Grill Room.
Check Rates for the Hotel Colessio on Booking.com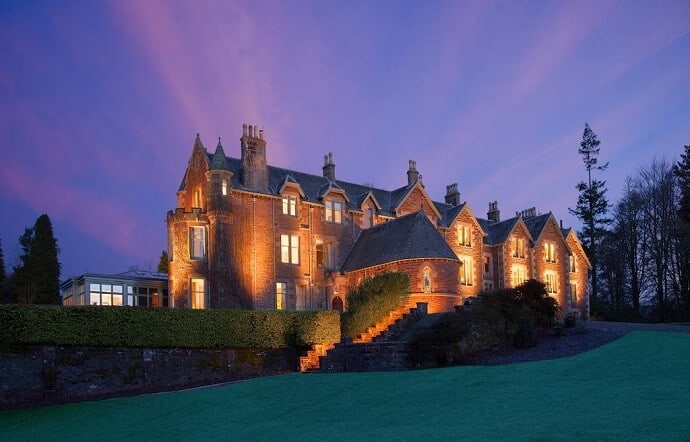 Owned by tennis superstar Andy Murry, this hotel is known for its world-class service and elegant rooms furnished with specially sourced Scottish antique furniture.
Located in the countryside, where it's surrounded by 34 acres of woodlands and garden, the Cromlix hotel offers no shortage of onsite activities, including archery, tennis, and fishing in a nearby lake.
If you're looking to relax, in-room spa treatments can be booked in advance. Full Scottish breakfasts can be ordered and enjoyed either in the guest rooms or at the hotel restaurant.
The Chez Roux Restaurant offers a 3-course dinner and lunch menu as well as an a la carte breakfast, lounge, and afternoon tea menu. All of their meals predominately use locally sourced produce.
Free Wi-Fi and parking are also available to guests of the hotel.
Check Rates for the Crolix on Booking.com
–by Bret Love; photos by Bret Love & Mary Gabbett unless otherwise noted.
Traveling to Doune Castle, Scotland?
Check out the following services we use!
DollarFlightClub or Airfarewatchdog to find a cheap plane tickets.
Omio for affordable European Train Tickets.
Booking.com or Agoda to find a hotel deals.
Lonely Planet for Travel Guides.
World Nomads for Travel Insurance.
AutoEurope for European Car Rentals
.
TrustedHousesitters we've found great pet sitters to watch our house and love on our two dogs!
Check out these great travel gear options!
The Best Travel Clothes for Women & Men
The Best Vegan Boots for Women & Men

The Best Backpacks for Travelers
Plastic Free Products for Travelers
Best Camping Tents for Families
Our trip to Scotland was hosted in part by Rabbie's, with assistance from Visit Scotland. But our opinions remain our own, and we will never compromise the integrity of our obligation to our readers.