My love affair with Costa Rica began more than 20 years ago, in the early days of ecotourism. It was only my second trip outside the US, and the first where I learned about the importance of environmental and wildlife conservation.
We explored much of the country's central and western regions, from the Arenal Volcano and Monteverde Cloud Forest to the Nicoya Peninsula and Caño Negro Wildlife Refuge (on the northern border with Nicaragua).
We saw countless animals, from cute, cuddly Coatimundis and Sloths to every type of tropical bird, butterfly, and frog you can imagine. By the time an orphaned monkey climbed on my shoulders at Caño Negro, I was madly in love with the country.
In case you haven't read the story about how Green Global Travel was born, Mary and I came up with the concept in Tortuguero National Park during our 2010 visit. When we returned in 2013 as part of a coordinated group press trip, it gave birth to our Green Travel Media agency.
This Central American hotspot obviously holds a special place in our hearts, as well as those of many of our travel blogging friends.
So we enlisted their help to compile this epic guide to the best places to stay in Costa Rica, including all our favorite Costa Rica resorts, eco-lodges, and hotels. –Bret Love
READ MORE: Top 20 Things to Do in Costa Rica (For Nature Lovers)
THE BEST PLACES TO STAY IN COSTA RICA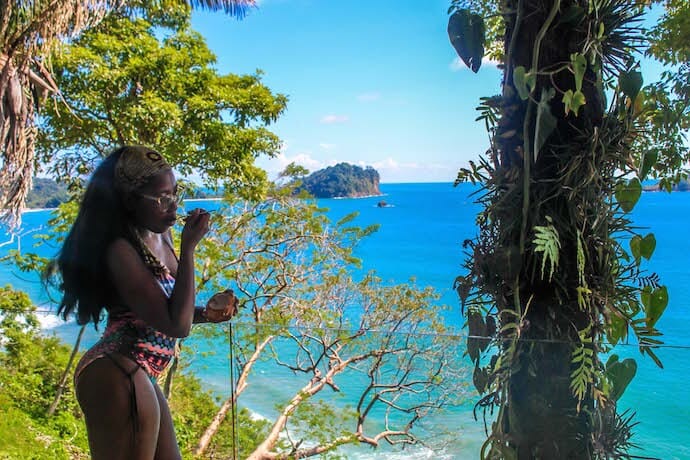 Quality: 5 Stars / Budget: $$$
Arenas Del Mar is the only eco-luxury resort located right on the beachfront in Manuel Antonio. With the beautiful beach at your front and the lush rainforest supporting your back, Mother Nature gets to share her best sides as the two ecosystems intertwine.
You'll awake to the sounds of the ocean gently crashing against the shore, and walk onto the balcony to take a morning dip in your private jacuzzi. Check out the resort schedule to see if that day's yoga class is being held on the secluded beach or on the patio overlooking the forest.
Rest assured that this upscale indulgence is just the surface of your experience. Behind the scenes, sustainability and supporting the local community is at the forefront of this posh Costa Rica resort's mission.
From the gift shop and the mini bar (which is included in the price) to the food in the restaurant, many products you'll find at Arenas del Mar are natural, organic, and sourced from local companies.
Solar panels are utilized to heat the hot water, while the pools are chlorine-free, instead using ionization to clean the water. Twenty percent of the resort's land is devoted to the rooms, facilities, and beach, while the remaining 80% is protected as part of the Cayuga Nature Conservancy.
Keep your eyes open at all times, as you're sure to see an array of the incredible wildlife that can be found on the property. From Sloths to Iguanas, White-face Capuchin Monkeys, and more, this is their home first and foremost, and we are lucky to be their guests. Read More Reviews & Check Rates. –Yoli Ouiya of Yoli's Green Living
READ MORE: Ecotourism in Costa Rica (The Ultimate Eco Travel Guide)
Quality: 4 Stars / Budget: $$
This remote eco lodge is located on the border of Corcovado National Park, in an area with no airport and no roads, a solid two hours by boat from the nearest town. It's as close as you can get to the park without camping, and one of the few Costa Rica resorts to earn a 5-Leaf rating for Sustainable Tourism.
US expat Steven Lill bought the land in 1974 (a year before the park was created) to try his hand at subsistence farming. For 20 years it was a pristine 170-acre nature reserve (monkeys, sloths, and birds still abound on the property today), and in 1994 he opened Casa Corcovado Jungle Lodge.
The resort boasts 14 charming bungalows, a Spanish Hacienda-style restaurant, two swimming pools, lushly landscaped gardens, an outdoor bar/lounge, and a margarita bar offering stunning sunset views. The rooms are spacious and secluded, with screened-in porches, hammocks, and outdoor showers.
Their sustainability initiatives include a solar electric system, a hybrid solar convection for heating water, and an electric generator. They also installed a hydroelectric turbine, a wastewater management system, and financed a recycling center in Sierpe (with all proceeds benefitting a local high school).
The lodge offers lots of activities, including hiking tours into Corcovado National Park, which is considered one of the most biodiverse places on the planet. They can also arrange snorkeling/Scuba diving excursions at Caño Island, which is about 40 minutes away by boat. Read More Reviews & Check Rates. –Bret Love of Green Global Travel
READ MORE: Casa Corcovado Jungle Lodge Review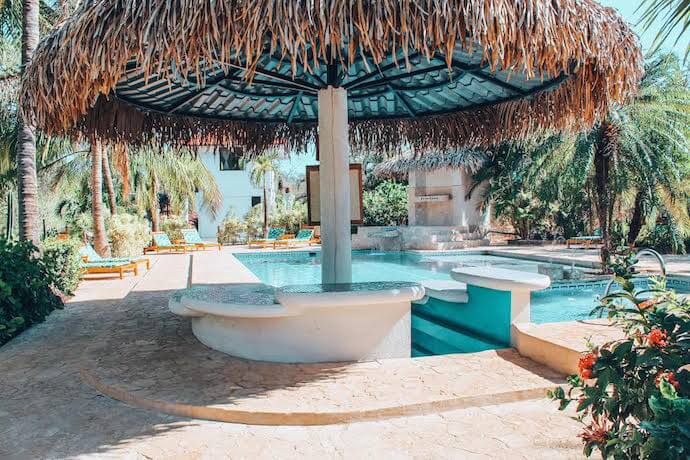 Quality: 4 Stars / Budget: $$
Located just south of Tamarindo, Drift Away Eco Lodge is one of our favorite places to stay in Costa Rica. It's a true eco resort focused on sustainability, both environmental and social.
Whether you're a family looking for a base for your adventures, a couple seeking a romantic getaway, or a solo traveler hoping for to venture off the beaten path, this resort offers something for every type of traveler.
You can hop on a complimentary bicycle and ride to Playa Negra or Playa Avellanas to try your hand at surfing, grab a bite to eat at a local restaurant, take a yoga class, and much more. The staff at Drift Away Eco Lodge is also able to arrange scuba diving, zip lining, and other day trip excursions for you.
Once you're done exploring the different activities in the surrounding area, you can enjoy the relaxing atmosphere back at the lodge. You can grab a book and kick back in the hammocks, take a refreshing dip in the pool, play a game of pool or ping pong, or head down to the isolated beach.
The rooms at Drift Away are decorated with repurposed wood, Costa Rican crafts, organic cotton linens, a reusable water bottle you can use during your stay, and locally made natural toiletries.
In addition to being laid-back and beautiful, Drift Away is the perfect place for anyone trying to make a positive impact while traveling. To name just a few of the resort's sustainable practices, they're free of single-use plastics, hire locals, repurpose and reuse items, and source local ingredients for their food, beer, wine, and kombucha. Read More Reviews & Check Rates. –Ashley Hubbard of Wild Hearted
READ MORE: What Is An Eco Lodge? (The Best Eco Lodges & Eco Resorts)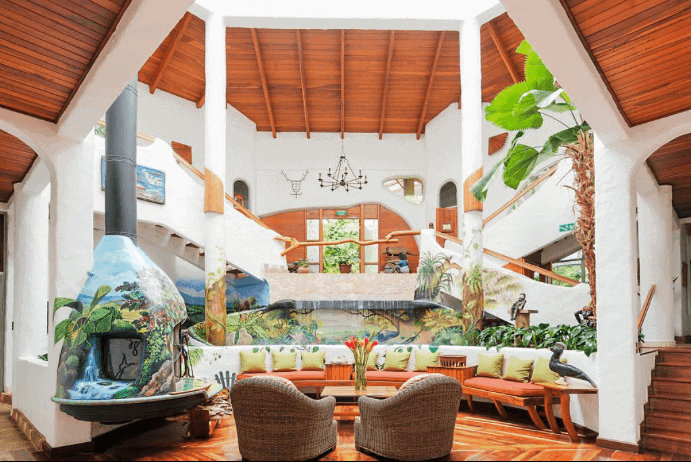 Quality: 5 Stars / Budget: $$$
In the hills above San José, just 15 minutes from Costa Rica's international airport, the town of Heredìa is home to Finca Rosa Blanca Coffee Plantation Resort (FRB), the country's original boutique hotel.
It was also the first place in Costa Rica to earn a 100% score on the Certification for Sustainable Tourism. This is the country's trailblazing national standard, a seal of approval that grants one to five green leaves to businesses engaged in sustainable practices.
Ecotourism runs very deep at FRB, but so do art and coffee. The resort feels like one part lush private nature reserve, one part plantation for some of Costa Rica's best single-origin, shade-grown coffee. It's also a flight of creative fancy, with each room uniquely designed with imaginative architectural touches, murals, original artwork, and local crafts.
FRB is within day-trip reach of numerous parks and activities (including river rafting, canopy tours, cultural tours, and volcano-spotting), but there's plenty of distraction right on site, including the grounds with 50-plus varieties of native fruit, trees and other tropical flora, and many indigenous and migrant birds.
For coffee fans, the 2½-hour, in-depth, educational coffee plantation tour is a must, especially when rounded out with coffee cupping and tasting. And the resort boasts a large swimming pool, the El Buho Bar and farm-to-table El Tigre Vestido Restaurant.
What could be better for travelers keen on an upscale, ethical hotel full of art, coffee and appreciation of nature? Read More Reviews & Check Rates. –Ethan Gelber of The Travel Word
READ MORE: The Best Coffee in the World (A Gourmet's Guide)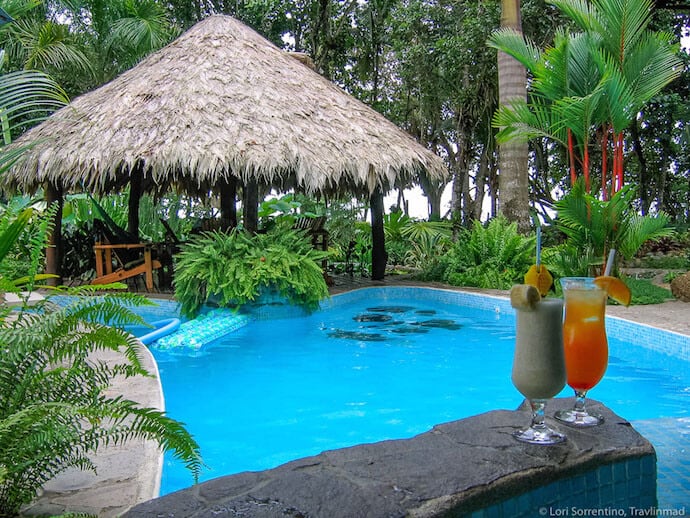 Quality: 4 Stars / Budget: $$
Once considered a backpacker's paradise, the small, funky town of Puerto Viejo de Talamanca has become the most popular tourist stop on Costa Rica's Caribbean coast. Just an hour drive south of the port city of Limón (and not far from Panama), Puerto Viejo has a West Indies feel and is well worth a visit.
Our favorite place to stay in the area is the adults-only Hotel Banana Azul, which is located on one of the most beautiful beaches in PV. The grounds are a veritable botanical garden— lush and beautifully manicured, surrounding a pool with small waterfalls and a thatched-roof patio.
Built with native hardwoods, the resort has a warm and rustic feel, with comfortable beds, tropical interiors, and private baths. The second story rooms have French doors which open onto a covered balcony overlooking the pool, each with its own table and chairs and some with a hammock.
Open the doors at night to enjoy the evening breeze coming in from Playa Negra beach. The beach itself is quiet with waves that are sometimes large enough to do some light surfing.
During the day, visit nearby Cahuita National Park, the beautiful beach town of Punta Uva, the Jaguar Rescue Center, or go surfing at Playa Cocles. The on-site restaurant serves tasty meals for breakfast, lunch, and dinner, and the small bar is open all day long.
The resort staff can also help you arrange a variety of spa services, day trips, and transportation to the airport or nearby Bocas del Toro, Panama. But one thing is certain, you'll never really be ready to leave! Read More Reviews & Check Rates. –Lori Sorrentino of Travlinmad
READ MORE: The 25 Most Unusual & Unique Hotels in the World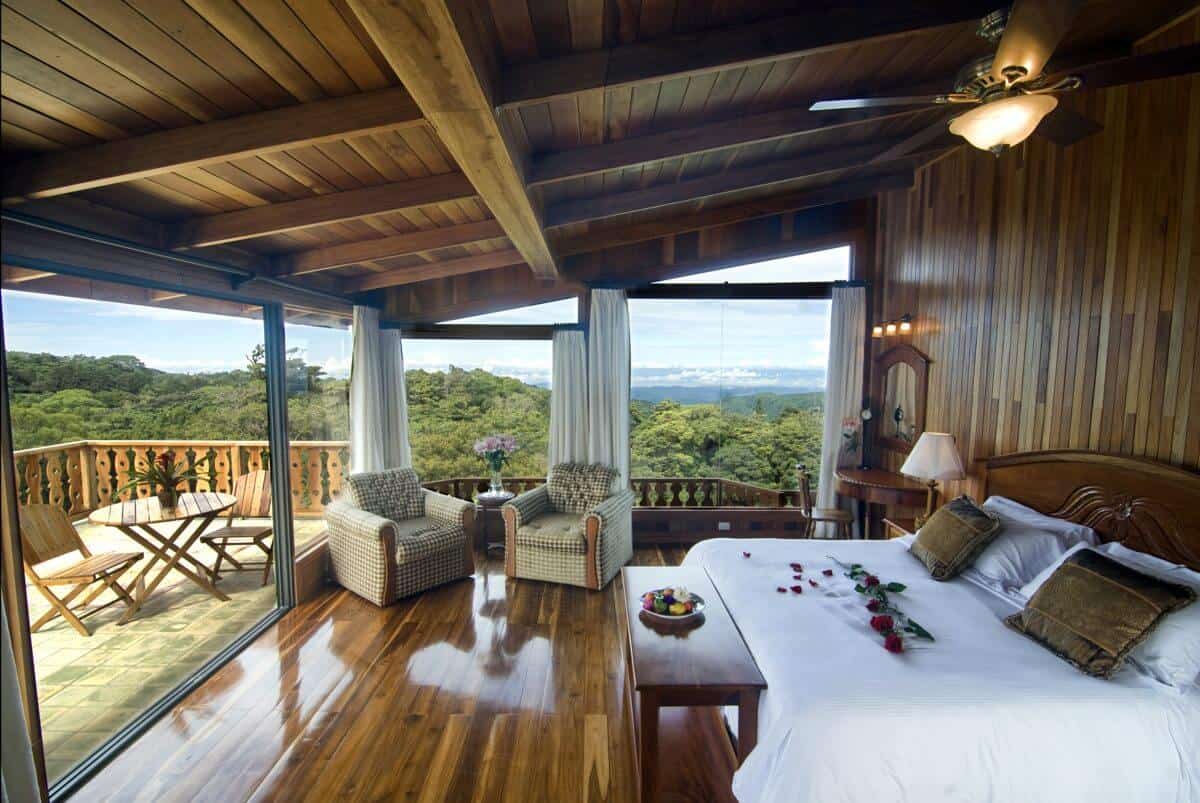 Quality: 4 Stars / Budget: $$
The Monteverde Cloud Forest Reserve ranks among Costa Rica's most beloved tourist attractions, drawing 70,000+ visitors a year. It's a haven for wildlife: The reserve's six ecological zones are home to around 100 species of mammals, 120 types of reptiles and amphibians, and 400+ bird species.
A pioneer of ecotourism in the area, the carbon neutral eco-hotel was the second ever built in the cloud forest. Recent renovations marked a major upgrade, with their sustainability initiatives earning the prestigious 5-Leaf recognition from CRTI.
Their Peninsula rooms offer spectacular scenic views of the surrounding mountains. But we loved the Chalet rooms, which make you feel like you're right in the heart of the forest. All rooms feature private balconies and terraces, beautiful hardwood decor, spa tubs and free wifi, while some also boast beautiful ocean views.
In terms of amenities, this boutique luxury hotel includes a wellness spa, yoga classes, and delicious farm-to-table food at Restaurante Celajes. You can also arrange a 3.5-hour guided hike through the trails of nearby Curi-Cancha Wildlife Refuge, where you're guaranteed to spot an array of animals.
One of the first Costa Rica resorts I ever visited back in 1998, Hotel Belmar has only improved over time! Read More Reviews & Check Rates. –Bret Love of Green Global Travel
READ MORE: 40 Things You Should Know Before Traveling to Guatemala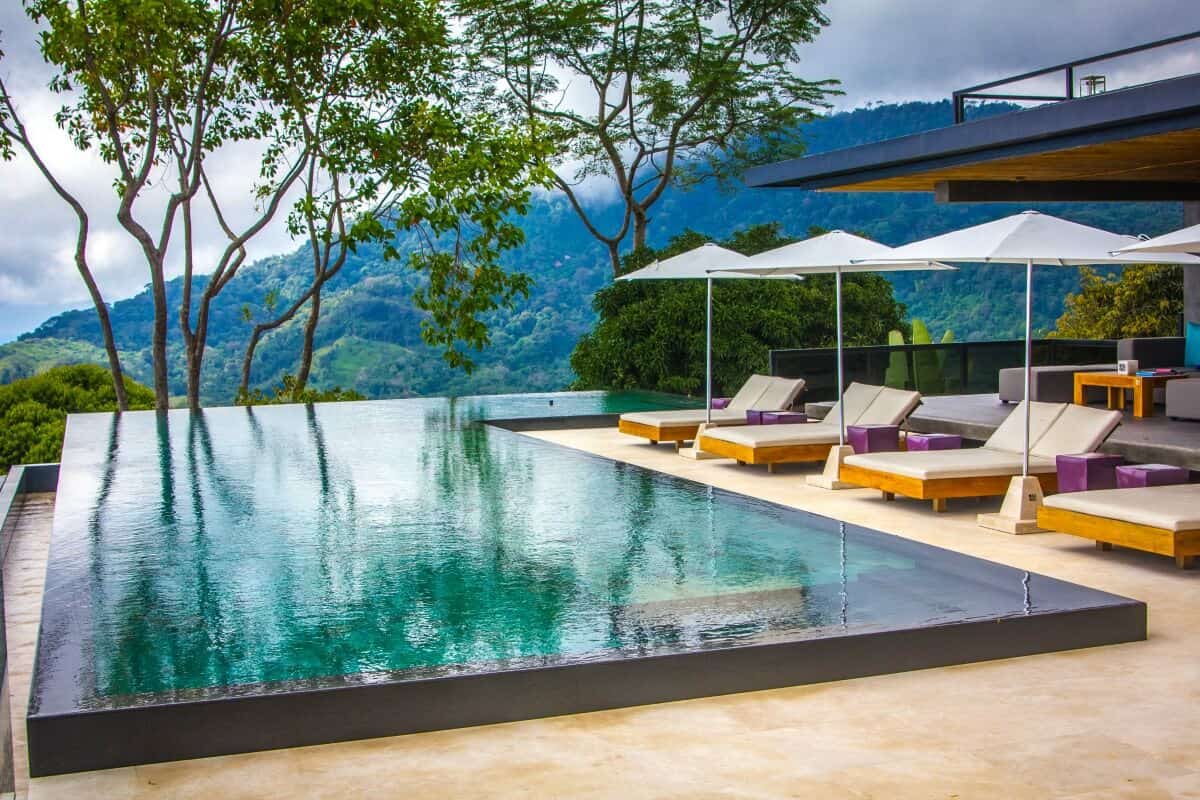 Quality: 5 Stars / Budget: $$$$$
If your pockets are deep and you want to "treat yo'self" to eco luxury at its finest, you won't find many places to stay in Costa Rica that are more posh than Kurá Design Villas.
Part of the critically-acclaimed Cayuga Collection of properties, the boutique hotel was opened in 2013 by married partners Martin Wells and Alejandra Umana.
Wells' architectural style is unique, blending traditional (such as colorful Boruca masks) and modern (sleek teak and steel) elements. From the bedrooms and bathrooms to the swanky lounge and L-shaped infinity pool, every aspect is eye-catching.
Umana, a biologist, oversees the hotel's sustainability initiatives. These include a chlorine-free saltwater pool, grey water recycling for the lush landscaping, a hyrdoponic garden for ingredients used in the excellent restaurant, solar panels for LED lighting and heating water, biodegradable soaps, and more.
As for the rooms? Ranging from 800 to 1,700+ square feet, they're all massive, with private balconies, stunning scenic views, spa tubs, AC, and much more. From the huge beds and overstuffed couches to moody lighting and double rainfall shower heads, this adults-only hotel is clearly made for romance.
Coincidentally, Mary and I celebrated our anniversary at Kurá one year, and every detail of the experience could not have been more perfect. We capped it off with a transcendant couples massage in their spa, with the forest right outside the floor-to-ceiling windows and the sounds of Costa Rica animals all around us. Read More Reviews & Check Rates. –Bret Love of Green Global Travel
READ MORE: Kurá Design Villas Review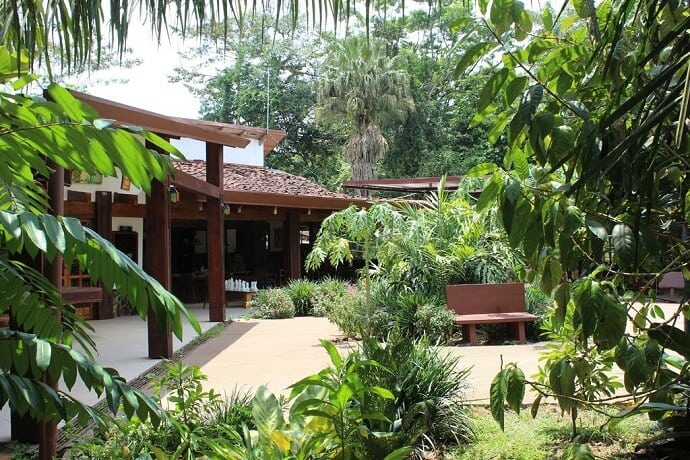 Quality: 4 Stars / Budget: $$
This unassuming eco lodge in the Heredia Province is an impressive budget-friendly option for travelers planning a visit to the Tirimbina Rainforest Center and/or La Selva Biological Station. Its low-impact approach earned the 5-Leaves rating from Costa Rica's Certification for Sustainable Tourism.
Located along the banks of the Sarapiquí River, the lodge is set on 10 acres. Hiking trails take guests through an area reforested with native trees, an old-growth forest, and tropical gardens that attract a dizzying array of bird life. The property also includes a Butterfly House, Frog Land, and vegetable garden.
There are 28 rooms in hacienda-style bungalows, each decorated simply with wood furniture and Latin American art. All rooms include AC, ceiling fans, and covered balconies and/or patios, some of which have rocking chairs, hammocks, and river views.
Meals at the restaurant (prepared by chef/co-owner Leonardo Jenkins) are better than most in Costa Rica, with a buffet that typically includes salad, two to three freshly grilled meats, and your choice of six different side dishes. Private cooking classes can be arranged, and there's a lovely little spa right by the river.
The lodge staff can also help with booking a variety of local tours, from whitewater rafting and horseback riding to chocolate tours and local school visits. Read More Reviews and Check Rates. –Bret Love of Green Global Travel
READ MORE: The History of Chocolate (& How Chocolate is Made)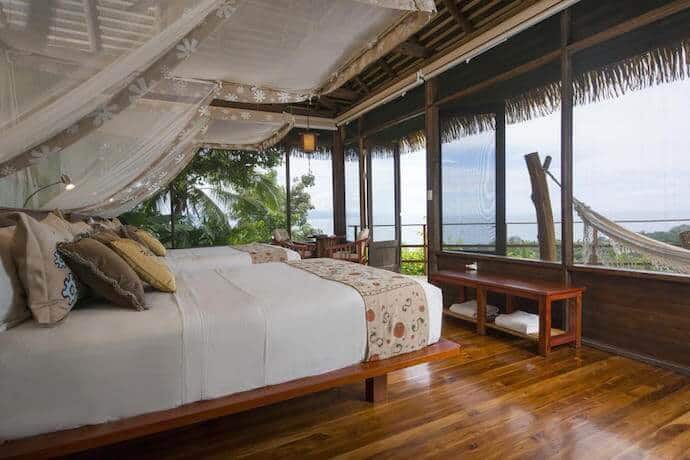 Quality: 4 Stars / Budget: $$$$$
Lapa Rios is an eco lodge located in a vast rainforest on the Osa Peninsula in southern Costa Rica. The resort definitely lives up to its promise of offering guests a "rainforest adventure of a lifetime."
Getting to Lapa Rios is part of the experience, starting with Sansa Air's carbon neutral flight to Puerto Jimenez on the Golfo Dulce. Then it's a 45-minute 4X4 journey across dirt roads through forests and plantations, where you can spot beautiful birds along the way.
The resort features 17 spacious bungalows set on a hilltop overlooking the Pacific. Set amid primary and secondary rainforest, the bungalows are open-air (with screens and mosquito nets on the canopy bed), which offers guests a sense of being one with nature.
A stay here is a surround-sound experience, with the rumble of howler monkeys, the echoing chorus of bird song, and the rustling of tropical foliage in the ocean breeze.
Unlike the 5-star resorts of Guanacaste and other, more developed regions of Costa Rica, the Osa (although under pressure from encroaching agriculture, resource extraction, and climate change) is still wild, biologically diverse, and pristine.
But Lapa Rios offers a wilderness experience with all the comforts of a luxury resort, including turn-down service, organic toiletries, and an indulgent outdoor shower.
Dining is included in the room rate and features inventive cuisine that's seasonally inspired. Menu highlights included a macadamia-crusted catch of the day with mango jalapeno relish, a fresh mango gazpacho, and lemongrass free-range chicken.
Diversions include exploring four nearby beaches, taking a nighttime walk with a biologist, going bird-watching to see some of the area's 320 species, and lounging by the swimming pool. You can also tour the property's sustainable initiatives, including a system powered by the bio-gas produced by Lapa Rios' pigs.
Onsite tours are included in the rate, so it's wise to stay at least four days to soak up as much of this unique eco lodge as possible. It's a memorable experience– one that may infuse you with a more sustainable approach to life itself. Read More Reviews & Check Rates. –Michele Peterson of A Taste for Travel
READ MORE: Protecting Whales & Dolphins in Golfo Dulce, Costa Rica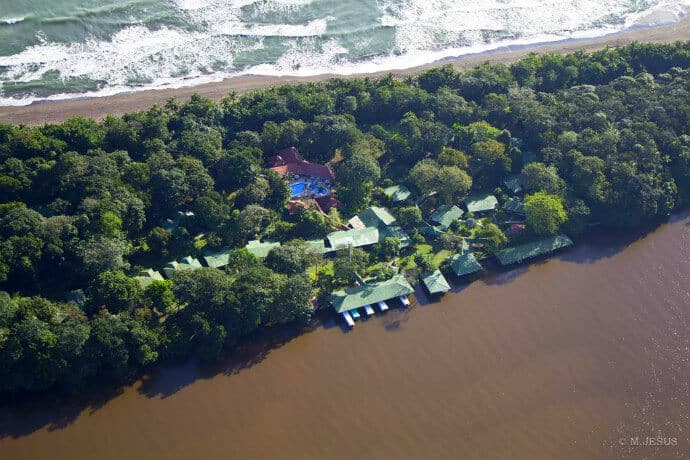 Quality: 4 Stars / Budget: $$$$
Located on Costa Rica's remote northern Caribbean coast, Tortuguero National Park encompasses 77,000 acres and 11 different types of habitats. To get there, you'll need to take a boat or plane, as there are no roads or cars allowed.
Situated on a sand bar dividing the canals of the national park from the sea, this rustic eco-lodge was the place where the idea for Green Global Travel was born in the summer of 2010. We paid tribute by including a Red-eyed Tree Frog we saw near the pool (which jumped onto my daughter's leg and went to sleep) in our logo!
The spacious rooms are sparsely decorated with hardwoods, but do include a private balcony with a hammock and rocking chairs. We spent a lot more time cooling off in the shaded pool (which has a covered pool bar, pool table, etc) and strolling through the lush tropical garden, which boasts two butterfly gardens and frog gardens.
Due to the labyrinth-like network of tributaries and lagoons of the national park, it's best to explore by boat. The hotel's boat tours brought incredible sightings of Sloths, Monkeys, Caiman, River Otters, and countless bird species.
Tortuguero is best known for its beaches, which attract hundreds of green, hawksbill, leatherback, and loggerhead sea turtles during the peak nesting season. Take a night hike with a resort guide and you might have a chance to see mama turtles laying their eggs! Read More Reviews and Check Rates. –Bret Love of Green Global Travel
READ MORE: Lessons in Conservation at Tortuguero National Park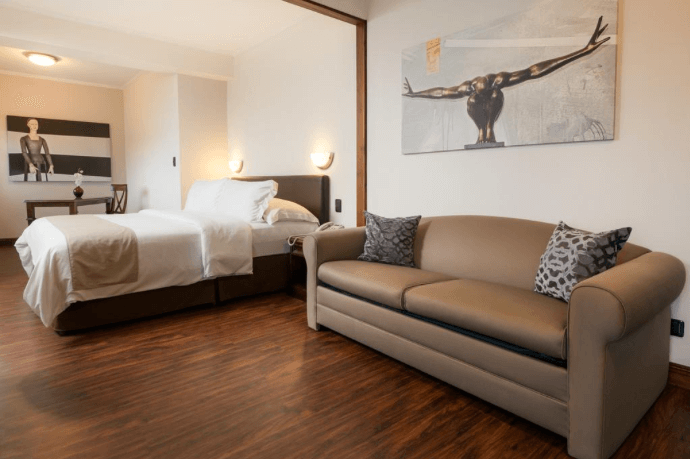 Quality: 4 Stars / Budget: $
As hardcore nature lovers, we generally prefer to get away from major cities (which are often plagued by mass tourism) as soon as possible on arrival. But if you need to spend any time in Costa Rica's capital city, Parque del Lago is the perfect place to do it.
Located just 10 minutes from downtown San José and 20 minutes from the airport, this boutique hotel is named for its proximity to the large lake of Parque Metropolitano La Sabana, the city's central park. The 72-acre urban forest is like an oasis of natural beauty in the middle of a major metropolitan area with a population of over 2 million people.
The four-floor hotel features 40 rooms, all of which are decorated in an artful, contemporary style. Each room includes free wifi, free parking, free local and international calls, cable TV, AC, coffee, and (thankfully) soundproofed windows.
Easily the most budget-friendly of the Costa Rica hotels we visited, Parque del Lago offers three types of rooms. Their 30 standard rooms average around 290 square feet, while the 6 superior rooms are 335 square feet and the 4 junior suites are 400 square feet. Many of the latter two room styles also feature sofa beds and kitchenettes.
One of our favorite aspects of this hotel was the intimate ICONOS restaurant. Their typical Costa Rican breakfast was a great way to start the day, while the dinners were an excellent mixture of international culinary influences. Read More Reviews & Check Rates. –Bret Love of Green Global Travel
READ MORE: Stone Spheres of Costa Rica at Finca 6 Archaeological Site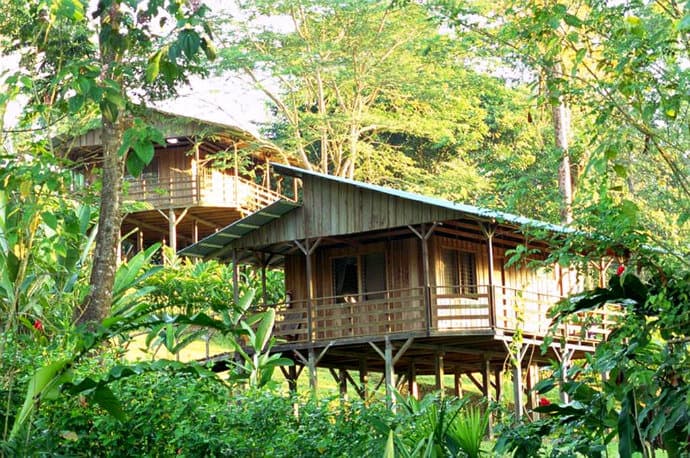 Costa Rica as a country seems to have responsible travel and eco-consciousness built into its DNA. So perhaps it's no surprise that the award-winning Selva Bananito Eco-Lodge is owned by one of the leaders in the environmental field, Jürgen Klein.
Nestled in the Talamanca mountains, the property was formerly home to a logging business. But it has now come full circle to represent a model of sustainable tourism for others to follow. Surrounded by acres of rainforest, the property uses solar energy for hot water and much of its power.
Located in a buffer zone near La Amistad Biosphere Reserve, the secluded lodge is home to 11 cabins, each built on stilts in the traditional Caribbean style using reclaimed lumber and salvage. The centrally located rancho serves an assortment of healthy meals, with a focus on local produce and seasonal availability.
Horseback riding, hiking, canyoning, bird watching, and a variety of other outdoor activities are available for guests. However, the overnight jungle stay– which is part of their "Following in the Footprints of the Wild Cats" program– is Jürgen's real personal passion.
After a long hike, guests help in setting up camera traps to monitor and track the big cats. They sleep overnight on platforms, which have been sensitively placed in the landscape to minimize impact. There has been a steady increase of animal sightings in the surrounding reserve, indicating their reforestation effort is working and the jungle is coming back to life.
After a visit to Selva Bananito, visitors become part of Jürgen's extended family, helping to spread the word about this magical place and ecotourism in Costa Rica. Read More Reviews & Check Rates. –Alison Abbott of Green With Renvy
READ MORE: 40 Green Travel Tips (Ultimate Guide to Sustainable Travel)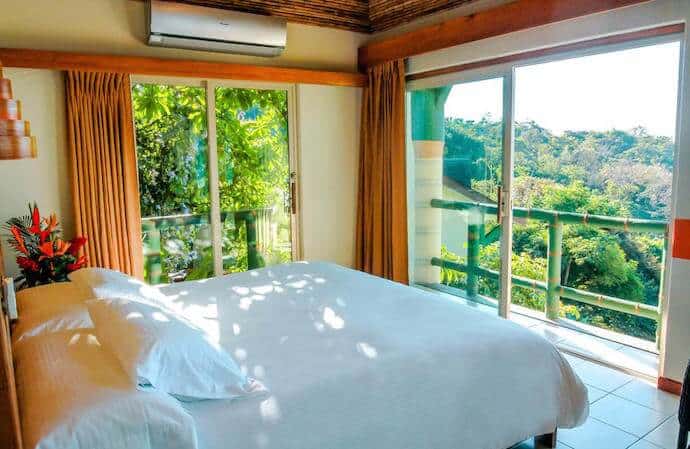 Quality: 4 Stars / Budget: $$
Si Como No Resort & Wildlife Refuge is set into lush jungle terraces overlooking Manuel Antonio National Park on Costa Rica's central Pacific coast. Its rooms offer stunning views over the hotel gardens to the ocean beyond, and the beautiful beach is just a few minutes away via Si Como No's free scheduled shuttle bus.
The flagship property of the Greentique group, (one of the country's leading sustainable hotel groups), Si Como No has 58 spacious rooms with private balconies and AC. Although the rooms are slightly dated, it didn't matter: After spending less than a day there, we decided to add an extra three nights to our stay. We loved it that much!
We saw loads of wildlife on the hotel grounds from our balcony. The Costa Rica resort's wildlife refuge and butterfly atrium was just two minutes from our room, and Manuel Antonio National Park is nearby and easily accessible.
The hotel has two pools, including a family-friendly one with a waterslide and a swim-up bar where drinks and cocktails are served. Magotes is an adults-only pool with a whirlpool, and also has a swim-up bar. There's also has a spa, small movie theatre, and free WiFi.
Breakfast in the Rico Tico Grill is very good, with stunning views out to sea. For lunch or dinner, try the resort's excellent Claro Que Si Seafood Grill. You'll find a good range of restaurants and bars within a short walking distance. Read More Reviews & Check Rates. –Suzanne Jones of The Travel Bunny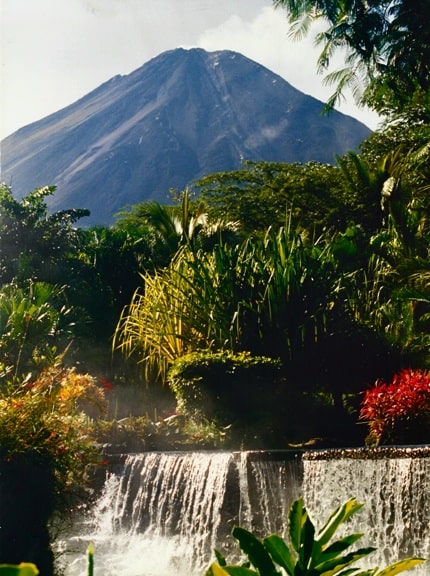 Quality: 4 Stars / Budget: $$$
Another of the Costa Rica resorts I stayed in during my first visit to Costa Rica, Tabacon Thermal Resort is one of several hot springs resorts in the Fortuna area.
The area's biggest tourism draw is Arenal Volcano National Park, whose 5,480-foot main attraction ranked among the world's most active volcanoes until 2010. It's been dormant for nearly a decade, but the national park is popular thanks to natural attractions such as Lake Arenal, the La Fortuna Waterfall, and various volcano-fed hot springs.
This family-friendly resort is our favorite in the area, offering a full-service spa, relaxing hot springs, and tour packages to nearby attractions such as the Arenal Natura Ecological Park. The resort participates in the Sustainable Tourism Education Program (STEP), and is a member of the Leading Hotels of the World.
My favorite thing about Tabacon Thermal Resort is the chance to soothe your aching bones when you come back from a long day of outdoor adventures.
The thermal springs are surrounded by lushly landscaped gardens and jaw-dropping views of Arenal Volcano. The strongest stream flows over a sculpted waterfall, providing a wonderfully intense hydraulic shoulder massage. Read More Reviews and Check Rates. –Bret Love of Green Global Travel
READ MORE: The Top 15 Things to Do in Antigua, Guatemala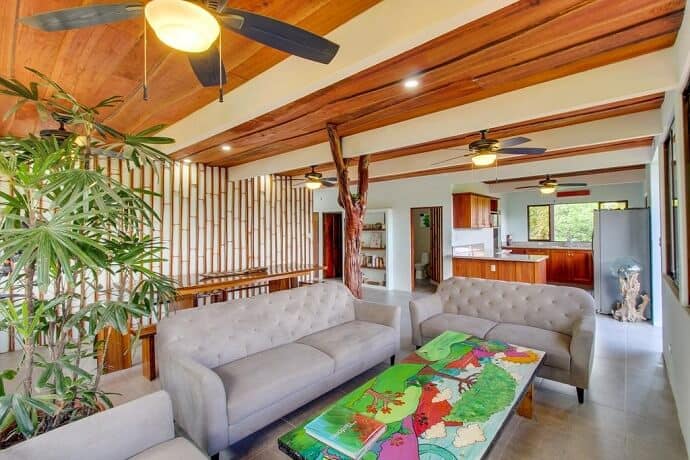 Quality: 4 Stars / Budget: $
The Valley of Dreams Eco Lodge was easily the best place we stayed in Costa Rica, and would even rank among the best hotels we've ever stayed in. The lodge was so comfortable and relaxing, it felt like a second home (but in the middle of a lush tropical jungle).
We stumbled upon this lodge while looking for hotels near Dominical, Costa Rica. When we discovered the Valley of Dreams Eco Lodge had a 9.9-rating on Booking.com, we had to try it. It didn't disappoint!
The lodge was built in harmony with nature, with great attention to detail, by an American couple who moved to Costa Rica many years ago.
Valley of Dreams has rooms and bungalows that accomodate up to four people, each beautifully decorated, with a stunning kitchen and sitting room. The lodge also has a swimming pool, BBQ facilities, and an outdoor fireplace.
In addition to relaxing in the hammocks, you can also explore hiking trails in the property's jungle, go birdwatching, have a campfire, and visit nearby attractions.
The Valley of Dreams Eco Lodge is located about 15 km from Dominical, 35 km from Uvita, and only 5 km from the famous Nauyaca waterfalls. It's also perfectly located for a day trip to Manuel Antonio National Park. In short, it's is the ideal place for couples and families who want to relax and explore nature. Read More Reviews & Check Rates. –Claudia Bastos of Travel Drafts
READ MORE: The 15 Best Isla Holbox Hotels & Resorts
Looking for essential Costa Rica Travel Gear? Check out these great options!
The Best Travel Clothes for Women & Men
The Best Hiking Boots & Hiking Shoes
Cool Camping Gear
The Best Backpacks for Travelers
Looking to book your next trip? Check out the following services we use!
TrustedHousesitters – we've found great pet sitters to watch our house and love on our two dogs.