We're on a boat, speeding down a river in Tortuguero National Park towards our Tortuguero hotel, Mawamba Lodge.
This pristine 77,000-acre protected area is at the heart of efforts to conserve the remarkable biodiversity in Costa Rica's northeastern Limón Province. And unless you've traveled to the Amazon, it's utterly unlike any other place you've ever been.
We're far from anything you'd call "civilization." We're more than an hour by boat from the nearest road, exploring tropical rainforests that receive up to 250 inches of rain a year.
Tortuguero is a poster child for ecotourism in Costa Rica– a haven for nature lovers eager to get away from it all. For us, our Costa Rica vacation is all about showing my young daughter the beauty of seeing wildlife conservation in action.
Little did we know at the time that our experience in Tortuguero, Costa Rica would ultimately inspire us to launch Green Global Travel, inexorably changing our lives for the better!
READ MORE: Top 20 Things To Do In Costa Rica (for Nature & History Lovers)
Tortuguero National Park Travel Guide (by sections)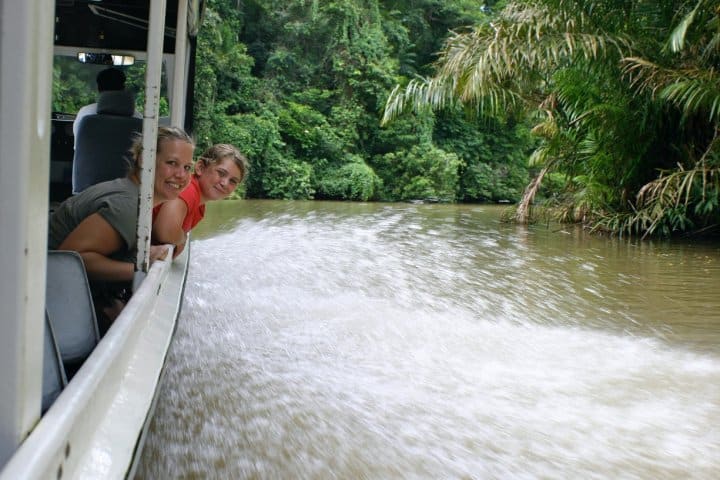 Tortuguero Wildlife
My eyes scan the dense thicket of trees that line the river, scoping for signs of movement amidst the verdant green. I crane my ears to listen for the unmistakable call of Howler Monkeys.
Somehow the forest feels alive. It's home to some 442 species of birds, 138 types of mammals, 118 reptiles, and 48 amphibian species. And yet I see nothing. I hear nothing.
Suddenly the boat stops, reverses and heads straight for the forest to our left. As we get closer, I finally spot a brown lump camouflaged by the brush, right at our eye level.
Only when we're within 20 yards do I realize it's a Three-toed Sloth. We're within 10 yards before we notice the furry lump on top of the Sloth, and everyone lets out a collective gasp as we realize it's a mother and baby feeding on leaves together.
The boat inches closer and closer until my daughter could easily reach out and touch the Sloth. She doesn't, but the mama seems unconcerned by our presence. She checks us out briefly, then goes right back to munching her leaves.
Five minutes later, we're close enough to an 8-foot Crocodile that my daughter could jump off the boat and onto its back. Thankfully, she doesn't.
This is just the beginning of several Tortuguero tours filled with Costa Rican animals, ranging from Caiman and River Otters to Red Eyed Trees Frogs and Poison Dart Frogs, not to mention beautiful birds that seemed to come in every color in the spectrum.
READ MORE: 40 Amazing Costa Rican Animals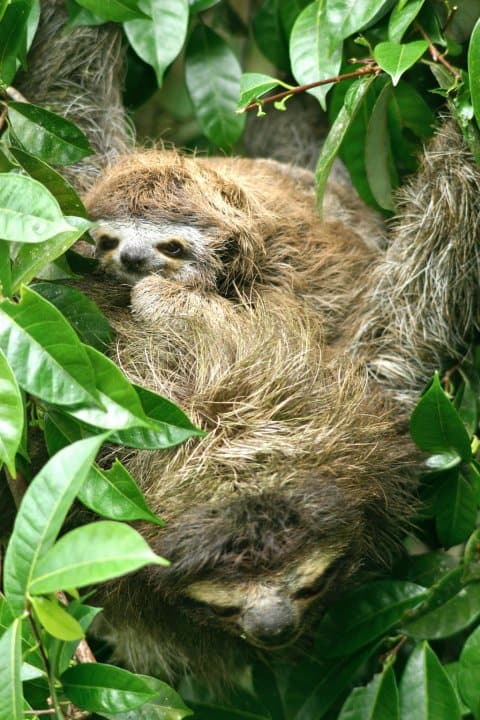 An Education in Conservation
To an 8-year-old, phrases such as "deforestation" and "endangered species" seem like abstract concepts.
Our public education system ensures that third graders know these terms well enough to define them on a multiple-choice test. But these days, even supposedly intelligent grown-ups can't agree on simple scientific principles such as evolution and the source of carbon pollution that causes climate change.
So how can we expect our children to fully understand the role their generation will play as stewards responsible for the Earth's ecological future?
That's why I brought my family here to Mawamba Lodge, an excellent eco lodge situated on a sand bar dividing the Tortuguero canals from the Caribbean Sea.
Even a swim in the lodge's freshwater pool provides plenty of wildlife-watching opportunities. Colorful Kiskadees and Hummingbirds flit about in search of an evening meal. Red-eyed Treefrogs sing songs at sunset, their red eyes and bulging throats making them a comical presence on the pool's "Frog Island."
It was here, while waiting out a tropical downpour next to the hotel bar, that we first came up with the idea to start a travel blog. We launched Green Global Travel two months later, because we wanted to share our love of nature, wildlife, and environmental education with the world.
We even paid tribute to our formative experience in Tortuguero, Costa Rica by including a Red-eyed Treefrog and Hummingbird in our logo!
READ MORE: Hiking Corcovado National Park, Costa Rica
Our Tortuguero Tours
Like most Tortuguero hotels, Mawamba Lodge offered an array of Tortuguero National Park tours, all led by local naturalist guides.
In the mornings we would board the boat for cruises through the canals of Tortuguero, getting up close and personal with baby Caimans, camera-shy River Otters, Toucans, Tiger Herons, and Roseate Spoonbills.
Afternoon walks in the dense woods of the national park feel like stepping into scenes from Jurassic Park. We heard Howler Monkeys yowling their distinctive (and LOUD) calls, and saw Spider Monkeys leaping from tree to tree and cute Coatimundis feeding in the underbrush.
Nighttime brought tours in search of sea turtles coming on the Tortuguero beaches to nest. Although my daughter got tired along the way and we had to stop (we'd been awake around 16 hours by then), we were treated to spectacular views of the Milky Way and shooting stars.
It was a taste of nature as primitive and unspoiled by human development as anything I've ever experienced. And the sight of wonder in my child's eyes told me she understood, even if only on a subconscious level, that THIS is what we must fight to preserve.
I'm not sure how much of an impact our Costa Rica vacation will have on my daughter in the long run. But I do know that it's important to encourage kids to protect our planet's precious natural resources.
And by giving them hands-on exposure to what they're protecting, we plant the seeds of environmental stewardship that will hopefully continue to blossom for many generations to come.
READ MORE: Caño Island, Costa Rica Scuba Diving at Its Best
How to Get From San Jose to Tortuguero
Figuring out how to get to Tortuguero isn't as easy as it is for most destinations. The 5-hour journey from the airport in San Jose to Tortuguero National Park is not an easy one, but it's well worth the effort.
Because Tortuguero is surrounded by water, there are hardly any roads in the area at all. So the only way to get there is by boat or plane, which you can access in the town of Moín, which is near the Port of Limon.
Some tour operators offer a day trip excursion from San Jose to Tortuguero. But unless the tour also includes a flight, the 5-hour travel time each way really requires a longer stay.
A 4-hour drive from San Jose (or, in our case, bus ride) can take you to within 20 miles of Tortuguero, but from there you'll still need to take a one-hour boat ride through the jungle.
The other option is flying from San José to the paved runway north of Tortuguero village. There are two of these 30-minute flights per day, costing approximately $200 round trip.
There's also a shuttle (which includes both land & boat transportation) from your hotel in San Jose to Tortuguero for around $60. Some Tortuguero hotels will include transportation in your vacation package.
Tortuguero, Costa Rica Facts
Here's a brief overview of everything you need to know about Tortuguero National Park:
LOCATION: Limon Province on the northern Caribbean coast of Costa Rica.
PHONE: (506) 2522 6500
HOURS: Gates open daily from 6 AM to 9 PM.
DATE CREATED: September 24, 1970
TORTUGUERO NATIONAL PARK ENTRY FEE: $15 per person
TOTAL SIZE: 76,937 hectares (50,284 marine, 26,653 terrestrial)
TORTUGUERO WILDLIFE:
442 bird species
138 mammal species
118 reptile species
58 amphibian species
460 anthropoid species
TORTUGUERO TOURS:
Tortuguero Weather (Best Time to Visit)
As you might expect from a tropical forest, the weather in Tortuguero, Costa Rica is warm, humid, and rainy for much of the year.
So you'll definitely want to bring waterproof shoes, moisture-wicking clothing (especially a rain jacket), and a waterproof backpack. Packing a 100% DEET bug repellant is also a great idea.
As for when to visit Tortuguero, that depends on what Costa Rica attractions you're most interested in seeing while you're there.
If you're interested in being there for the Tortuguero turtle season, July through October is the best time to visit. The North Atlantic Humpback Whales are usually around December through March.
But if you're hoping to avoid the worst of the area's stifling heat and humidity, then the best time to visit would be during the driest months of the year, which are February, April, and November.
READ MORE: The Best Travel Clothes For Women & Men (An Epic Guide)
The Best Tortuguero Hotels
This remote eco lodge close to Tortuguero Village is rustic and luxurious, offering spacious rooms (big enough for a family of three) with direct beach access.
When you book a stay here, they include your transportation from San Jose to Tortuguero, as well as your food and select Tortuguero tours. (Note that some tours, including the nighttime beach walk in search of Sea Turtles, may incur an extra charge.)
Snuggled between the Tortuguero canals on one side and the picturesque Caribbean coastline on the other, Mawamba Lodge offers an amazing sanctuary for nature lovers looking to get away from it all. Their "Mawamba Park" includes two butterfly gardens, frog gardens, and private nature trails.
With its gorgeous decor, all sorts of cool animals, and the lush rainforest backdrop, this is one of our favorite places to stay in Costa Rica.
Check Rates for Mawamba Lodge on Booking.com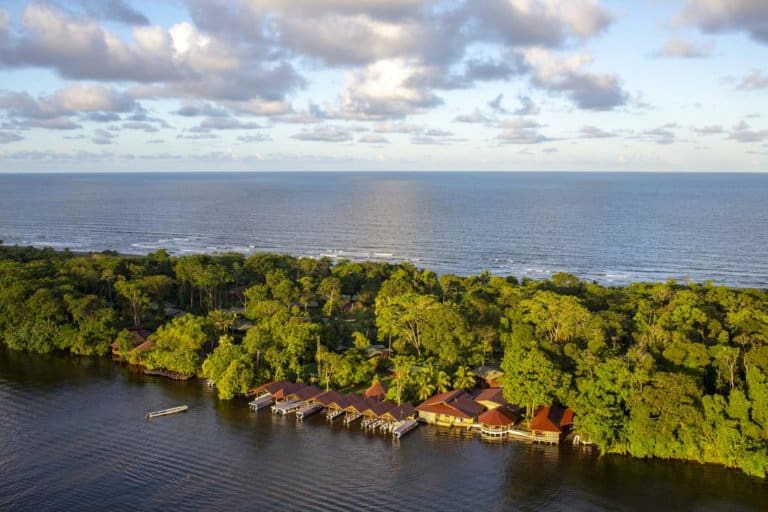 Laguna Lodge is best known for its biodiverse and luscious botanical gardens, as well as a prime location just over 2,000 feet from Tortuguero National Park.
This Tortuguero lodge is located on six acres of land, which contains over 70 varieties of reptiles, birds, and other endemic species of Costa Rica wildlife.
While the surrounding environment is undeniably gorgeous, the luxurious interior of the lodge is a whole other world. The inside is stunning, with natural wood and rattan decorative accents and lots of windows to the water outside.
In short, the lodge is perfect for those who want an immersive experience in the Tortuguero ecosystem.
Check Rates for Laguna Lodge on Booking.com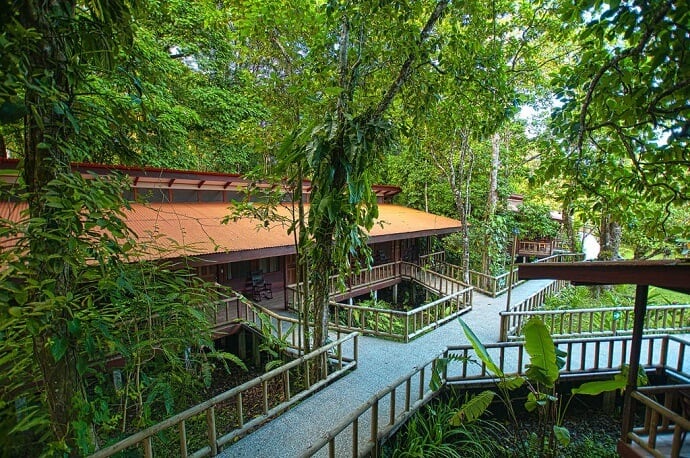 One of the highest-rated hotels in Tortuguero on Booking.com (8.4), the Evergreen Lodge is a sustainable all-inclusive that includes meals, WiFi, transportation from San Jose, and two tours with your room rate.
Their spacious rooms are decorated in an elegant style, with wooden furniture, a seating area, and a ceiling fan. There's also a beautiful terrace and an one-site wellness center offering massages and other spa services.
Guided tours available include canopy tours, nighttime turtle walks, hiking, fishing, and visiting local landmarks in Tortuguero Village.
Or you can just hang out at the laid-back resort's Tortuga-shaped pool, savoring a tropical drink and enjoying a sumptuous lunch in their highly-rated restaurant.
Tortuguero FAQs
What are the Best Tortuguero Tours?
Most of the hotels in Tortuguero offer a wide variety of Costa Rica tour packages.
The most popular of the Tortuguero tours is a nighttime walk along the beach in search of Sea Turtles nesting, between the months of July through October. These quiet tours are led by a naturalist guide with a special infrared flashlight, and are illegal to attempt on your own.
Costa Rica fishing tours are also popular, and different seasons bring different fish to catch. If you're a fisherman looking to catch the evasive Tarpon, then January through June is when you will want to visit.
Another amazing way to see the area is by taking a Tortuguero National Park boat tour. Great for families, these guided river tours allow you to see some wonderful Tortuguero wildlife up close.
READ MORE: Sea Turtle Rescue With Sea Turtle Inc (South Padre Island, TX)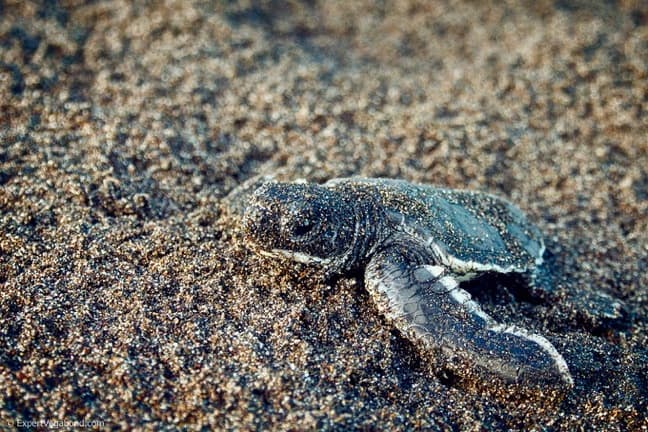 When can you see turtles in Tortuguero?
Tortuguero's turtle nesting season is world renowned. The months of July through October are the best times to see Sea Turtles coming up onto the Tortuguero beach to dig nests and hatch their eggs.
There are strict conditions though. You must hire a
local guide
, you can't use a camera flash or flashlights, and you must wear dark clothing.
Touching the Tortuguero turtles or their eggs is against the law and carries heavy fines, as turtle
poaching
has been a considerable issue in the area.
Many of the Tortuguero National Park hotels offer guided Sea Turtle tours that last about 2 hours and cost around $30.
Can you swim in Tortuguero National Park?
Unfortunately ou are not permitted to swim in the water at Tortuguero National Park. Both the freshwater in the canals and saltwater in the ocean there are unsafe for swimming.
The Caribbean waters may look gorgeous, but they are filled with sharks (including aggressive Bull Sharks). Plus the huge waves and powerful current can spell danger for those who dare to venture beyond the sand.
Tortuguero's labrynthine network of rivers and canals are filled with wildlife. But there are lots of Caimans and Crocodiles that make getting in the water a bad idea.
The best way to get some time in the water in Tortuguero is at the pool of your hotel, where you're free from both treacherous undertow and sharp teeth! –by Bret Love, with additional reporting by Michaela Dildine; photos by Bret Love & Mary Gabbett unless otherwise noted; lead photo by Kevin Wells via 123rf.com.