Panama is a Nature Lover's dream with nearly 1000 species of birds, several endangered species, and many cool & weird animals that are only seen in a few other places in the world.
There are also volcanoes, secluded Caribbean islands, and indigenous populations.
Here are our picks for the Top 5 Panama Tourist Attractions for eco activities and eco-adventures.
READ MORE: The 20 Best Places to Visit in Central Ameria (for Nature Lovers)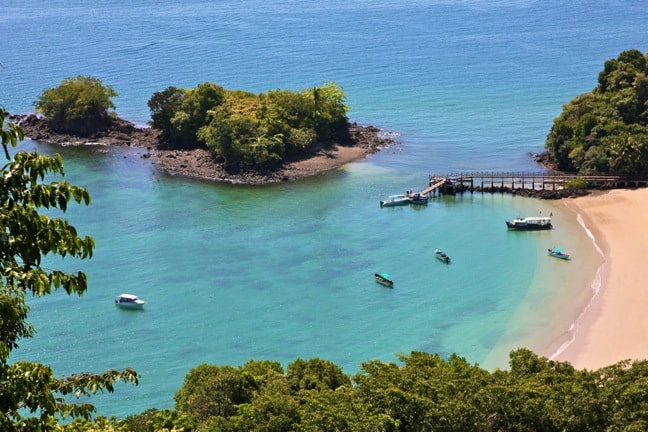 Panama Tourist Attractions Guide for Nature Lovers
Coiba Island National Park
Soberania National Park
Parara Puru Village and Embera Culture
Bocas del Toro
Tour the Rainforest Canopy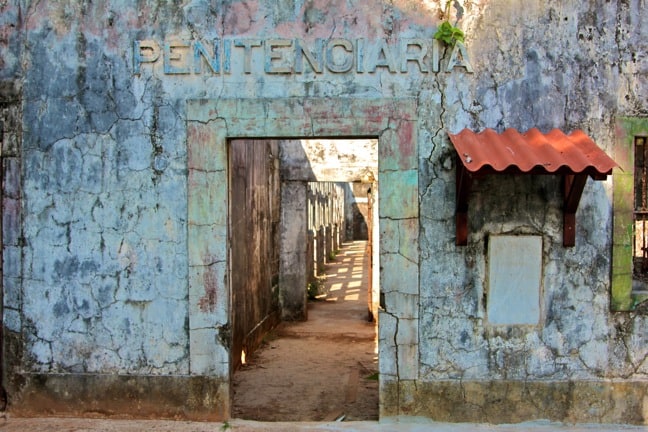 1. Coiba Island National Park
Referred to by some as "the new Galapagos Islands," the 1,053 sq. mile Coiba Island National Park remains unspoiled thanks to the fact that the island was home to a penal colony from 1919 to 2004 and requires permission from the National Environment Authority (ANAM) to visit.
The largest island in Central America, about 75% of Coiba is virgin tropical forest, while 80% of the park is oceanic, filled with cool and weird ocean animals such as whales, bottle-nosed dolphins, marine turtles and rare tropical fish.
Located 50 minutes by plane or 10 hours by car from Panama City, this ecotourism haven is definitely an off the beaten path Panama tourist attraction, but well worth the visit.
READ MORE:10 Latin America Ecotourism Adventures (For Your World Travel Bucket List)
2. Soberania National Park
Established in 1980 and located 25km from Panama City along the eastern side of the Canal, Soberania National Park covers over 19,000 hectares of rainforest.
Here, wildlife enthusiasts will find mammals such as jaguar and white-tailed deer as well as reptiles like the warty snake.
But the park is best known for a trail called the Pipeline Road, on which the Audubon Society organized a world record census that recorded 525 species of birds in just one day back in 1996.
From the endangered crested eagle and the spectacular rofous-ventaul to the ground-cuckoo, it's a birdwatcher's dream come true.
READ MORE: 25 Beautiful Birds in the Amazon Rainforest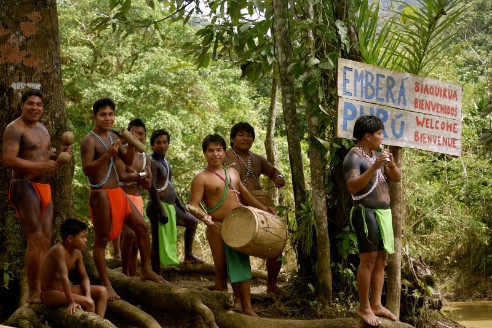 3. Parara Puru Village and Embera Culture
Until the 1990s, most of Panama's Embera Indians lived in an extremely remote section of the Darien jungle.
Under the leadership of chief Antonio Tocamo, several families migrated to the banks of the Chagres River in Chagres National Park to establish Parara Puru, a village devoted to demonstrating traditional Embera culture.
The tribe welcomes visitors (who arrive via motorized dugout canoes) with celebratory song and dance, followed by an informal discussion of the Embera way of life and a brief nature hike.
Shopping for handmade wood carvings and palm leave baskets is a must!
READ MORE: 40 Green Travel Tips (The Ultimate Guide to Sustainable Travel)
4. Bocas del Toro
Located in western Panama about 40km from the Costa Rica border, the islands of Bocas del Toro offer the country's best Caribbean experience.
Surfers love the waves off Colon and Bastimentos Islands, while snorkelers and scuba divers flock to the coral reefs in Admiral Bay and Bastimentos Island National Marine Park, whose mangrove islets feature crystalline waters and an otherworldly underwater forest.
Hiking, birdwatching and observing the nesting of marine turtles are other popular pastimes, while San Cristobal and Bastimentos Island feature small communities of Ngobe Indians.
READ MORE: The 20 Best Caribbeans Islands to Visit (If You Love Nature & Hate Crowds)
5. Tour the Rainforest Canopy
Located on the banks of the Chagres River and Panama Canal, Gamboa Rainforest Resort is as well known for its eco-adventures as it is for its luxury accommodations.
It's also home to the country's only aerial tram, one of the most unique Panama attractions.
The aerial tram takes guests on a 1.2km tour of the Soberania National Park rainforest canopy where friendly guides point out the area's abundant flora and fauna during the 20-minute ascent to the crest of a hill.
At the top, visitors can climb the Observation tower for a spectacular view of the Panama Canal, the Emberá Indian Village and the quaint town of Gamboa. –by Bret Love