Though it is but a slip of land located in between Costa Rica and Colombia, there are ton of fun things to do in Panama including watching exotic wildlife, touring colonial architecture, being awestruck at manmade marvels, and admiring diverse natural landscapes.
The culture of the country deep and rich, and Panama's history (and pre-history, for that matter) is completely unique.
The Isthmus of Panama is the final strip of land formed that separated the Caribbean Sea and Atlantic Ocean from the Pacific Ocean just a little under 300 million years ago.
This has made Panama a strategic location over the centuries, as well as a hub for world travelers (both pre-Colombian and post-colonial).
The land bridge also allowed land animals from North and South America to pass freely between the continents, making it an ecological hotspot in the process.
Nowadays, the country is the site of one of the world's largest construction projects and one of the most popular Panama tourist attractions, a canal that took over 30 years to build and now allows thousands of vessels to pass through it each year.
Panama is home to nearly 1000 species of birds, several endangered species, and many animals that are only seen in a few other places in the world.
There are also volcanoes, secluded Caribbean islands, and indigenous populations.
Here's a look at our picks for the 20 Best Things to Do in Panama, with a focus on attractions geared to nature and history lovers.
READ MORE: 10 Latin America Ecotourism Adventures (For Your World Travel Bucket List)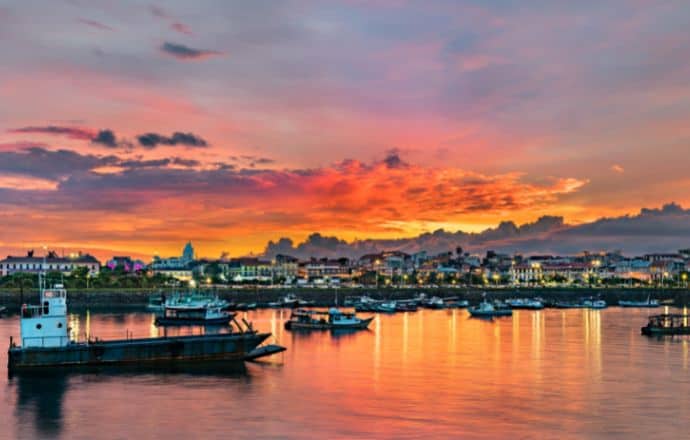 BEST THINGS TO DO IN PANAMA GUIDE
Casco Viejo (Panama City)
Punta Culebra Nature Center (Panama City)
Biomuseo (Panama City)
Miraflores Locks and/or Agua Clara Locks (Panama Canal)
Chagres River (Panama Canal)
Portobelo National Park (Panama Canal)
Emberá Village (Panama Canal)
Monkey Island (Panama Canal)
Fort San Lorenzo (Panama Canal)
Barro Colorado Island (Panama Canal)
Soberania National Park (Panama Canal)
Bastimentos Island National Park (Bocos Del Toro)
Finca Los Monos (Bocos Del Toro)
Bocos del Toro Research Station (Bocos Del Toro)
Boquete (Panamanian Highlands)
El Valle de Anton (Panamanian Highlands)
Coiba National Park (Panamanian Highlands)
San Blas Islands (Eastern Panama)
Darién National Park (Eastern Panama)
Pearl Islands (Eastern Panama)
THINGS TO DO IN PANAMA CITY
Panama City is the capital of the country. The bustling metropolis has a sleek, modern side that is often compared with Miami, Florida.
It also has a huge "old town" section full of colonial buildings, churches, and plazas that are as impressive as any you'll find in other parts of Latin America. Exploring the city is truly a must when traveling to Panama.
READ MORE: The 20 Best Caribbeans Islands to Visit (If You Love Nature & Hate Crowds)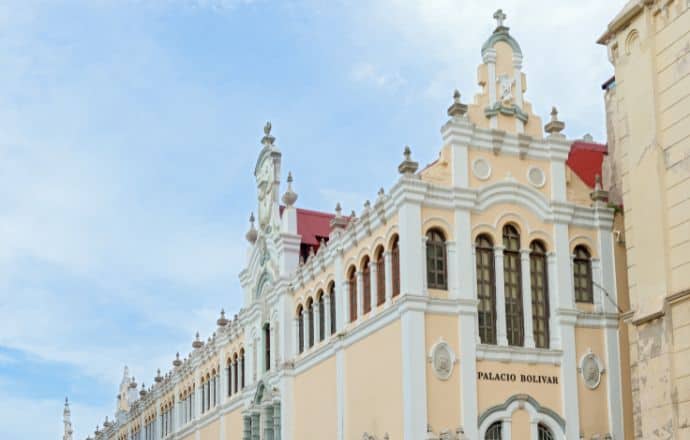 1. Casco Viejo
Casco Viejo (the Old Quarter) was originally developed in the 16th century and protected by walls after the Welsh pirate Captain Henry Morgan attacked and looted the Old City in 1671.
The area gradually declined into decay and danger until UNESCO declared it a World Heritage Site in 1997.
It has since become one of the tops things to do in Panama City, Panama– a cultural melting pot with great shops, cafés, architecture, and open-air plazas.
READ MORE: The 20 Best Places to Visit in Central Ameria (for Nature Lovers)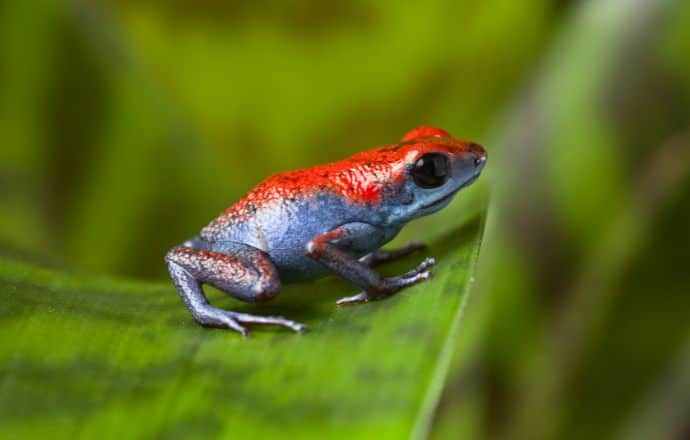 2. Punta Culebra Nature Center
Inevitably, a trip to Panama is going to highlight the country's amazing collection of cool and weird animals. A capital city may not seem the likeliest of places to begin.
But the Punta Culebra Nature Center (one of three Smithsonian Institute projects on this list) is good for kids, boasting walking trails with incredible wildlife and touch pools.
There's also a great exhibit on the frogs of Panama, of which there are nearly 200 species.
READ MORE: What is Ecotourism? (The History & Principles of Responsible Travel)

3. Biomuseo
Half of the reason you'll want to visit the Biomuseo in Panama City is to admire the building itself.
The museum was designed by legendary architect Frank Gehry, and it is a vividly colorful hodgepodge of angular roofs, peaks, and windows.
It's located right on the water and features eight galleries that allow visitors to explore all things Panama, including biodiversity, geology, and sociology.
READ MORE: 40 Green Travel Tips (The Ultimate Guide to Sustainable Travel)
THINGS TO DO ON THE PANAMA CANAL
Easily the #1 tourist attraction in Panama, the Panama Canal is both a fascinating piece of history and an amazing feat of human ingenuity and perseverance.
But the question many travelers have is, what exactly is there to do there? As it turns out, there is quite a lot going on…
READ MORE: The 30 Best Exotic Islands to Visit (For Your World Travel Bucket List)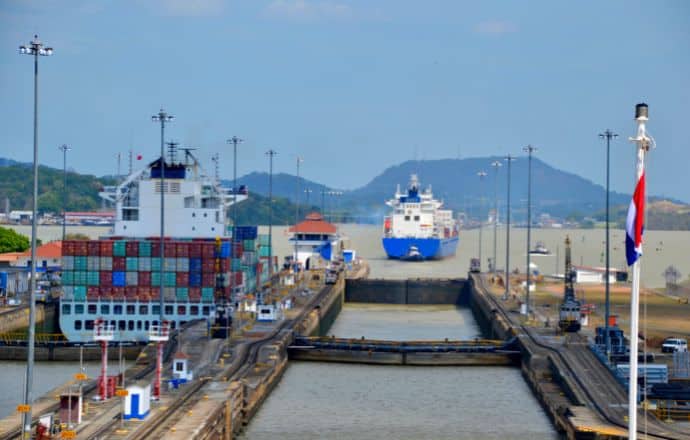 4. Miraflores Locks and/or Agua Clara Locks
These locks of the Panama Canal are incredibly interesting. Not only do visitors learn about how traffic transitions in and out of the canal, but they get to witness giant ships passing through the locks.
Miraflores handles ships on the Pacific side, while Agua Clara works the Atlantic entry point.
Both locks have impressive visitor centers with observation decks, restaurants, and lots of information about Panama Canal history.
READ MORE: 20 Best Small Ship Cruises (For Your World Travel Bucket List)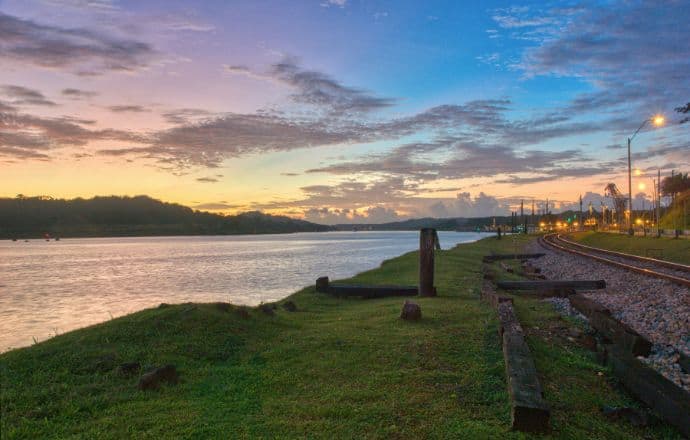 5. Chagres River
The Chagres River is the main water source feeding the Panama Canal.
There are frequent boat tours along the river, where travelers can spot native wildlife such as monkeys and sloths, as well as see the depths of the rainforest.
The damming of the Chagres to create the Panama Canal simultaneously created Lake Gatun, which was the largest lake in the world at the time. It often features in boat tours as well.
READ MORE: 20 Longest Rivers in the World by Continent (For Your World Travel Bucket List)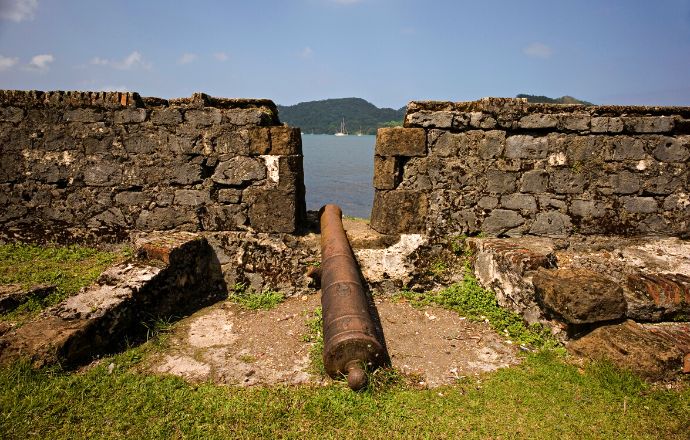 6. Portobelo National Park
Aside from its 86,000 acres protecting vital coral reefs and coastal forests, Portobelo National Park is also home to the ruins of a Spanish fort.
Now a UNESCO World Heritage Site, the fort historically protected the wealth-laden city of San Felipe de Portobelo and the Panamanian isthmus from pirates.
The park also has mangroves, beaches, and lagoons where four different species of sea turtles come to nest each year.
READ MORE: 25 Biggest Forests in the World (For Your World Bucket List)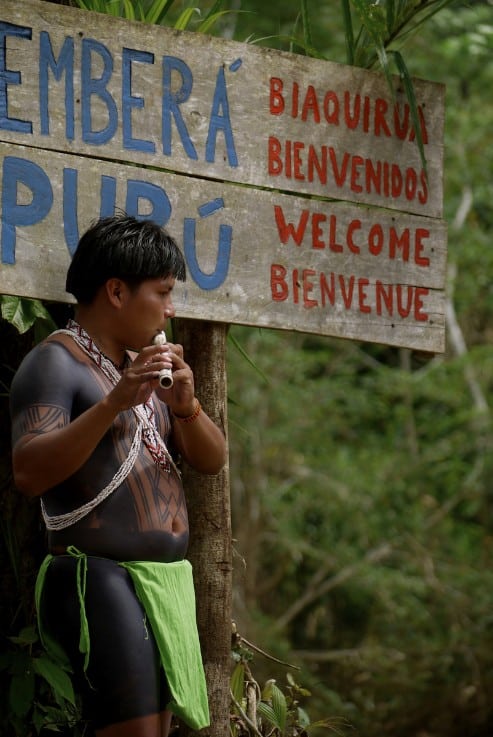 7. Emberá Village
Though the Emberá people originated in the jungles of Darien Gap (and have lived there for centuries), one tribe has moved northward to the Chagres River.
Here they've set up a village, Emberá Puru, in order to have a better quality of life, including things like access to modern medicine, secondary school, and steady income.
That income is derived primarily from ecotourism, and lucky visitors get a chance to see many of the traditions and customs of their ancient way of life.
READ MORE: Ecotourism in Costa Rica: The Ultimate Eco Travel Guide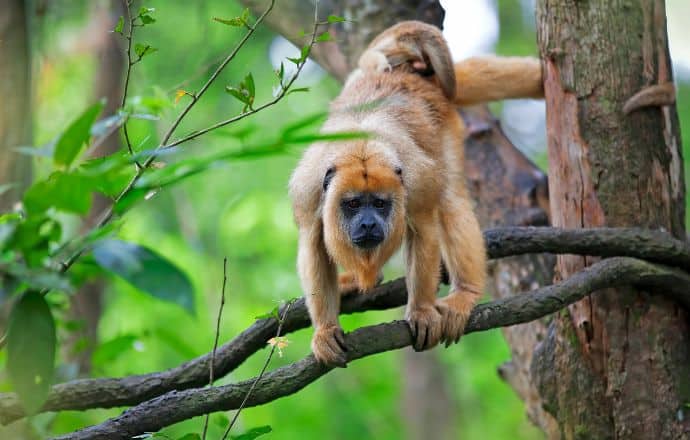 8. Monkey Island
Located in Lake Gatun, Monkey Island is home to four species of monkeys that are native to Panama, including the White-Faced Capuchin, Mantled Howler, Geoffroy's Tamarin, and Lemurine Owl.
Tours used to include feeding and teasing the monkeys, but luckily such irresponsible behavior has now been restricted.
Tourists and guides alike are only supposed to observe now.
It's also possible to see toucans, crocodiles, sloths, turtles, iguanas, and other wildlife there as well.
READ MORE: 15 Harmful Traditions & Cultural Practices Tourists Should Never Support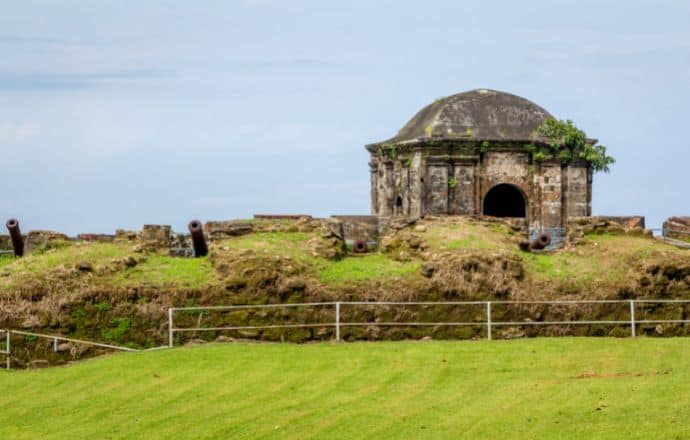 9. Fort San Lorenzo
At the mouth of the Chagres River, across from Portobelo, you'll find the other part of the area's UNESCO designation: Fort San Lorenzo.
It, too, was erected to protect Spanish trade routes. Not long after being constructed, it was sacked by British pirate Sir Francis Drake.
Around 75 years later, Captain Henry Morgan finished the job. The fort was rebuilt in 1680, but got destroyed again by the British 60 years after that.
It was rebuilt one more time and still stands today, with stone walls, black cannons, an empty moat, and a lot of historic lore.
READ MORE: The 15 Best UNESCO World Heritage Sites in the USA (For Nature/History Lovers)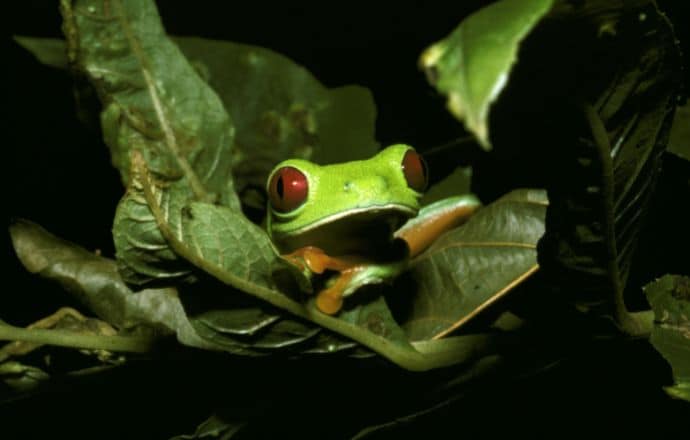 10. Barro Colorado Island
Barro Colorado Island was formed at the creation of Lake Gatun. Shortly thereafter, the 3700-acre island became a Smithsonian tropical research station.
It has now been operating for over 100 years, making it one of the oldest scientific research facilities in the world.
More than 400 scientists visit every year in order to study in its living laboratory.
There are also walking trails with dozens of observation spots for visitors to enjoy.
READ MORE: 40 Amazing Costa Rica Animals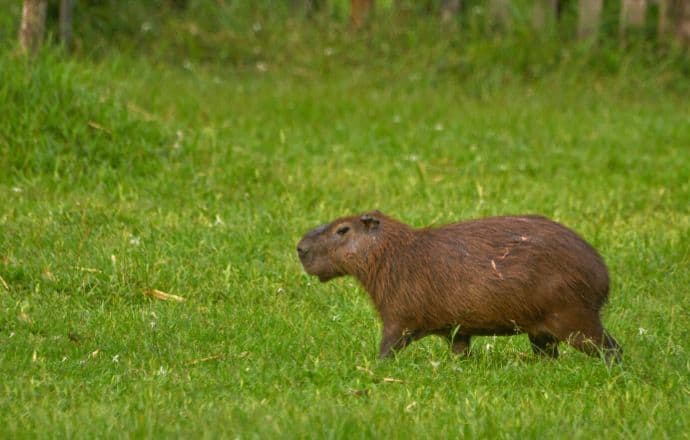 11. Soberania National Park
Located less than 20 miles outside of Panama City, Soberania National Park is the real deal in terms of tropical rainforest.
It is home to over 100 species of mammals, over 500 species of birds, nearly 80 types of reptiles, and over 50 amphibians.
It also has the Rainforest Discovery Center, which offers visitors a treetop-clearing observation tower as well as the renowned Pipeline Road.
Canopy Tower, an award-winning birding eco lodge, is also located within the park.
READ MORE: 25 Most Unusual & Unique Hotels in the World (For your World Travel Bucket List)
THINGS TO DO IN BOCOS DEL TORO
In the Caribbean waters just southeast of the Costa Rican border, Bocos del Toro is an archipelago that has become one of the best places to visit in Panama for nature lovers.
There are great beaches, blue water, and lots of things to do in Bocas del Toro, particularly in the adventure travel arena.
READ MORE: The Ultimate Tortuguero National Park, Costa Rica Travel Guide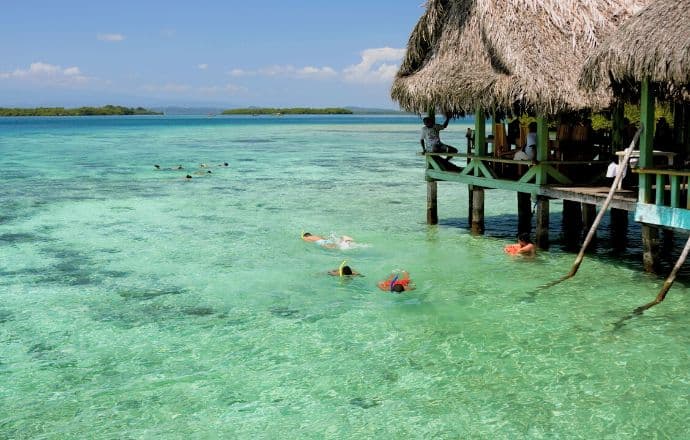 12. Bastimentos Island National Park
When visiting Bocos del Toro, the national park on Isla Bastimentos and beyond should top your list of things to do.
It's most famous for the Zapitillas Cays, two uninhabited islands surrounded by coral reef, which are great for snorkeling and spotting colorful fish as well as dazzling coral formations.
Additionally, the park has mangroves to explore and Playa Larga, a familiar site for nesting sea turtles.
READ MORE: Invasive Species List: 10 Destructive Species You Can Eat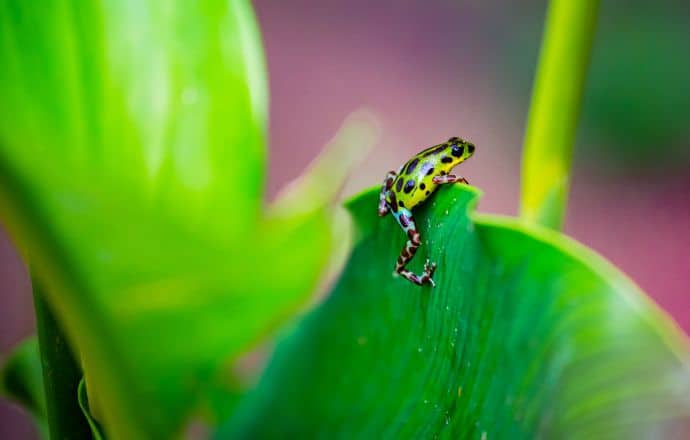 13. Finca Los Monos
As beautiful as the natural surroundings can be in Panama (particularly on its Caribbean islands), sometimes seeing what humans can make of it all is fun as well.
Finca Los Monos is a privately funded botanical garden on the archipelago's largest island, Isla Colon. It teems with animals, as well as carefully cultivated gardens.
The farm also focuses a great deal on visitor education.
READ MORE: What is Permaculture Gardening? An Intro to Permaculture Gardening Techniques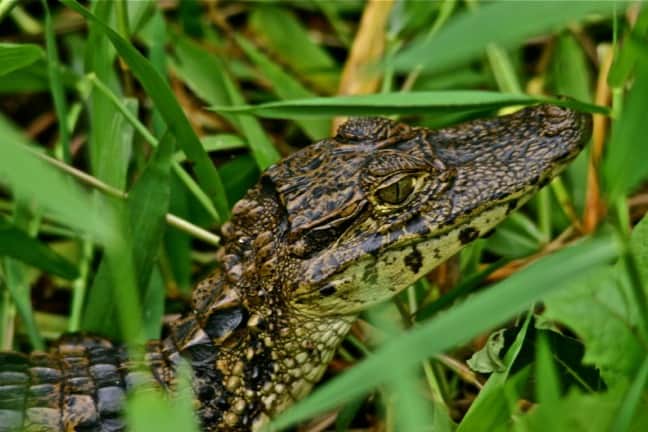 14. Bocos del Toro Research Station
It's hard to ignore the Smithsonian's programs throughout the country, and Bocos del Toro Research Station is another impressive one of the places to go in Panama.
Tours include talks about the myriad plants and animals that live in the ecosystems of coral reefs and mangroves and sea grasses.
Live animals, such as iguanas, caiman, turtles, and lizards, are also found on-site.
READ MORE: 10 Eco Lessons in Quotes from the Lorax (Dr Seuss' Conservation Classic)
THINGS TO DO IN PANAMANIAN HIGHLANDS
A wonderful escape from an otherwise steamy country, the highlands of southwestern Panama (near the Costa Rica border) offer cool weather, beautiful scenery, and unique experiences.
It's a beautiful land full of volcanoes, coffee, and world-class hiking trails.
READ MORE: Best Coffee in the World (A Gourmet's Guide to 30 Types of Coffee)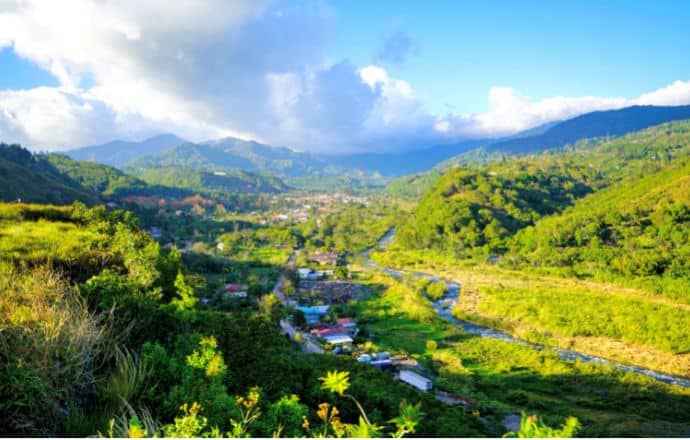 15. Boquete
Once rated as the top spot in the world for Americans to retire, there are lots of fun things to do in Boquete Panama.
Boquete is a charming collection of shops, cafes, and restaurants.
Visitors can also enjoy touring the local coffee farms, white water rafting, hiking volcanoes, watching birds, and ziplining through the forest canopy.
It's the kind of place that invites folks to linger.
READ MORE: 20 Best Festivals in the World (For Your World Travel Bucket List)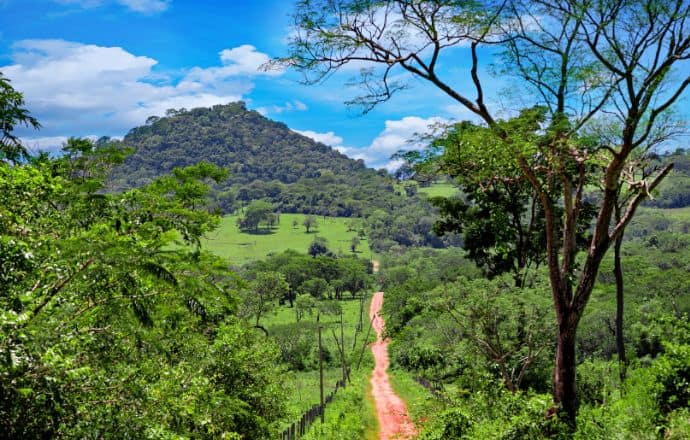 16. El Valle de Anton
The UNESCO-protected town of El Valle de Anton is most famous for being a volcano crater.
While that seems remarkable enough, there is actually much more on offer here.
The area has a unique micro-climate– a cloud forest– for a different set of animals (mostly birds) and plants (lots of orchids) than you'll find in other parts of Panama.
There are also pre-Colombian petroglyphs, known as La Piedra Pintada, to admire. And lively craft markets fill the town with activity on the weekends.
READ MORE: My Stupid Mistake While Hiking Corcovado National Park (Costa Rica)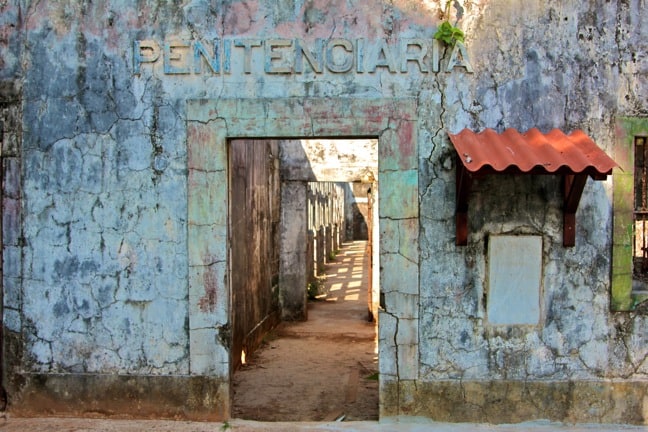 17. Coiba National Park
Located in the Gulf of Chiriqui, Coiba National Park (a UNESCO World Heritage Site) covers over 400,000 acres and 38 islands.
For years it was home to a brutal penal colony for Manuel Noriega's political prisoners. This saved the area from development, as many locals believed the area was cursed.
Now, the remote park is well-protected and only accessible by permit.
This all equates to pristine rainforests full of wildlife, unspoiled seas teeming with cool & weird ocean animals, and rather haunting prison ruins to tour.
READ MORE: Coiba National Park Panama: Shark Diving at the Noriega Prison
THINGS TO DO IN EASTERN PANAMA
Though it seems counterintuitive because Panama connects North and South America, the country actually stretches out east and west.
The eastern regions are those nearest to Colombia, and these lands are a little less tame and more full of outdoor adventures.
READ MORE: Top 20 National Forests in America for Camping & Hiking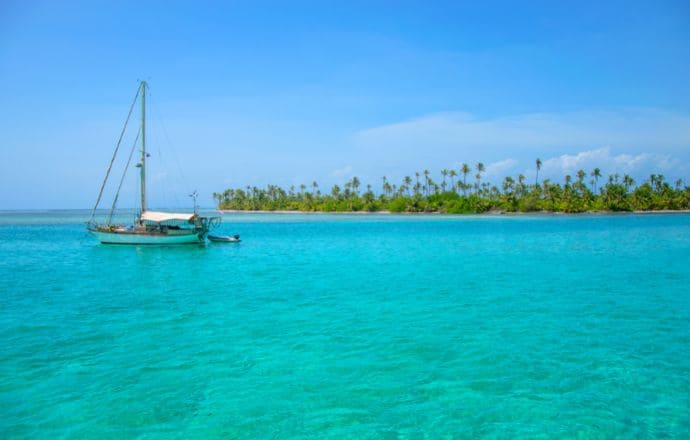 18. San Blas Islands
Of the northeastern coast of Panama, the 378 San Blas Islands are all located within a space of around 100 square miles.
Most of the islands are uninhabited, the quintessential white sand desert islands of our imagination.
But the larger plots of land were settled by the Kunas, an indigenous group.
The Kunas have largely protected their land from resorts and other trappings of mass tourism, and they even have their own laws and cultural values and symbols.
READ MORE: The 100 Best Inspirational Travel Quotes to Spark Your Next Adventure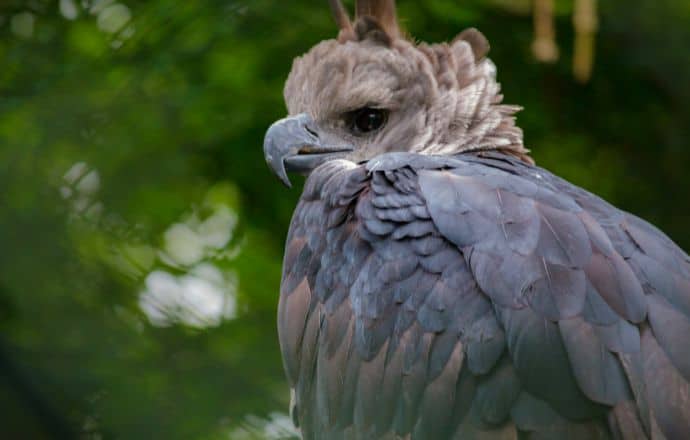 19. Darién National Park
The Darién Gap– the huge swath of jungle along the Panama-Colombia border– is impassable for road trips and largely remains a no-man's land due to guerillas.
However, Darién National Park (yet another UNESCO World Heritage Site) is home to an amazing array of wildlife, such as macaws, harpy eagles, several species of monkey, jaguars, and more.
It's also home to two native tribes.
Though it is exceptionally isolated, Panama's largest national park can be accessed from two spots, Santa Cruz de Cana or Cerro Pirre.
READ MORE: List of National Parks by State (An Epic Guide to "America's Best Idea")
20. Pearl Islands
The Pearl Islands are perhaps most famous for being used multiple times as a setting for the reality TV series Survivor.
Named after the impressive abundance of pearl oysters found in the surrounding waters, the Pearl Islands is a collection of roughly 250 islands in the Gulf of Panama (on the Pacific side).
Most of these islands remain uninhabited, but some of the larger ones are known for their luxury hotels and resorts.
The archipelago is widely appreciated by nature lovers for its many isolated beaches, fabulous scuba diving, and wonderful whale watching. –by Jonathon Engels