St Thomas, a sparkling jewel in the U.S. Virgin Islands, is world renowned for its gorgeous beaches. Many mainstream travelers are drawn to the island simply for its white sand and palm trees.
But there's an entirely different natural side to St Thomas that's worth discovering as an off-the-beaten-path ecotourism experience.
Located far away from the hordes of cruise ship passengers and day-trippers from other islands, Cas Cay is one of numerous undeveloped St Thomas islands and islets.
Located a mile south of Red Hook on the eastern side of St Thomas, Cas Cay boasts a Mangrove Lagoon Marine Reserve & Wildlife Sanctuary that's home to a diverse array of flora and fauna.
READ MORE: 20 Best Caribbean Islands To Visit (If You Love Nature & Hate Crowds)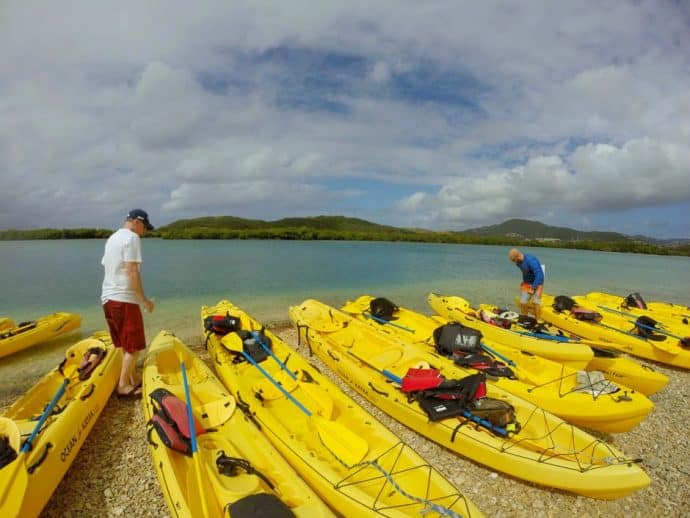 Getting To Cas Cay
Half of the adventure is reaching Cas Cay. You can easily get there via ferry, which departs from Compass Point Marina in Nadir.
But my sister and I chose to travel by the relationship killers known as tandem kayaks. Thankfully we managed to coordinate our paddling motions and enjoy the ride.
Kayaking across the aquamarine Caribbean waters to Cas Cay revealed stunning scenery, surrounded by lush greenery and fluttering birds.
The tangled, knotted branches of the saltwater-tolerant mangroves overwhelmed the shorelines, disappearing into the water below.
In the Caribbean, as well as many other tropical and subtropical regions, mangroves are a vital component of the ecosystem. Because they protect the shoreline and provide crucial wildlife habitat, it's extremely vital that we protect them and foster their growth.
READ MORE: The 10 Best Canoe Trips (For Your World Travel Bucket List)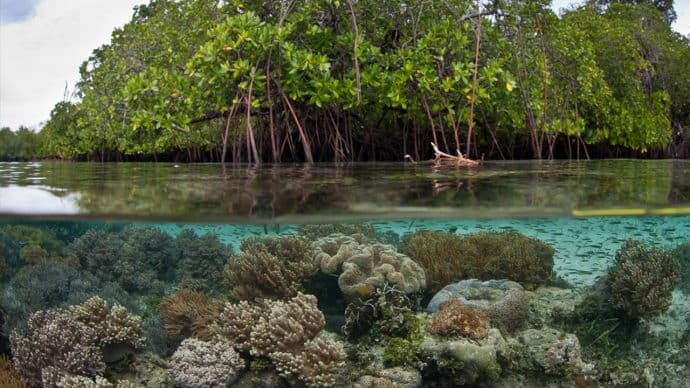 Why Mangroves Matter
Mangrove forests are essential for the survival of many endangered species, such as Sea Turtles, Manatees, and more.
They're important for marine ecology because their fallen leaves and branches are full of rich nutrients.
As we noticed during the snorkeling component of our trip, mangroves are nurseries for juvenile fish, which use the branches as sanctuary from larger predators.
Mangroves are also nesting sites for hundreds of species of birds, including numerous migratory species that pass through Cas Cay.
Sadly, less than half of the world's original mangrove forests remain standing today. They're actually disappearing faster than tropical rainforests due to being cut down at an alarming rate.
As a result, nearly all of the creatures that rely on the mangroves are suffering.
READ MORE: 13 Small Ship Cruises For Your World Travel Bucket List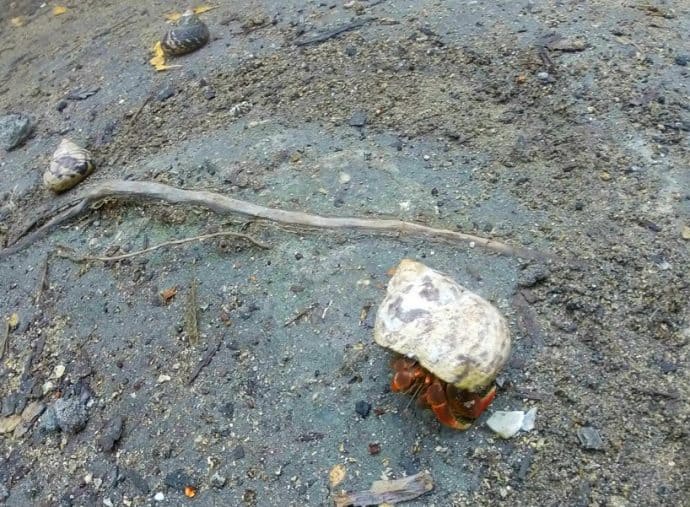 Exploring Cas Cay on Foot
Once we reached shore, we left our kayaks behind and went for a nature walk around Cas Cay. The 15-acre tropical island is completely undeveloped and uninhabited, with the mangroves to the south and volcanic cliffs to the north.
We quickly discovered some prominent Cas Cay residents– hermit crabs– which were scurrying around everywhere along the forest floor.
Hermit crabs discard their shells several times a year, always seeking an upgrade. They're impressively accurate weather predictors: If a storm or flood is coming, hermit crabs will actually climb trees to safety.
I was cautious about stepping on them, but their shells are extremely sturdy and can actually withstand up to 500 lbs of pressure!
The hiking path on Cas Cay provided a peaceful ocean view. It started to rain lightly, but this somehow only added to the dramatic scenery.
The ocean waves grew in intensity, crashing against the massive boulders lining the coast. Grey wisps of clouds caressed the rolling green hills that loomed in the distance.
READ MORE: 60 Weird Animals Around The World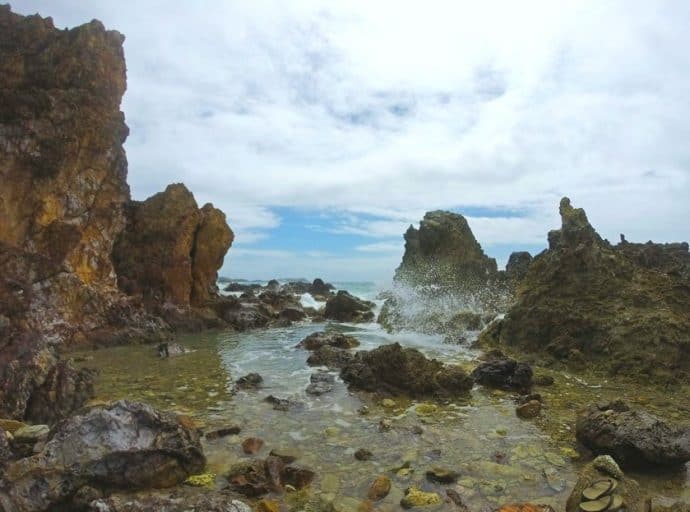 Red Point Blow Hole
We eventually reached the highlight of our hike, the Red Point Blow Hole, a geologic formation in the volcanic rocks at the island's northernmost point.
When a big wave entered the mouth of the sea cave, the water was pushed towards an existing cavity above. The result was a powerful blast of water shooting up into the sky!
With the small rainstorm that we experienced, the blow hole was putting on a more magnificent demonstration than usual.
The waves crashed angrily against the rocks and the water powerfully splashed through the air. It was a stunning display that I could have watched all day long.
But, like most of the rainfall in the Caribbean, it didn't last long. The storm clouds drifted away, and the choppy water calmed down just in time for our snorkeling adventure.
READ MORE: Bahamas Swimming Pigs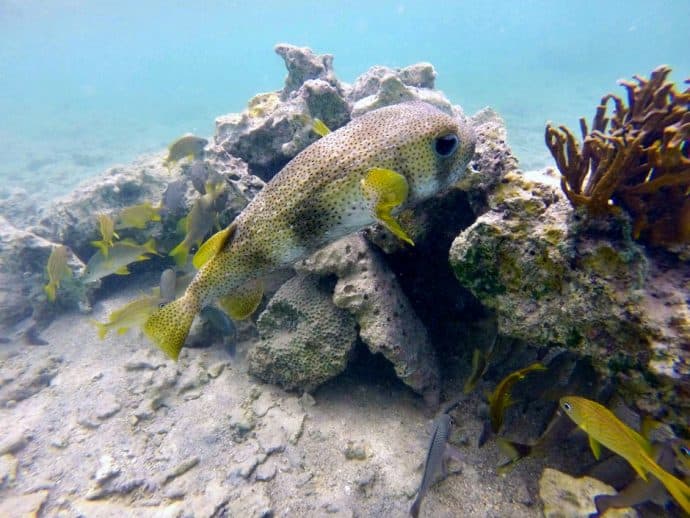 Snorkeling Cas Cay Marine Sanctuary
Donning our snorkeling gear, my sister and I climbed into the shallow water and swam beyond the mangroves.
Although there wasn't much of a coral reef to speak of, the volcanic rocks beneath the surface provided excellent hiding places for the fish.
I soon spotted one of the biggest Porcupine Fish that I'd ever seen. Another fish I'd never seen before, I later identified as a Spotted Trunkfish.
There was an abundance of sea life in the crystal clear water, which made it easy to discover all kinds of cool critters. Although we didn't see any that day, larger species like Stingrays, Barracudas, Octopus, and even small Sharks can be found in the area.
I never expected the St Thomas islands to be such a great snorkeling spot, but I was pleasantly surprised. On the way back towards our kayaks, we spotted a vast numerous of juvenile fish thriving amongst the mangroves.
As a large site with clear, shallow waters and not many places to scrape your skin against coral, Cas Cay is an ideal place for beginners to practice and get comfortable with snorkeling.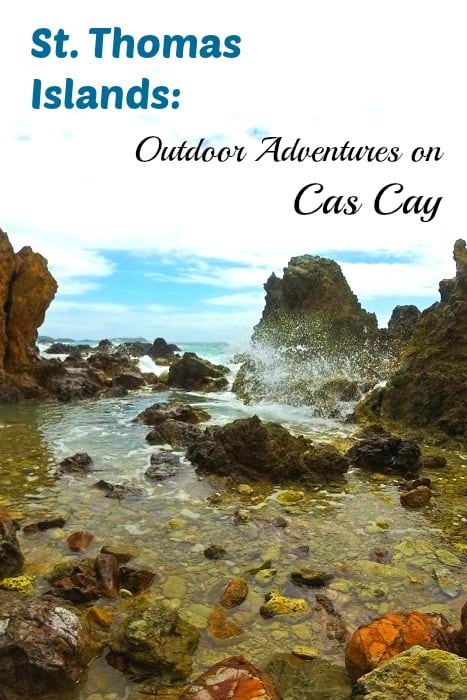 Our excursion was operated by locally-owned Virgin Islands Ecotours, which is based in Nadir. I would highly recommend them for their informative and friendly guides, who focused on educational aspects of the natural environment.
My sister and I got quite a workout from kayaking while taking in the spectacular views. The kayaking provided the perfect beginning and end to the trip, with a nature hike and snorkeling in the middle. The excursion combined three exhilarating outdoor activities for one memorable afternoon.
Although St Thomas is best known for its shopping and beaches, I would highly recommend a day-trip to Cas Cay as an alternative. I found it highly enjoyable to visit a lesser-known part of the island that remains largely untouched. -text and photos by Lauren Yakiwchuk, unless otherwise noted
READ MORE: The Ultimate Beach Vacation Packing List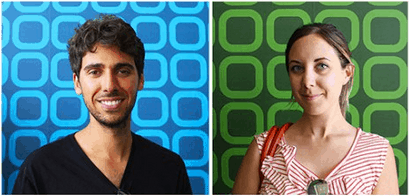 Lauren Yakiwchuk is a travel writer, photographer, videographer, and one half of Justin Plus Lauren. Lauren travels the world to explore nature, wildlife, and emphasize the importance of ecotourism and environmentalism. As a vegan, she's always finding the best places for healthy food. Follow Justin and Lauren on Facebook, Twitter, Instagram and Youtube.
If you enjoyed St. Thomas Islands: Outdoor Adventures on Cas Cay, you might also like:
The 20 Best Things to Do in Aruba (For Nature & History Lovers)
The 20 Best Things to Do in Barbados (For Nature & History Lovers)
St. George, Bermuda: Oldest Town in the New World
Top 20 Things to Do in Cancun (For Nature Lovers)
The 20 Best Things to Do in Curacao (For Nature & History Lovers)
Dominican Republic Outdoor Adventures
The 20 Best Things to Do in Jamaica (For Nature & History Lovers)
An Introduction to St Kitts (St Kitts Travel Tips)