I fell in love with Isla Holbox (a.k.a. Holbox Island) the first time I visited the burgeoning
ecotourism
hotspot back in 2013. It was everything we wanted from an island destination: Quiet, remote, relatively pristine, surrounded by natural beauty, with lots of outdoor activities.
It's located just two hours north of Cancun, with a picturesque ride on the Holbox ferry taking you from the mainland to the car-free island. Holbox is best-known as a great place for taking
swimming with whale sharks
tours and other nature/wildlife attractions.
But there are also plenty of Isla Holbox hotels and resorts that make it easy to kick back, relax, and do next to nothing at all (if that's your thing).
Isla Holbox is a relatively tiny island at 26 miles long and .9 miles wide, much of which is protected as part of the
Yum Balam Biosphere Reserve
. Yet there are dozens of Holbox hotels to choose from, including adults-only and all-inclusive hotels, boutique hotels and eco lodges.
From the pristine beach at Las Nubes de Holbox and the soothing
Mayan
spa at Casa Las Tortugas to the inquisitive iguanas at the infinity pool at Hotel Villas Flamingos and the exceptional cuisine at Casa Sandra, each of these Holbox resorts offers unique attractions.
Here's a look at 15 of the best hotels in Isla Holbox, broken down into categories and rated in terms of both cost and quality…
ISLA HOLBOX HOTEL MAP
Boutique Hotels in Holbox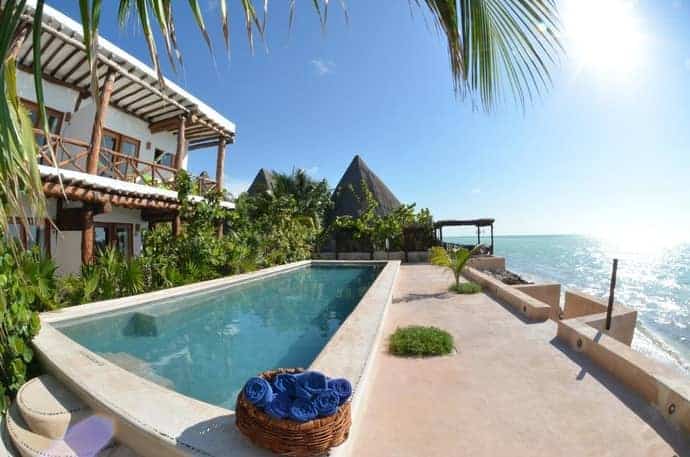 Quality: 4 Stars / Budget: $$
If peace, tranquility, and natural beauty are the qualities you seek in a vacation destination, then Las Nubes de Holbox is the perfect place for you.
Located 20 minutes from the center of town on foot (or a 5-minute golf cart taxi ride), this is the last hotel on the island and our favorite hotel in Isla Holbox.
The laid-back boutique hotel is situated along miles of picturesque sandbar and undisturbed Caribbean views, right next to the undeveloped part of Yum Balam nature reserve.
So you can expect relatively empty beaches, mangroves just a kayak paddle away, and lots of birds, marine animals (including dolphins swimming just offshore), and other wildlife.
Each of their 28 rooms is decorated with traditional Mexican charm (ours had lots of Frida Kahlo-inspired accents) and features air-conditioning and a balcony. The hotel also offers ocean views, a spa, paddle boats, bikes, and kayaks.
With their El Sabor de las Nubes restaurant serving breakfast, lunch, and dinner made from fresh, locally-sourced ingredients, you honestly won't want to leave. The second story bar/lounge is the perfect place for sipping sunset cocktails, especially their Tamarind Margaritas!
At night, be sure not to miss the expansive roof deck, which is perfect for looking up at the stars and winding down after your day of adventure (or blissful relaxation). But whatever you do, don't be tempted to feed the resort's resident raccoons!
READ MORE: What is an Eco Lodge? (The Best Eco Lodges in the World)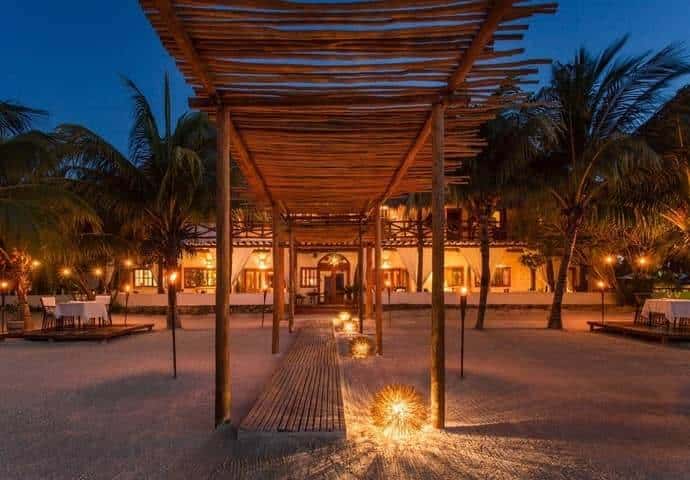 Quality: 4 Stars / Budget: $$$
Located just a short walk from town and right on the Holbox beach, the posh Casa Sandra offers the perfect combination of convenience, artful sophistication, and tranquility.
The luxurious, 20-room boutique hotel boasts rustic wood-beam ceilings, with hand-made furniture and bright colors. Each room has a private balcony with hammocks that look out to the sea.
Be sure to enjoy Sandra's small gallery of Caribbean and Latin American art, which includes vividly colorful paintings by renowned artists.
One of the highlights of our visit was the excellent mixture of Mexican and international cuisine available in the hotel's elegant Gourmet Restaurant. There's also a beachside bar that offers a variety of snacks and drinks all day long.
During the day you can enjoy your time relaxing on the outdoor pool's sundeck, gently swaying in your private hammock, or taking an onsite yoga class. At night, the mood is mellow and romantic, with excellent music creating the perfect laid-back vibe.
READ MORE: Top 20 Things to Do in Cancun, Mexico (For Nature Lovers)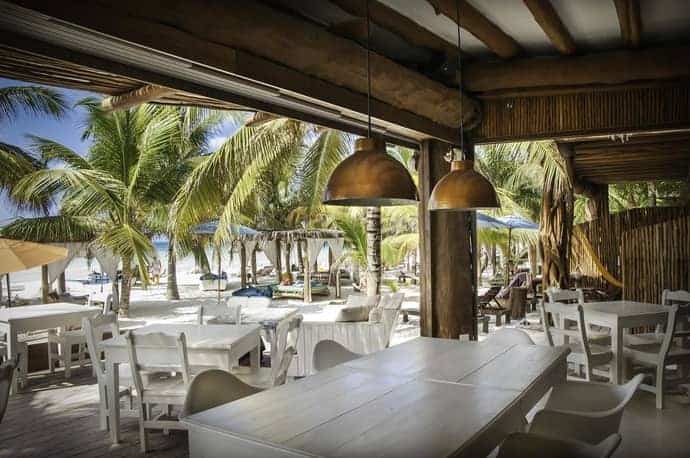 Quality: 4 Stars / Budget: $$
Each of the 21 rooms at this bohemian-chic beachfront hotel offers a mixture of relaxed Mexican hospitality with a dash of Italian flair.
Located just a short walk from the center of town, this laid-back boutique resort offers a yoga center, kiteboarding school, beach club, and organic restaurant.
Of special note is the resort's Aqua Spa, which is influenced by ancient Mayan traditions. Manager Aida Maria Argaez Gasca and her nieces, Tania and Karla Uribe, are trained in Ixmol (medicine woman) practices. So their massages are a spiritually transcendent experience.
Each room in the hotel is an adobe-style casita with carefully sourced antiques, colonial-style furniture made by local artisans, and fine linens.
Mandarina Restaurant is widely considered one of the best restaurants on Isla Holbox. They make delicious tropical drinks and offer a great menu that can be enjoyed in roomy double-loungers and palapa day beds, either on the hotel's private beach or at the spacious pool.
READ MORE: The Ultimate Beach Vacation Packing List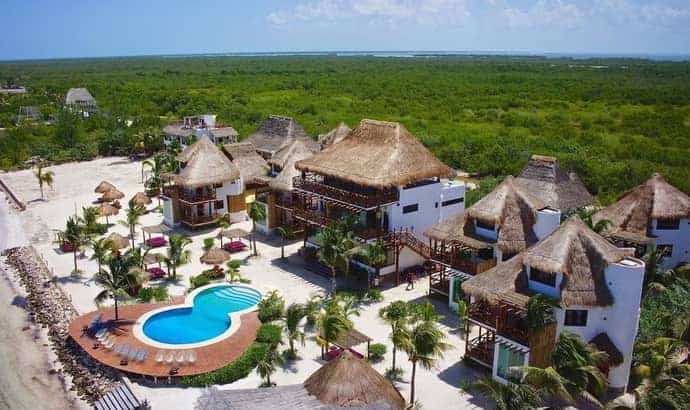 Quality: 4 Stars / Budget: $$
Villas Flamingos was the first hotel in Isla Holbox we ever visited, and still ranks among the most romantic places we have stayed during our travels.
The certified boutique hotel (one of just 35 in all of Mexico) features 29 ocean view bungalows. All of them feature traditional thatched roofs and are tucked back away from the hustle & bustle of Playa Holbox' public beach area.
The second to last resort on the strip, Villas Flamingos is just down the beach from Las Nubes de Holbox. Our favorite features there included the infinity pool (with resident iguanas), overwater hammocks, old boats converted into beach beds, and a beautiful restaurant overlooking the sea.
To maintain the property's sense of peaceful serenity, there are no TVs in the rooms and no speakers are allowed.
What you will find instead is porch hammocks and lots of lounge chairs and other places to lay about for relaxation. The hotel also provides bikes and paddle boards free of charge.
READ MORE: The 10 Most Romantic Places We've Ever Stayed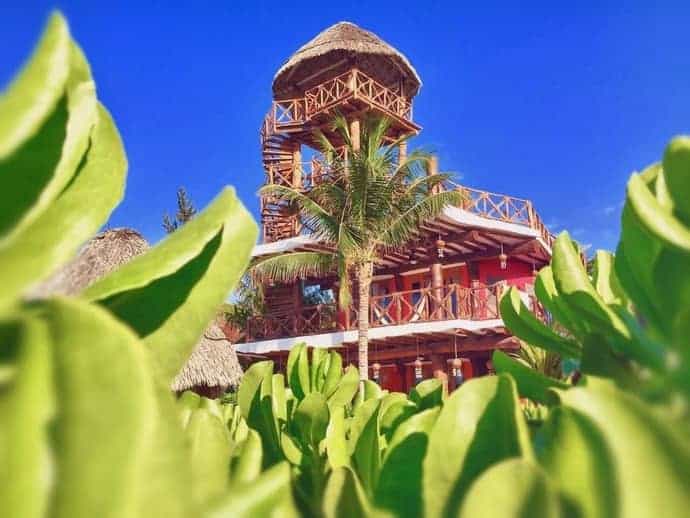 Quality: 4 Stars / Budget: $$
Run by a team of passionate and dedicated staff, Casa Palapas del Sol is a charming hotel situated right on the beach inside the Yum Balam Nature Reserve.
Guests here can choose from a wide range of accommodation options. These include a rustic bungalow right on the beach or a Superior Watchtower Suite, which overlooks the hotel grounds and offers spectacular ocean views.
All the rooms are neatly appointed, giving you an instant feeling of relaxation. Great care has obviously been taken in keeping the building as close to natural as possible, without sacrificing any luxury. This is evident in the stone walls and floors, which complement the crisp linens.
The hotel is quiet and allows visitors plenty of time for solitude and reflection. But it's also just a short walk from town, so you'll be able to go out and explore Holbox Island whenever you feel like it. With ample outdoor seating spaces, as well as hammocks strategically placed throughout the hotel, you'll be able to find a restful spot whenever you need.
Their restaurant serves up delicious traditional Mexican meals, as well as exquisite cocktails. You can enjoy a hearty breakfast of Mexican scrambled eggs or dine on a true island-style lobster. Also, try a Mango Margarita as you lounge next to the large pool. You can even set up a special romantic candle-lit dinner on the beach for the person you love.
There's also a beach bar here, giving you access to divine cocktails and fresh fruity drinks right on the beach. You'll hardly have to leave your hammock at this one!
READ MORE: Snorkeling & Diving the Cancun Underwater Museum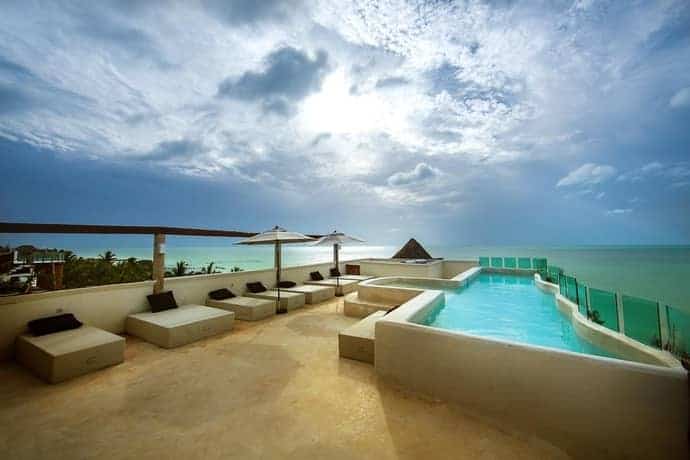 Quality: 4 Stars / Budget: $
This lovely 4-star boutique hotel offers its guests the chance to unwind and soak up unlimited Caribbean sun. All of the rooms in the hotel are impressively spacious.
The upstairs suites all overlook the ocean in one way or another. The ground floor suites are located just a few steps off the beach, ensuring you get a perfect view of the Caribbean no matter where you are in the hotel.
Guests can enjoy R&R on the rooftop terrace, which includes a long, refreshing pool. Drinks are also served here, and there are plenty sun loungers available. The hotel grounds include a quiet spot of green grass surrounding a crystal-clear pool, giving guests a chance to swim in private.
There's a full continental breakfast each morning in the hotel restaurant, which also serves a delicious variety of international meals throughout the day. Their in-house sushi bar is a perennial favorite among seafood-loving guests.
The hotel is tucked away from the heart of Holbox, which means you can enjoy the relatively undisturbed beauty of nature around you. Guests are offered free bicycle rental and stand-up paddle boards, allowing them to explore the rest of the island at their leisure.
From the white sands of the beaches to the splendid sunsets each night, this is a great getaway for those seeking a break from their busy lifestyle.
READ MORE: Best Caribbean Islands to Visit (If You Love Nature/Hate Crowds)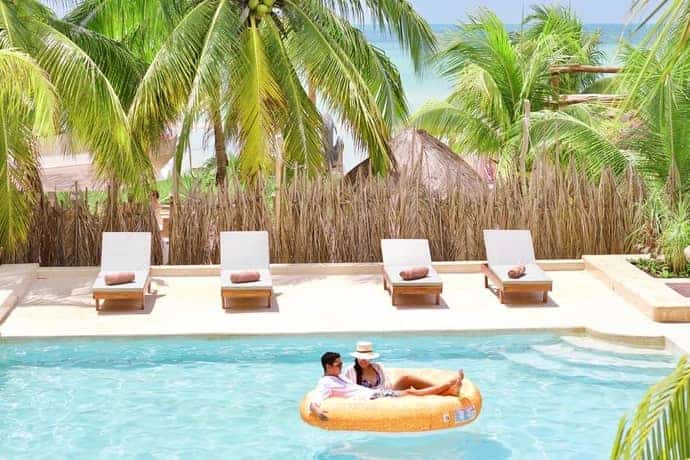 Quality: 4 Stars / Budget: $$
Located in the remote area near Villas Flamingos and Las Nubes, this charming hotel is surrounded by the best of Holbox island's natural beauty. Villas Caracol has recently done extensive renovations, so everything on the property feels fresh and new.
There are 15 rooms available, some with ocean views, others with pool views, and some that overlook the green mangrove forest of Yum Balam. The oceanfront Master King Suite opens right onto the beach, allowing you the opportunity to wake up to the fresh sea breeze. Also available is a suite with its own private pool, allowing you to enjoy an afternoon dip in private.
All of their rooms are spacious and designed with comfort and luxury (including a 24-hour butler service) in mind. The decor feels fresh and bright, with cool tropical colors and warm wooden furniture and accents. With a great restaurant on site, it's the kind of place that encourages you to linger all day, even though exciting adventures await.
While here, make sure you take advantage of some of the tours available, including one to the mostly uninhabited Cabo Catoche island. Here you'll likely see dolphins, sea turtles, and beautiful birds. You may also see bioluminescent plankton on Playa Holbox at night.
READ MORE: Museo Maya de Cancun (Cancun's Mayan Museum of Archaeology)
All-Inclusive Hotels in Holbox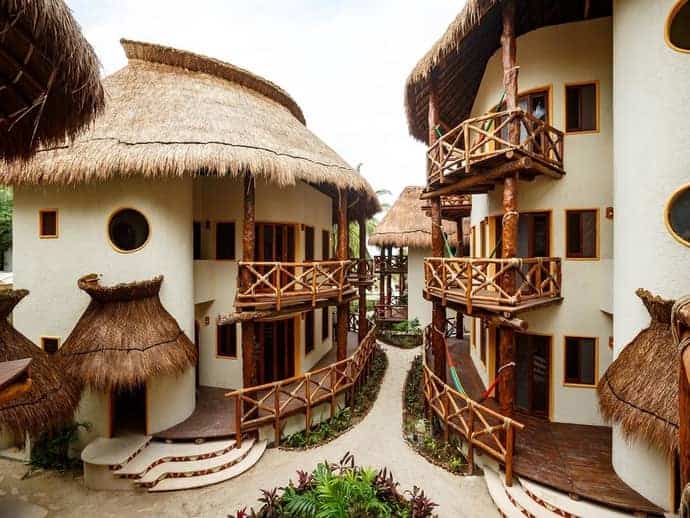 Quality: 4 Stars / Budget: $$
With its lush tropical gardens and expansive stretch of beach, Villas HM Paraiso del Mar offers an all-inclusive option for your Isla Holbox vacation. With its prime location just outside town in Yum Balam, the resort offers opportunities to see birds and wildlife as well.
The hotel's rooms are scattered across multiple thatched-roof buildings, some with two to three floors. The top floor rooms offer small balconies overlooking either the beach or gardens. The rooms on the ground floor open directly onto the gardens.
The elegantly appointed rooms include colorful Mexican textiles, rich wood furniture and window/door shutters, and distinctive touches such as Mayan masks and seashell mobiles. There are also hammocks on the balconies for the ultimate midday siesta.
The on-site restaurant's breakfast buffet receives rave reviews, and the lunch and dinners are just as delicious. The resort's bar is a great place to wind down at the end of your day, sipping tropical drinks as you soak in Holbox Island's serene night-time beauty.
If you get bored with that, you can also venture out for a taste of the more lively nightlife in the nearby town center. The heart of town is just a 10-minute walk away!
READ MORE: Things to Do in Sanibel Island (World's Best Shelling Beach)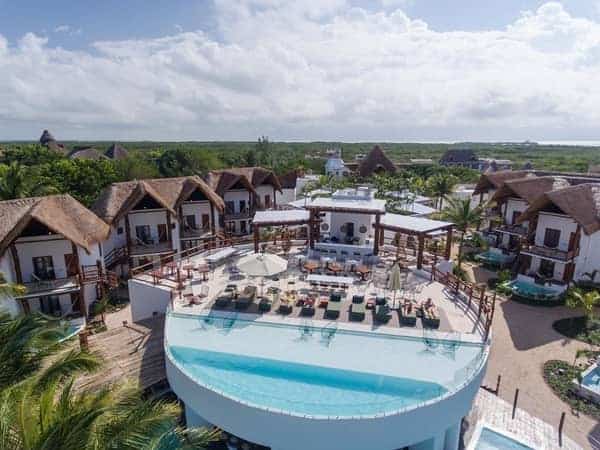 Quality: 4 Stars / Budget: $$$
Owned by the same company as Paraiso del Mar, this luxurious 4-star hotel is set on its own private beach overlooking the Caribbean Sea. Located closer to town, but still part of the Yum Balam Reserve, this all-inclusive resort offers a combination of convenience and comfort.
Playas del Mar is a bit more modern than other Isla Holbox resorts, with a striking white design that evokes images of the Greek Islands rather than the traditional colors of Mexico.
Their white-and-wood rooms come in a variety of sizes and budget options. Standard Junior Suites offer views of the pool or sea, and some have private pools. Superior Suites are larger, with room for families and some offering incredible views of the Caribbean. Most of the rooms have private balcony spaces for guests to sit and savor the serenity.
The hotel restaurant serves both traditional Mexican food and international dishes, including a sushi bar with authentic Japanese dishes. From the swanky rooftop pool bar, you can enjoy soaking in a magnificent sunset while sipping on delicious cocktails.
There are different accommodation plans to choose from. Full all-inclusive ensures you're always well-fed and never go thirsty. The half-board plan means your breakfasts and dinners are sorted, but the cost of drinks, lunch, and other snacks is on you.
READ MORE: 20 Stunning Santorini Photos (Greece)
Adults Only Hotels on Holbox Island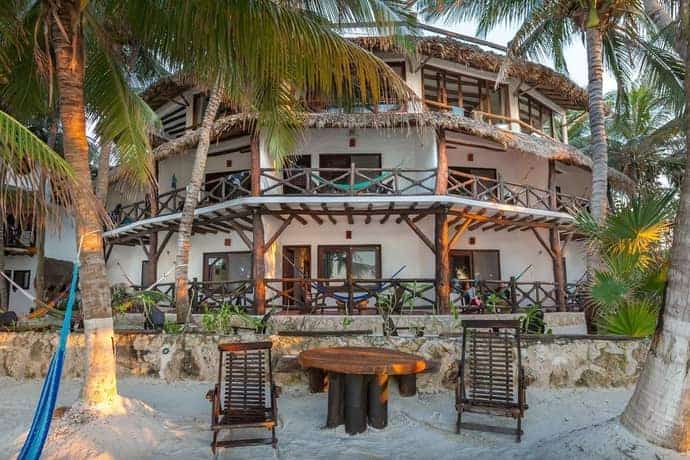 Quality: 3 Stars / Budget: $$
As parents ourselves, we have nothing against people who travel with their children. But, as parents ourselves, we also HIGHLY value our alone time as grownups.
For those seeking a getaway from the never-ending responsibilities of every day life, the adults-only Beachfront Hotel La Palapa offers an affordable taste of the romantic indulgence for which the Caribbean is known. Located on the beach and just a few minutes' walk from the busy town center, it's truly the best of both worlds.
Accommodation options range from an economy room without an ocean view, to a large luxury suite with panoramic views. They also have a private cottage equipped with a kitchenette. All rooms are designed simply to create a relaxing atmosphere without too many lavish frills.
If you want to escape the sun and sand during the heat of mid-day, you can check out one of the hotel's two Wellness areas for an additional charge. You can book a couple's massage at the hotel's indoor spa, or have a soak in the heated whirlpool. Alternatively, you can enjoy exclusive use of the rooftop jacuzzi, with its panoramic views of the hotel grounds and the beach.
The hotel also offers a restaurant and beach bar. But since Hotel La Palapa is in town, you're also close to some of the best restaurants in Isla Hobox. With exceptional staff, a welcoming beach, hammocks and sun loungers, this is a great place to be an adult with no obligations.
READ MORE: Fascinating Facts About Cinco de Mayo History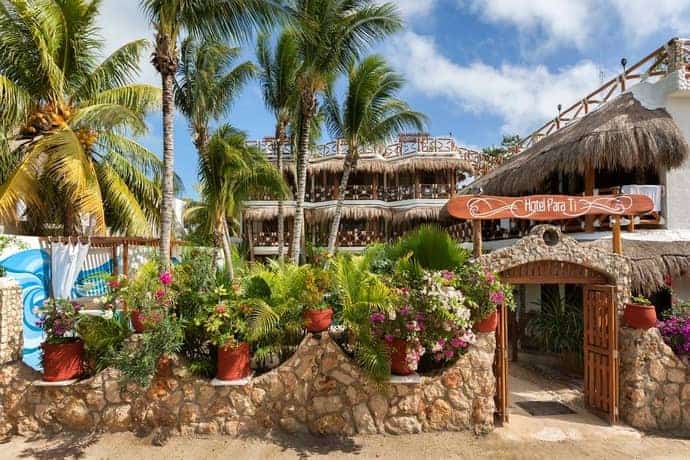 Quality: 3 Stars / Budget: $
Hotel Para Ti is one of the most gorgeous Holbox hotels. With amazing designs and artistic creations throughout the hotel, this is a space for admiring the beauty of island living. Much care has been taken in the smaller details – such as conch shell taps and murals painted on the walls.
The hotel is not quite on the beach, but you can reach the soft sandy shores in a short 3-minute walk. Staying on the premises will not disappoint! Thanks to their large pool and rooftop lounging area. The gardens are absolutely stunning as well, full of palm trees and beautiful flowers.
There are many rooms in this adults-only hotel, ranging from bottom floor suites with access to the garden and pool – to top floor ones with private balconies that overlook the hotel grounds. You'll sleep soundly after a busy day in the exceptionally comfortable beds found in each room. Also available for your room is your own hammock – perfect for those afternoon siestas.
While a full breakfast is not included, the staff make sure you are energized to start your day with complimentary coffee and small pastries and muffins. The center of town is just a 5-minute walk away from the hotel, and there you can find restaurants, coffee shops and other stores to shop at.
Bertha, the owner, puts her heart and soul into her hotel and her dedication really pays off. She lives on the first floor of the hotel and is available to help with any issues that may arise. Her staff are also welcoming and friendly and go out of their way for their guests.
READ MORE: The Best Travel Clothes For Every Travel Style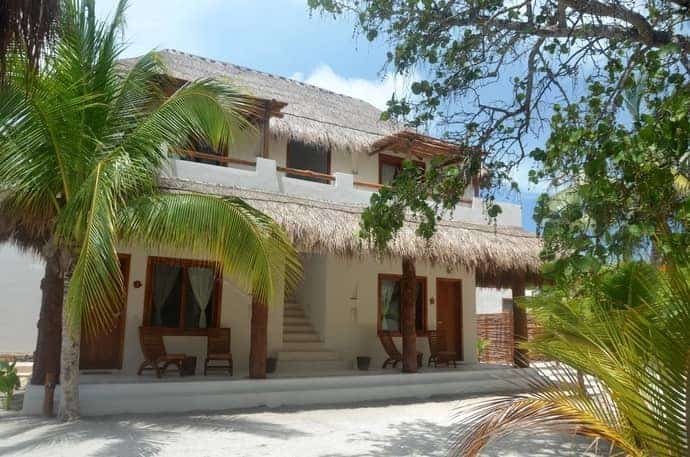 Quality: 4 Stars / Budget: $$
One of the smallest resorts in Isla Holbox, this 6-room, adults-only hotel is an exclusive getaway that offers exceptional bang for your budget.
The Tierra del Mar Hotel is the perfect spot for those who want to be near the heart of the action. It's just a 2-minute walk to the Playa Holbox beach, or a 4-minute walk to the center of town. But there's also a pool on the hotel grounds, so you don't need to go far in order to cool down.
The rooms are simple yet elegant, with an equal mixture of luxury and comfort. All rooms offer king size beds, air conditioning and fans, and spacious bathrooms with natural stone accents. Many of the upstairs rooms have private balconies with hammocks.
Breakfast is served each morning, which includes coffee, fresh fruit, and homemade cakes. Though you'll need to eat all other meals in town, there are many restaurants located within a few blocks. The hotel staff will happily help you find the best places to eat in Holbox.
The hotel owners live on the property with their pet dog and cat, and ensure that each guest feels like family for the duration of their stay. Along with their friendly staff, they take great care of the smaller details that make everyone staying at Tierra del Mar feel welcomed.
READ MORE: Rio Secreto, the Riviera Maya's Amazing Underground River
Other Holbox Resorts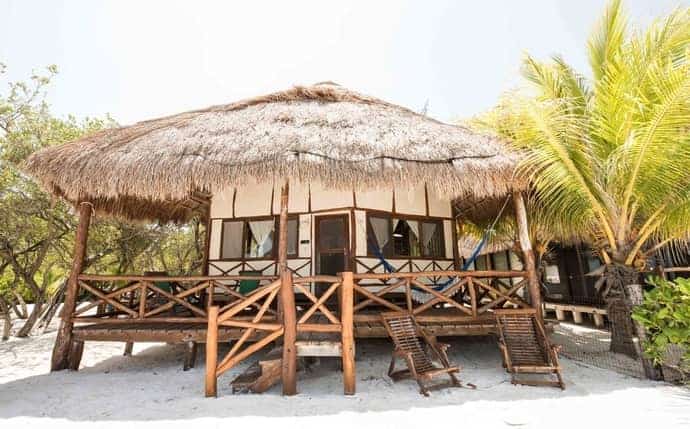 Quality: 4 Stars / Budget: $$
If you're looking for Caribbean tranquility at an affordable price, this 4-star Holbox hotel with its own private beach is a great place to go for a holiday. Case Takywara boasts highly-rated staff that go above and beyond, an excellent location, and some of the best views on the island.
If you manage to book their bungalow, you'll wake up with the ocean right at your doorstep. It includes a comfy queen-sized bed, air-conditioning, fully equipped kitchenette, and a large private balcony that comes equipped with a hammock all your own.
The penthouse suite will also give you air-conditioning and a kitchenette, with the added comfort of a king-sized bed. It also has a large private balcony which overlooks most of Holbox Island, and is less than a minute away from the sea.
Alternatively, you can choose between one of the other two suite types, each offering a refrigerator in a fully equipped kitchenette. These suites also have a queen size bed and a shared balcony, where you can laze on the hammocks and gaze out over the hotel's gardens. One of the suites has a second queen bed, while the other has a futon for children to sleep on.
Along with the fantastic location, you'll also get to enjoy fresh fruits and a scrumptious breakfast delivered right to your room. Additionally, the hotel offers relaxing massages, romantic dinners under the stars, and a variety of tours (including kayaking and horseback riding tours).
READ MORE: Hacienda Tres Rios Resort Review (Riviera Maya, Mexico)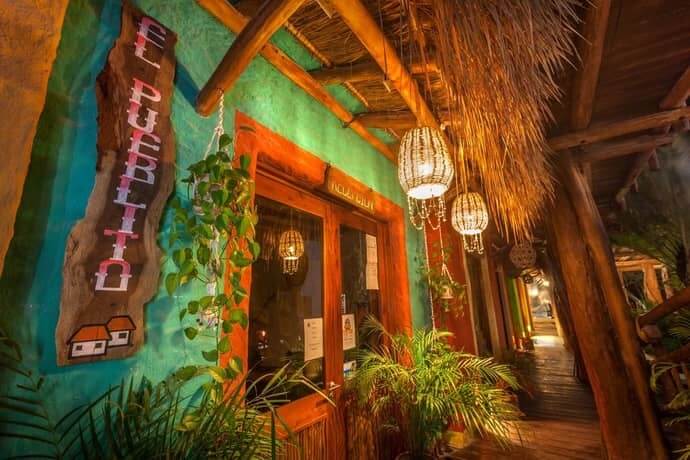 Quality: 3 Stars / Budget: $
Situated in the heart of Holbox, Mexico, Hotel El Pueblito works best for those who want a taste of laid-back island life, but with the added enjoyment of vibrant nightlife nearby.
Once you're done exploring the island's outdoor attractions, you can come back to your room and relax on the hotel's hammocks. You can step into the lush green gardens and take a dip in the shaded pool if you don't feel like taking a trip to the beach. Or try out the hot tub!
The rooms are all tastefully decorated and kept exceptionally clean. The toiletries in the rooms are made from natural products, and the sheets and towels are of the highest quality. They are also well-known for having some of the comfiest beds on the island.
There are two restaurants on the hotel grounds, including a truly traditional Mexican food spot. There's also a sushi bar, coffee shop, and a souvenir store.
If you stay there, make sure you take advantage of some of the local tours on offer. You can go for a windsurfing lesson, or rent a bicycle and explore the island at your own pace.
READ MORE: Riviera Maya Ecotourism: Monkeys, Pyramids & Pottery In Mexico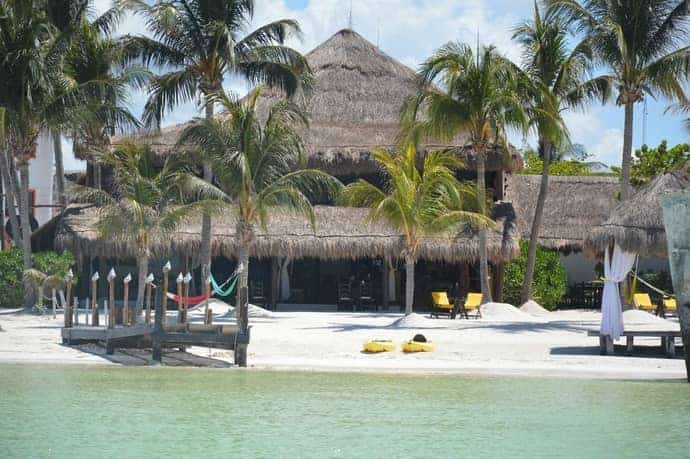 Quality: 3 Stars / Budget: $$
As its name would seem to indicate, Amaite Hotel & Spa focuses on wellness and rejuvenation. It's located right on the beach, with gardens of palm trees and a generous amount of shady palapas dotted across the sands.
There are a total of 15 rooms available, including Superior Suites, Family Suites, Apartment Suites, and Master Suites. The Master and Family rooms sleep a maximum of 4 people each, which are great for families or groups of friends traveling together.
The Superior Suites sleep 2 people and come equipped with either a queen bed or 2 single beds. Their expansive Apartment suites can sleep up to 6 people and have 3 bedrooms, a living room, and a private garden leading onto the beach.
Included in the cost of your stay is a hearty continental breakfast, which makes great use of the island's fresh produce. You can enjoy it at a table right on the beach, with the refreshing sea breeze awakening your senses (and deliciously dark coffee awakening the rest of you).
You can choose to have dine at the hotel's restaurant, which is right at the edge of the water. Or take a short trip into town and sample some of the many great restaurants there.
For the night owls, the hotel is extremely close to a local bar, so you can party with the locals just a short distance from your room. For non-night owls, you may want to bring earplugs, because the noise here travels better than you might enjoy! –by Bret Love and Tammi Dooley