Though India's natural beauty is often overshadowed by her architecture, history and culture, the real gem of the subcontinent is arguably her remarkable array of flora and fauna. It's a little known fact, but India is home to a whopping 7% of the world's biodiversity!
Few places in the world offer the broad range of wildlife viewing opportunities that India does, from legendary megafauna such as the Bengal Tiger and Asian Elephant to the equally delightful 1300+ bird species that call the country home.
India is also home to an ever-changing landscape that veers from deserts and wild grasslands to the Himalayan foothills and tropical jungles. Jungles and forests cover over 20% of the country.
If you're a nature lover, India is arguably one of the top destinations in the world. But choosing the right spot to start can be a little overwhelming. The country is, after all, a sub-continent, and planning a trip to India can take a little time.
You can travel independently to India's national parks and tiger reserves, although some are harder to reach by public transport than others.
But there are also many different group tours of India that include a visit to one or more of these parks. There also companies that can help you get an Indian e-Visa online, before you arrive in the country.
Here's an overview of some of the best places to visit in India for nature and wildlife.
READ MORE: Indian Animals: A Guide to 40 Incredible Indian Wildlife Species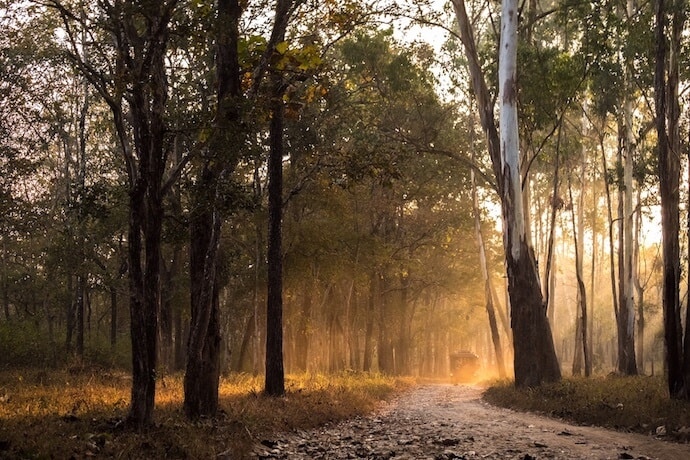 When is the Best Time to Visit India?
Weather-wise, the best time to visit India is in the winter, between the end of October and the end of February.
This is the most pleasant time of year to take a wildlife safari. However your chances of spotting animals are statistically better during March, April, and May, when they tend to gather around watering holes.
If you can handle the extreme heat during these month, you'll also benefit from fewer visitors and better deals on accommodation as well. But weather in India from March through May can get extremely hot.
It sometimes reaches 50º Celsius/122º Fahrenheit in Rajasthan before the monsoon rains begin, starting some time in June and lasting until October. But the seasons and weather patterns are becoming more unpredictable recently due to climate change.
One exception to this is the mountainous region of Ladakh, which is covered with snow for much of the year and is open for trekking between June and September (there are some lower trekking routes that open in May).
Himachal Pradesh, in the Himalayan foothills, is best visited between March and May as a cool retreat from the hot, dusty plains.
November through February is also high tourism season here. So if you're traveling to India during these months, try to make your travel arrangements and bookings well in advance.
READ MORE: The Best Travel Clothes for Women & Men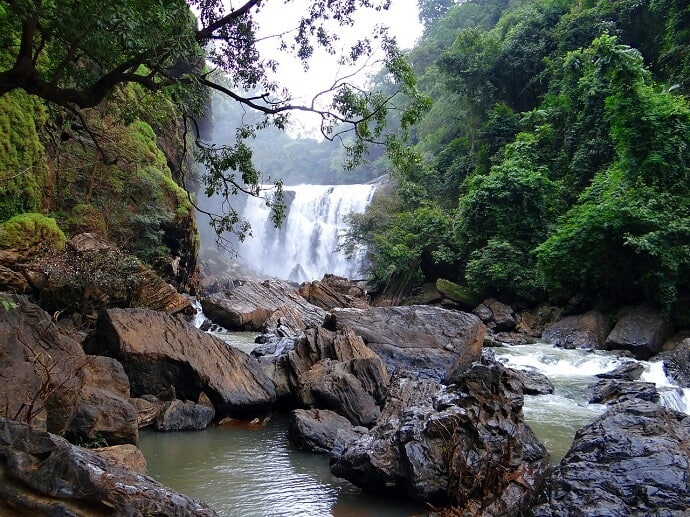 The Best Places to Visit in India for Nature Lovers
A great place to start is India's national parks and Tiger reserves, which are some of the most beautiful places in India.
Many of these India attractions are called national parks or Tiger reserves interchangeably. So we've put the ones that are especially known for seeing Tigers under the Tiger reserve section.
But rest assured that those parks are home to plenty of other wildlife, too.
Map of National Parks & Tiger Reserves in India
National Parks are marked in Green, Tiger Reserves in Orange.
List of National Parks & Tiger Reserves in India
National Parks in India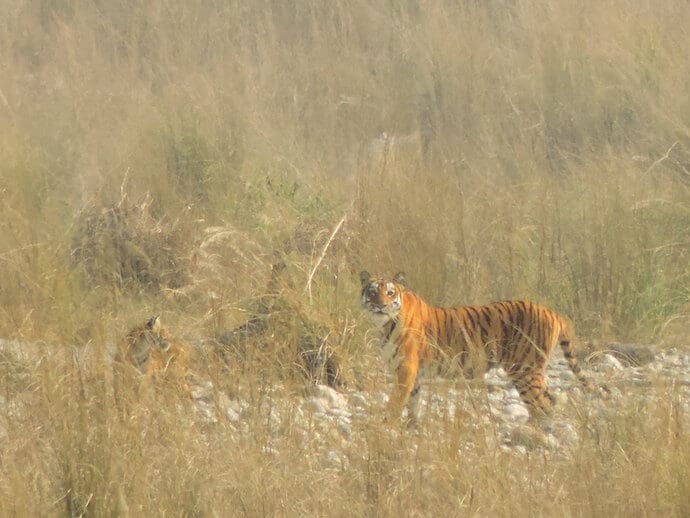 Jim Corbett National Park (Uttarakhand)
Originally established in 1936 as Hailey National Park, Jim Corbett National Park forms part of the larger Corbett Tiger Reserve, although the names are often used interchangeably.
Set in the region of Naintal, Uttarakhand, Corbett is India's oldest national park, as well as its most prestigious. It is naturally one of the most sought-after destinations in India for animal enthusiasts, with over 650 species of wildlife recorded there.
Corbett can be explored by Jeep safari, and is also one of the few parks in India that allows visitors to overnight within the park boundaries (in the government-run Dhikala Forest Eco Lodge).
Corbett National Park was the launching ground for the original Project Tiger, a wildlife conservation program launched in 1973.
Some of Corbett's zones are open all year round, and spring is a popular time to visit, with temperatures lower than you'll encounter across India's plains.
READ MORE: Top 10 Things To Do in Agra, India (For Nature & History Lovers)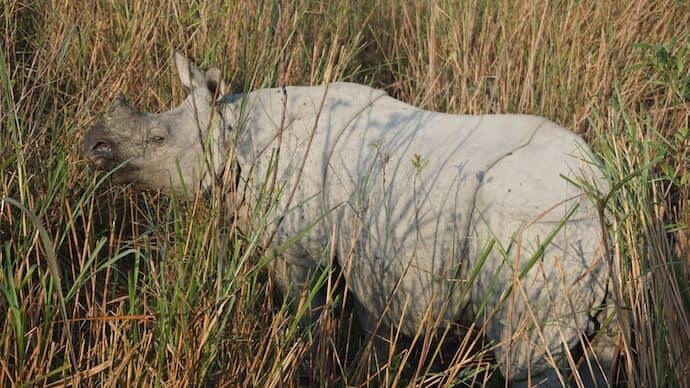 Kaziranga National Park (Assam)
Established in 1908, Kaziranga is one of the top national parks in Eastern India, famed for its Indian Rhinoceros population.
This UNESCO World Heritage Site is thought to be home to two-thirds of the world's Greater One-horned Rhino population. It was also declared a Tiger reserve in 2006, and is currently home to one of the highest densities of Bengal Tigers within a protected area.
Kaziranga's topography is unique and spans the floodplains of the Brahmaputra River, grasslands, forest, and wetlands.
During some monsoons, Kaziranga has seen extensive flooding, including a major one in 2019. It caused devastation for much of the park's wildlife, which tried to flee in order to reach higher grounds.
Kaziranga has traditionally been explored on Elephant back (which is not considered responsible travel) due to its tall grasses and lack of roads. But these days Jeep safaris are also possible.
The best time to visit Kaziranga is between November and May. Note that the park closes between July and October each year in case of flood warnings.
READ MORE: 15 Harmful Traditions & Cultural Practices Tourists Shouldn't Support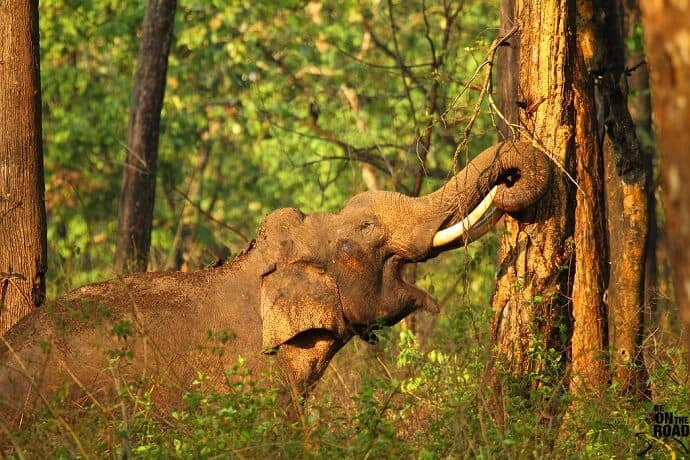 Nagarhole National Park (Karnataka)
With fewer visitors venturing to southwest India, Nagarhole (which is also written as Nagahole) is something of a hidden ecotourism gem.
The name originally comes nagarahole, meaning "cobra river" in Kannada, the local language. But don't worry: The name is in reference to the number of curving streams, rivers, and waterfalls that fill the park than the fearsome reptiles themselves.
Nagarhole is a beautiful place that's widely recognized as one of the best national parks in India. It adjoins the Bandipur Tiger Reserve and forms part of the Nilgiri Biosphere Reserve.
Nagarhole is a sanctuary for Asian Elephants, Leopards, Tigers, Black Panthers, Dholes, Sloth Bears, Crocodiles, and many other creatures, including wide insect biodiversity.
Nagarhole is most easily accessed from northern Kerala or from Mysore in Karnataka. The best time to visit is between October and May, because the park often closes during the monsoon season.
READ MORE: 10 Off The Beaten Path Ecotourism Destinations
Sundarbans National Park (West Bengal)
Spanning eastern India and into Bangladesh, the Sundarbans is the world's largest mangrove forest. It's also one of the few places in the world where you have a chance of seeing swimming Tigers!
Most of the impressive population growth seen in the 2019 Tiger census (which happily saw a 33% increase in Bengal Tigers in India) was in the Indian Sundarbans.
The Sundarbans were declared a UNESCO World Heritage Site in 1987 and are not only important as a Tiger reserve, but they're integral to the protection of the entire delta region.
Despite the healthy population here, Tiger sightings are rare, as most of them choose to retreat to the inaccessible interiors of the mangrove systems.
Although there have been rare occasions where Tigers have attacked humans in local villages as human populations increasingly encroach on their territory, the animals are generally fairly timid.
Going on a safari in the Sundarbans is unique in that you travel by boat. Given the high humidity, the best time to take a trip to the region is during the winter months (November through February), when early morning mists add to the atmospheric experience.
Safaris do not run at all during summer, which is monsoon season.
READ MORE: Conserving Sri Lanka Wildlife (Using Poachers as Protectors)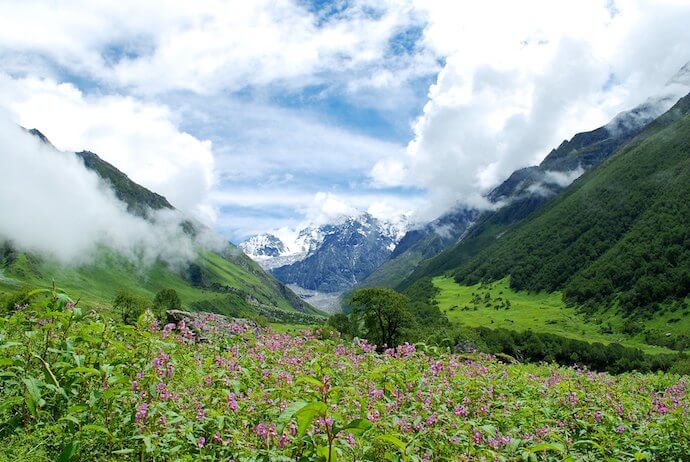 Valley of Flowers National Park (Uttarakhand)
Every time monsoon season arrives (usually around June), the Valley of the Flowers near Chamoli in Uttarakhand comes to life.
Its vibrant, bursting displays of color are a wonderful reward for those travelers willing to make the effort required in getting there.
The starting point for the trek to reach the Valley of Flowers is from Joshimath, which is accessible by road from Haridwar, Rishikesh or Dehradun. From Joshimath, Pulna village can be reached by road in about one hour.
From the village, it's a 16-kilometer trek to the "base camp" of Ghangaria. From there, it's an additional 3 kilometers to the beginning of the main valley, where the flowers are.
There are both government-run and private tours to the Valley of the Flowers. Or, if you are traveling in India independently, we recommend hiring a local guide for the trek.
READ MORE: The Flowers of Torres del Paine National Park, Chile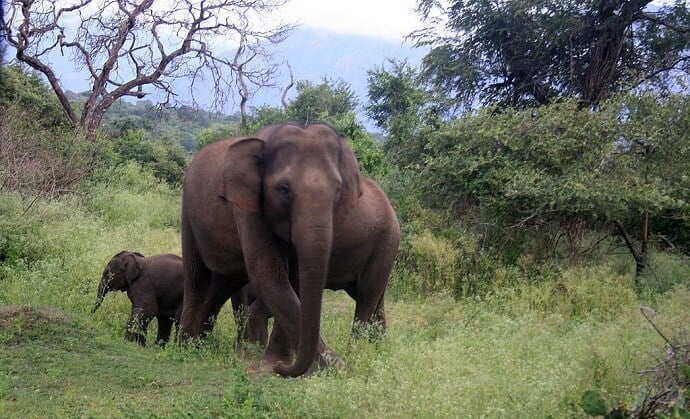 Mudumalai National Park (Tamil Nadu)
Mudumalai National Park is located in the northwestern corner of Tamil Nadu, which borders the states of Kerala and Karnataka.
This protected area is home to Asian Elephants, Tigers, Guar, and Leopards, as well as over 266 species of birds (which represents 8% of the different bird species in India).
Mudumalai is part of the same biosphere area as Nagarhole, the Nilgiri Biosphere reserve. The best time to visit Mudumalai is between March and June or September and October.
READ MORE: 40 Fascinating Facts About Snow Leopards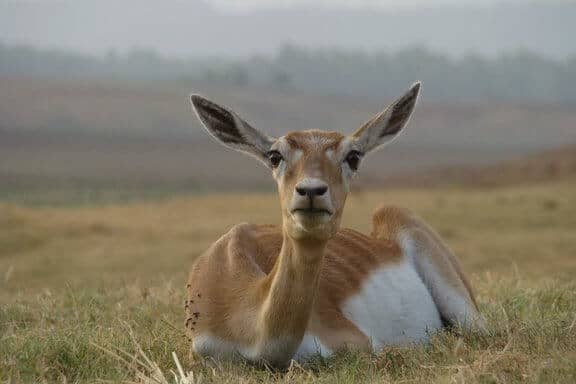 Satpura National Park (Madhya Pradesh)
Although this national park is also referred to as Satpura Tiger Reserve, the chances of seeing a Tiger here are relatively low, especially compared to some of the other Madhya Pradesh reserves.
The park is better known for other wildlife species, such as Sambar Deer, Antelope, Chinkara, Indian Leopard, and the weird-looking Indian Giant Squirrel! Satpura is also home to 1300 species of plants.
So if you're not 100% focused on seeing a Tiger, Satpura National Park can be a great option to visit in north India, with fewer visitors than some of the neighboring parks.
Satpura Tiger Reserve is important from an archaeological perspective, too. There are more than 50 Rock Shelters here that have ancient paintings depicting various animals, including Elephants, Tigers, Deer, and Porcupines. These paintings are estimated to be 1,500 to 10,000 years old.
The best time to visit Satpura is between November and May.
READ MORE: 60 Weird Animals Around the World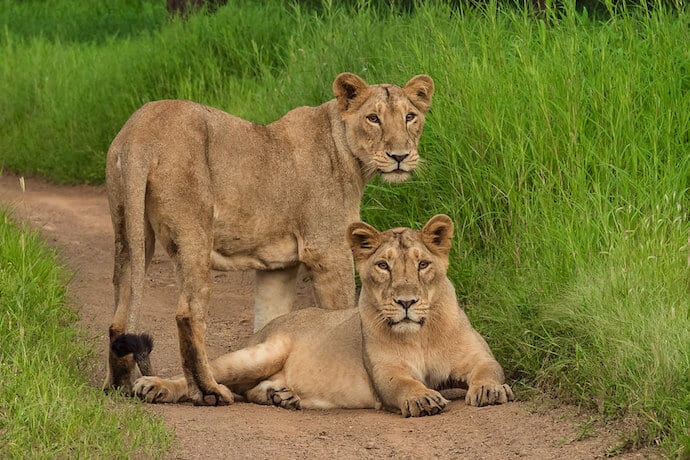 Gir National Park (Gujarat)
Located away from the main North India tourist trail, Gir is enough reason to make a diversion to Gujarat. This national park is the only home in India of the Asiatic Lion.
Sasan Gir (as it is also known) is located in southwestern Gujarat, in the Junagadh region, and is home to upwards of 500 Lions.
Hunting brought the Asiatic Lion to the brink of extinction in the mid 20th century, before conservationists stepped in in the '60s to protect the dwindling population. In recent censuses, the number of Lions in the park has been climbing steadily.
The rangers in Gir National Park are just as famous as its Lions: This is the first park in India to have female forest rangers.
The park is open from November to June each year and closes during monsoon season. Check the Gujarat Tourism website in advance for exact dates.
READ MORE: The Connection Between Walking With Lions & Canned Lion Hunting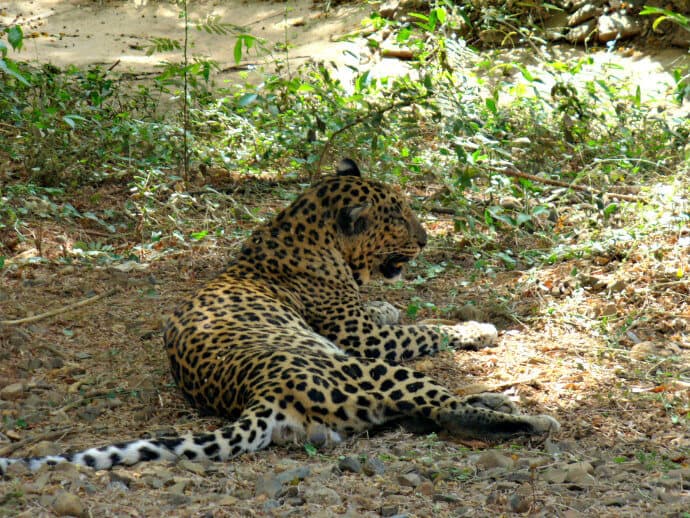 Sanjay Gandhi National Park (Mumbai, Maharashtra)
Encircled by Mumbai, Sanjay Gandhi is the only national park in India that's located within a city.
But that doesn't mean it's small: Sanjay Gandhi National Park covers 87 square kilometres, jostling for space alongside some of India's most expensive real estate.
Largely bordering the northern areas of the mega-city, this Mumbai park is home to many species of endangered flora and fauna.
Animals that call the national park home include Leopard, Spotted Deer, and Hanuman Langur Monkeys. Leopards are known to wander into neighboring areas of metropolitan Mumbai and Thane city under the cover of darkness.
This is one of the most-visited national parks in India: It's popular with rock climbers, hikers, and those who want to visit the well-known Kanheri caves.
Winter temperatures are quite cool here, providing relief from the often-humid air of Mumbai. The park is open all year-round.
READ MORE: The Best Walking Shoes & Hiking Boots for Travel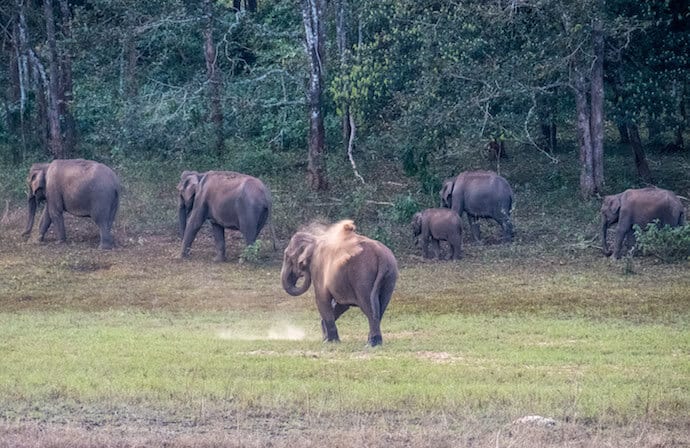 Periyar National Park (Kerala)
Set in the Western Ghats (hills) of Kerala, Periyar is one of the most popular national parks in South India to visit.
Although its wildlife offerings are less spectacular than most of the other parks featured here, many visitors come for the dramatic scenery.
Don't miss the boat trip across Periyar Lake, which offers the chance to watch wildlife from the water. During our time in the park we were lucky enough to see Elephants along the banks of the lake.
Fair warning: The boat trip is far from serene, and can be quite a crowded affair. Even India guidebooks warn that the experience can be awfully Disneyland-esque.
For those visitors seeking some peace and tranquility, there are alternative options for rafting on the Periyar Lake. It's also one of the last Indian parks you can actually walk into, which makes for a great opportunity to observe the flora and fauna with a naturalist.
The best time to visit Periyar is November through May.
READ MORE: The 10 Best Canoe Trips (For Your World Travel Bucket List)

Tiger Reserves in India
By far your best chances of seeing a Tiger in India are at the Tiger reserves, some of which now have booming, high-density populations!
The best time of year to see a Tiger is in the height of summer, from March through May, when they tend to gather around watering holes in the parks.
However, be aware that this is the hottest time of year in India. Many people choose to visit in November through February, which offers more comfortable weather, but slightly lower chances of Tiger sightings.
We personally recommend taking Jeep safaris over Cantor safaris (which have up to 16 seats and are more bus-like) for a more intimate experience, with fewer elbows jostling for photos. And remember, it's more about savoring the wonder of being in nature than just seeing a Tiger.
READ MORE: Animal Selfies: The Problem With Putting Ego Over Responsibility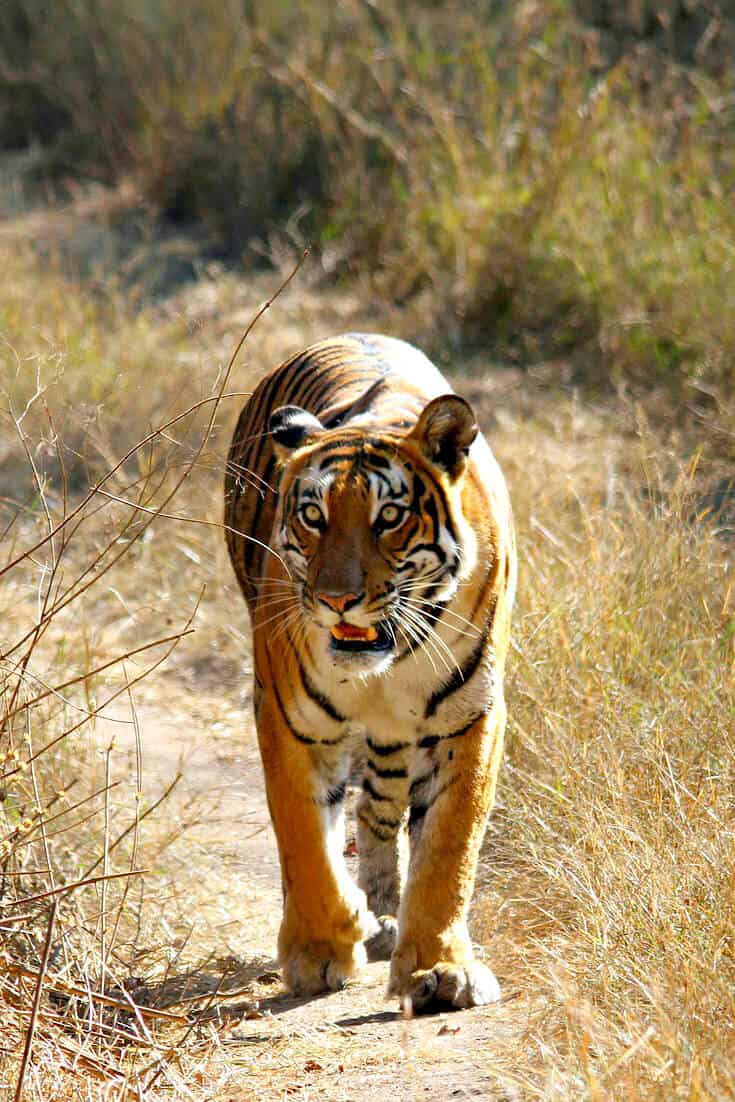 Bandipur Tiger Reserve (Karnataka)
Adjoining neighboring Nagarhole, the Bandipur Tiger Reserve boasts the second highest density of Tigers in India. So it's an excellent place to look for Tigers!
Bandipur was established in 1974 under Project Tiger, and was once the private hunting reserve of the Maharaja of Mysore.
In addition to its big cats, Bandipur supports a sizable population of endangered and vulnerable species such as Indian Elephants, Gaurs, Sloth Bears, Muggers, Indian Rock Pythons, Four-horned Antelopes, Jackals, and Dholes (a.k.a. Indian wild dogs).
The best way to see Tigers in the park is on a Jeep safari.
READ MORE: 40 Fascinating Facts About the Saola (a.k.a. Asian Unicorn)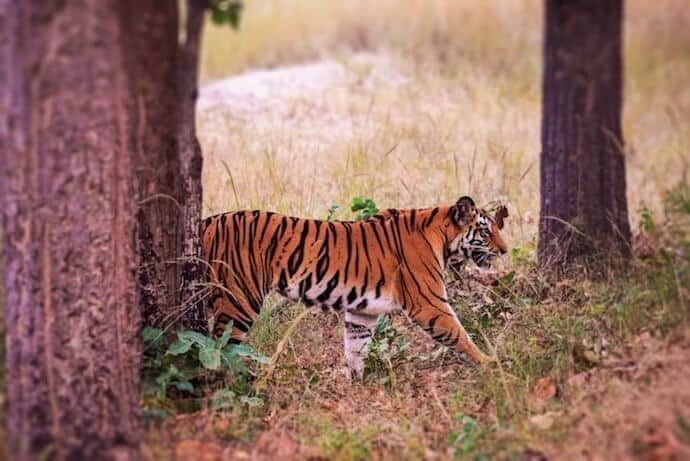 Bandhavgarh National Park (Madhya Pradesh)
You don't have a better chance of seeing a Tiger anywhere in India than you do at Bandhavgarh National Park in Madhya Pradesh.
Spanning some 105 square kilometers, Bandhavgarh has the happy problem of trying to find more space for its Tigers. These massive cats require large territories to hunt, and the population has grown here considerably in recent years.
Get up early for a morning Jeep safari for your best chances of seeing a Tiger here. Sightings aren't guaranteed, but with a bit of luck (and keeping quiet) you'll get a great Tiger sighting, like we did!
Bandhavgarh is home to many eco-friendly lodges, in particular the Tree House Hideaway.
READ MORE: How Zoos Help Conserve Endangered Species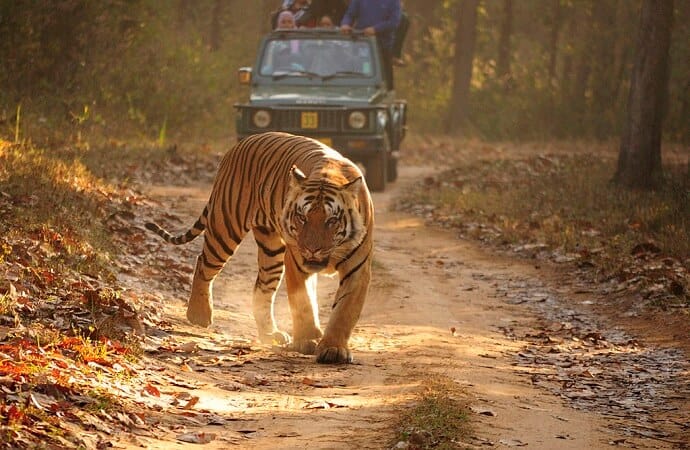 Kanha National Park (Madhya Pradesh)
The largest national park in Madhya Pradesh, Kanha is divided into two sanctuary areas– Hallon and Banjar– which respectively encompass 250 and 300 square kilometers.
But more worthy of note is Kanha's true claim to fame. The park is thought to be the original "jungle" from Rudyard Kipling's Jungle Book. If you're intent on living out your own Mowgli fantasy, Kanha would seem like the natural place to start.
So perhaps it's no surprise that Kanha National Park gets busy and books up quickly. If you're planning on visiting Kanha, we recommend booking your accommodation and safaris several months in advance. Many of the area's lodges can help with booking your safaris directly.
The park is open from mid-October to June each year, and then closes for monsoon season. November through February are the busiest times to visit.
READ MORE: 10 Travel Books That Inspired My Love of Adventure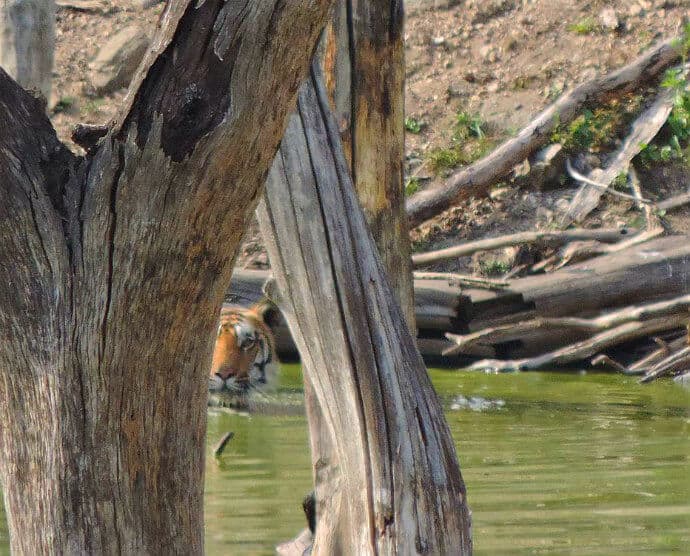 Pench National Park (Madhya Pradesh / Maharashtra)
Located on the border of southern Madhya Pradesh and Maharashtra, Pench National Park is a lesser-known alternative to the big-hitters of Bandhavgarh and Kanha.
Made up mostly of teak trees, Pench has a very different feel from the more popular parks. There are fewer tourists and Tigers, providing nature lovers with that feeling of serene solitude so many crave.
Pench's sprawling 1900 square kilometers is 60% in Madhya Pradesh and the remainder in Maharashtra. Located on the Jbalpur to Nagpur highway, the Turia Gate is relatively easy to reach, and the park is most frequently accessed from here.
Pench National Park is the perfect place to forget the goal of "seeing a Tiger" and appreciate India's national parks for what they are: Invaluable havens of peace, tranquility, and biodiversity.
As with the other parks in Madhya Pradesh, Pench is closed from June through mid-October.
READ MORE: 20 Top Bloggers on the Importance of Nature Travel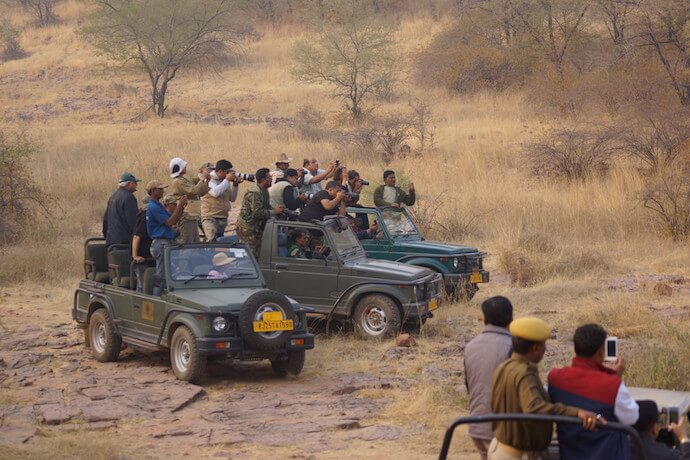 Ranthambore National Park (Rajasthan)
The most visited Tiger reserve in India is not without its vocal critics.
Recent complaints of overtourism and land loss to the overdevelopment of resorts here have made headlines. But that negative press doesn't seem to have had much impact on visitor numbers. People still seem as keen as ever to catch sight of a Tiger here.
Located south of Jaipur and within easy reach of Agra and Delhi, Ranthambore is one of the top tourist attractions in Rajasthan.
It's Ranthambore's location that makes it so popular: It's an easy stop for anyone on a Golden Triangle tour. It's also unique for the ancient ruins dotted around the park, making a captivating backdrop for Tiger viewings (which are relatively frequent).
If you do have time to go elsewhere to see Tigers in India, you may enjoy it more. We also recommend avoiding the large canters and busses, which can be noisy, in favor of a Jeep safari if you can.
Most of Ranthambore closes between July and October 1st due to the monsoon, however the buffer zone stays open all year round.
READ MORE: Ranthambore National Park – On the Trail of Tigers in India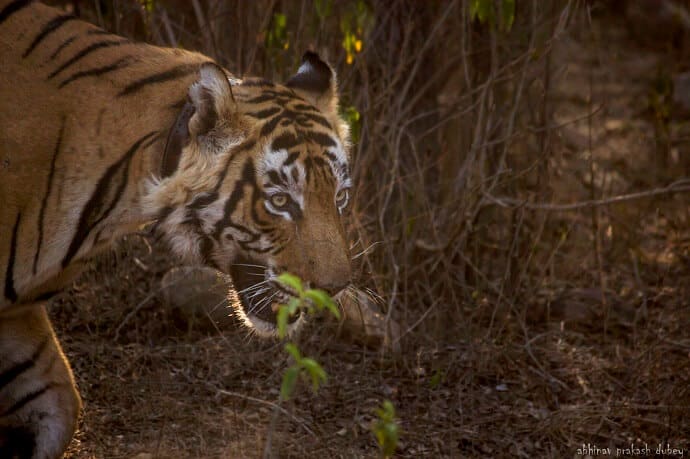 Sariska National Park (Rajasthan)
Located to the northwest of Jaipur and far larger than the more famous Ranthambore, Sariska National Park is best known for the scandal that unfolded there.
In the '90s and early 2000s, all of the park's Tigers somehow disappeared! It was suspected that they were taken by poachers. By 2004, Sariska was completely tigerless.
The park administration tried to cover it up for a long time. But after years went by without a single Tiger being seen, eventually detectives were brought in to solve the mystery.
In subsequent years, the park's corruption was cleaned up, and Tigers were eventually reintroduced to Sariska from Ranthambore from 2008.
In 2019, there are still only 15 Tigers left in the park, with only one lone male. This is causing great concern to conservationists as a further barrier to protecting the delicate population there.
According to local sources, the problem is twofold. The first is a lack of investment into tourism in Sariska. The second issue is the presence of villagers within the wildlife reserve itself.
Staying in resorts like the Sariska Retreat and the Sterling Sariska does help, and having tourists take more safaris and guided trips could provide an economic incentive for the Tigers' protection.
So we're recommending visiting Sariska National Park as a chance to make a genuine difference with your money. The more international visitors travel to Sariska, the more interest the government and tourism business will have in protecting the park in the future. –Ellie Cleary
Ellie & Ravi write about travel to India and around the world on their website, Soul Travel Blog, with a focus on experiences for the conscious traveller.
Looking to book your next trip? Check out the following services we use!
DollarFlightClub or Airfarewatchdog to find a cheap plane tickets.
Booking.com or Agoda to find a hotel deals.
Viator for a stellar day tour.
Lonely Planet for Travel Guides.
World Nomads for Travel Insurance
TrustedHousesitters we've found great pet sitters to watch our house and love on our two dogs!
Looking for essential Travel Gear? Check out these great options!
The Best Travel Clothes for Women & Men
The Best Vegan Boots for Women & Men

The Best Backpacks for Travelers
Plastic Free Products for Travelers