It may be a cliché, but it's no understatement to say that Mountain Gorilla trekking in Uganda and Rwanda is truly the adventure of a lifetime.
It's an incredible opportunity to spend an hour observing this endangered species, standing face-to-face with one of only two signficiant populations of Mountain Gorillas left in the wild.
These populations exist in extremely remote locations, in the dense vegetation of high altitude cloud forests throughout Central Afica's Virunga chain of volcanic mountains.
Gorilla trekking in Africa is available in three countries– Uganda, Rwanda, and the Democratic Republic of Congo. There, you'll find them scattered throughout national parks like Rwanda's Volcanoes National Park and Uganda's Bwindi Impenetrable Forest, each of which is home to roughly half the world's remaining Mountain Gorilla population.
Unfortunately, this beloved species (which was recently removed from the Critically Endangered list) cannot successfully survive in captivity. This means that the only way travelers can see them is by trekking through the misty rainforest to observe them in their natural habitat.
All species of Gorillas are currently considered endangered. But thanks to ecotourism and Mountain Gorilla conservation efforts in recent years, their population has slowly begun to rise.
The money from Gorilla safaris provides an alternative source of revenue to the destruction of Gorilla habitat and Gorilla poaching, which have largely been the cause of their historic decline. It also lessens the frequency of human-Gorilla contact, which can lead to deadly diseases.
Sitting quietly as you observe these surprisingly gentle giants is something you'll remember for the rest of your life. Unlike other wildlife experiences in Africa, where the animals are typically cautious of human beings, Gorillas in Uganda and Rwanda have become habituated to human presence. So they generally carry on with their lives, with no fear of you being there.
Thinking of booking a Gorilla trekking tour? This guide will provide you with information on Gorilla tours in Uganda and Rwanda, how to arrange your trekking permits, what to expect from safaris in each country, and a list of everything you'll need to pack for your epic adventure.
READ MORE: 50 Interesting Facts About Gorillas
Gorilla Trekking in Uganda
Uganda Gorilla Permits
In order to trek to see Mountain Gorillas in Uganda, you need a Uganda gorilla permit, which is issued by the Uganda Wildlife Authority (UWA).
These permits are very limited to just 180 per day, as tourism is tightly controlled in order to protect the Gorilla habitat.
So we advise that you organize your permits as far in advance as possible. Sometimes these Gorilla trekking permits are sold out 4 to 5 months in advance.
Uganda gorilla permits cost $600 USD per person, and can be used on a single day to trek in either Bwindi Impenetrable Forest National Park or Mgahinga Gorilla National Park.
You can buy your permit at the UWA office in Kampala, but many tour companies will organize your permit for you, which is the easiest way to arrange it. Some tour companies may even include the price of your permit in the overall cost of Uganda safaris, so it's worthwhile confirming this first.
It's worth noting that from July 2020 onward, the cost of a permit for gorilla trekking in Uganda will increase to $700 USD. This will be the set cost, with no discounts provided for trekking in low season, as they did in previous years.
This price increase will go towards funding Gorilla conservation programs and to the development of local communities.
READ MORE: Interview with Dian Fossey Gorilla Fund CEO Tara Stoinski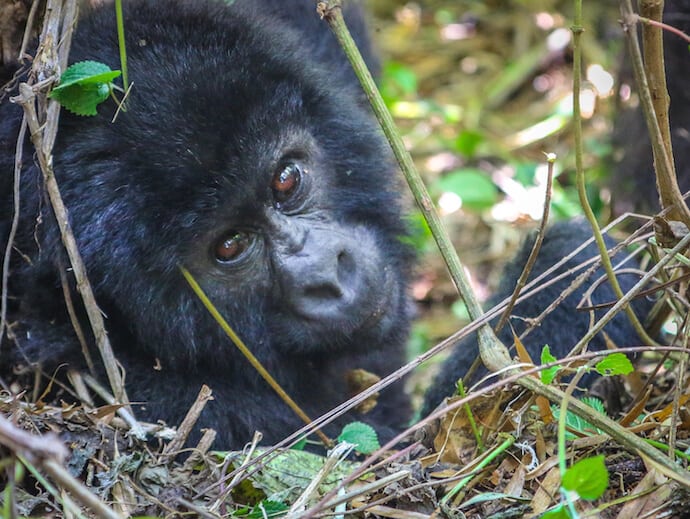 What to Expect from Uganda Gorilla Safaris
Uganda is widely known as one of the best countries for seeing Mountain Gorillas in the wild. It's much cheaper than Gorilla treks in neighboring Rwanda, and much safer than the Democratic Republic of Congo.
There are several gorilla groups within Bwindi Impenetable National Park that have been habituated to human visitors, and you'll undoubtedly be awestruck by this rare experience.
Gorilla habitat in Uganda is made up of dense, lush jungles, so Gorilla safaris in Uganda require you to trek through high altitudes, and very challenging terrain.
Uganda Gorilla trekking permits allow for one hour spent with the powerful primates, which starts from the time you find them. It does not include the time you spend trekking through the jungle in search of Gorillas, which may take 5 to 6 hours. Also note that this is per day, so if you book a 2-day gorilla trek in Uganda you'll spend one hour with them each day.
It's hard work to reach the Gorillas, but the experience is incredibly rewarding. You'll hike up and downhill through dense rainforest and navigate through thick tangles of roots, thorns, and vines. In some cases the rangers and guides may be bush whacking along the way, but the challenges make the outcome infinitely rewarding.
While Gorilla tracking in Uganda, you're likely to come across other endangered species. Mgahinga Gorilla National Park is also home to the Golden Monkey, while Bwindi has L'hoest Monkeys, Gray-cheeked Mangabeys, and Blue Monkeys.
In Kibale Forest National Park, you'll have an opportunity to track Chimpanzees and take a more traditional African safari, with sightings of Lions, Elephants, and lots of other wildlife.
READ MORE: The Ultimate Safari in Tanzania's National Parks & Reserves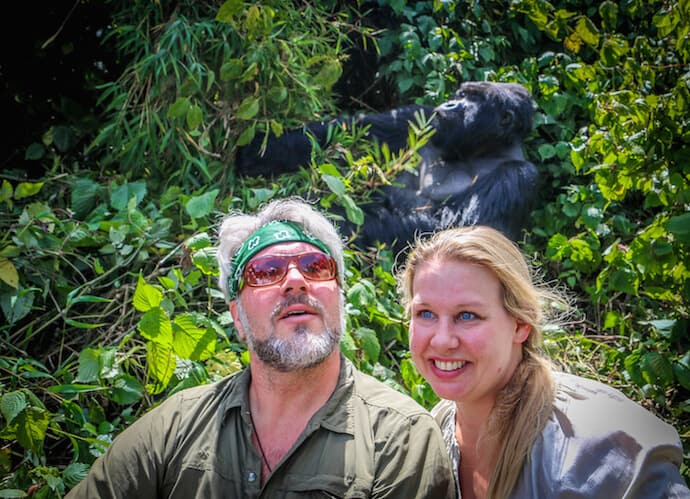 Gorilla Trekking in Rwanda
Rwanda Gorilla Permits
Rwanda safaris also require a valid Gorilla trekking permit, which you can purchase for $1500 USD from the Rwanda Development Board (RBD) offices in Kigali or Ruhengeri. This permit grants you one magical hour with the Mountain Gorillas in Volcanoes National Park.
As in Uganda, most tour companies will be happy to arrange your permit for you, so make sure you check on this before buying it yourself.
If you're staying longer and visiting all three of the National Parks in Rwanda (including Nyungwe National Park and Akagera National Park), you can save 30% on the cost of your permit. So you'll pay $1100 instead of $1500.
To secure this discount, you'll need to provide proof of your plans to visit all three parks, such as booked accommodations, tickets for park entrance, or your Chimpanzee trekking permits. Business travelers visiting the country to attend a conference get a 15% discount on Gorilla treks.
Gorilla trekking in Rwanda is even more limited than in Uganda, with just 80 permits issued per day and groups limited to no more than 8 people. So it's essential that you book your permit as early as possible to secure your spot.
If you're traveling during peak season (December through March and June through September), there's competition from other people wanting permits. But if you're doing Rwanda safaris during the rainy seasons (from April to May, and November), you'll have an easier time booking.
READ MORE: Visiting the Kigali Genocide Memorial in Rwanda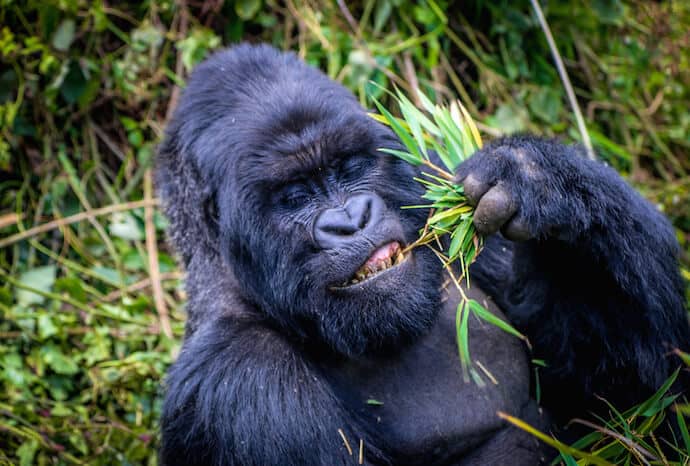 What to Expect from Rwanda Gorilla Safaris
"The land of a thousand hills" is probably best known for the endangered Mountain Gorillas of Volcanoes National Park, which were made famous by late primatologist Dian Fossey (and the Academy Award-nominated biopic of her life, Gorillas in the Mist).
Some of the Rwanda Gorilla families feature descendants of those animals Fossey's team originally habituated back in the '70s and '80s. There are currently 10 habituated families open to tourist visits, so trekking permits are limited to a mere 80 per day.
Each hiker is assigned to one of 10 Gorilla trekking groups based on a variety of factors (including age and fitness level). So the difficulty of the hike you face during your Rwanda Gorilla safari depends largely on which family you draw and where they're currently located.
Some, such as the Sabyinyo group, are found in the gently rolling foothills of Mt. Sabyinyo and Mt. Gahinga. This trek may take as little as one to two hours, while others may take up to four.
According to our sources, the Rwanda Gorilla treks are generally less intense and tenuous than those in Uganda, because the trails are more established and well-maintained. There's very little bush-whacking along the way.
Regardless of how difficult or muddy your hike may be, being surrounded by mamas, babies, and massive Silverback Gorillas is an experience you'll never forget. Volcanoes National Park is also home to endangered Golden Monkeys, Spotted Hyenas, Elephants, and 178 bird species.
READ MORE: Mountain Gorilla Trekking in Rwanda w/Dian Fossey's Porter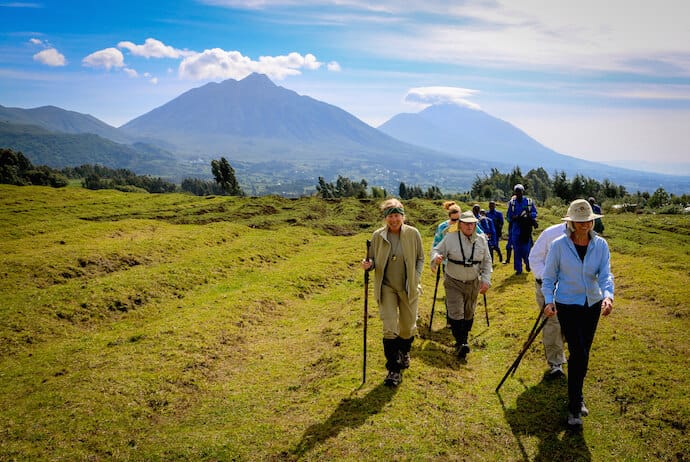 What to Pack for Gorilla Tours
Travel Documents
Beyond the aforementioned Gorilla trekking permits, you'll need to make sure your travel documents are all in order.
Your passport should be valid for 6 months past your return date, and it's a good idea to make copies of your photo page in case your passport gets lost, damaged. or stolen. Keep electronic copies on a USB or your email, and have paper copies included in your travel documents.
You'll need a visa to visit both Uganda and Rwanda. Depending on your nationality, there may be the option to organize this on arrival. But it's important to research this ahead of time just in case you're a citizen of a country who needs it organized in advance.
Other documents you should travel with include a travel insurance policy, any medical documents you may need (i.e. proof of vaccinations), and emergency phone numbers. It's also a good idea to print out a paper copy of your trip itinerary as issued by the tour operator you're traveling with.
READ MORE: Travel Insurance Policies from World Nomads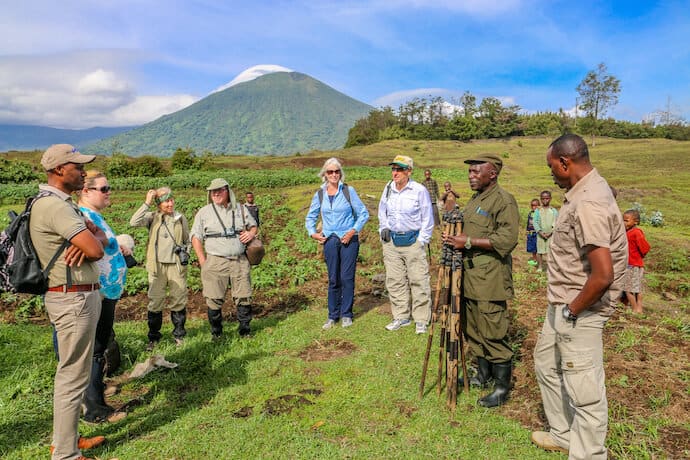 Clothes to Pack
When packing clothes for Gorilla trekking, the most important thing you'll need is long clothes.
Make sure you have safari-style waterproof pants and long sleeve shirts, as this will protect you from the jungle. It will also help prevent the bruises, scratches, and rashes that may come about from rubbing up against plants, trees, and branches.
Make sure your clothes are loose enough to allow for freedom of movement (avoid tight clothing), and pack neutral colors (shades of green, grey and brown) in order to blend in with your surroundings. The key is to be less noticeable to the local wildlife.
It's also worthwhile wearing layers on a Gorilla safari, as weather in the mountains of Rwanda and Uganda can change throughout the day. It can get quite chilly in the morning as you trek into higher altitudes, though it can also be very warm and humid later in the same day.
Pack a light, waterproof rain jacket, which has a hood so you can stay dry. Make sure that the shoes you choose are comfortable, such as waterproof hiking boots which have a good grip on them. Most locals and porters wear rubber gumboots. The shoes you choose should be at least ankle high, because you'll be trekking through puddles, mud, and possibly rivers.
If you're purchasing new hiking shoes for your Gorilla tracking adventure, make sure you break them in with a few hikes before your trip to avoid getting blisters. You can pack a simple pair of sandals for use at the lodges and camps, but your shoes for the trek should be closed toe boots.
Pack thick, extra high socks, as it's important that your feet stay warm throughout the experience, and you want to stop creepy crawlies from getting access to your skin.
A pair of gaiters (a protective sleeve that slides over your shoes and stops just below your knee) are absolutely essential. These will help to protect your boots, lower legs, and pants against rain, foliage, and insects.
READ MORE: The Best Travel Clothes for Women & Men
Other Travel Gear to Pack
When it comes to gear you need to pack for tracking Gorillas, one of the most important things to have with you are a good pair of binoculars.
While you're likely to get within quite close range of the Mountain Gorillas, binoculars will allow you to spot them from a distance. They will also enable you to to spot birds, Chimpanzees, monkeys, and other primates up in the forest canopy.
While it's unlikely you'll forget to pack your cameras and other photo gear, make sure you pack extra batteries to take with you. It's not a bad idea to carry a lens cleaner to keep the camera lens clean as you're moving around the jungle, and remember not to use your flash when taking photographs of the Mountain Gorillas.
Also, remember that the gear you take with you can get heavy over a span of 4 to 6+ hours. So the lighter your load, the more enjoyable the experience will be.
It's a good idea to have snacks such as protein bars on hand: You can buy these in Uganda or Rwanda if you don't want to bring them from home. It's also worth taking a small flashlight, just in case it gets dark during your hike.
If you have any extra space in your luggage, consider packing equipment to donate to the local community. Souvenirs like children's books, balls, colored pencils, etc. are always welcome.
Health wise, make sure you pack a small first aid kit in case of minor incidents. You should also travel with insect repellent (this is essential), a strong sunblock, and hand wipes, which can come in very handy if you need to clean your hands where there is no water. You may also wish to consider malaria medicine, for which we recommend taking advice from your doctor.
All this gear should be able to fit into a day pack. Single-use plastic bags are discouraged in Rwanda and Uganda, and you're likely to be fined if you're caught leaving them around. It's essential that your day bag be waterproof so that your gear stays dry throughout the Gorilla trek.
READ MORE: The 40 Best Backpacks for Travelers

Gorilla Trek Packing List
Passport (with 6 months validity)
Visa
Travel insurance documents
Long sleeve pants (waterproof)
Long sleeve shirts
Marino wool layer
Light waterproof rain jacket
Waterproof hiking boots
Thick, long socks
Gaiters
Waterproof day bag
Binoculars
Extra camera batteries
Lens cleaner
Energy snacks
Small first aid kit
Insect Repellent
Strong sunblock
Hand wipes
Malaria medicine

How Gorilla Safaris Fund Gorilla Conservation
While Mountain Gorillas remain an endangered species, recent conservation efforts have seen their population slowly increasing. In 2018 their numbers grew from 800 to 1004 individuals, based on census data shared between Uganda, Rwanda, and the Democratic Republic of Congo.
Numerous programs have been put in place, such as the Great Apes Survival Project (developed by UNESCO and the United Nations Environment Programme), as well as Rwanda's Karisoke Mountain Gorilla Research Center (founded by Dian Fossey). Gorilla tourism contributes the lion's share of the funding for the great NGOs that conserve and protect these amazing animals.
The money earned from Gorilla-related tourism is used to pay for local rangers who manage and protect the parks. And it is the presence of these armed rangers that is so vital to protecting Gorillas and their habitats from illegal activity, such as poaching and logging.
The Congo is a prime example of the importance of these rangers. Recent political instability in the country has caused a decline in tourist numbers visiting Virunga National Park. This, in turn, meant a loss of funding to adequately support park management.
In the beginning, this lack of security around the park saw an increase in Gorilla poaching, until NGOs like the Virunga Alliance, International Gorilla Conservation Program, and Great Apes Survival Partnership stepped in to provide funding. Their assistance proved vital to protecting Gorillas until political stability (and resulting tourism revenue) returns to the DR Congo.
Gorilla tourism has become a crucial economic factor for local communities, and revenue sharing schemes mean that 10-20% of the money from tourism goes directly back into the community to fund schools, hospitals, build roads, and of course, provide employment.
Rwanda's revenue-share program is the most generous of any African country. When responsible tourism thrives, local communities are empowered to protect Mountain Gorillas instead of turning to poaching. Education initiatives helped increase sustainable farming throughout the region. Now there's less deforestation for agriculture and livestock grazing.
The cost of Gorilla trekking permits has risen dramatically in recent years, but it's important to control visitor numbers so that mass tourism doesn't become destructive. Not only did the increase in fees provide additional funding for veterinary doctors, but it also helped to maintain a healthy habitat for the Mountain Gorilla population.
So if you want to assist in the conservation of Gorillas in Rwanda, Uganda, and the DR Congo, the best thing you can do is book a safari. Mountain Gorilla tourism drives both economic growth and conservation, and is an undeniable ecotourism success story. –Megan Jerrard & Bret Love; photos by Bret Love & Mary Gabbett