By the beginning of 2014, science had found the Higgs boson (a.k.a. "the God particle), put a rover on Mars, and created a robotic hand that allows amputees to actually feel sensations.
Yet here we are in 2019 and somehow Las Bolas– also known as the Stone Spheres of Costa Rica– still remain a complete mystery.
Despite loads of conjecture, there is truly little more than educated hunches about their significance to the ancient Diquis peoples of Costa Rica.
We'd seen some stone spheres during previous trips to Costa Rica– usually individual stones displayed prominently in the center of a town's park.
But it wasn't until we visited the Finca 6 Archaeological Site in Palmar Sur that we began to understand how important these mysterious orbs are to researchers trying to learn more about pre-Columbian Costa Rica history.
READ MORE: The 15 Best Places To Stay in Costa Rica
Visiting the Finca 6 Museum
When we visited in December 2013, the Finca 6 Museum & Archaeological Site had not yet been opened to the public.
The staff was still busy putting the finishing touches on the brand spanking new museum before a visit by Laura Chinchilla, the first female President of Costa Rica, the following day.
Fortunately, as journalists, they allowed us to explore the site, which lies in the heart of the Diquís Delta region.
There are around 300 stone spheres in Costa Rica, and over 10% of them lie on this 10-acre property. Known locally as Las Bolas, the Diquís Spheres range in size from a few centimeters to over 6 feet in diameter, can weigh up to 15 tons, and are said to be almost perfectly round.
Carved from gabbro (a type of rock that is formed from molten magma), the orbs have been found all over southern Costa Rica.
They were often buried with pottery dated to 200 BC-600 AD, as well as with sculptures dated to around 1000-1500 AD.
But the Diquís culture disappeared sometime after the Spanish conquest in 1502, and Las Bolas were lost to history for more than 400 years.
READ MORE: Top 20 Things To Do In Costa Rica (for Nature & History Lovers)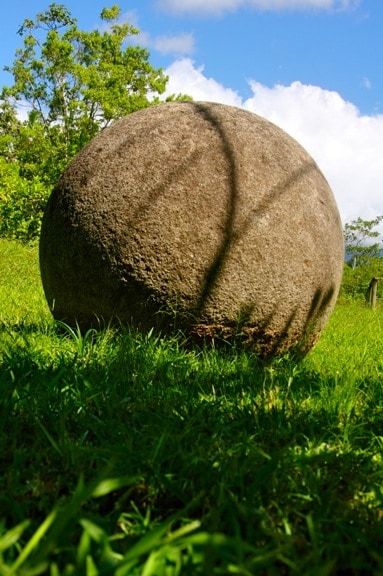 History of Costa Rican Spheres at Finca 6
The natural stone spheres at this Costa Rica historical site were first discovered during the agricultural boom of the 1930s. That's when the United Fruit Company began clearing this jungle land to make way for their banana plantations.
Using bulldozers, the workmen clumsily pushed the ancient stone spheres out of the way, ultimately damaging many of them in the process.
After rumors circulated that there was gold in them there globes, some workers drilled holes into the core of many and blew them open with dynamite.
Some of these giant spheres were eventually put back together again, and are now on display at the National Museum of Costa Rica in San Jose.
Science soon took an interest in the mysterious spheres of Costa Rica. Doris Stone, the daughter of a United Fruit executive, published an article about them in 1943.
Her story drew interest from noted Harvard archaeologist/ anthropologist Samuel Kirkland Lothrop, whom Stone directed to the Diquís Delta.
The results of Lothrop's research were published in 1963's Archaeology of the Diquís Delta, Costa Rica. By 2010, University of Kansas researcher John Hoopes was evaluating the spheres' eligibility as a protected UNESCO World Heritage Site.
READ MORE: 40 Amazing Costa Rica Animals
Why the Giant Spheres at Finca 6 Are Special
Under the protection of the National Museum of Costa Rica since 1990, the Finca 6 Archaeological Site is seriously worthy of UNESCO consideration.
It has dozens of ancient stone spheres of varying sizes spread across its 10 acres. It also boasts two 30-meter wide artificial mounds built out of river stones.
These mounds are believed to have elevated the dwellings of elite members of the Diquís society that once called the property home.
This is one of the few places where archaeologists have found Costa Rica's stone spheres that were so clearly associated with specific structures.
It's also one of the few places where they've found well-preserved giant spheres in their original location.
For a country that doesn't have nearly as many archaeological attractions as, say, the ancient Mayan ruins of Belize and Guatemala, that makes Finca 6 a VERY big deal!
READ MORE: The Ultimate Tortuguero National Park, Costa Rica Travel Guide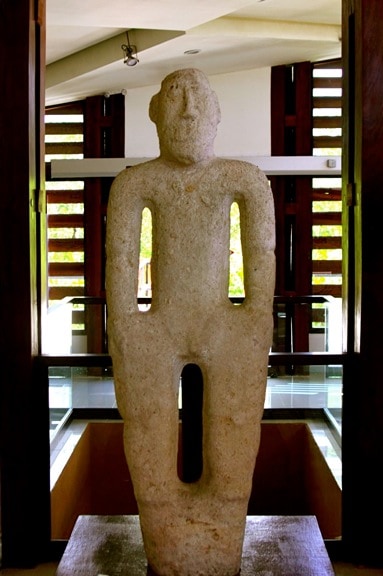 Under the direction of the National Museum's Francisco Corrales and Adrian Badilla, 12 years of research on this property have provided a mixture of insight and intrigue regarding Diquís culture.
Archaeologists believe that the giant stone spheres were created by specialized artisans, using stone tools such as hammers and chisels to carve the basic shape, then smoothed out and polished.
In some cases, you can even see drawings that were carved into the surface of the stone.
Though many of the spheres in costa rica were moved from their original locations, researchers have found that they were often arranged in lines or triangles.
But Finca 6 revealed two groups of stone spheres in a straight line, parallel to each other, oriented east-west and approximately 130 meters apart. The question remains, why?
READ MORE: Caño Island: Costa Rica Scuba Diving at Its Finest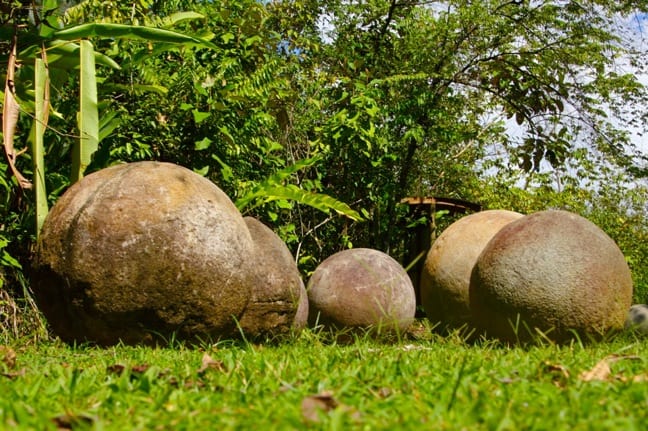 The Stone Spheres of Costa Rica Mystery
There are no definite answers, but there's a LOT of mythology and conjecture surrounding these icons of Costa Rica's cultural identity.
Some believe that the stones came from Atlantis, and were polished smooth by the water. Others believe they're the work of aliens. Local legends hold that the ancient natives had a powerful potion that could soften rock.
In the indigenous Bribri culture, it's believed that Tara (or Tlatchque), the god of thunder, used a giant blowpipe to shoot these cannonballs at the gods of winds and hurricanes in order to drive them away.
But the more believable theories suggest that Costa Rica's stone spheres had religious and/or astronomical significance, possibly aligned to represent the shapes of constellations and used in rituals.
What's certain is that they were arranged very precisely, and their use at the entrance to homes with elevated platforms suggests they were associated with high status.
READ MORE: My Stupid Mistake in Corcovado National Park, Costa Rica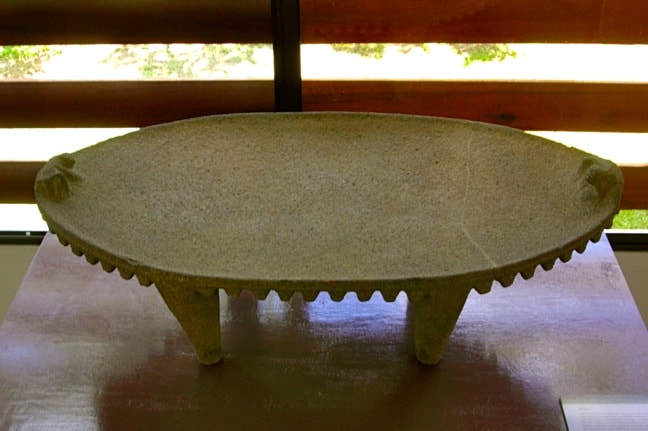 Finca 6's Costa Rica History Museum
We wound down our visit to Finca 6 by perusing the various other archaeological artifacts displayed in its informative museum on local Costa Rica history.
As the workers painted and cleaned in preparation for President Chinchilla's visit, I found myself hungry to learn more about the Diquís people. Who were they? Why (and how) did they make these giant stone balls? How did they get them into place? What did it all mean?
In a land where culture all too often seems to take a backseat to nature and wildlife, the stone spheres could offer valuable clues to Costa Rica's pre-Columbian past. Here's hoping UNESCO will bestow World Heritage protection on these ancient archaeological relics soon.
Doing so will ensure that Finca 6 attracts more visitors interested in ecotourism in Costa Rica. In turn, it'll help generate the sort of revenue that could finance Corrales and Badilla's research.
As you walk the grounds of this former banana plantation and read about the ancient local cultures inside the museum, you get an eerie feeling that there's 1000+ years of Costa Rican history buried below the surface, just waiting to be uncovered.
READ MORE: Kurá Design Villas: Eco Luxury in Uvita, Costa Rica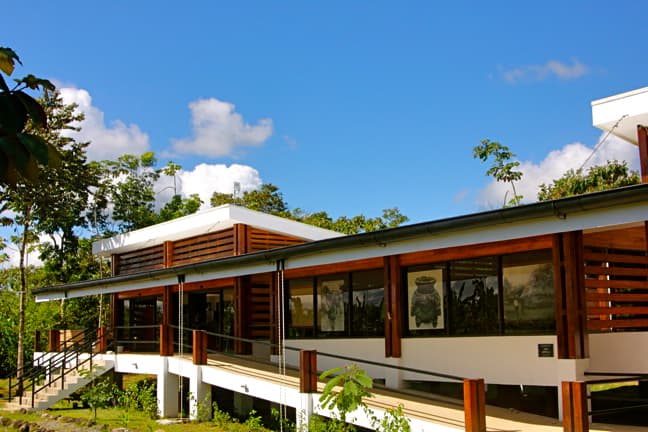 Museo Finca 6 Facts
Phone: +506 2100 6000
Website: http://www.museocostarica.go.cr
Hours: Finca 6 is open Tuesdays through Saturdays, from 8:30 AM to 4:30 PM; and Sundays from 9 AM to 4:30 PM.
Entrance Fees: Tourists will pay about $11 to enter the park. If you're a student with an ID, you can enter for only $6. On Sundays they offer free admission, but only for Costa Rica residents.
Date Opened: The museum opened to the public in December 2013.
Finca 6 Tours: They offer group tours of the museum and archaeological site by reservation for students and educational institutions. –Bret Love; photos by Bret Love & Mary Gabbett
Looking to book a room in Costa Rica?
Check out these great options!
Parque Del Lago Boutique Hotel – Where we stayed in San Jose
Tabacon Thermal Resort & Spa – Where we stayed in Fortuna
La Quinta Sarapiqui Lodge – Where we stayed in Sarapiquí
Kura Design Villas – Where we stayed in Uvita
Mawamba Lodge – Where we stayed in Tortuguero
Casa Corcovado Jungle Lodge -Where we stayed on the Osa Peninsula
Looking for essential Costa Rica Travel Gear?
Check out these great options!
The Best Travel Clothes for Women & Men
The Best Vegan Boots for Women & Men

The Best Backpacks for Travelers
Plastic Free Products for Travelers
Looking to book your next trip to Costa Rica?
Check out the following services we use!

Check out G Adventures' Deals on multi-day Tours in Costa Rica.

DollarFlightClub or Airfarewatchdog to find a cheap plane tickets.

Booking.com or Agoda to find a hotel deals.

Viator for a stellar day tour.

Lonely Planet for Travel Guides.

World Nomads for Travel Insurance.

Rental Cars.com for Car Rentals.

TrustedHousesitters we've found great pet sitters to watch our house and love on our two dogs!

[Updated 11/25/2019]